Just as electric mobility liberates consumers from the whims of the crude oil price index, it also unfetters design from the modes of yesteryear. Divorced from internal combustion's cosmetic and constructive conventions, motorcycle and scooter designers can exercise expressive independence like never before. What do most manufacturers do with this newfound freedom? Produce EVs that resemble internal combustion models, of course.
Clinging to the stylistic status quo isn't an option for BMW, though. The brave Bavarians boldly go where no OEM has gone before. Remember the hilarity of the C1 enclosed scooter? How about the bloated K1 sport-tourer? We can't forget about the R 1200 C cruiser, can we?
It's clear that the avant-garde never flusters BMW; a fact evermore evident with the arrival of the 2022 CE-04 electric scooter. If your definition of beauty includes a NASA-designed jet ski, the CE-04 is bonafide eye candy. Just look at those plastic-encased handlebars. Or that bulbous, wake-making front end. You can't miss the hull-length running boards.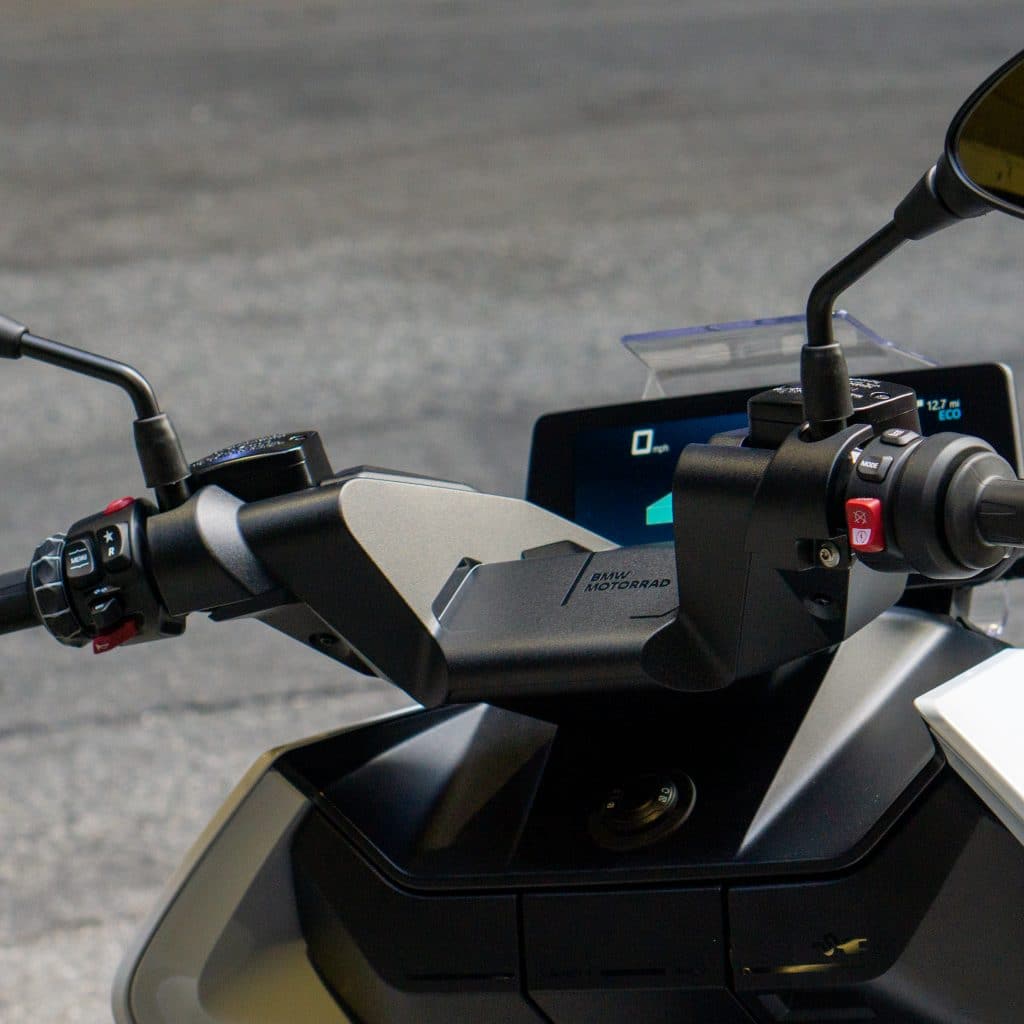 Under its polarizing bodywork, however, the CE-04 turns to the Munich marque's proven EV tech. A battery pack from the i4 and iX electric cars rests in the e-scoot's underbelly like a lithium-ion sheet cake. Don't confuse that as an excuse for BMW going all "space-age Sea-Doo" on us, but the Motorrad designers certainly aren't playing by internal combustion rules anymore.
Even so, that aesthetic autonomy is all but null if the CE-04 doesn't deliver the goods on the blacktop. That's the lone question we set out to answer during our two-week stint with the electric runabout. After wading through Los Angeles traffic for a fortnight, we have a pretty clear indication of where the CE-04 sinks and swims.
Smooth Sailing
Nestled just behind the aforementioned underbody battery, a liquid-cooled synchronous motor transmits power to the CE-04's rear wheel via a single-speed belt drive. Low-mounting the 8.9/8.5kWh (nominal/maximum) power pack and permanent magnet motor centralizes the scooter's mass, leading to lithe maneuverability at both low and high speeds. That fleet-footed agility doesn't thumb its nose at stability either.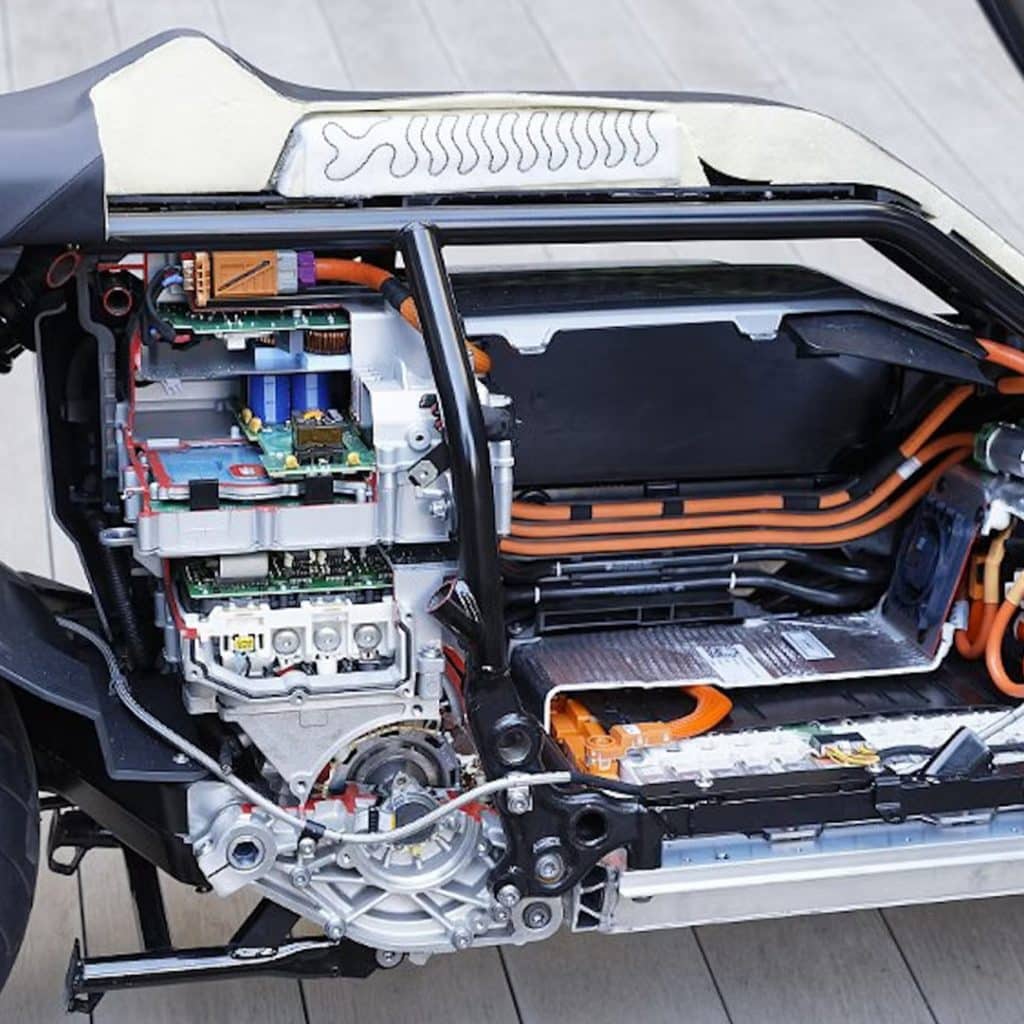 In addition to the motor/battery ballast steadying the ship, the CE-04's single-sided swingarm stretches the wheelbase to 66 inches. That's longer than a Harley-Davidson Road Glide and on par with Triumph's Rocket 3 GT. At 509 pounds, this Beemer feels just as planted as those big-bore models as well. Thanks to those cruiser-worthy specs, the scooter delivers a glass-smooth riding experience, a sensation only amplified by the electric powertrain. Even while tip-toeing through dense traffic, the scooter remains impeccably balanced.
That even-keeled nature extends to the CE-04's handling too, with responsive yet predictable turn-in and line-holding accuracy. The 15-inch cast aluminum wheels make mincemeat of the mid-day rush and a flowing set of turns, equally. The single-bridge 35mm telescopic fork and rear monoshock have a similar effect on asphalt inconsistencies.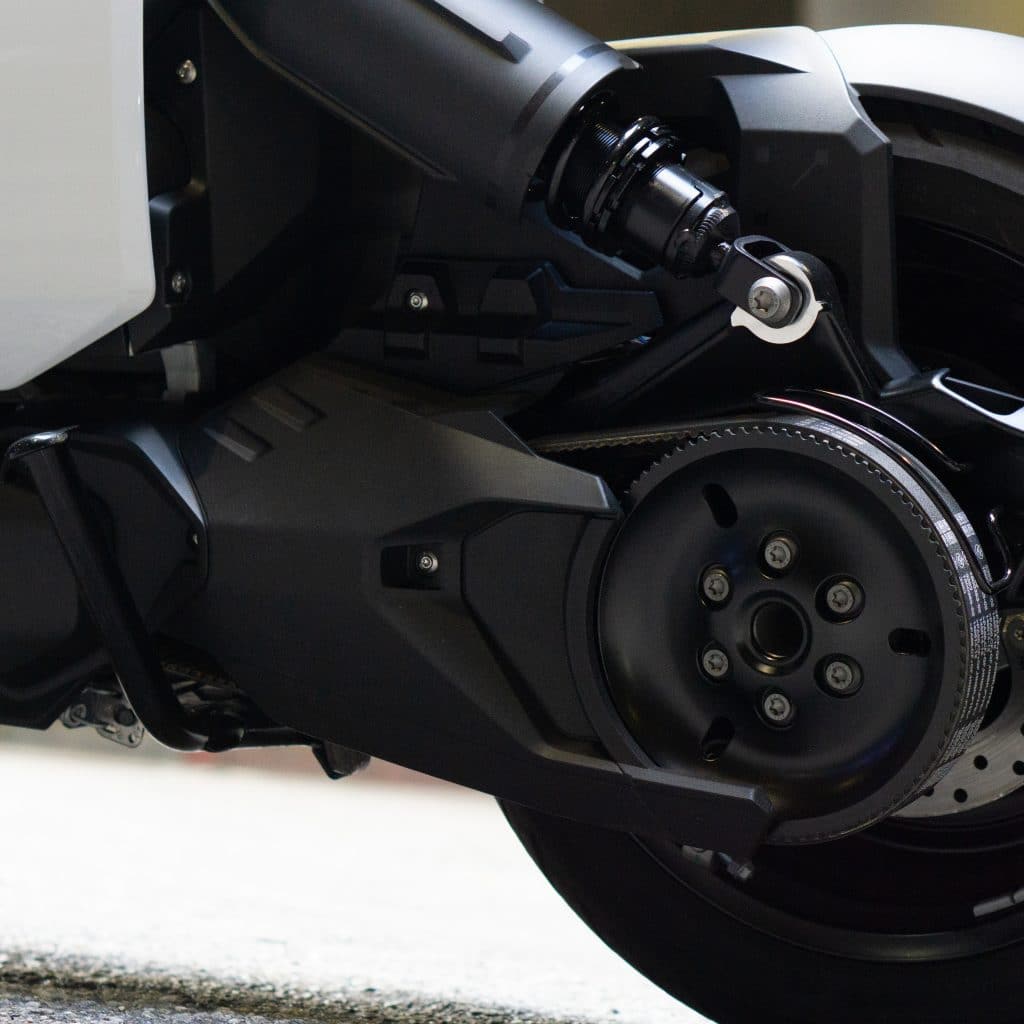 Offering just 4.3 inches of travel fore and 3.6 inches of available stroke aft, the CE-04 still negated nearly all bumps and dips with smooth, linear suspension action. Only when encountering the harshest potholes the Southland has to offer did the suspenders bottom with regularity. Otherwise, that balanced package handles almost everything the urban jungle can throw at it. Unfortunately, most riders will only experience that steady yet supple handling on city streets.
Still, I particularly enjoyed the CE-04 on a ribbon of winding tarmac. While the lack of wind protection rendered highway blasts slightly less enjoyable, the electric scooter's 42 horsepower (at 4,900 rpm), 45.7 lb-ft of torque (at 1,500 rpm), and 79 mph top speed kept me on pace with LA's speed-happy motorists. Availability remains the best ability, though, and the CE-04's cornering caliber only makes its limited range that much more aggravating.
Going Everywhere Slow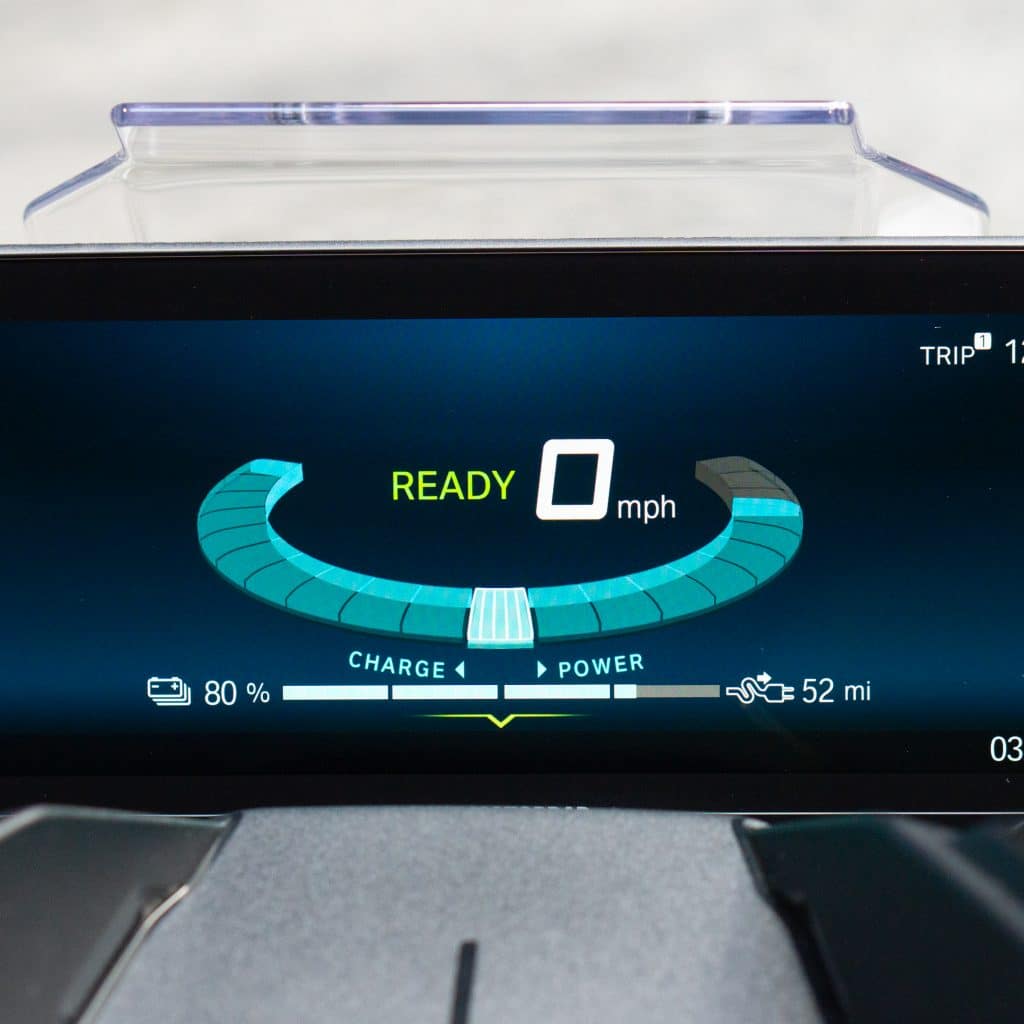 BMW optimistically rates its 8.5/8.9kWH battery's range as 80 miles to the charge. The CE-04 itself isn't even confident enough to uphold those numbers, however. Upon my first startup, the 10.25-inch TFT panel reported a 55-mile estimate in Road mode. Switching to Eco mode elevated that approximation to 64 miles. The reported range for Dynamic and Rain modes predictably slotted between those two poles.
Quick sidebar: Road mode pairs maximum acceleration with slightly decreased regenerative braking. Dynamic mode maintains the same throttle response but boosts deceleration to recover as much energy as possible. Eco mode pulls off the same trick when off the throttle but delays acceleration to mitigate consumption. Rain mode deadens the throttle as well, but avoids all abrupt inputs with softer regen braking. For that reason, the dash lists different range figures when cycling through the CE-04's four ride modes. Still with us? Good.
The provided estimates proved surprisingly self-aware too, with the CE-04 regularly delivering on its promised range. Those hoping to milk every last kilowatt will stick to surface roads and Eco mode. Working within those parameters, the CE-04 netted 59 miles (with 11 percent battery remaining). When sprinkling in highway jaunts and Road/Dynamic modes into the mix, expect the range to reduce to 50 miles (again, with 11 percent battery remaining).
On one occasion, the electric scoot drained 35 percent of its charge during a 15-mile Interstate run. As a result, escaping the city for some twisties therapy became an exercise in anxiety and algebra. If I cap my highway speed at X, I can eke out Y more miles in the canyons. If I plug in at X percent, I should be able to get back home by Y p.m.
For many city dwellers not residing in Los Angeles, reaching a twisty road is out of the question altogether. Recharge times only solidified CE-04's civic captivity. Connected to a Level 2, 30A charger, the electric maxi-scooter made good on its advertised one-hour-and-40-minute recharge interval. However, plugging into a standard 110V wall outlet pushed that charge time well north of 10 hours. Unless embarking on a route dotted with Level 2 charge points, something tells me most CE-04 owners will remain within municipal borders.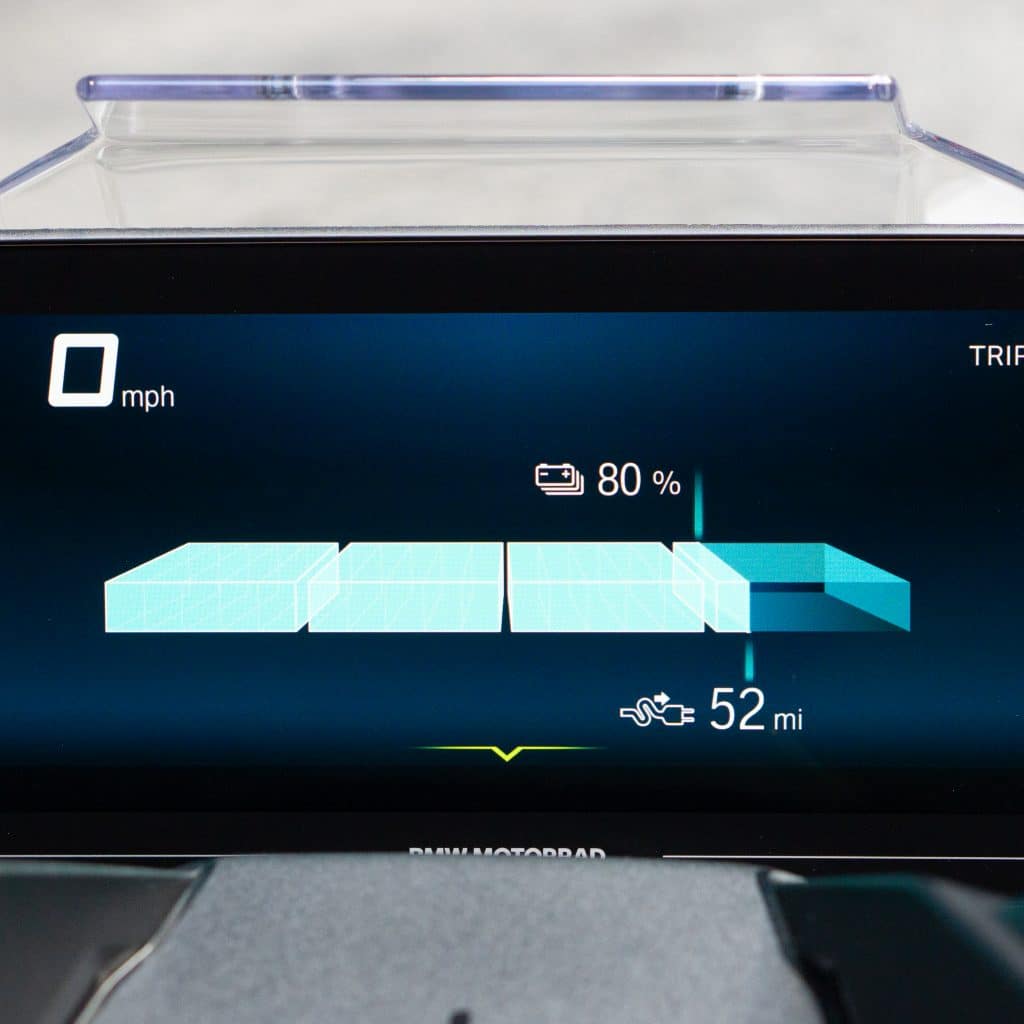 Now, I know what some BMW diehards are thinking: it's a city commuter, not a tried-and-true tourer. While that's a fair point, I don't think it's too much to ask for a side of pleasure to go with all that business, especially when BMW is asking for $11,795 (MSRP). In other words, all work and no play makes the CE-04 a dull Beemer. Even if its smiles per mile quotient isn't all that impressive, we can't fully judge the e-scooter without taking its practical side into account.
Man and Machine
At a glance, the CE-04 looks about as ergonomically welcoming as a torture rack. The pommel horse-looking seat is the primary culprit. The scooter's angular styling sure doesn't soften the saddle's visually rigid form, but I was pleasantly surprised by the unit's function. Let's not get ahead of ourselves, I wouldn't venture to characterize it as plush or comfortable. However, the bench seat's supportive padding easily held up to around-town riding. As long as you don't intend to spend more than two hours on the mount, the backrest comfort seat should meet your needs.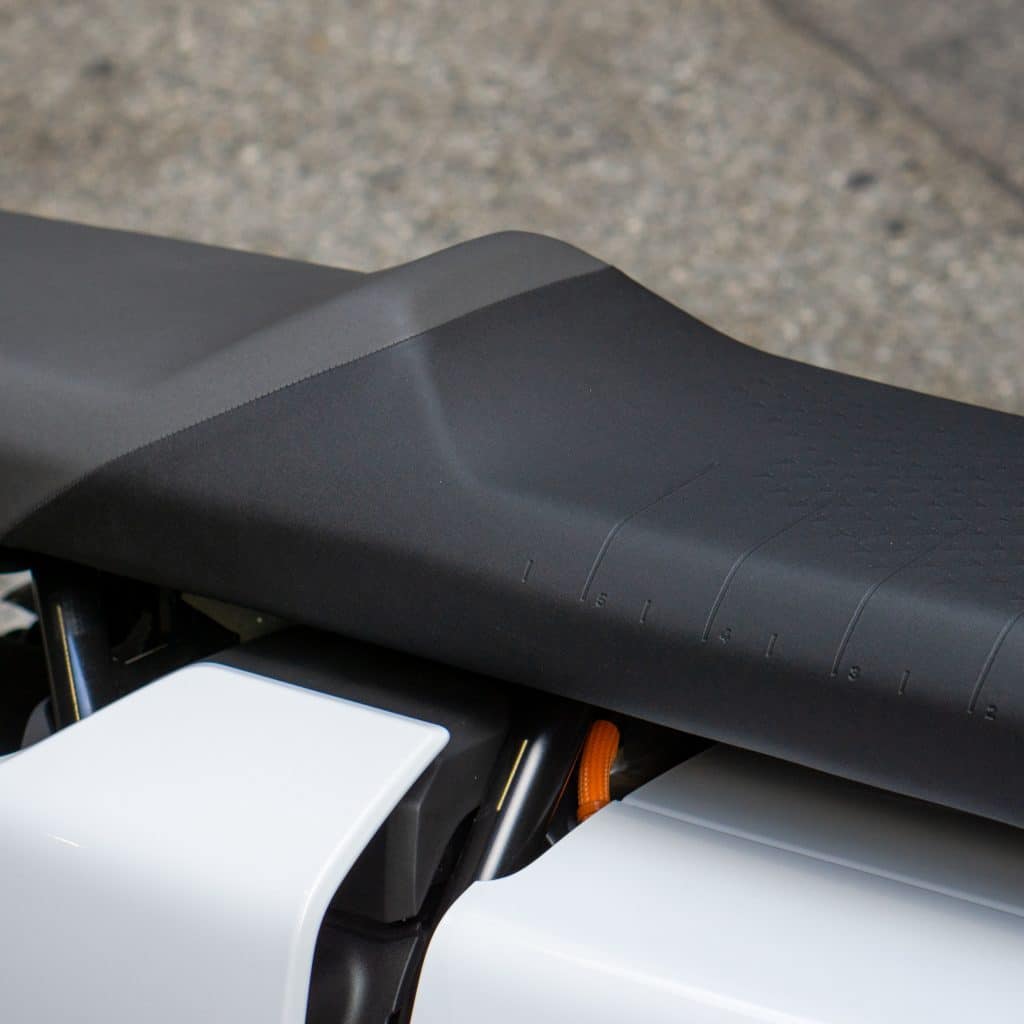 The extended running boards only open up the cockpit's confines further. Whether you prefer your feet positioned under you, extended forward, or switch between both, the lengthy floor boards and 31.7-inch seat height cater to riders of differing sizes and body types. With my backside flush against the seat's backrest bump, reach to the bars was effortless and natural. Despite its futuristic appearance, any rider familiar with scooter ergonomics will easily take to the electric Beemer.
The main storage compartment also lives up to today's scooter standards. Most CE-04 owners will leave their charging cables at home, but for the belt and suspenders crowd, the connectors barely put a dent in the compartment's 30-liter capacity. Though BMW states that the main storage area accommodates full helmets, I couldn't wedge my Arai Regent-X into the compact space. Those with less ovular full-face lids may fare better, but an open-face jet helmet might be the best bet.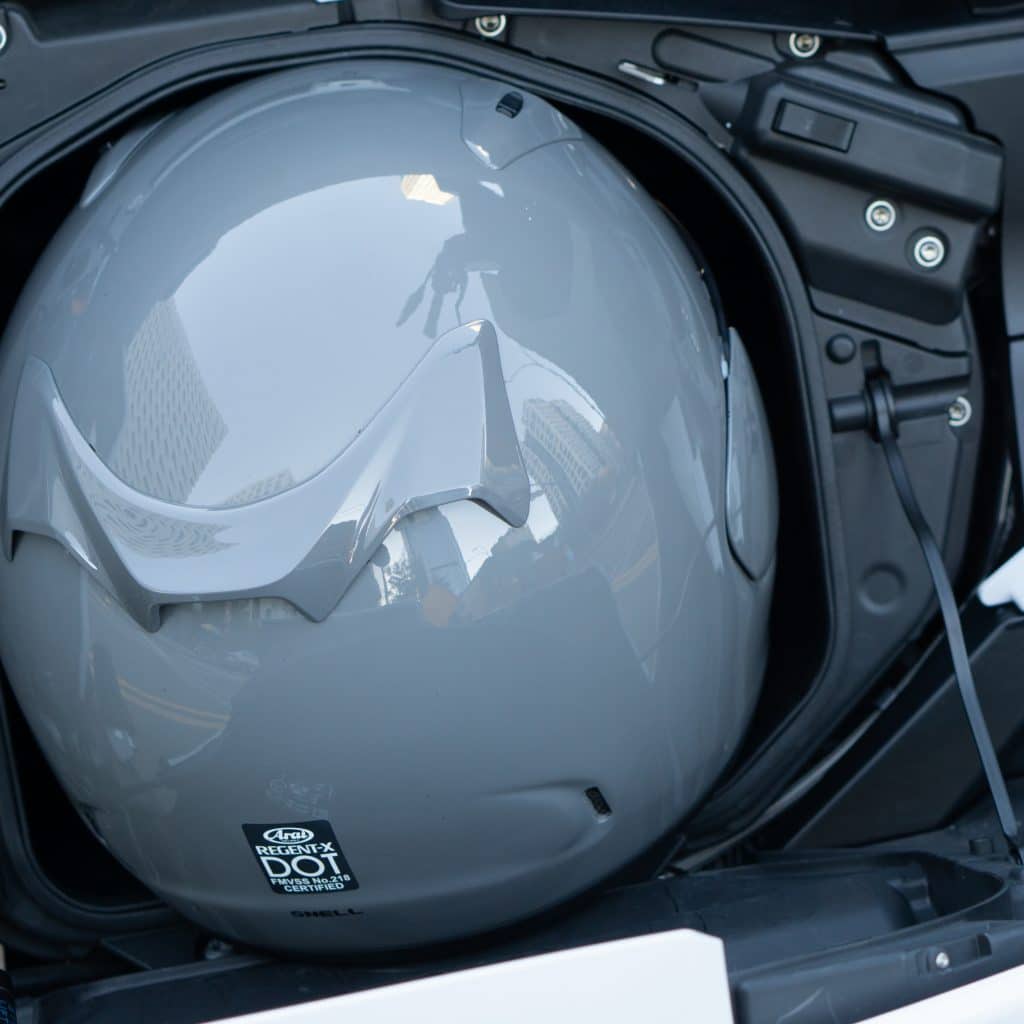 To further distinguish the CE-04 from the crowd, BMW laces the model with elite electronics. The standard trim offers an LED headlight, BMW's panoramic 10.25-inch TFT display, keyless ride technology, three ride modes (Eco, Rain, and Road), ABS, stability control, and a reverse gear. The unit we tested included BMW's Premium and Comfort packages, which unlock ABS Pro, Dynamic ride mode, a tire pressure monitor (TPM) system, adaptive headlight, heated seat/grips, a backrest comfort seat, and a Level 2 charging cable. That laundry list of features can be deceiving, though.
With the exception of the ride modes and heated seat/grips, many of the electronic aids work in the background. That maintains the CE-04's ease of use. During most rides, the user will simply switch between ride modes that suit the given situation. When the temps drop enough to warrant the use of the heated grips and seat, the three-level heating options offer just enough adjustability. The seat produces more heat in a short time span, but the grips hold their own against the cold too.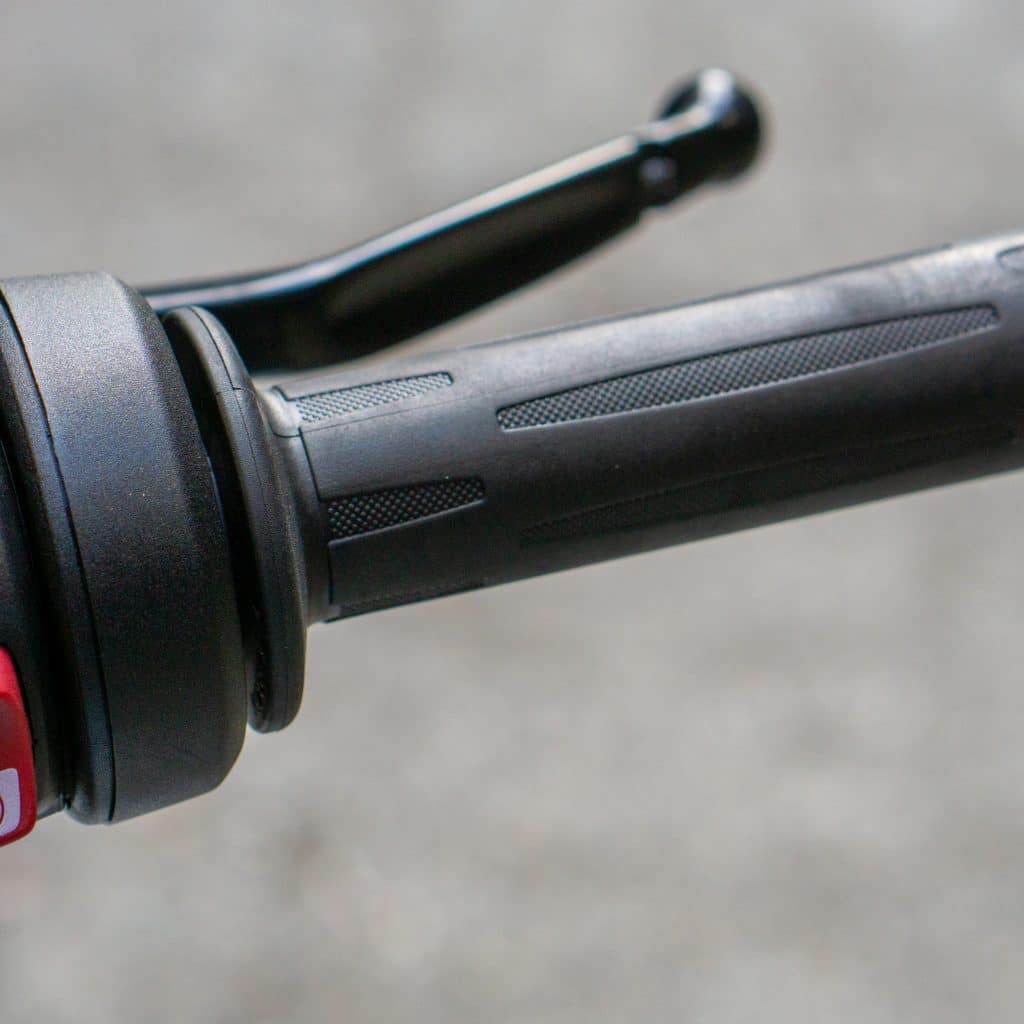 While frigid weather visited Southern California during my time with the CE-04, I refrained from turning on the heated accessories unless absolutely necessary. After all, the feature draws power from the electrical system. I'd rather have that power go to the rear wheel instead. The same goes for the USB-C charging device compartment and BMW Motorrad Connectivity. While both features worked seamlessly with my iPhone 14, the connectivity and charging rewards weren't worth the range risks.
Conclusion
In the Light White base color, the 2022 BMW CE-04 retails for $11,795. Tack on the $1,665 Premium package, $500 Comfort accessories, a $115 center stand, and the $495 destination charge, and your out-the-door total jumps to $14,570 (not including dealer fees or taxes). BMW opted for the "04" nomenclature because the CE-04 is supposed to rival the performance of 400cc-class scooters. When it comes to the numbers on the price tag, however, the Beemer isn't even in the same ballpark.
The Piaggio Beverly 400 S comes with a $7,299 sticker price while Suzuki's Burgman 400 asks $8,499 of customers. Not even BMW's own C 400 GT, at $8,245, comes close to the CE-04's MSRP. On the flip side, the e-scooter also requires less maintenance and fuel costs over its lifespan. Whether or not the owner actually breaks even on that deal depends on their personal use pattern, of course.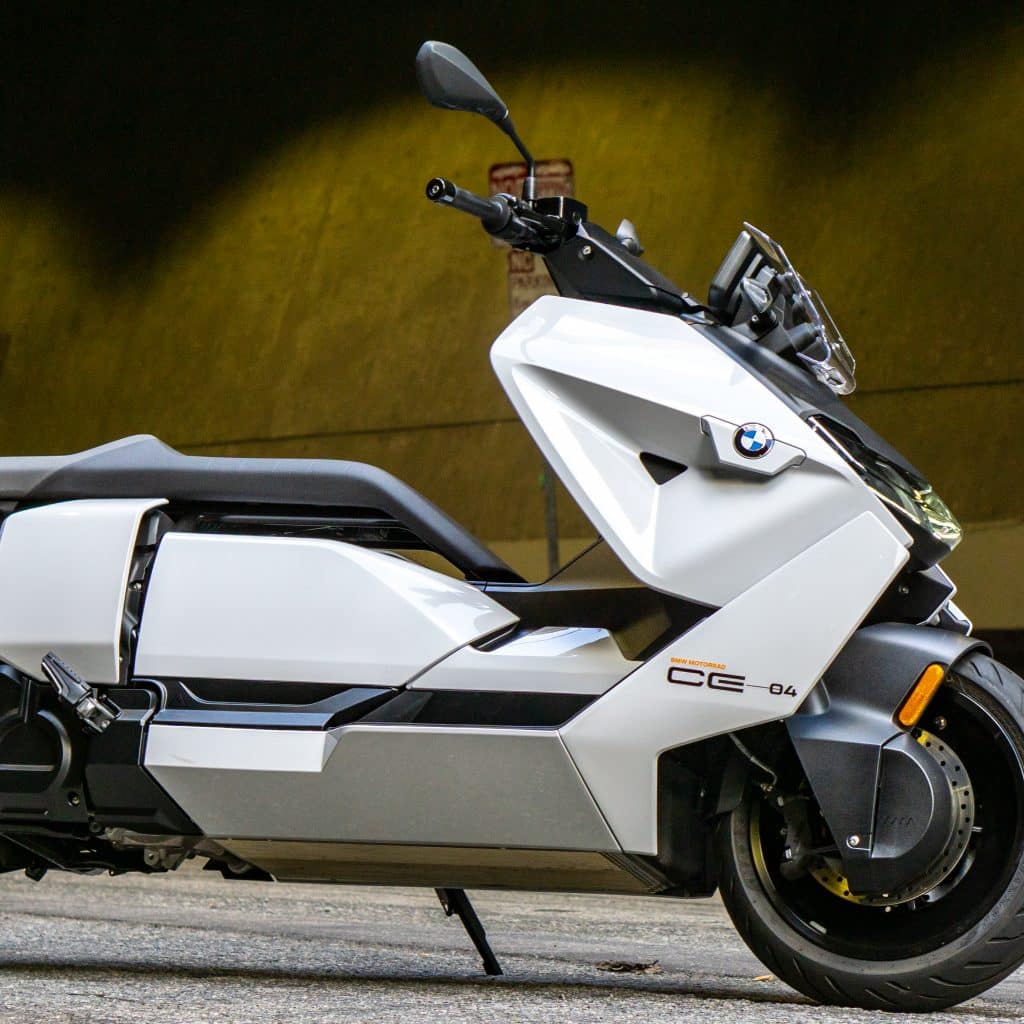 In the end, the CE-04 is a highly specialized vehicle. Purchasers will likely own a car or motorcycle capable of long-distance travel while saving the electric scooter for the commute and city errands. The model's limited range foils its performance and touring capabilities, but as long as you're willing to ride within the CE-04 restrictions, it gets the job done. The 2022 BMW CE-04 may depart from internal combustion conventions, but it also proves that electric mobility still has its own constraints to overcome.
Specs:
| | |
| --- | --- |
| Motor: | Permanent-magnet liquid-cooled synchronous motor |
| Battery: | 8.9/8.5kWh (nominal/maximum) |
| Horspower: | 42 hp at 4,900 rpm |
| Torque: | 45.7 lb-ft at 1,500 rpm |
| Frame: | Steel double loop frame |
| Front suspension: | Single-bridge telescopic forks with 110 mm (4.3 inches) spring travel |
| Rear suspension: | Single-sided swing arm/directly hinged suspension strut with 92 mm (3.6 inches) spring travel |
| Front brake: | Double disc brake 265 mm (4 piston fixed caliper) |
| Rear brake: | Single disc brake 265 mm (1 piston floating caliper) |
| Wheelbase: | 66 inches |
| Seat Height: | 31.7 inches |
| Range: | 80 miles |
| Charging Time: | 4h:20min @ 10A / 230V / 2.3 kW 1h:40min @ 30A / 230V / 6.9 kW |
| Weight: | 509 pounds |
| Price: | $11,795 |