Introducing the BHR E-Race, a new addition to the quickly evolving world of electric dirt bikes. The BHR E-Race is equipped with a stout 80V 60AH battery, which gives it a total capacity of 4.8kWh.
Impressive, but those are numbers that we have grown accustomed to in this space. What really sets it apart from other electric dirt bikes on the market is its 4 speed transmission with a clutch. This unique feature allows riders to shift gears, just like they would on a traditional gas-powered motorcycle. So for all you electric riders who have been wanting to see more electric dirt bikes come with a clutch, the BHR E-Race has heard your cries and delivered.
While the BHR E-Race's drivetrain are impressive on paper, there is still much we don't know about its motor and controller. However, upon closer inspection, it seems that the motor and transmission bear a striking resemblance to the Denzel Motor and gearbox.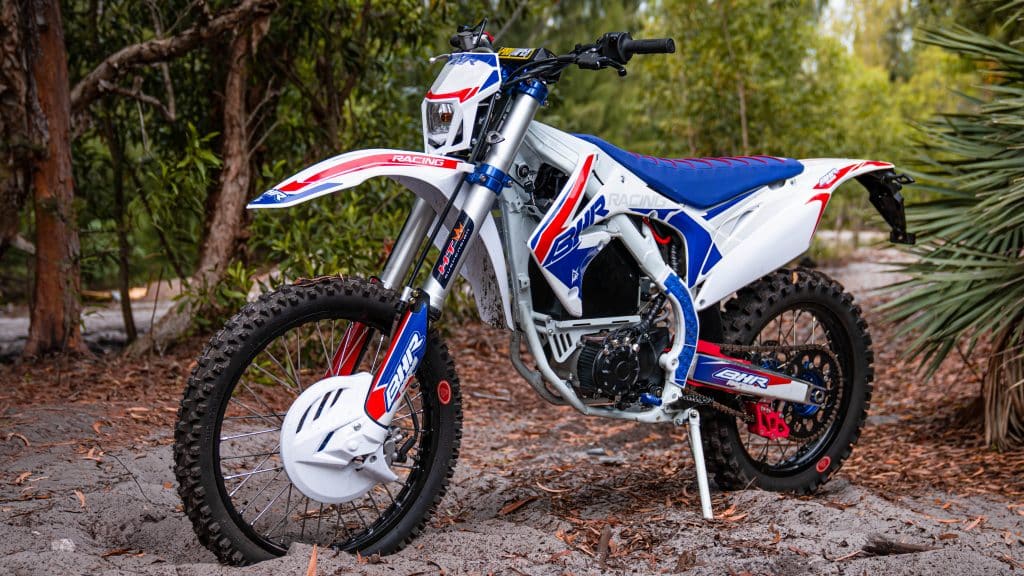 The similarities don't end at in the power department. According to BHR, they didn't begin with a completely new chassis for this bike either. Although they don't explicitly state it, BHR suggests that they drew inspiration from one of the top Japanese motorcycle geometries.
Based on my observations, this chassis bears a striking resemblance to that of a Honda CRF. It's my assumption that the same principles that apply to the Christini AWD dirt bike also apply to this bike, in that it appears to be a Honda CRF chassis that has been adapted and modified.
Next up, the E-Race boasts a standard enduro wheel combination, with a 21-inch wheel at the front and an 18-inch wheel at the back. For suspension, the BHR is equipped with an HT 48mm fork and an HT shock.
At a dry weight of 273 pounds, (before adding oil to the gearbox), the BHR E-Race is in the heavyweight division of electric dirt bikes. It's reminiscent of the Surron Storm Bee, although, thanks to it's geometry, it does feel lighter than the Storm when riding.
In order to bring the weight of the BHR to a halt, the bike is equipped with Nissin brakes.
When you check out the ECR First Ride video, you'll notice that false neutral was becoming my close friend. The gearbox was giving me some trouble – feeling rough, vague and uncertain.
To be straightforward, there was a lot of chatter behind the scenes about this issue when I was filming the video. But I won't bore you with all the details – I'll just say that the BHR was giving me some serious false neutrals when I was trying to downshift. And I'm not talking about the occasional hiccup between 1st and 2nd gear – this thing was finding neutral when I was trying to shift from 3rd to 2nd. Which is something I have never experienced on a gas bike before.
Now, this test bike was practically a newborn, so we started wondering if the oil quality in the gearbox was to blame. I mean, how could a fresh, shiny new bike like this already be causing so much trouble? Our sources at BHR claimed that the gearbox needs to break in over time but without having had that opportunity, we can only assume that these statements are true.
At the end of the day, I think the gearbox on this bike needs some attention. Maybe a trip to the mechanic is in order, or maybe we just need to give it a stern talking-to. All I know is that this false neutral situation must be improved and is something we would like to put to a long-term test.
While the HT suspension setting felt a bit too soft for my taste, I must admit that it provided a comfortable ride. Given that this is the enduro version of the E-Race, it responded just like a typical trail bike would, which is exactly what you'd expect.
The BHR E-Race's chassis had a distinct familiarity to it, which I can only assume is due to the speculation that it's built on a repurposed Honda CRF Chassis with an electric powertrain. It gave me flashbacks to some of the CRFs I rode back in the mid-2000s. And I'm not mad about that.
Overall, I think the BHR E-Race has a great deal of promise. While the gearbox problems need to be addressed, if they can successfully resolve these issues, I believe it has the potential to become a contender in the market.
BHR E-Race Specifications
Engine Type: Electric (Brushless)
Battery: 80V 60AH Lithium (4800W)
Clutch: Multi-Disc with Oil
Torque: Not specified
Transmission: 4-Speed
Final Drive: 520 Chain
Fork: HT Suspension 48mm
Fork Adjustments: 24 Compression / 12 Rebound
Rear Shock: PWD L=495mm
Shock Travel: 300mm
Frame: Chromoly
Front Wheel: 1.6×21 (90/100-21)
Rear Wheel: 2.15×18 (140/80-18)
Front Disc: 240mm
Rear Disc: 240mm
Dry Weight: 124 Kg
Dimension: 2160 x 810 x 1260mm
Wheel Base: 1455mm
Seat Height: 930mm
Ground Clearance: 320mm