Better late than never. The Sur Ron Storm Bee is finally in the Electric Cycle Rider garage. We've been discussing this eMoto review for the last 2 years, so you can imagine our anticipation when we heard the Sur Ron Storm Bee will finally be available to test right here in the United States. I mention the USA because the Storm has already made its appearance in other countries. For reasons unknown to us, we have had to wait a bit longer for Sur Ron's full-size electric dirt bike to make its way to US soil.
The result of that anticipation lead to a bit too much excitement. The first ride of the Sur Ron Storm ended in a broken brake lever and a pinch flat in the rear tube. Reason being, yours truly went a little too fast into a technical rock section. Having not had the opportunity to properly set the suspension up, I lost all 290 pounds of the bike and tipped it over in said rock garden. The first point of contact was the brake lever, which ended up staying on the handlebar, albeit 2 inches shorter than it was originally. Not a design flaw, just par for the course.
Let it be known that we are just going to scratch the surface here. This is a first look at the Sur Ron Storm Bee. You can expect a much more detailed review to follow. In the meantime, we'll give some first impressions and allow you viewers to ask questions in the YouTube video posted above.
This is also a great time to point out that this is a pre-production model. You hear that a lot at Electric Cycle Rider but just know that some of the specs may change with the production model Storm Bee. To clarify, the bike we received for testing and reviewing is the Enduro Storm Bee model. The newest Sur Ron will also come in two other models: a motocross version and a street version.
The controls on the Sur Ron Storm Bee are what we've come to expect from any traditional dual sport model. It's got a kill switch, blinkers, horn, and high and low headlight. Unusual to most gas dirt bikes but standard to electric dirt bikes are the power modes. The Storm Bee has a very easy-to-use switch right next to the throttle that allows the rider to toggle between Eco, Rain and Sport mode. Even more unusual, and not just to ICE bikes, are the buttons for reverse and turbo. That's right. I said reverse. And I also said turbo. I'm not going into that rabbit hole right now, so you'll have to wait for the full review on those features.
The LCD display on the Sur Ron Storm Bee is clear and detailed. Riders have access to a slew of features that can be custom set within the display. The different modes are accessed by holding down the menu and select button. I can't explain these settings better than the Sur Ron manual does, so the features are listed verbatim as follows:
Ride Mode Settings
Level setting of BERS (Brake Energy Regenerative System) (B0 B1 B2 B3 B4 B5). Factory default is B2 (the feature is disabled in B0, and strengthens in turn from B1 to B5. Higher setting means more energy is fed to the battery during braking).
Level setting of slide energy regenerative feature (E0 E1 E2 E3 E4 E5). Factory default is E3 (feature is disabled in E3, and strengthens in turn from E1 to E5).
Level setting of ASR (traction control) (A1 A2 A3). Factory default is A2 (feature strengthens in turnfrom A1 to A3).
Setting of e-brake feature (P0 P1). Factory default is P1 (feature is disabled in P0, and activated in P1. When activated, throttle will not actuate when either brake is applied).
Setting of tilt protection feature (C0 C1). Factory default is C1 (feature is disabled in C0, and activated in C1. When activated, the bike will shut off when leaned over more than xx degrees).
Reserved feature (F0 F1 F2. Factory default at F0 (feature is disabled in F0, and strengthens in turn from F1 to F2).
For my first ride, I wanted to test all the recommended stock settings, save for the tilt protection and e-brake feature, which I disabled, because I'm riding off road.
Right off the bat, I did a top-speed run on the bike. Being that I was on a loose dirt road in the Colorado mountains, I arguably wasn't in the best environment for this type of test. However, I did reach the maximum top-speed of 70mph quite quickly. Impressive for a bike of this genre, especially when compared to the KTM Freeride E-XC, which falls flat on its face at 45mph.
To put the bike in the complete opposite environment, I sent it up a slow, technical, hill climb, to which it also performed well. The Storm Bee experienced bit of tire spin, which I would attribute mostly to the selection of CST tires against the loose and dry southern Rocky Mountain soil. Fear not, we'll test the traction control settings in the full review. It was on this hill climb that I was sharply reminded of the Storm Bee's weight, though. It's the slow paced, "I don't want to fall here" type environments that you seem to feel the stout 290 pounds that is the Sur Ron Storm Bee.
After my first ride crash, I decided to stiffen up the suspension by several clicks on the Fast Ace fork and shock. It seemed to handle the weight of the bike better but still left room for improvement. Off road suspension settings take time to perfect, at least for me, and I'm not surprised to say that I need some more time with it.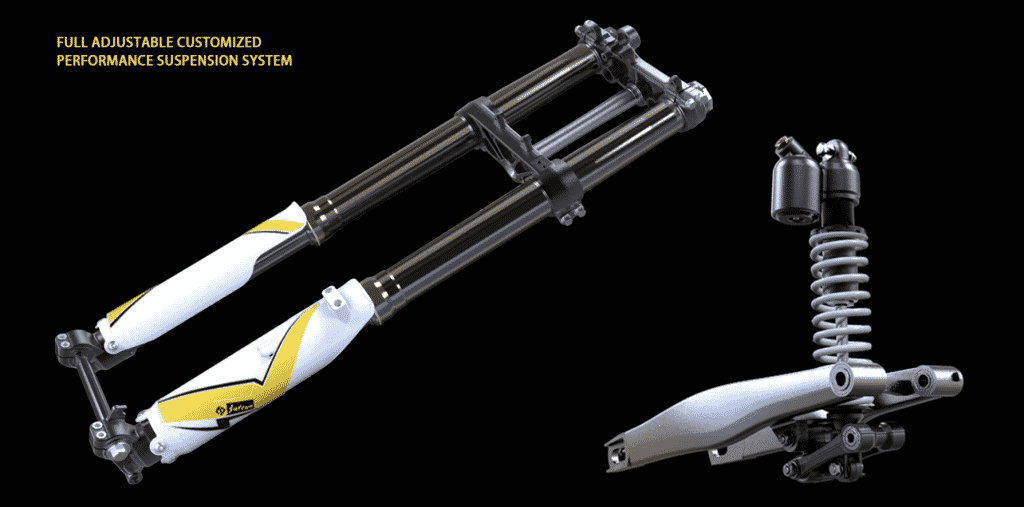 As mentioned in the First Ride video, I need to be clear with the expectation of this bike. Not all bikes are created equal and that is something I need to remind myself constantly when testing these new categories of electric dirt bikes. For instance, you wouldn't take a Honda XR650L on a motocross track (unless you're Ivan Tedesco or friend of ECR, Fast Guys Slow Bikes). And you wouldn't take a Yamaha YZ125 on an adventure ride. Different bikes are created for different purposes. Just because Sur Ron created a fast looking, yellow, full-size electric dirt bike with 47mm fork and 22.5kW of peak power, doesn't mean it was designed to stand toe-to-toe with the Stark VARG or Alta Redshift on a motocross track.
To put it simply, the enduro version of the Sur Ron Storm Bee feels like a dual sport bike. Can it handle technical terrain or MX riding? Of course, it can. Does it thrive in that environment? I don't think so. In stock form, the bike feels most comfortable when the terrain is more mellow. I compared it to a Suzuki DRZ 400. Not because of its power character, because let it be known the Sur Ron Storm Bee has much more acceleration than the Zook. The comparison is more toward the chassis and feel of the bike. It's comfortable. It's soft. And it seems to thrive on the 2-track.
Now that I've given too much of my opinion for a first look review, I'm going to end my thoughts there. We'll pick back up here when I've had more seat time on the bike. If you want to know more about the bike, feel free to leave a comment in the YouTube video and I will do my best to answer it before the full review.
Where is the Sur Ron Storm Bee For Sale?
If you want to pre-order the Sur Ron Storm Bee or peruse other electric dirt bikes for sale, check out the ECR Marketplace, where we've compiled the best electric motorcycle shops in the United States.
Sur Ron Storm Specs:
| | |
| --- | --- |
| Dimension: | 83.5″ x 31.7″ x 49.8″ |
| Ground clearance: | 13.2″ |
| Seat height: | 37″ |
| Dry/Curb weight: | 209 lbs / 280 lbs |
| Front tire: | 80 / 100-21 off road tire |
| Rear tire: | 100 / 90-18 off road tire |
| Assistance functions: | ASR+BERS |
| Wheel Base: | 56.3″ |
| Carrying capacity: | 264 lbs |
| Front fork travel: | 11.4″ |
| Rear shock/wheel travel: | 4.52″ / 11.42″ |
| Power system: | Mid-drive BLDC motor + FOC sine wave controller |
| Rated power: | 10KW |
| Maximum power: | 22.5KW |
| Maximum torque: | 520N.m |
| Top speed: | 68 mph |
| Range: | 62 miles (@31 mph) |
| Battery type: | 90V / 48Ah lithium-ion removable battery pack |
| Charge time: | 4h |
| Frame design: | Aluminum forged frame |
| Riding mode: | Eco / Rain / Sport mode + "turbo" mode |