Electric dirt bikes have been making waves in the motocross industry in recent years. While new bikes like the Stark VARG and Flux Primo have garnered a lot of attention, the loss of Alta has left many wondering when Honda, Yamaha, and KTM will enter the full-size electric dirt bike market. 
Amidst this yearning for new technology, it's easy to overlook the decades of perfectly tuned chassis that have been developed by the best engineers, test riders, and racers in the industry, and they are ripe for electric conversion. Luckily, we've got some companies trickling into this space to make electric conversions that bolt on to some of the most proven motocross bikes that our industry has created.
Enter the Yamaha XE4 Electric Dirt Bike, built by Xtreme Electric MX (XEMX).
After experiencing a few successful electric conversions (and with other future ones in the works, wink wink), our attention has been captivated by the XE4 Yamaha, expertly crafted by XEMX. Our intrigue was piqued after witnessing JoJo Toole's remarkable performance on the bike during the ECR eMoto Race at the 2022 Red Bull TKO.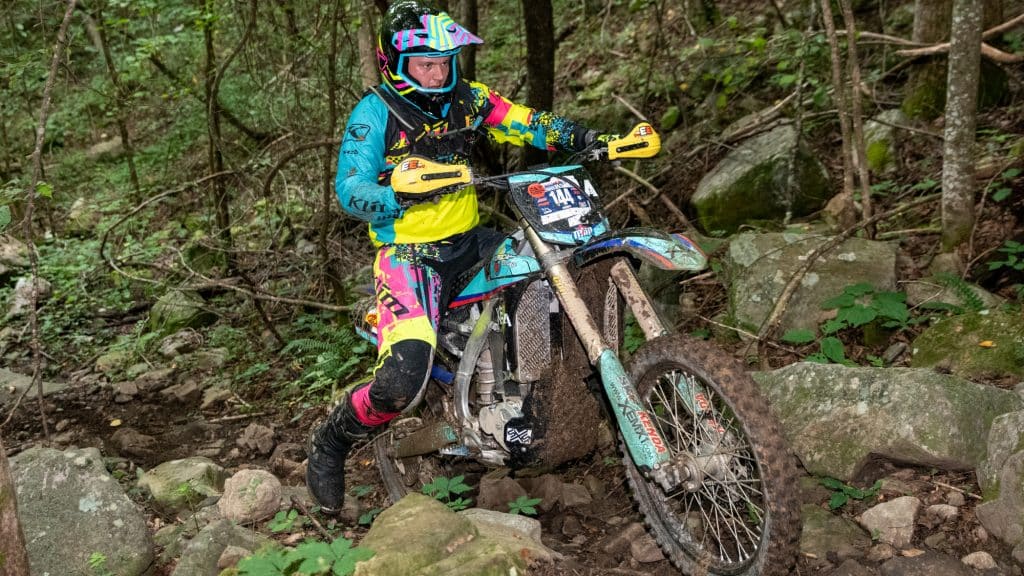 XEMX Yamaha Electric Dirt Bike Specifications and Details
XEMX makes 2 different kits, the XE2 (air cooled) and the XE4 (liquid cooled).
The XE4 is a bolt-on conversion kit that is compatible with the Yamaha 250 and 450 YZF and YZFX bikes from 2014-2019 for the 250 chassis and 2014-2018 for the 450 chassis.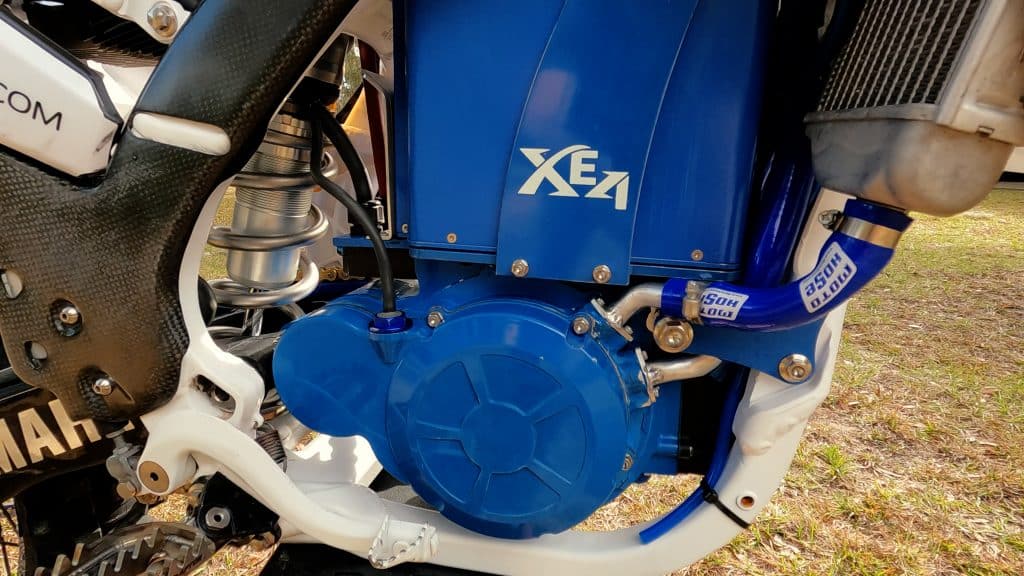 The liquid-cooled version utilizes the stock YZF radiators with a small 12v pump to circulate Engine Ice. Liquid cooling is the best way to keep the motor cool, making the XE4 more efficient the cooler it runs. The XE4 also features a proprietary fast-change battery swap technology, which is the fastest battery change on the market, taking less than 10 seconds to swap fresh batteries.
The XE4 bike that underwent our testing process is built upon a 2016 Yamaha YZ250F Chassis. XEMX currently utilizes a 12T front and 52T rear Sprocket, sometimes replaced by a 12T-54T combination. The bike's components, such as sprockets, plastic, suspension, and grips, are all stock Yamaha parts. Front sprockets are sourced from a stock YZF450.
XEMX is currently experimenting with several different controllers to determine which one provides the best overall performance. The controllers under consideration include the Curtis 1236SE, Votol EM-260S, EBMX X-9000, Fardriver, Kelly, and the A5, which is a Curtis clone. All of the controllers will undergo racing tests to verify which one works best for the bike.
The Curtis 1236SE controller, rated at 450 amps at 72 volts, was the controller we tested on our bike.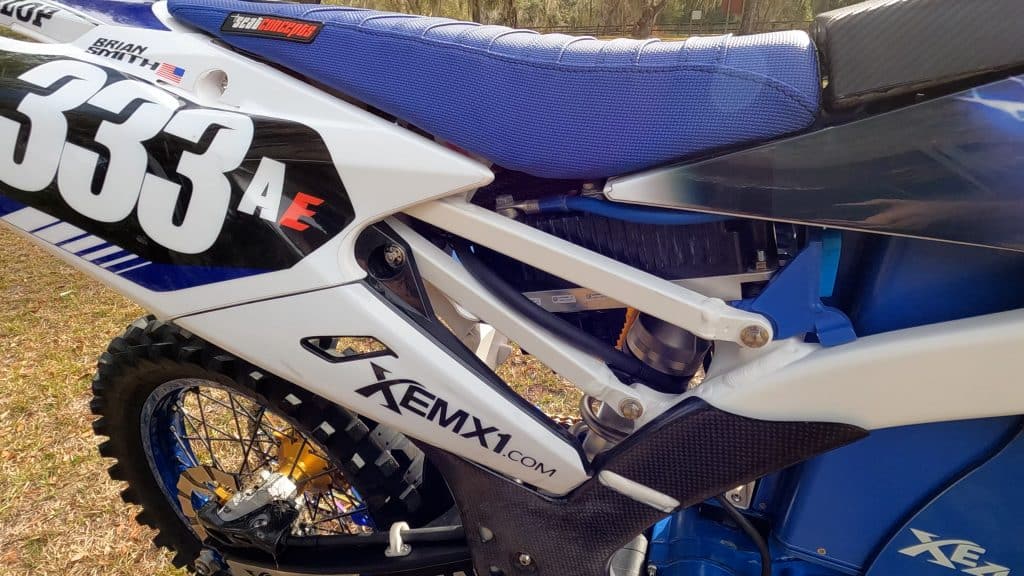 XEMX's batteries are rated at 72V nominal and 600 Amp max output, with a total capacity of 4.3kWh. Since the batteries are custom-made, XEMX can modify the type and amount of cells to meet the customer's needs.
XEMX has developed proprietary fast-change battery swap technology that utilizes a modified aerospace connector, delivering 600 amps per terminal. The battery compartment features the lid formerly used for the Yamaha YZF gas cap. It's a clean, straightforward design that takes less than 10 seconds to swap fresh batteries.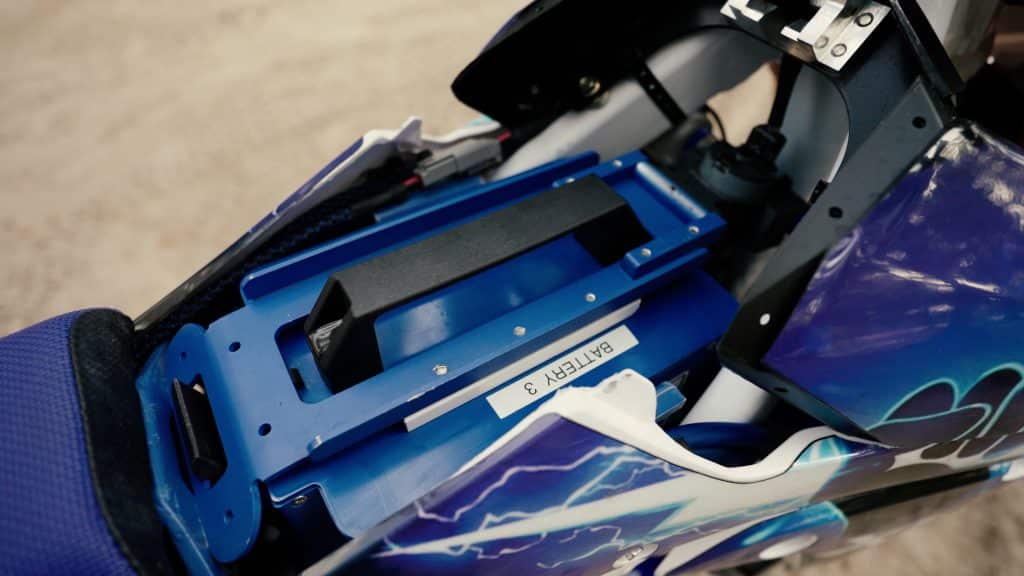 The bike has three ride modes that are fully programmable, as well as a reverse, auto regen braking, and options for lever regen braking. Additionally, the bike offers optional motor sounds with a speaker, a feature we've never encountered before.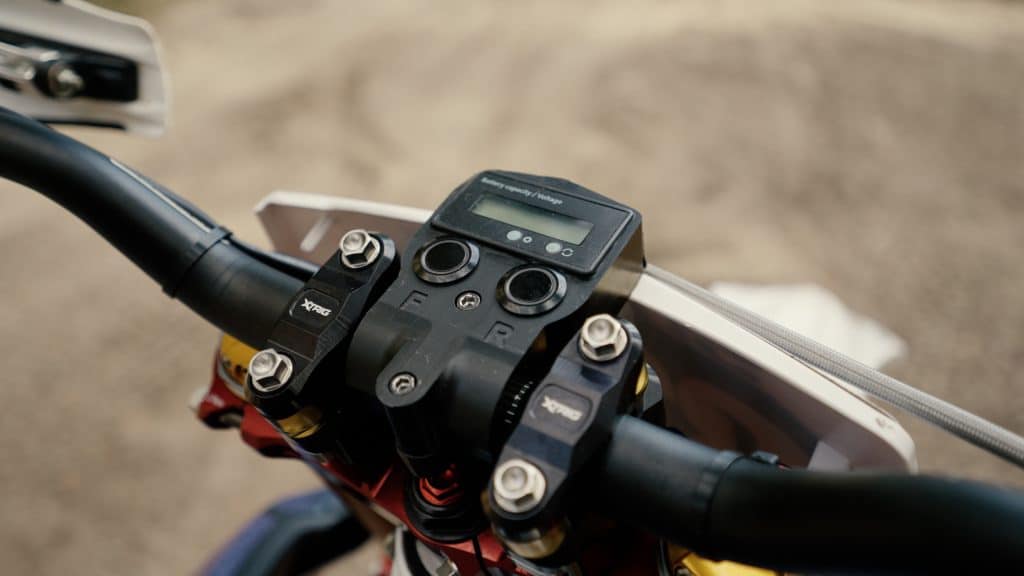 The XEMX Yamaha XE4 is a custom order bike, but kits will be for sale once beta testing is complete. You can see below for a breakdown of cost options for the kits.
Riding the Yamaha XE4 Electric Dirt Bike
While we've had the opportunity to ride the Stark VARG and Alta Redshift, it's more common to see the ECR crew on the KTM Freeride EXC and smaller, modified electric dirt bikes like the SurRon Lightbee X. 
The XEMX Yamaha XE4 provides an incredible experience. The Yamaha YZF Chassis has become a reliable platform over the years, largely due to its unique reverse motor design that creates horsepower unmatched by the other manufacturers in the pro MX scene.
Since the motor is replaced by the electric powertrain in this bike, the gas power plant is no longer a talking point. However, the design allows XEMX to adapt the space for their motor and battery.
The Yamaha chassis is renowned for its stability and surefootedness in rough terrain. The proven KYB SSS suspension is sought after by many riders and comes stock on Yamaha YZF bikes.
Riding the XEMX Yamaha XE4 is an experience that lives up to all the hype that the Yamaha YZF chassis has received in the stability and suspension department. The bike feels incredible, especially after riding sub-150-pound electric dirt bikes that struggle in rough sand whoop terrain in Florida. It's like you're riding a Yamaha YZF250F, albeit with an electric powertrain, which is a great thing.
If there's any complaint about the YZF chassis, it's that the bike sacrifices some front-end steering for stability. It's a bike that is notoriously known for benefitting from riders that "steer with the rear", or those who prefer stability over a sharp turning bike like KTM, Suzuki, or Honda. Needless to say, we are simply splitting hairs here, and adjustments can be made to improve the turning characteristics and front-end feel of the YZF chassis.
In our video about the Yamaha XE4 electric dirt bike, we did encounter some issues. The bike would fault if we hit a sand whoop too hard when we were hard on the throttle. Mark from XEMX explained that the sensor and magnet in the motor were slightly misaligned from each other, causing the bike to shut off intermittently. This can be a common issue in new motors, and XEMX has resolved 99% of the issue since filming, claiming it is just an issue with the older style connectors. Regardless, it's is an issue that will be resolved before kits will be sold.
In the field, Mark from XEMX made some changes by dialing the power back as much as 20%. In other words, only 80% power was being used when we tested the bike. This particular controller we were testing was only rated for 450 Amps, and the batteries have the capacity to put out 600 Amps. Needless to say, there is a lot more power that can be created on this platform.
XEMX Yamaha XE4 Electric Dirt Bike Pricing
XEMX have not officially started to sell kits, but will make Custom Billet motors(to order) and the parts needed for those who want them first. With their complete A kit, and rolling frame prepped, it is possible to build the bike in one day.
You will need a Yamaha 250 YZF or FX 2014-2019 or 450 YZF 2014-2018 Rolling Frame.
These motors have all Ceramic bearing with a Carbon sleeved rotor. They are finished all Black. (Cerakoting or Powder coating is extra)
BILLET 6061 ALUMINUM MOTOR ALONE: $3,500. 
XE4 ALL BILLET AXIAL FLUX MOTOR WITH CARBON FIBER SLEEVED ROTOR, LIQUID COOLED, CERAMIC BEARING, 2.08 TO 1 GEAR REDUCTION. MAX RATING OF 58 HP. @ 600 AMPS NOMINAL 38 HP.
COMPLETE MOTOR A KIT: $6,995. 
XE4 BILLET MOTOR AND KIT, WHICH INCLUDES: 1-3
#1 COMPLETELY BUILT BATTERY TRAY, BATTERY SIDE BRACKETS, BUSS BARS AND
PHASE WIRES.
#2 BRACKETS, FRONT, MID AND TWO REAR SEAT BRACKETS CARBON FIBER AIR BOX
COVER, SEVEN PIVOT POINT HINGE, HALL THROTTLE, WATER PUMP, MAIN CONTACTOR,
DC TO DC CONVERTER,12 T FRONT SPROCKET, CARBON FIBER AND MID SEAT PAD.
#3 CURTIS 1236SE-6571 PRE PROGRAMMED CONTROLLER AND COMPLETE WIRING
HARNESS. POWER PANEL, MODE AND ON/OFF SWITCHES.
QUICK SWAP BATTERIES SOLD SEPARATELY FROM THE KIT: $3,295. 
INR 25R SAMSUNG (400) 18650 CELL BATTERY 500 AMP PEAK AT 84V 4KW
10 MODULES (40 18650 CELLS EACH) MOLICEL P42 and P45 Available now also.
OPTIONAL CHARGER: $250.
MODEL S2500 BATTERY CHARGER INPUT: 120V AC VOLT
OUTPUT: 84V=10AMP WITH LED DISPLAY AND FINISH CHARGE INDICATOR.
(OTHER CHARGER OPTIONS WILL BE AVAILABLE (HIGHER AMP/FASTER CHARGING)
OPTIONAL PROGRAMMER: $695. 
HAND HELD PROGRAMMER FOR THE CURTIS SE1236-6571 CONTROLLER
OPTIONAL SEAT: $250. 
CUSTOM SEAT CONCEPTS SEAT COVER FOR QUICK SWAP BATTERY SYSTEM.
In conclusion, the Yamaha XE4 Electric Dirt Bike is an innovative new twist on a proven chassis that is sure to give riders yearning for a full size electric motocross bike something to look into. With a powerful electric powertrain and proprietary fast-change battery swap technology, the XE4 is a true work of art.
While it is still in beta testing, XEMX is working hard to make these conversion kits available for purchase. If you want more information, you can contact Mark Peroni at www.xemx1.com or email [email protected].