The Surron Lightbee X, introduced in 2018, has quickly become a staple in the electric dirt bike industry. We first got our hands on a Lightbee X in 2019 and adored the bike for what it offered at an affordable price. Nothing is perfect though, and we always felt like there was some room for improvement when the going got rough out on the track or the trails. The rest of the United States seems to have felt the same and that can be seen through the massive aftermarket industry that the Surron Lightbee X has created.
Aftermarket companies dove head first into the Surron modification scene, catering to all the individuals who want to enhance their bikes with damn near every part you can imagine. It's reminiscent of the import tuner car craze of the late 90s and early 2000s. Owners are taking their stock Surron Lightbee X electric dirt bikes and adding endless bling to make them bigger, faster and more eye catching.
Aside from some parts changes and most recently, a jump from a 32Ah to a 38Ah battery, the Lightbee X has remained relatively unchanged for the last 4 years. With the recent release of the new Surron Storm Bee, an option for riders wanting a full-size electric dirt bike, it was easy to wonder if we would ever see a big upgrade to the little model. Surron has clearly been paying attention, though. And they just proved that your demands for a bigger, faster Surron Lightbee X have been received. Enter the new Surron Ultra Bee.
Surron Ultra Bee Review
Surron Ultra Bee
The Surron Ultra Bee appears that it will bridge the gap between the popular Lightbee X and the bigger Storm Bee. Its aluminum frame and swingarm bears resemblance to the Lightbee but the specifications exceed the smaller bike in almost every department.
Battery & Charger
The Ultra Bee is utilizing a 74v 55Ah battery, totaling a capacity of 4kWh, a total weight of 45 pounds, and a claimed charge time of 4.5 hours. One of the most exciting features that we have yet to see from Surron is that the Ultra Bee charger is located under the seat of the bike, allowing riders to charge their bike wherever electricity is available.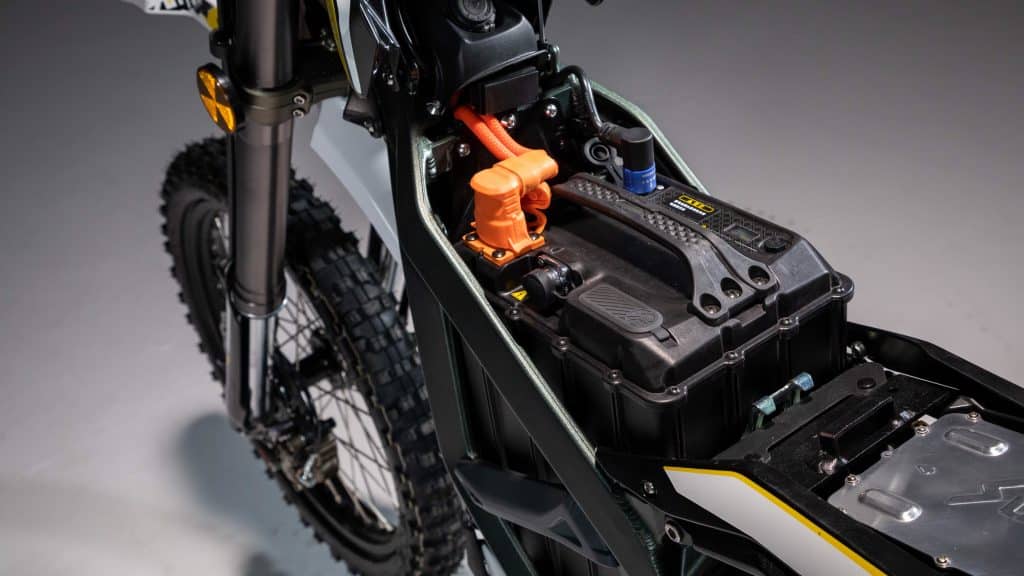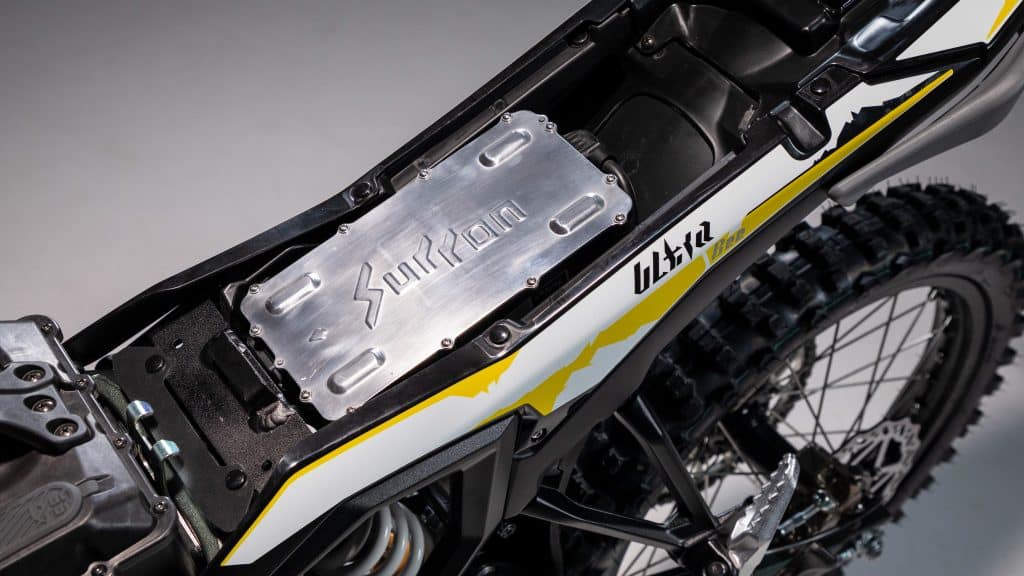 Surron Ultra Bee Power
The peak power of the Ultra Bee is 12.5kW, resulting in 324.5 ft lbs of torque to the rear wheel. With all of this power and battery capacity, Surron is claiming a range of 87 miles and a top speed of 56 mph. Two things we will be certain to explore when our test bike arrives.
The Ultra Bee is suspended by a fully adjustable fork and shock, offering 9.4 inches of travel, front and rear. To stop all 187 pounds of the Ultra Bee, the bike comes equipped with what looks like full size dirt bike brakes and what Surron claims to be an optimized lightweight offroad braking system.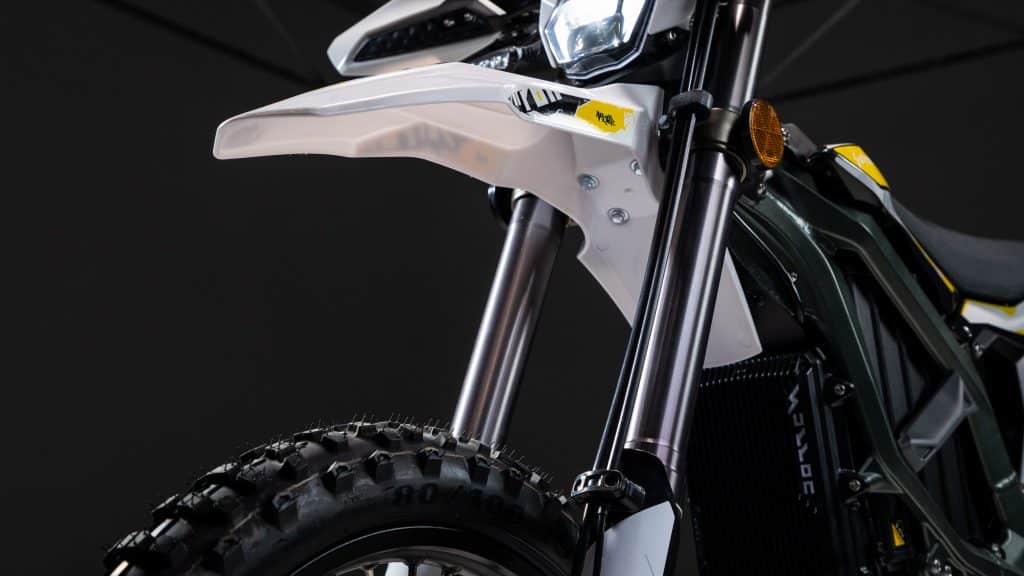 Sizing
Adults will rejoice that the new Surron Ultra Bee is taller. Coming in with a seat height of 35.8 inches, a ground clearance of 12.5 inches and a wheelbase of 54.3 inches. It's still utilizing 19-inch wheels, albeit with different tire sizes. The front is an 80/100-19 and comes standard with a 90/90-19 rear that can swapped out to an optional 80/100-19.
Improvements to the styling of the Ultra Bee include a full size seat (thank you, Surron!), full size fenders, hand guards, and a seemingly more robust skid plate.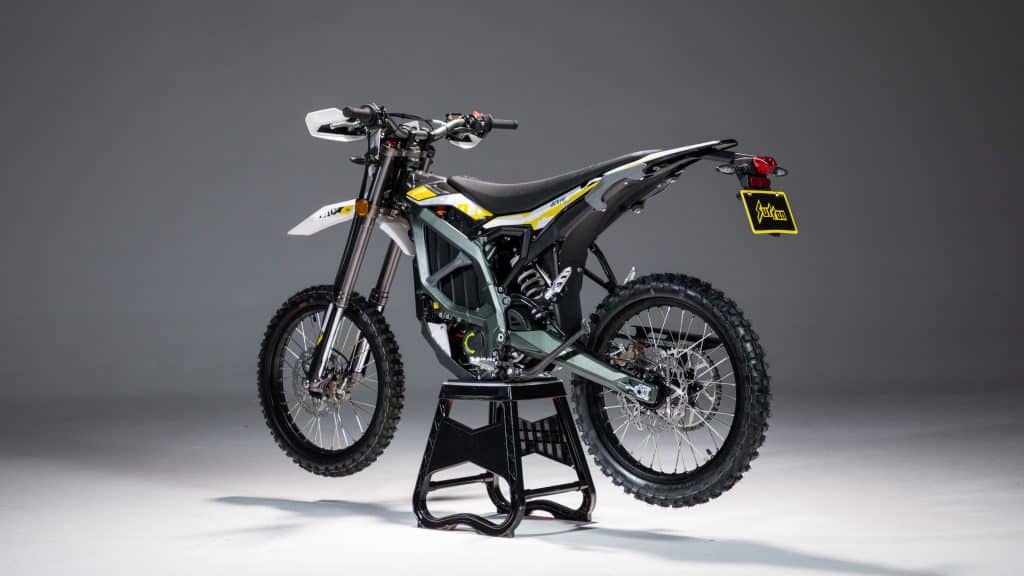 Surron IoV System
We were excited to see the Ultra Bee being offered with traction control and regenerative settings, something that we really admired about the Storm Bee when we tested it. Riders can change their settings within the display unit in front of the handlebars. The features don't end there. The Ultra Bee is utilizing Surron's new IoV system, which allows riders to access features such as general vehicle information, remote status checking, ride tracking, anti-stolen safety protection, OTA updates and system-self diagnostics.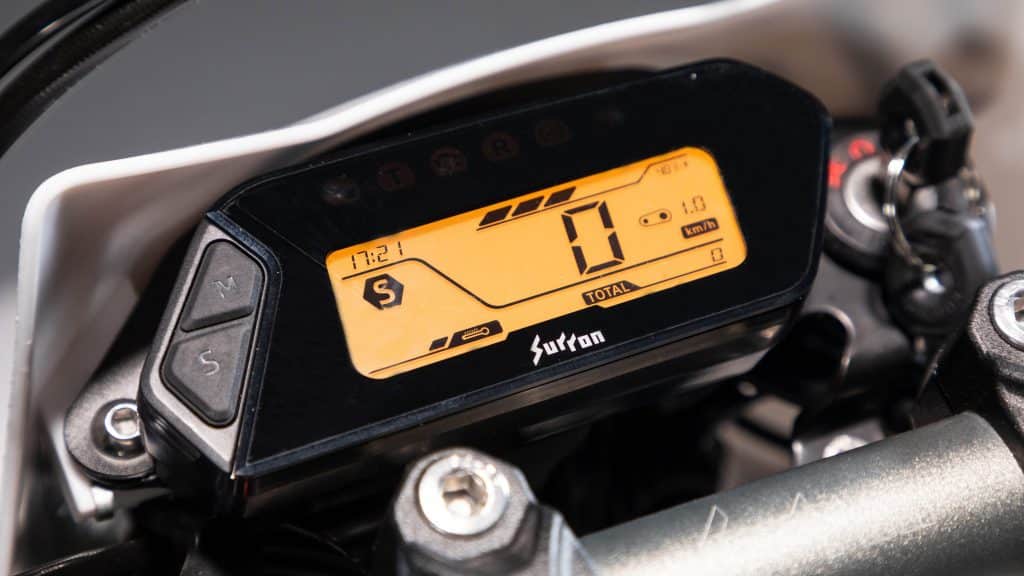 It's also got more ride modes than the Lightbee, offering a switch on the handlebar that can select eco, daily, sport mode, and reverse. That's right. The Ultra Bee has a reverse mode just like its older sibling.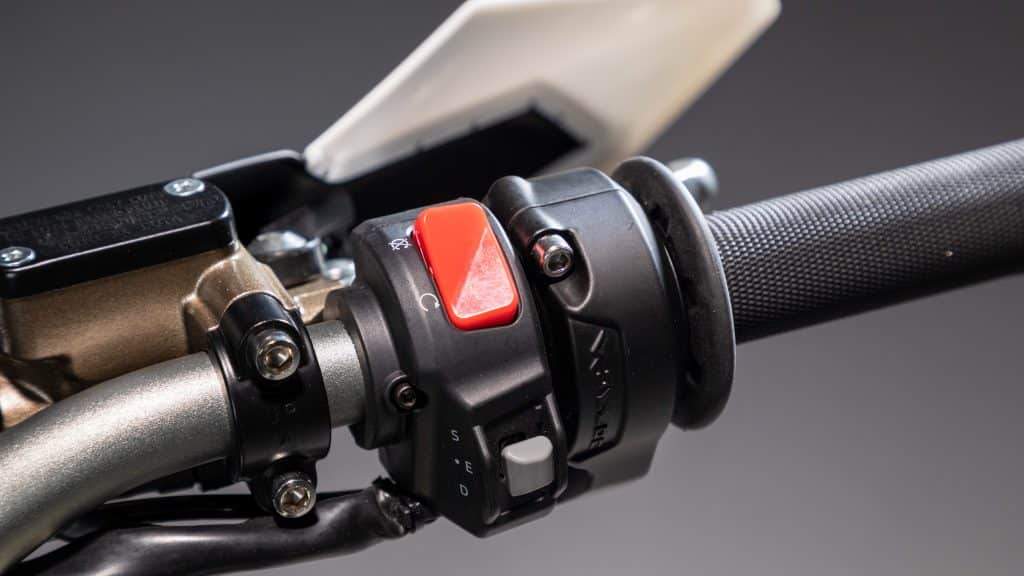 All of the teaser videos and photos we've seen show the bike with passenger pegs, turn signals and a headlight. We've been told that the US version of the Surron Ultra Bee will unfortunately not be street legal at this time. So it can be assumed that some of that extra street legal equipment may not make it onto our off-road only version.
Street legality aside, this bike checks some legitimate boxes that we wanted to see in this category. There has been a lot of exciting new dirt bikes being released this year and the Surron Ultra Bee is definitely a bike that tops our list here at ECR. We've been promised an early crack at riding the Ultra Bee and look forward to providing our first ride feedback when the time comes.
How much does the Surron Ultra Bee cost?
The Surron Ultra Bee is for sale for $6,499 in the United States.
Where can I buy the Surron Ultra Bee?
You can find the Surron Ultra Bee for sale on the ECR Marketplace where we've compiled listings for all the best dealers that sell the Surron Ultra Bee. Check their listings to find the current Surron Ultra Bee price.
Where can I find Surron Ultra Bee Parts & Accessories?
You can find aftermarket and upgrade parts for the Surron Ultra Bee at ECR Parts where we have modifications for the Ultra Bee including wheels, power upgrades and more!
Surron Ultra Bee Technical Specifications
POWERTRAIN
| | |
| --- | --- |
| Motor Type | Permanent magnet synchronous motor (PMSM) |
| Peak Power | 12.5 kW |
| Peak Torque | 440 Nm (325 ft-lbs) |
| Top Speed | 90 km/h (56 mph) |
| Max Range | 140 km @ 40 km/h (87 miles @ 25 mph), depending upon terrain |
| Battery Pack | 74V/55Ah Lithium Ion |
| Charging Time | 4 Hours (0-100%) |
RIDER AIDS
| | |
| --- | --- |
| Riding Modes | Sport, Daily, Eco, Reverse |
| Rider Aids | Surron Traction Control System (SRTC), Surron Energy Regenerative System (SERS) |
| Reverse Gear | Button-activated |
CHASSIS
| | |
| --- | --- |
| Frame | Forged aluminum alloy |
| Swingarm | Forged aluminum alloy |
| Front Suspension | 37 mm inverted fork, 240 mm (9.4″) travel, fully adjustable |
| Rear Suspension | Adjustable TR Intersect monoshock, 240 mm wheel travel |
| Front Wheel | 19″ wire-spoked rim, 80/100-19 off-road tire |
| Rear Wheel | 19″ wire-spoked rim, 90/90-19 off-road tire |
| Front Brake | 240 mm hydraulic disc |
| Rear Brake | 240 mm hydraulic disc |
| Curb Weight | 85 kg (187 lbs) |
| Max Load | 100 kg (220 lbs) |
| Vehicle Dimensions | 79.1 x 34.6 x 46.4″ (2,010 x 880 x 1,178 mm) |
| Ground Clearance | 318 mm (12.5″) |
| Wheelbase | 1,380 mm (54.3″) |
| Seat Height | 910 mm (35.8″) |
ADDITIONAL FEATURES
| | |
| --- | --- |
| USB Connection | Single USB-2.1A Outlet |
| Instrumentation | LCD Digital Dash |
| Headlight | LED |