The Ryvid Anthem is the California-based newcomers' first bike, and will feature 75 miles of range, a 75mph+ top speed, and an MSRP of $7,800.
If you follow electric motorcycles in general, we probably don't need to tell you that the launch of a new "electric commuter" is hardly headline worthy. The current technological limitations of range and power density resign most new electric street bikes to commuter status, which means if you're going to bring a new product to market, it had better bring something new to the table if you expect anyone to take notice. The Ryvid Anthem sports average range and speed figures, but that's not what makes this new motorcycle interesting.
The Anthem caught our eye for two reasons: The first is that it's minimalist stainless-steel design just looks sweet, and the second is that it boasts some equally sweet engineering (both of which make sense considering Ryvid's designers and engineers hail from the aerospace industry).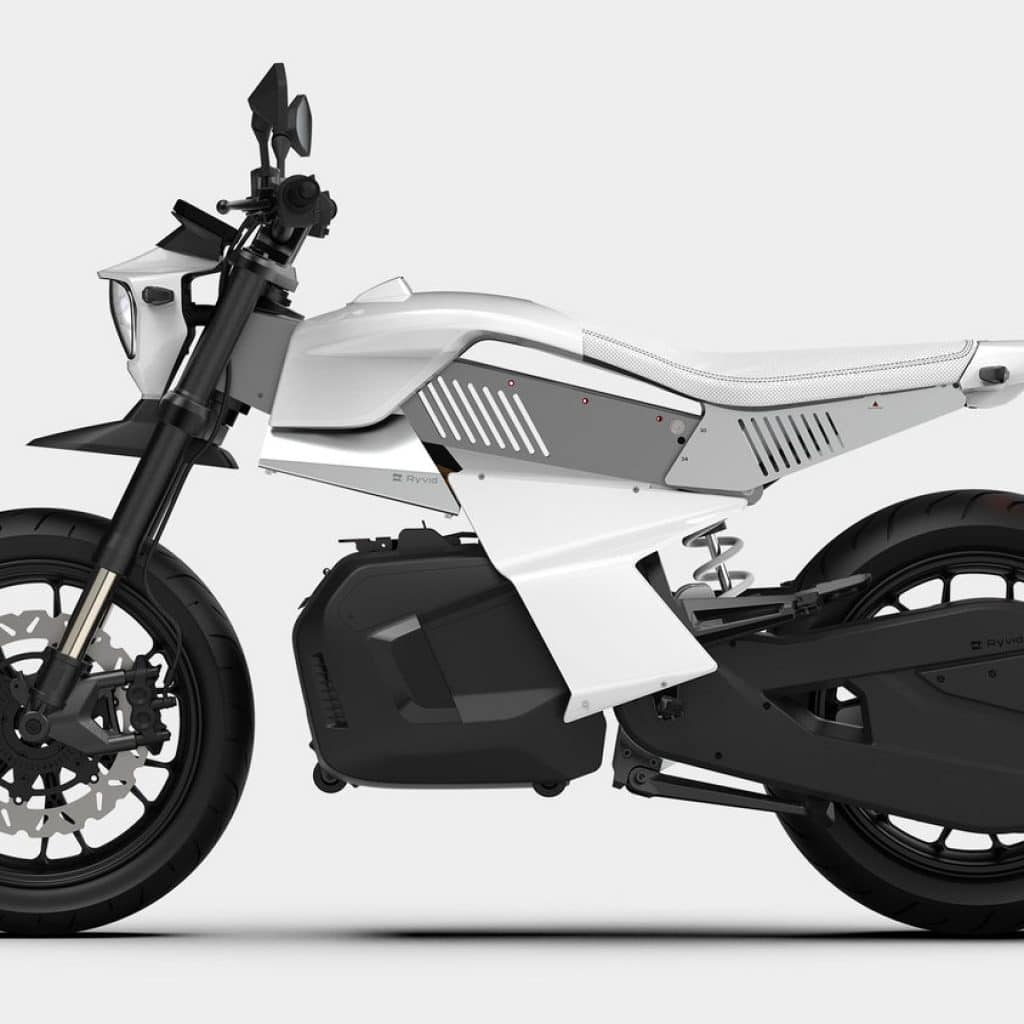 Noteworthy Features For The Ryvid Anthem
The Anthem's biggest attention getter is without a doubt it's wildly adjustable seat, which Ryvid claims allows for a full 4 inches of adjustment without fumbling with suspension linkage. Seat height starts at 34 inches in its highest setting, but can be dropped down to 30 inches at its lowest. This should translate to a bike that's flat-foot friendly for even the shortest riders, but doesn't leave the 6-foot-plus crowd feeling like they're riding a children's toy.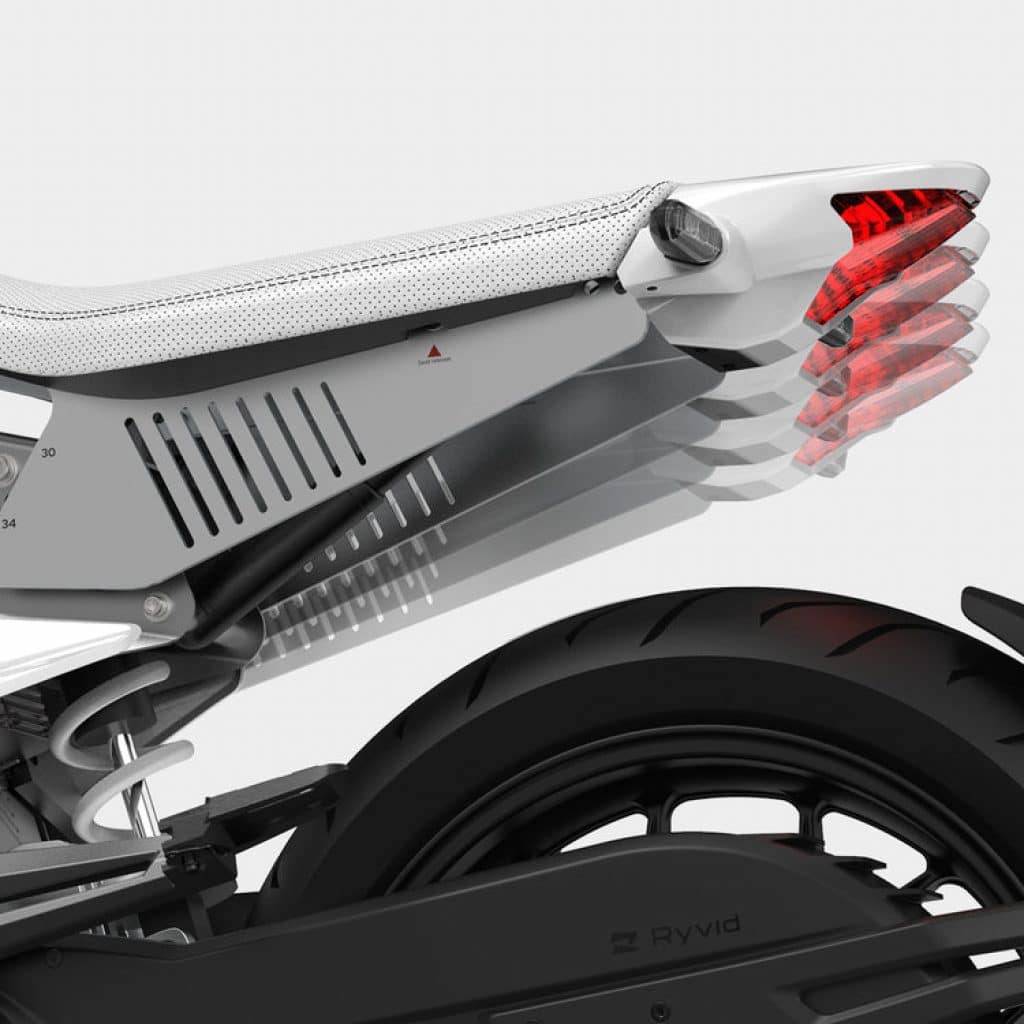 The Ryvid Anthem's chassis is interesting as well: Ryvid claims that despite chassis being made from stainless steel, the entire backbone of the bike weighs in at just 12 pounds. This allows the Anthem to keep its total weight down to an impressive 240 lbs, with 60 of those pounds coming from the battery.
How the chassis holds its weight is also worth pointing out here: Ryvid will house the Anthem's electric motor inside the swingarm assembly rather than bolting it onto the frame, which should give the bike an exceptionally low center of gravity and admirable handling. The battery itself takes a similiar approach, mounting onto the lowest possible point in the frame to push the Anthem's mass as close to the ground as possible.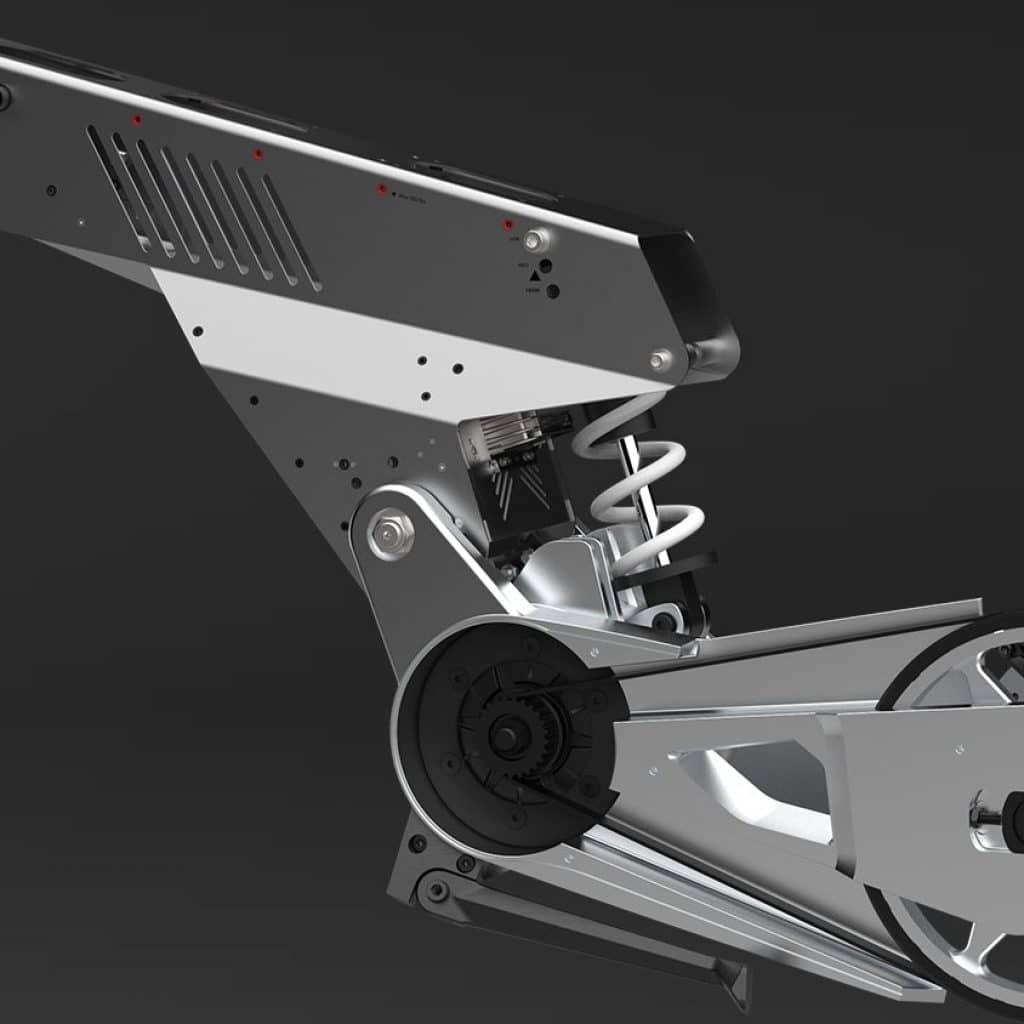 Speaking of the battery, you may have noticed that the Anthem's power pack looks suspiciously like a piece of airport roller luggage, and if so, know that your suspicious are well founded: Ryvid has designed the battery to be removable for easy charging indoors, and those wheels mean you won't have to man-handle its 60 pound bulk from your parking spot up to your front door. That also means that the Ryvid's battery will be swappable on the go, although prices/availability for additional power packs have yet to be released.
Claimed charging time for this 4.3 kWh unit is three hours using a 220V outlet, or six hours on a standard 110V plug. Additional features include a 4.9-inch TFT display, dampening-adjustable suspension, and multiple final drive ratios allowing the Anthem to be tuned for quicker accelleration or better manners at highway speeds.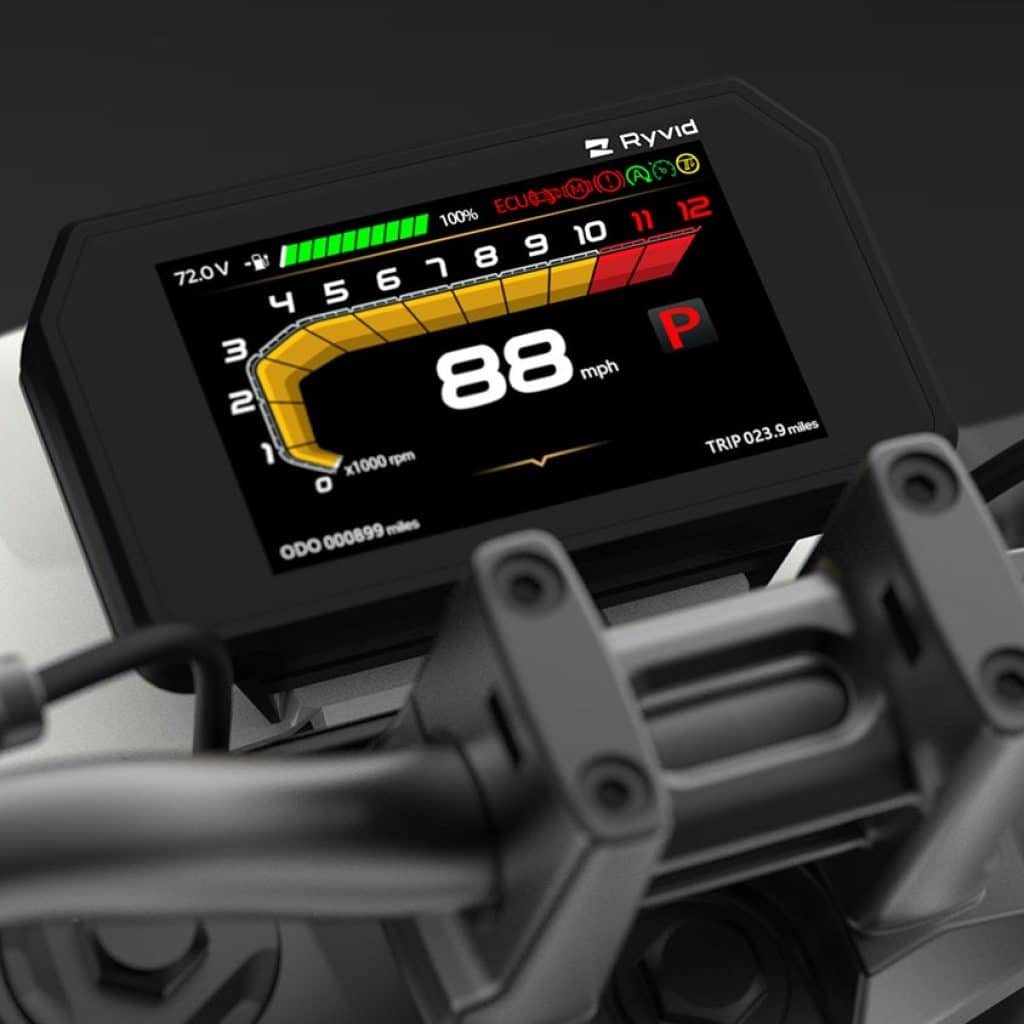 If you're digging the Ryvid Anthem's aerospace-chic, Ryvid's "Launch Edition" goes on sale August 14th on the company's website. This initial run is limited to 1,000 orders at @ $7,800 a pop, and Ryvid claims they plan to begin deliveries of their electric motorcycle in the summer of 2023.
Ryvid Anthem Specs
Range: 75+ miles (Eco Mode) / 50+ miles (sport mode)
Top Speed: 75+ mph
Battery: 4.3 kWh Lithium Ion
Power: 53 ft-lb
Transmission: Clutchless/direct drive
Final Drive: HTD carbon belt/ 4.7 gear ratio
Wheel Base: 52 Inches
MSRP: $7,800 (launch edition)