Triumph finally released the results from their finished electric prototype. If you're looking at the Triumph TE1 specs and shaking your head at the performance and range figures, you're missing the big picture.
We've been following the Triumph TE1 project closely, and like many of you, have been anxiously awaiting the finished product. This week Triumph finally delivered the first fruits of their three-year endeavor, and as usual, the internet was waiting with knives out to poke holes in the news anywhere they could.
Here's our take.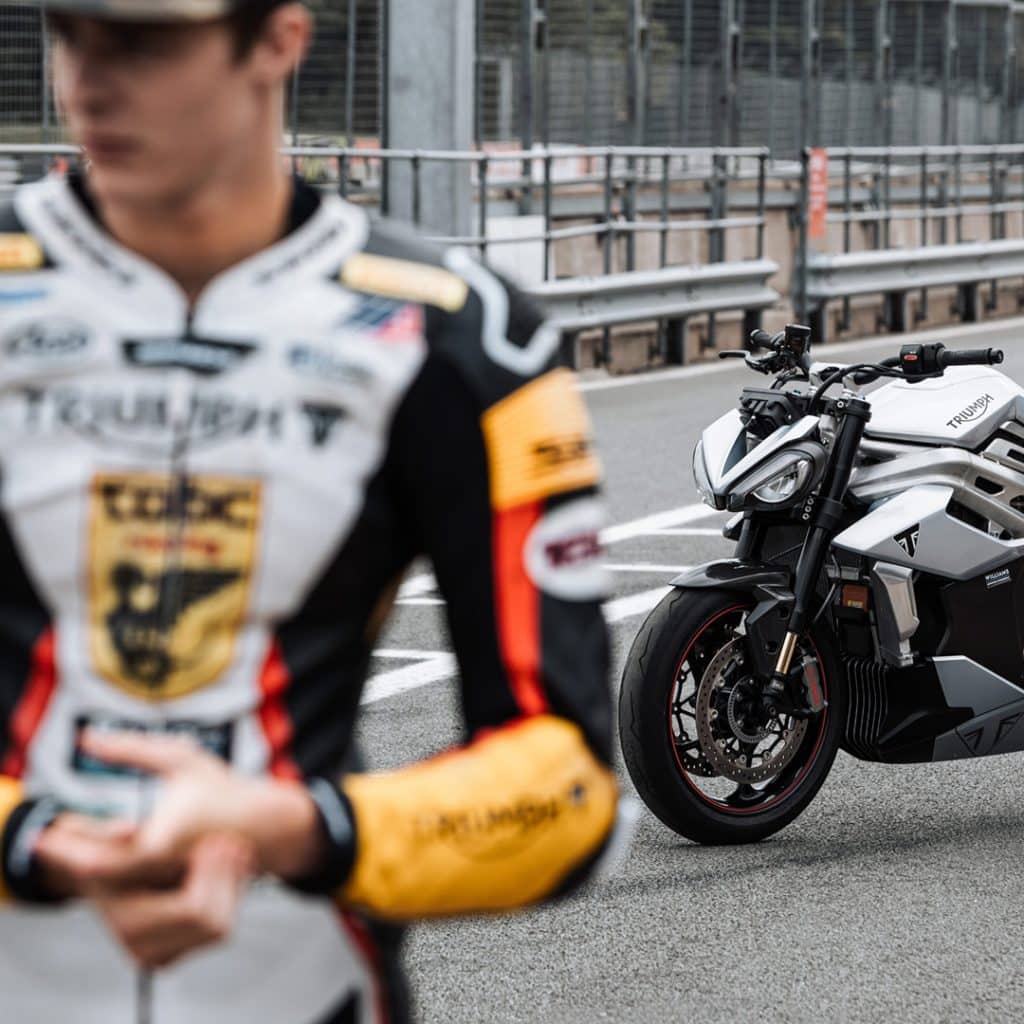 The UK Government Bankrolled A Racing Motor For The Masses
The biggest news here, as far as we're concerned, is the Triumph TE1's electric motor, which was developed by the same team behind the Aston Martin Valkyrie and Lotus Evija, Integral Powertrain.
Final specs on the motor claim 175 peak horsepower and 80 lb-ft of torque, which is astounding considering the motor itself weighs in at just 22 pounds. There's simply nothing else like it out there currently in terms of power density on the street or otherwise.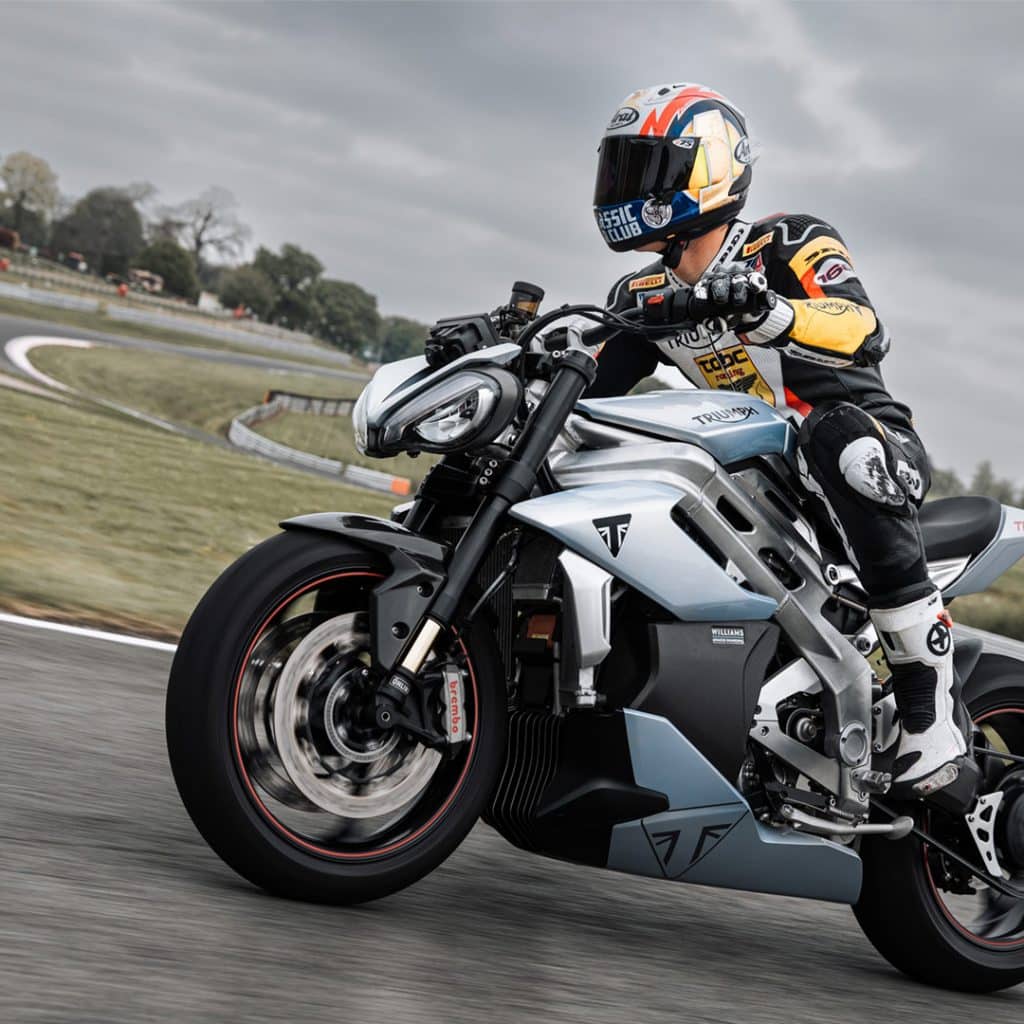 For comparison, even the forthcoming Damon Hypersport, with its claim of 200 peak horsepower, falls considerably short of this achievement. According to Damon, their own electric motor is significantly heavier at roughly 48 pounds, meaning the TE1's motor delivers nearly double the power to weight. You could even draw a similar comparison to the latest figures released from Ducati concerning their current MotoE race prototype.
According to Ducati, the latest testing of their bespoke racing motor puts down roughly 150 horsepower, yet weighs a significantly heavier 46.3 pounds. However, unlike the Ducati MotoE prototype, the TE1's engine was developed with an eye toward mass-market production.
"The motor has achieved peak and continuous power densities of 13kW/kg and 9kW/kg respectively; 60 percent higher than APC (Advanced Propulsion Centre) technology roadmap targets for 2025. All this has been achieved using materials and processes compatible with volume automotive production and on a length-scalable motor platform. The motor scalability concept deployed on TE-1 has provided a springboard for a new scalable motor architecture, to be announced later this year, which will provide similar performance levels but much greater manufacturing scale than previously.

-Integral Powertrain
So yea, while the likelihood of a production model Triumph TE1 is uncertain, the end product of this undertaking (which, again, was financed by the UK government's Office For Zero Emission Vehicles) will benefit the motorcycling public at large. Priceless R&D for a race-spec (or better, apparently) electric engine for the masses? That is what we should all be focused on.
The Triumph TE1 Specs Will Only Get Better
Ok, so the motor is great news, but what about those performance figures? Three main sticking points have been making their way around the web this week: (a) The 0-60 times aren't competitive, (b) range is unremarkable, and (c) it's still a heavy bike. Let's address those directly.
Triumph TE1 Acceleration Figures
In terms of the TE-1's 3.6 second 0-60 claim, there are some valid comparisons being made to bikes like the current Livewire's 3.0 second sprint and the Energica RS's blisteringly fast 2.6 second claim. We'll point out that 3.6 seconds is still wildly fast, and that number has room for improvement. In Triumph's own words:
With further refinement of the electronics, including the traction control system and front wheel lift control, the team responsible for delivering the TE-1 project anticipate that performance could be enhanced further, harnessing the full torque potential to enable even quicker standing start acceleration.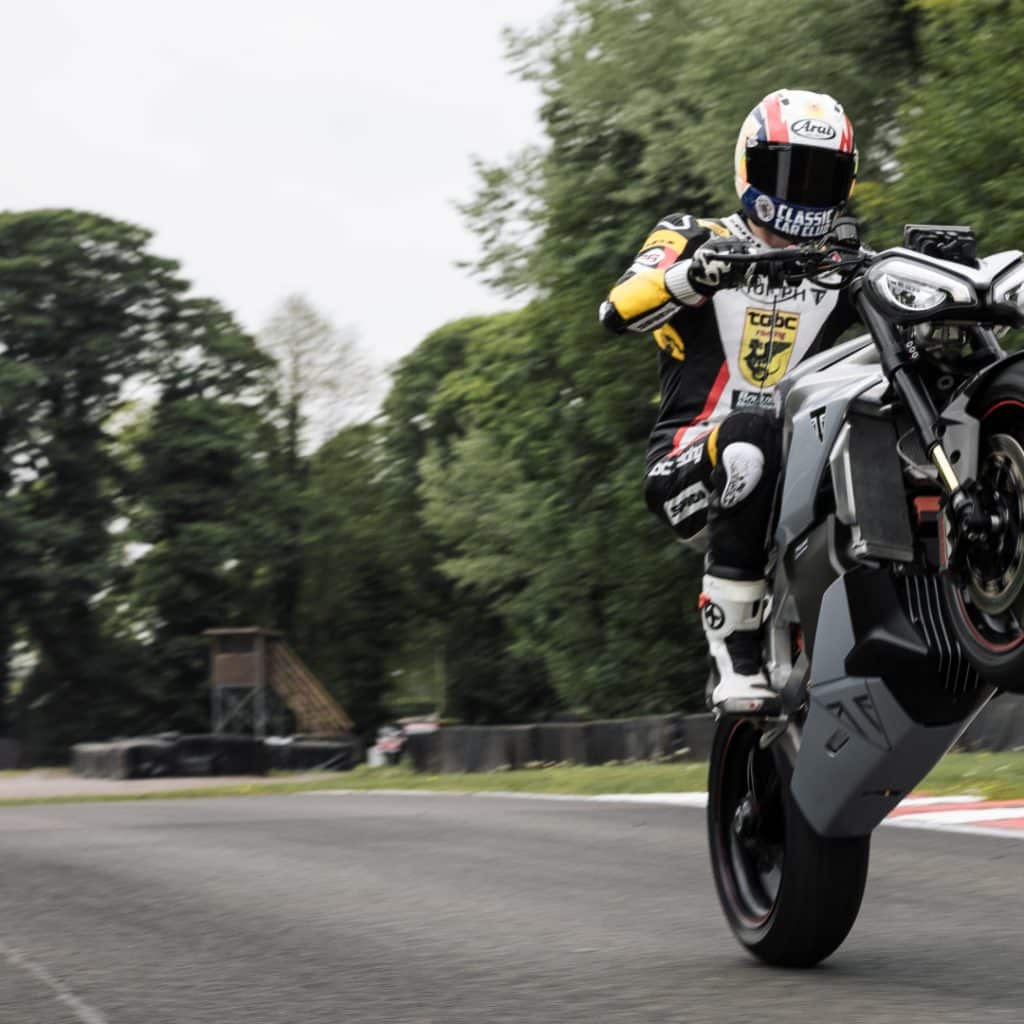 Considering the impact that these launch-specific systems have on a motorcycle's standing acceleration numbers, we have no issue taking Triumph at their word here. The 0-100 second figure of 6.2 seconds is already beyond that of the newly redesigned Speed Triple, and also stands to benefit from software tweaks.
Putting Weight Into Perspective
Triumph's final figure for the weight of the TE1 shakes out to about 485 pounds. So no, it's not exactly sprightly compared to IC bikes, but it is impressive for the segment. Zero's SR/F is 15 pounds heavier at 500 pounds, the Livewire adds another 62 pounds to that according to the latest figures, and the Energica Ego crushes them all at a hefty 573 lbs.
It's also worth pointing out that the TE1's performance is being compared to Triumph's other high-powered roadster, the Speed Triple. When you take a close look at the TE1 , however, you'll really start to see the prototype for what it is: An absolutely bonkers Street Triple.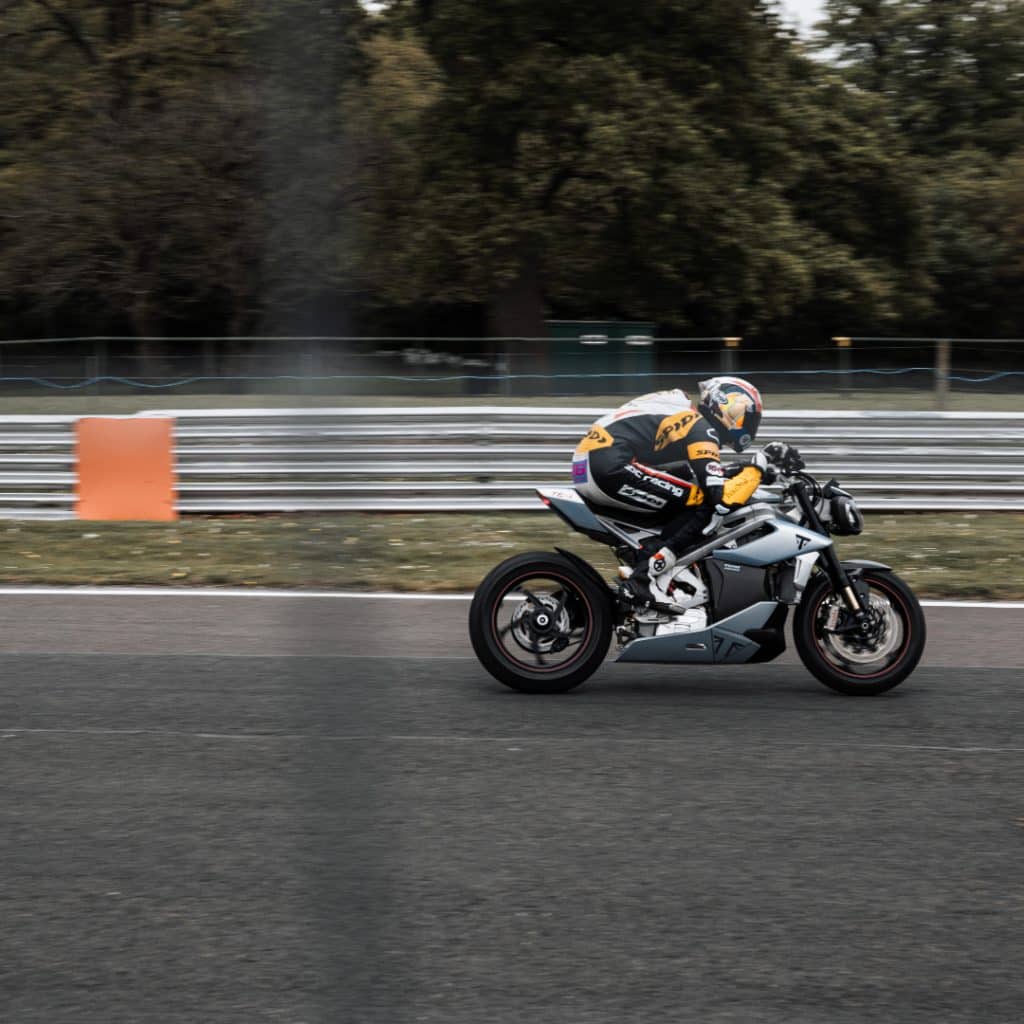 That's because the dimensions for the new TE1 (both in terms of ergonomics and outright size) are actually much closer to the popular middleweight offering. Yes, it weighs more than both the Speed and Street naked bikes, but the fact that all this tech can be shoehorned into a middleweight chassis shouldn't be glazed over.
What About Range?
Lastly, we come to range which, at a claimed 100 miles, isn't quite the breakthrough we were all hoping for when the folks at Williams Advanced Engineering signed on to contribute their Formula 1 knowhow to the two-wheeled world. We're staying optimistic about that figure for two reasons.
The first is that Triumph has yet to disclose their testing methodology for range. That's a possible plus because as we pointed out in our article on the Triumph TE1's phase 2 completion, Williams said from the start that their testing and design were revolving around track use. It's a long shot, but if those numbers are based on racetrack-pace riding, the city and highway figures could be impressive still.
The second is that even if 100 miles to a charge is an accurate assessment for normal riding conditions, Triumph's claim to a 20-minute 0-80% charge would still make the bike a reasonable proposition with the right charging infrastructure in place. Triumph also noted in their initial press release that there were still potential gains to be made from regenerative braking, transmission efficiency, and the motor generator unit.
It's still anyone's guess how soon we'll actually see a production electric from Triumph or how closely that bike will resemble the TE1, but for now we think a proper "thank you" to the folks at Triumph and their collaborators is in order. Bravo, team.