Texas-based Volcon Powersports gave the public its first proper glimpse of the upcoming Volcon Stag UTV this month, and the new side-by-side looks to be well worth the wait. We don't typically cover anything over two wheels here at ECR (even three is a stretch), but as a US-based startup that's actually gaining some traction in the electric motorcycle market (they officially signed on their 60th North American dealer back in March), we're interested in any new tech Volcon rolls out.
As far as the Stag goes, it's got four seats, four-wheel drive, fully adjustable suspension, and all the latest performance tech you'd expect from a cutting-edge electric off-roader. First deliveries of the Stag are slotted for summer of 2023, but here are all the latest details to hold you over in the meantime.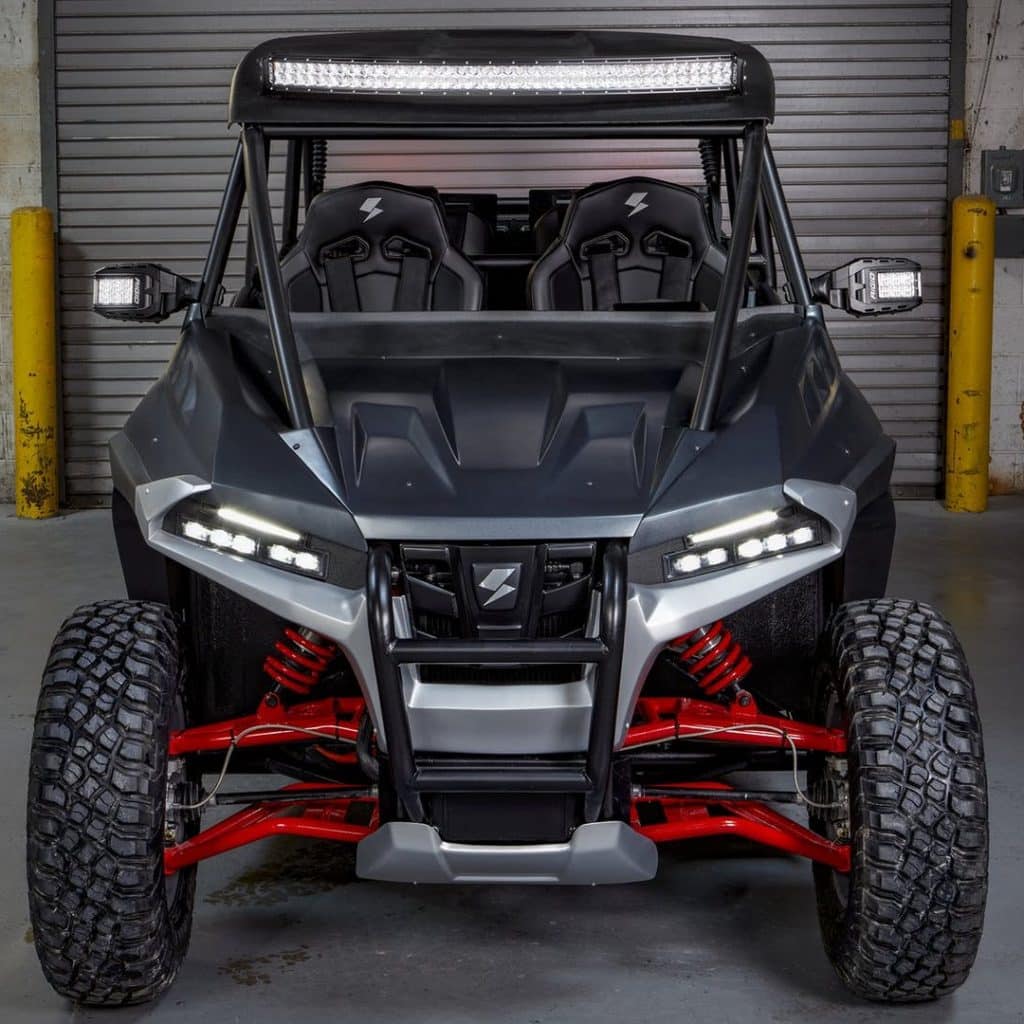 Volcon Stag Performance Features
The Stag is positioned as a "do-it-all" machine, but if you're anything like us, your first concern is "How fast can I do it all?"
The folks at Volcon aren't mincing words about the Stag's off-road prowess, and their CEO, Jordan Davis, is setting the bar in its full upright position.
"We envisioned the Volcon Stag to be the most cutting-edge off-road vehicle in its class. Utilizing the latest EV drivetrain technologies, and keeping our focus on performance and user experience have led us to launch what we believe is a UTV that will provide an experience unmatched by any other UTV in its class. We believe the near-silent drivetrain, class-leading horsepower and torque, and an amazing driver interface are going to revolutionize the powersports industry"

Jordan Davis, Volcon CEO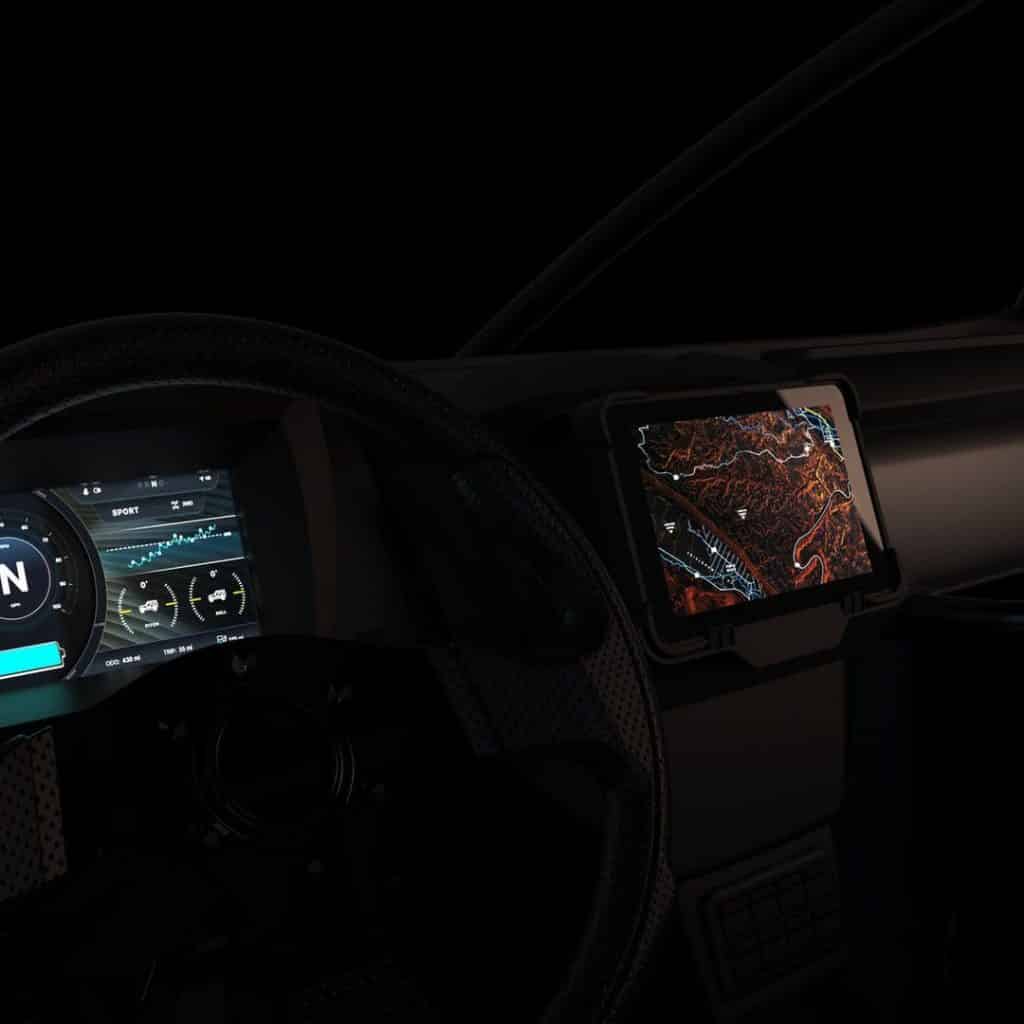 So what does the Stag bring to the table? Davis' comment on class leading power refers to the UTV's 125 horses and 265 lb-ft or torque, but Volcon says the Stag will deliver over 140 ponies with an available "power boost" option. Those numbers are delivered with the Volcon Stag in "sport" mode, but if you prefer range over brute strength, an "eco" mode is also available which Volcon claims boosts the Stag's range over 100 miles per charge.
In terms of off-road performance, the Stag features an on-demand 4wd system, which Volcon says will automatically engage the front wheels should the rear wheels lose traction. This system also works as a traction aid when cornering by automatically distributing power for greater grip and stability. The Stag also features a "Crawl" mode similar to the system found in vehicles like the new Ford Bronco, which locks the UTV's speed in at a snail's pace to allow the driver to focus on braking and steering over obstacles.
Volcon Stag Utility Features
So yes, by all indications, the Volcon Stag will be a high performance side-by-side, but ass isn't the only thing it's designed to haul. Volcon plans to make full use of the versatility of the Stag's electric powertrain, and it's utility-focused specs are just as impressive as it's performance numbers.
Volcon claims the Stag specs a payload of 1,550 lbs, which, if you didn't know, is more than the latest Toyota Tacoma TRD. The Stag also sports a "tow mode" setting, which optimizes power output to allow the UTV to tow up to 2,000 lbs. You'll also have just over 26 cubic feet of bed space available (with the rear seats folded down), so there shouldn't be anything stopping you from throwing your Volcon Grunt in the back and headed out for an all-electric field day.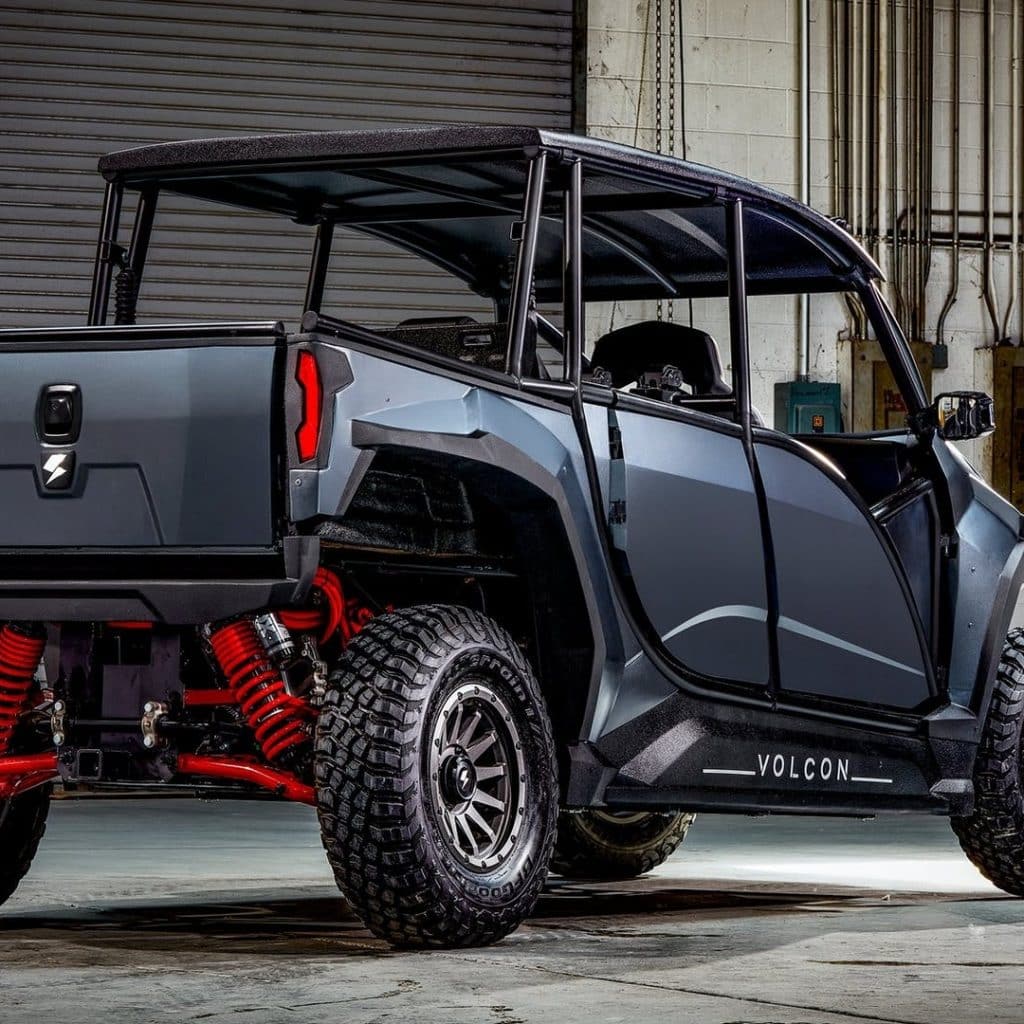 Speaking of BFGoodrich, you may also have caught the news that the tire manufacturer has been working with the team at Volcon to develop their latest ActivAir technology. If you're not familiar with the ActivAir concept, it's essentially an on-board tire inflation module that makes real-time pressure adjustments to maximize off-road performance. In the case of the upcoming Volcon Stag, this technology would also be used to optimize the battery range of the Stag (as well as any of Volcon's future UTV projects) by minimizing energy loss due to air pressure.
So yea, there's a lot of exciting tech packed into Volcon's upcoming UTV, but as you might expect, the latest and greatest doesn't come cheap. Initial MSRP for the Stag is a whopping $39,999 (so much less than $40,000!). The sticker price is definitely a shocker, but compared to other "top tier" side by sides, the Stag may actually be competitive.
The Polaris RZR Pro R, for example, will set you back somewhere between $38,000 and $42,000, depending on how you kit it out. Granted, the RZR is likely in a completely different class as a high-speed whoops-eating machine (we've driven a few, and they're absolutely bonkers), but they also come with drawbacks like routine maintenance, the questionable reliability of a highly-tuned turbo-charged engine, and the annoyance of a belt-driven CVT transmission. The Volcon Stag's do-it-all ethos of weekday workhorse and weekend off-road toy all rolled into one may sound like a value-added proposition for those with the money to spend, and the low-maintenance character of an all-electric, direct-drive powerplant is definitely worth a second look.
2023 Volcon Stag Initial Specs:
Power: 125 hp (140+ available with overboost mode)
Torque: 265 fb-ft
Top speed: 80 mph
Range: Over 100 miles
Battery: 42 kWh
Charge time: Under 6 hours with level 2 charging
Payload: 1,550 lbs
Towing capacity: 2,000 lbs
Bed area: 26.7 cu-ft
Tires: BFGoodrich Mud-Terrain T/A KM3