Austin, TX based Volcon Epowersports is launching their first production motorcycle this summer, the aptly named Volcon Grunt. The Grunt is a fat-tire fun bike meant to tackle everything from trail riding to farm duty.
If you've ever had the pleasure of throwing a leg over Yamaha's old "Big Wheel" BW200 or Honda's "Fat Cat" TR200, you know how much fun giant tires can be on a two-wheeler.
Appearance-wise, Volcon's new Grunt is a futuristic take on big wheels of the past, with a little Rokon Trail Breaker utility charm thrown in the mix.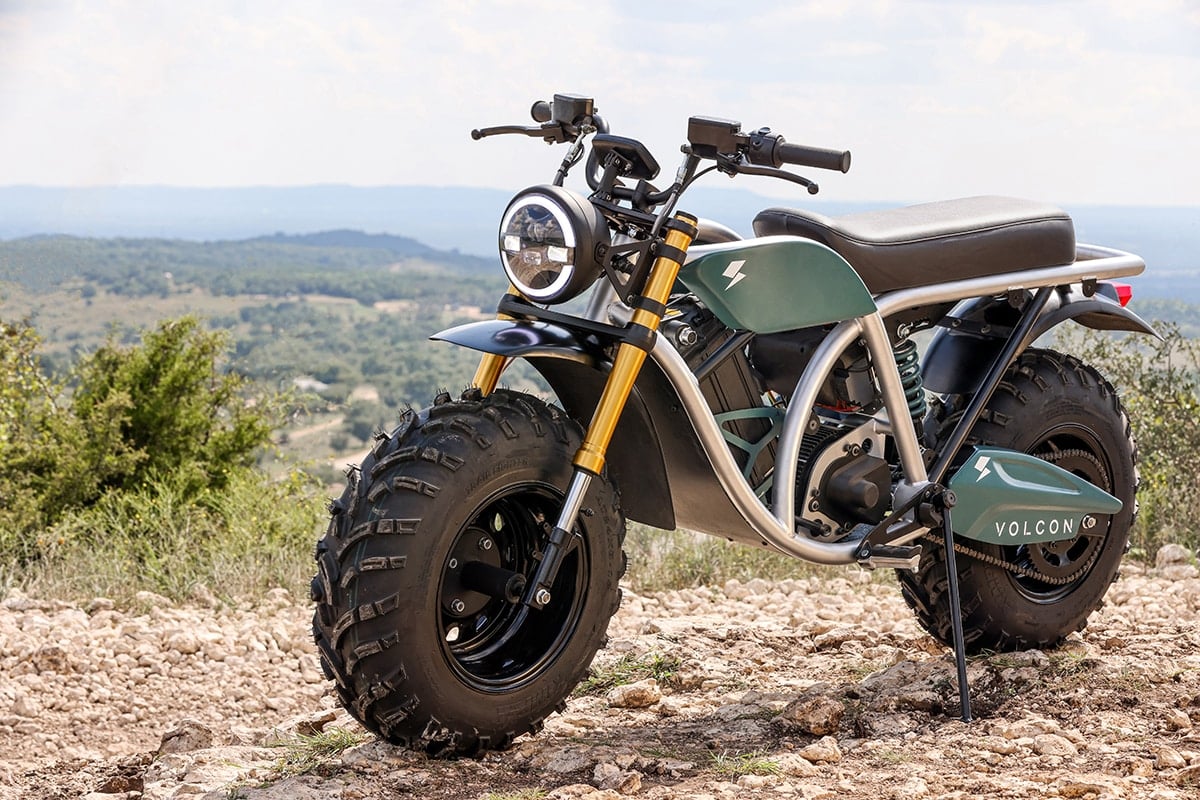 The Grunt uses a 25KW motor powered by a 60V battery, available in both 2.0 and 2.3 kWh capacities. Volcon claims you'll get between 35-40 miles out of the larger battery size, and has designed them to be "hot-swappable" meaning you can bring along a spare and swap it out on the fly to double your range to around 75 miles.
Interestingly enough Volcon also builds the Grunt to be IP67 waterproof, meaning it has no problem crossing streams. You could technically ride it underwater for up to 30 minutes at a time but, ya know… Don't do that.
The bike's 32-inch seat height and shift-free design make it an ideal entry-level bike, but don't mistake the Grunt for a slouch in the performance department. At maximum output this fun little trail bike will pull 0-60 in about 6 seconds (that's faster than your cool uncle's 1970 Hemi Cuda), and cranks out 75 ft-lbs of trail-taming torque. Ride quality should be nice and smooth thanks to added damping from fat 26"x8" tires working together with the front and rear suspension.
It's an attractive package with attractive styling at a pretty darn attractive price: $5,995 to be exact. Maybe a little too attractive considering how quickly pre-orders on the Volcon Grunt went through the roof. If you didn't get your foot in the door for the first batch, you'll be waiting until December to get your hands on the next round.
Still, if you're digging the Volcon Grunt and want one (or two) in time for Christmas, the next batch is scheduled to ship out December 1st. I'd go ahead and throw your hat in the ring if you're looking to take one for a spin before 2022.