This week the folks at Big Red introduced their first production electric motorcycle, the Honda CRF-E2. Made in collaboration with Southern California-based Greenger Powersports, this mini-crosser is billed as a competitive two-wheeler for the youth, roughly equivalent to a 50cc gas bike.
Don't let the small size fool you though: Honda didn't build the CRF-E2 as another pocket bike or trail toy like the current CRF50F: This electric kid's bike is taking aim at the competitive youth riding/racing market, and from the look of things it might become the best buy in the genre.
Honda CRF-E2 Overview: Specs, Equipment, MSRP, Etc.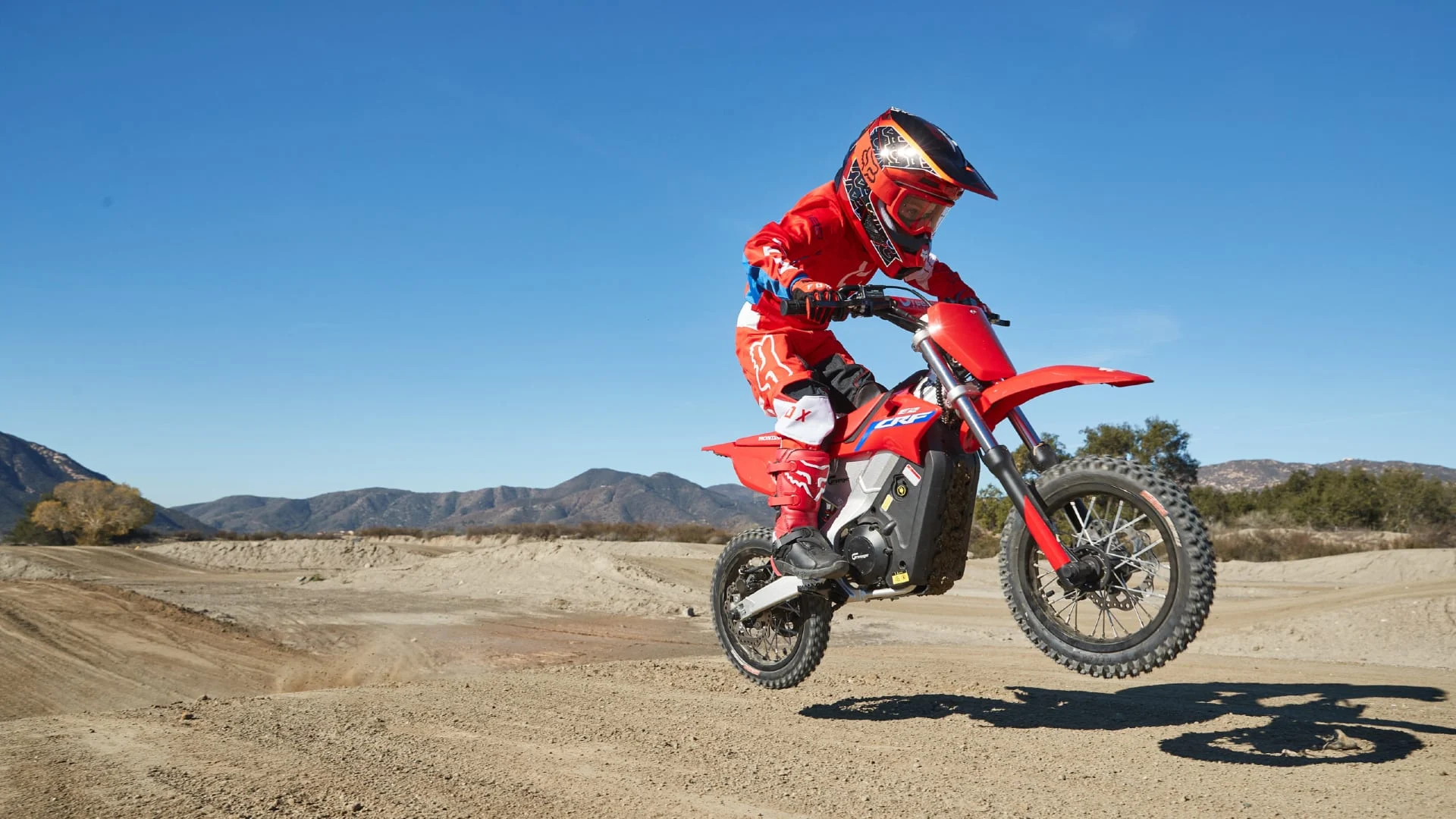 The list of competitive offroad bikes for young kids is a short one, and if you're shopping electric-only, it's shorter still. The main game in town for a 50cc equivalent is KTM's SX-5 (and its Husqvarna EE5 sister), with a few alternatives from smaller companies like Torrot and Oset.
From a power standpoint, the Honda CRF-E2 is competitively specced with the best in the business, putting down a claimed 3.4 hp and 18.4 ft-lbs of torque. That's a significant bump over the KTM's 13.8 ft-lbs, but at 106 pounds, the Honda is also a bit heavier than the KTM's 89-pound curb weight.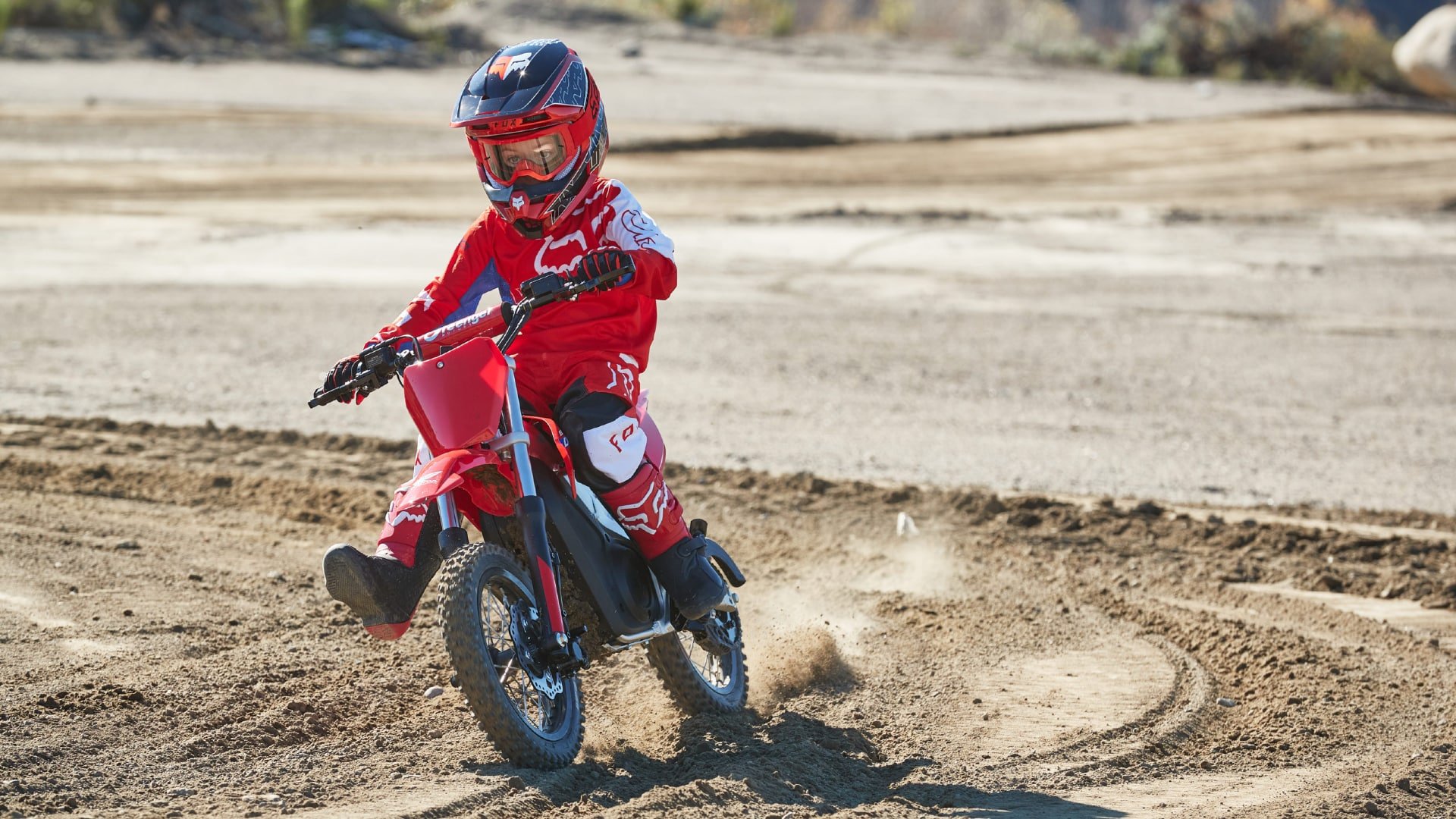 Riders also get 3.9 inches of suspension travel from the CRF-E2's conventional front fork, modern stopping power from a pair of hydraulic brakes (both using 190mm rotors), and a proper set of knobby 12-inch Kenda K771 tires mounted to spoke aluminum wheels.
At first glance the only thing the CRF is lacking over the competition is outright suspension quality (KTM/Husky spec their mini-crossers with fully-adjustable WP suspension), but from where we're standing, two things may truly set it apart in the market: Price and battery power.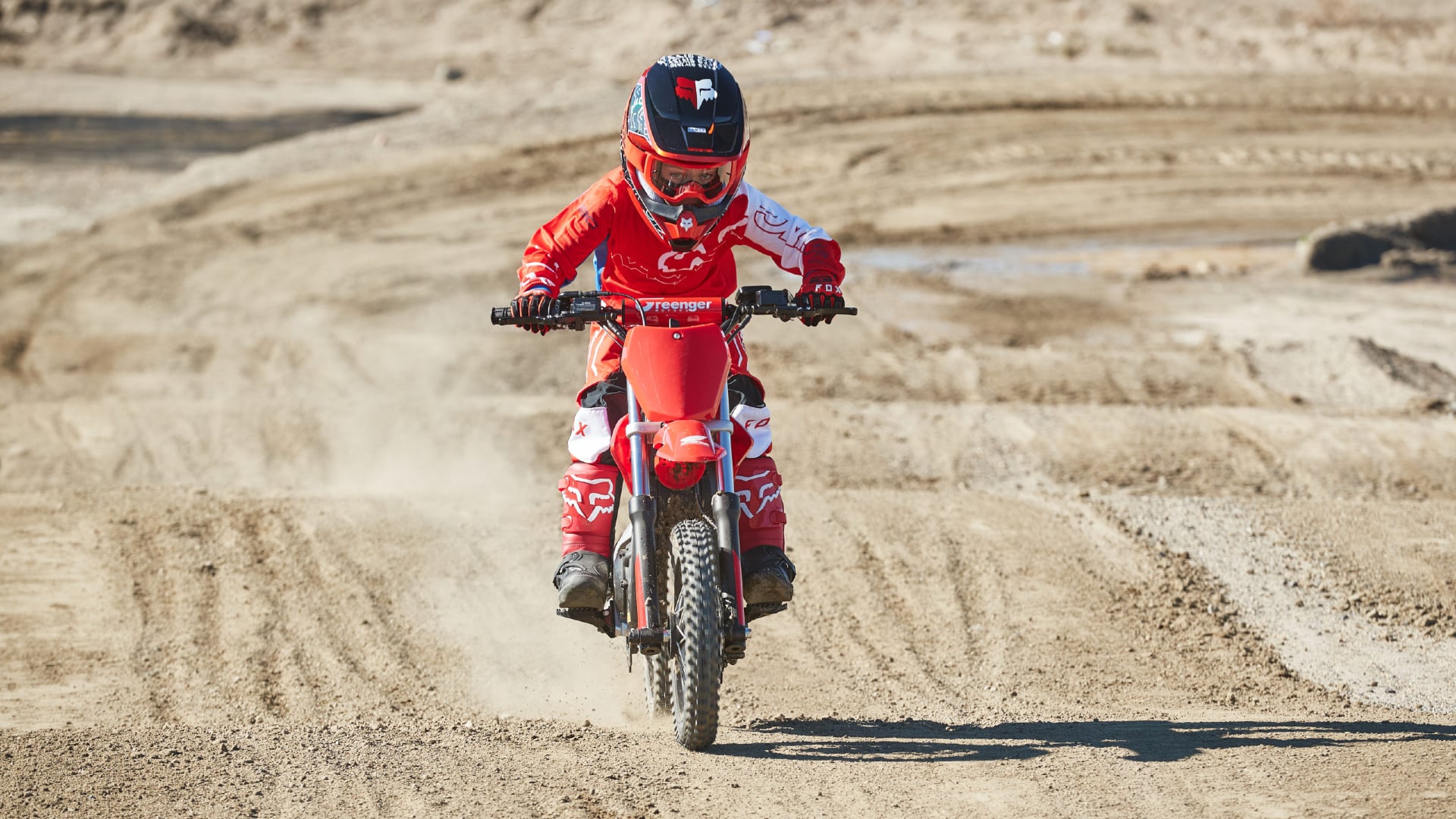 Price is the most significant here, as the CRF-E2 hits showroom floors with a $2,950 starting MSRP. Considering KTM's latest offering starts at $5,400, getting your kid into motocross just got a lot more affordable. The Oset MX-10 is the closest competitor here with a $3,200 price tag, but both bikes are missing the CRF's secret sauce: Hot-swappable batteries.
By leveraging the experience and know-how of collaborator Greenger Powersports, Honda was able to design a chassis around Greenger's latest 20Ah battery (they also use a Greenger motor and controller), which features the same 2-hour maximum runtime as the competition but pops out from under the seat with ease thanks to its compact size and scant 11.9-pound weight.
This tech gives parents the option of keeping a spare battery on hand to keep the fun going, or buying the optional 8A quick charger which cuts charge times down to 2.5 hours for a 100% charge. The CRF comes with a standard 5A charger as well, which takes about 4 hours for a full recharge from a standard socket.
Hot-swappable batteries are ideal for smaller output machines like this, but we'll go ahead and warn you now: Greenger has set the starting MSRP for additional cells at $1,000 a pop through your authorized Honda dealer. Granted you can still get a new CRF-E2 and an extra four hours' worth of battery power for less than a new KTM, but your kid will be cutting grass well into middle school before you see any return on that investment.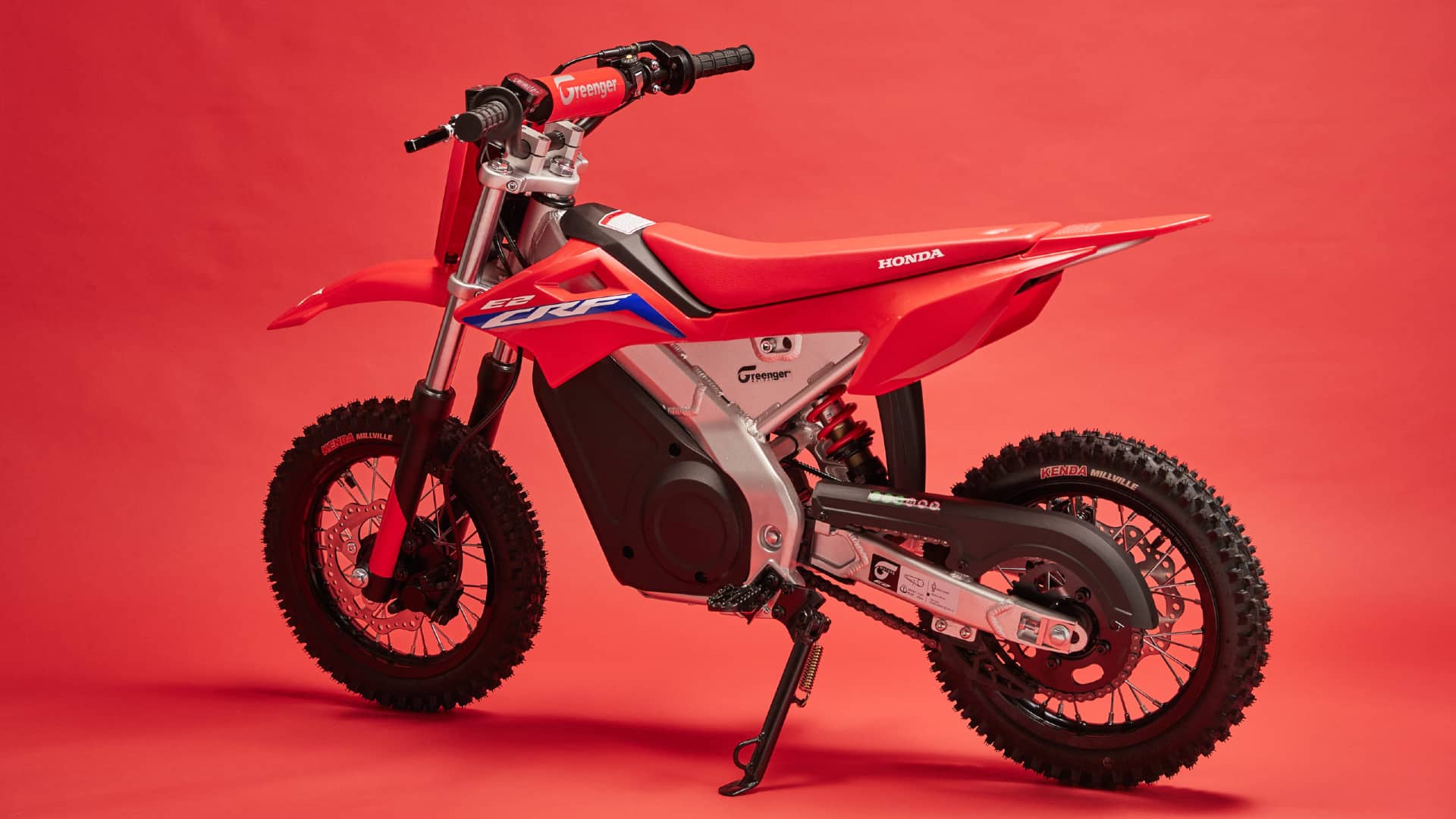 Honda CRF-E2 Specs
| | |
| --- | --- |
| Electric Motor: | 48 V- BLDC motor with inner rotor |
| Rated Output | 1.2 KW / 2000RPM |
| Max. Power: | 2.5 KW |
| Torque: | Rate:5.5Nm; Max:25Nm |
| Max Motor Speed: | 4,000 RPM |
| Final Drive: | 1:7.1 |
| Drive Mode: | Stage 1 , Stage 2 |
| Cooling System: | Air Cooled |
| Powerpack: | Swappable lithium-Ion battery, L*W*H:145*91*270mm, Weight:5.9kg(13lb) |
| Capacity/Energy: | 20 AH/960 Wh |
| Charging Time 100%: | Standard: 4 Hours , Quick Charge: 2.5 Hours |
| Charging Time 80%: | Standard: 3.2 Hours , Quick Charge: 2 Hours |
| Run Time: | 2 hours in ideal conditions with full charge |
| Charger Line Voltage: | 90-264 V/50-60 Hz |
| Charging Input: | 1.3A@230V(AC) |
| Charging Power: | 290 W |
| Frame: | Aluminum twin-spar with Double-Cradle |
| Handlebar: | Tapered Aluminum ϕ22mm |
| Front Suspension: | Hydraulic Conventional Telescopic Fork ϕ33mm, Length 600mm(24.25inches) |
| Rear Suspension: | DNM Rebound/Preload Adjustable,Length 230mm(9inches) |
| Suspension Travel Front /Rear: | 100mm(3.9ins)/210mm(8.3inches) |
| Front Brake: | Hydraulic caliper w/ 190 mm petal-style rotor; right-hand-lever actuated |
| Rear Brake: | Hydraulic caliper w/ 190 mm petal-style rotor; left-hand-lever actuated |
| Front /Rear Rims: | 12×1.6 spoke aluminum rim |
| Front /Rear Tires: | 60/100-12 Kenda® Millville K771 knobby tire |
| Chain: | 428H |
| Steering Head Angle: | 25° |
| Triple Clamp Offset: | 25° |
| Trail: | 32mm |
| Wheel Base: | 970mm (38inches) |
| Handlebar Height: | 860mm (33.8inches) |
| Ground Clearance: | 200mm (7.8inches) |
| Seat Height: | Adjustable 630mm (24.8inches) / 650mm (25.5inches) |
| Overall length: | 1395mm (55inches) |
| Overall Width: | 690mm (27.1inches) |
| Overall Height: | 920mm (36.2inches) |
| Max Load: | 45kg (99lb) |
| Weight: | 48kg (106lb) |