DirtSports Japan has released a video showing the latest version of the much-anticipated Mugen E.Rex electric motocrosser ripping laps around the Sugo motorsports facility in Murata, Japan.
What we're seeing is similar to the Mugen/ Honda hybrid we saw a few years back, but with some significant changes.
Although Mugen has been teasing this collaboration with Honda since 2017, the latest footage of the E.Rex is compelling for two reasons.
First, the latest iteration of the E.Rex looks a lot more like the Honda CR-Electric it shares a chassis with. That's a big deal considering where the E.Rex started out.
If you aren't familiar with the original E.Rex prototype, the design was… polarizing…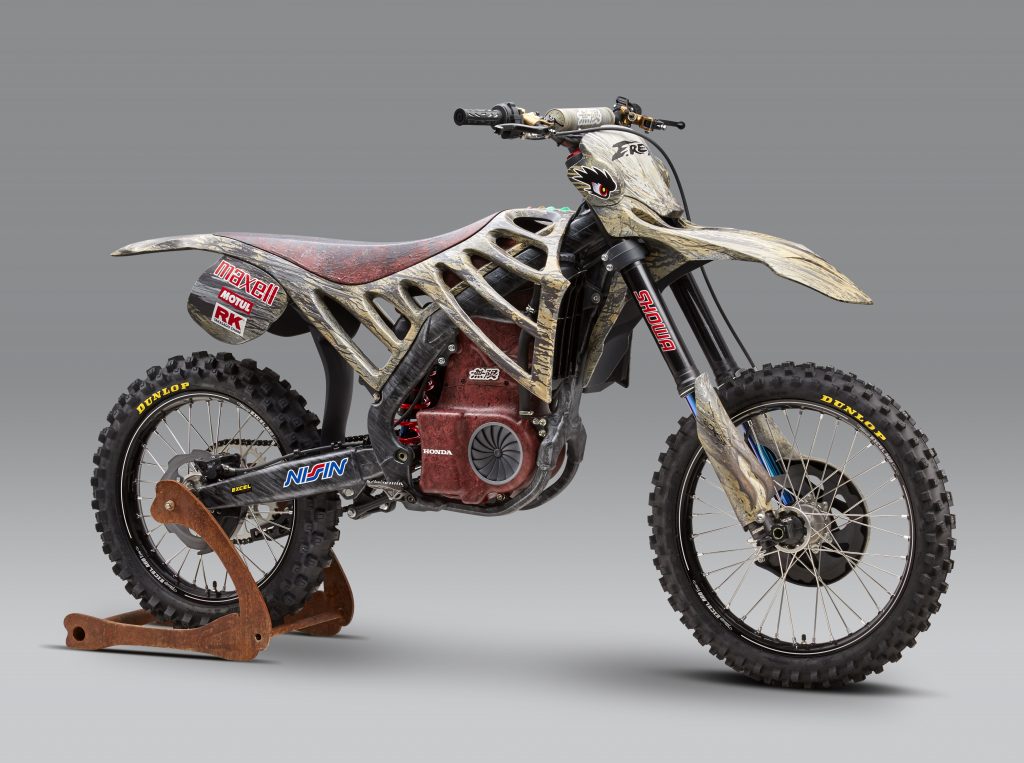 It looked like something an elementary school student would draw on the front of their notebook rather than a bike you'd want to throw a leg over…a Jurassic Park experiment gone terribly wrong…an angry, disfigured product with RealTree camo scales.
And hey, maybe that's your bag.
The second reason this video is important is that the Mugen E.Rex we see here clearly shares the exact same power plant as the CR-Electric we saw at the Tokyo Motorcycle Show in 2019, right down to the shiny red billet aluminum side cover.
That's a big deal because if you've been following Mugen, they've been making serious waves in electric performance with their unbeatable Shinden race bike at the Isle of Man TT for years. The Shinden is a one-off build (that turns 120+ mph lap speeds) but it's telling of the possible direction of Honda's electric future in the coming years as well.
So… What's the deal with Honda and Mugen?
If the Mugen name sounds familiar, it should. Mugen has serious motocross clout from building some of the most coveted Honda performance parts of the 80s and 90s. They're also known for building and tuning Honda race cars and even sold a few production vehicles of their own like the Honda Civic Mugen Si.
The company's founder, Hirotoshi Honda, is the son of the legend himself Soichiro Honda.
While the two companies engage in frequent collaborations in both the motorcycle and automobile racing worlds, they are completely independent of one another in terms of ownership and oversight.
When the public can expect to throw a leg over the latest Honda/Mugen E.Rex collab is anyone's guess at this point. The fact that Mugen is teasing the E.Rex in public again is a good sign, but neither Honda nor Mugen has made any official statements about the project other than confirming it is "still in development."