DirtFirst Racing and Hollywood Movie Bikes track record speaks for itself, as they have consistently delivered some of the most impressive KTM Freeride E-XC electric dirt bikes that we've seen to date. 
Continuing their streak of innovation, the duo has set their sights on a new machine: creating a standout bike that bears the Husqvarna name. Despite the increasing number of electric dirt bikes being released from new and unknown manufacturers entering the market, legacy manufacturers like Husqvarna have yet to introduce any electric models larger than a 50cc gas equivalent. The reasons behind their hesitation can be endless to speculate, but, whatever the cause, Husqvarna's lack of development in the electric space has allowed DirtFirst Racing to fill the gap with their newest creation, the EE18.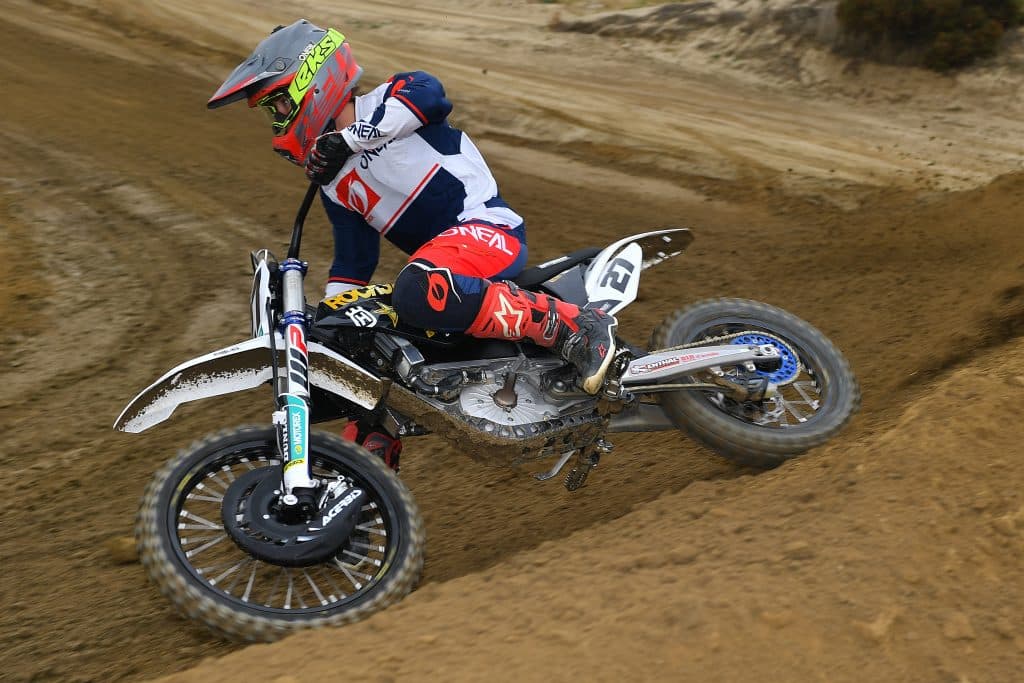 The EE18, based on DirtFirst's successful KTM Freeride Supermini race bikes, incorporates all the team's innovative designs and parts that have been developed over the past two years of racing. With a track record of winning races and proven reliability, the EE18 is expected to be just as impressive as the KTM version.
At the core of the EE18 is KTM's 18kw brushless electric motor, powered by a 3.9kwh lithium-ion battery pack and controlled by an integrated motor controller. We've been riding the KTM for years, and can attest that the KTM's powertrain has demonstrated top-notch reliability. DirtFirst claims its smooth power delivery and water cooling system allow it to outperform highly modified Surrons and Talarias. To ensure optimal performance in hot conditions, DirtFirst Racing has enhanced the EE18 with 30% more coolant capacity and 3″ diameter cooling fans mounted on the radiators. These fans, powered by a separate 12v battery, can be controlled with a handlebar switch. Additionally, an LED temperature gauge mounted in the bar pad accurately measures the coolant temperature as it exits the motor's water jacket.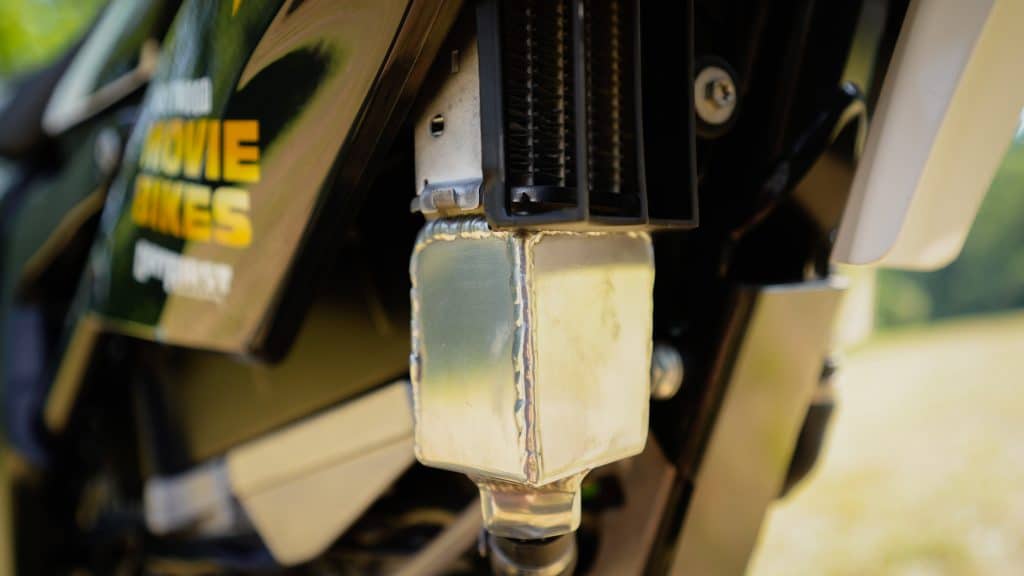 The EE18 features a lightweight and adjustable 43mm WP Air Fork, customized by Schmidt Performance with low friction coating and custom valving. Billet XTrig ROCS triple clamps securely hold the fork tubes in place, with a 14mm offset. In the rear of the bike, the fully adjustable RaceTech GS3 rear shock offers a wide range of springs readily available for riders of different weights.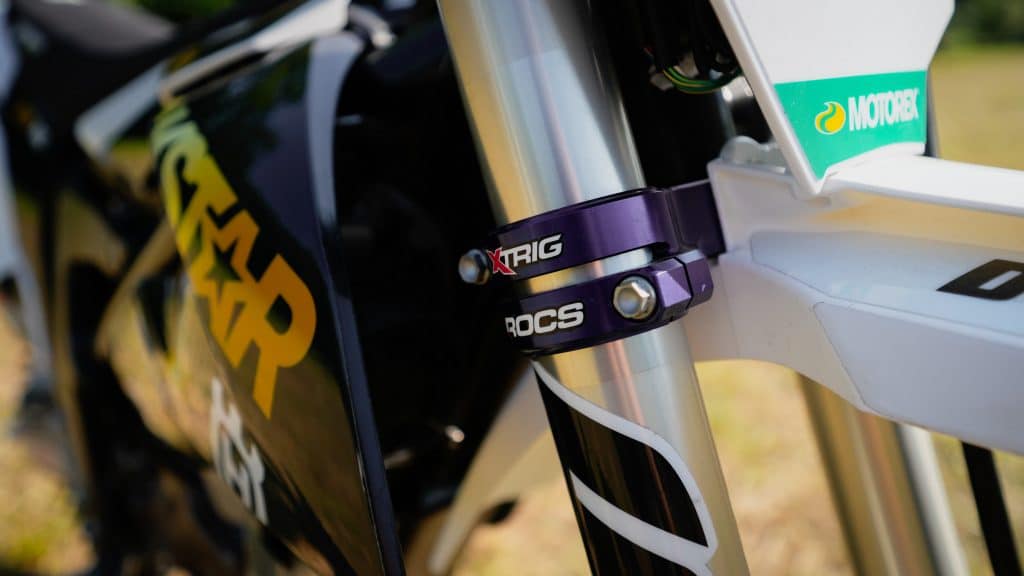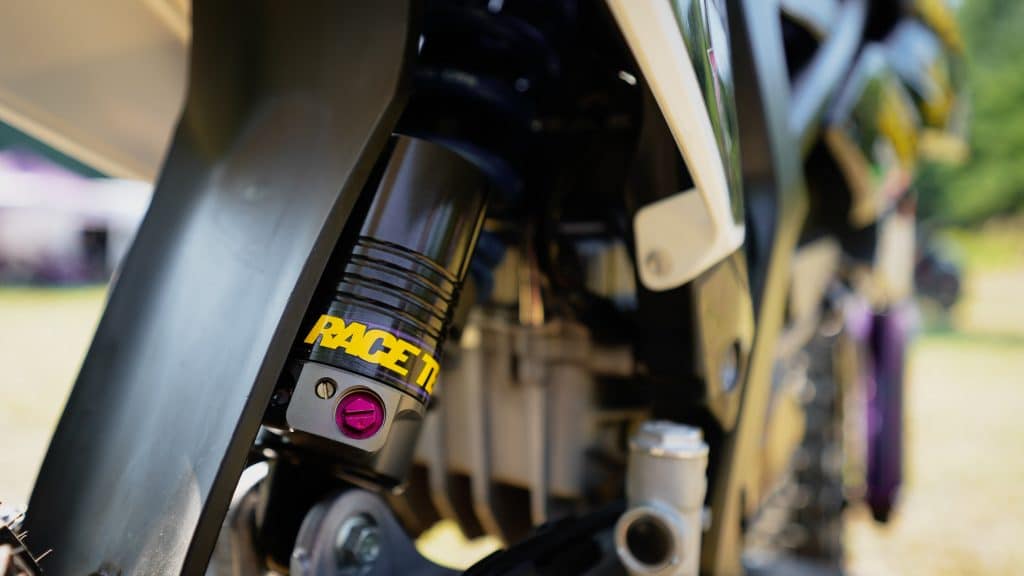 What is unique with the DirtFirst KTM bikes, is they remove the 21/18" wheel set and equip them with a 19/16″ Supermini-class wheel set. These wheels are comprised of Faster USA billet hubs, stainless steel Bulldog spokes, and Excel rims, ensuring the EE18 is has shoes that are both durable performance oriented. The 428 series Renthal drive sprockets and DID chain with standard 14/49 gearing make it suitable for most MX tracks.
To provide effective braking power to the 230lb machine, the EE18 is equipped with Brembo brake systems on both the front and rear wheels, similar to those used on current KTM SXF models. The bike's weight is perfectly matched with a Galfer 260mm floating front rotor and a 220mm rear rotor.
DirtFirst Racing has prioritized both protection and airflow for the motor, incorporating a DirtFirst aluminum skid plate that safeguards the motor while allowing maximum airflow. The bike also features a G2 Ergonomics billet aluminum throttle tube, throttle play eliminator inserts, Renthal 827 FatBars, and Renthal grips. The lightweight and high-grip Apex Raptor titanium foot pegs enhance rider control. The Works Connection Holeshot Device is included for MX starts, and the Red Label pleated gripper seat cover and team graphics complete the overall package.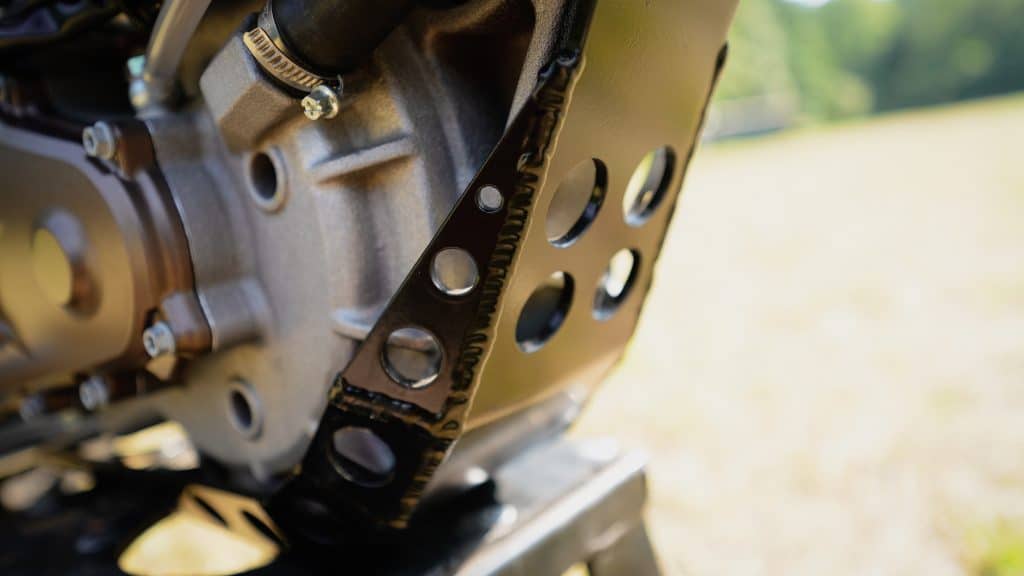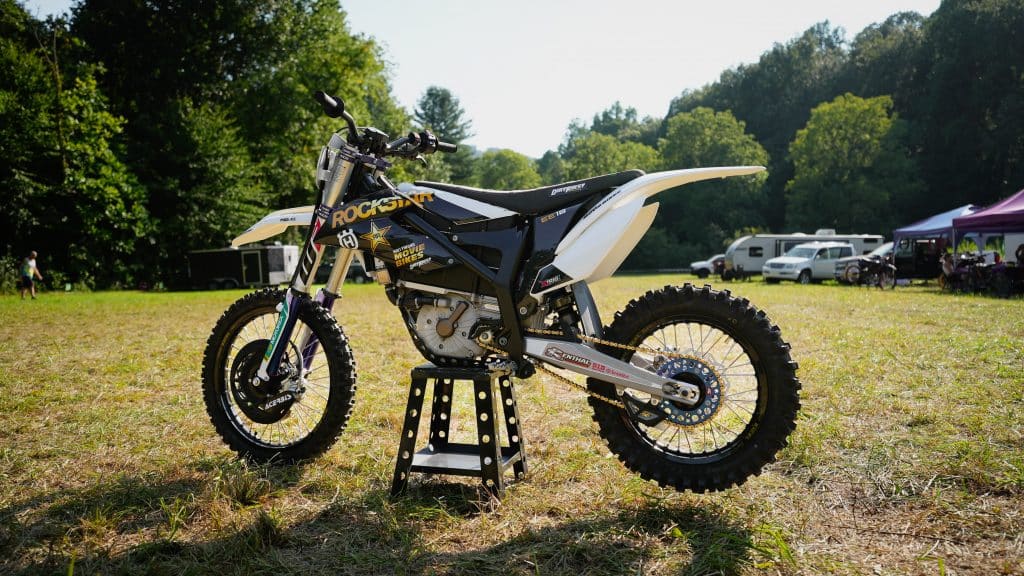 Having had the opportunity to check out the EE18 firsthand at the 2023 Red Bull Tennessee Knockout, we can confidently affirm that this bike exudes a factory-level quality that could easily be mistaken for a product developed directly by Husqvarna. For those of you who have a penchant for white fenders and are seeking a unique iteration of the respected KTM Freeride E-XC (one of our all-time favorite electric dirt bikes), we highly recommend exploring the mod bikes from the talented individuals at DirtFirst Racing, or email [email protected] with any inquiries.
2024 DirtFirst Husqvarna EE18 Rockstar Edition Components:

WP 43mm XACT AER forks
XTRIG ROCS billet aluminum triple clamps
RaceTech G3-S rear shock
Black anodized Excel 19"/16" rims
Faster USA billet hubs and Bulldog S/S spokes
Renthal sprockets, 14/49 gearing
DID 428NZ chain
Dunlop MX33 tires with HD tubes
Brembo SXF front brake system with Galfer 260mm floating disc
Brembo SXF rear brake system with Galfer 220mm disc
G2 Aluminum throttle tube
Renthal bars and half-waffle grips
Arc folding front brake lever
Works Connection Holeshot device
Apex Raptor Titanium foot pegs
DirtFirst Racing high capacity radiators
DirtFirst Racing radiator fan system
DirtFirst Racing MX aluminum skid plate
DirtFirst Racing by Red Label pleated seat cover
Acerbis MX plastic kit
Rockstar Edition graphics
2024 DirtFirst Husqvarna EE18 Rockstar Edition Specifications:

Engine-Permanent magnet synchronous motor
Maximum electric power-18kW(24hp)
Maximum torque-42Nm(31lb ft)
Maximum motor speed-7000rpm
Battery-Powerpack HV Lithium Ion
Battery voltage-260V nominal
Battery capacity-3.9kWh
Cooling system-Water cooled, electric water pump, auxiliary radiator fans
Frame-Perimeter, steel/aluminum composite
Fork-WP XACT 43mm AER, 10.95in of travel
Fork offset-14mm
Rear shock-RaceTech G3-S 10.24in of travel
Front brake disc-260mm floating
Rear brake disc-220mm
Primary transmission ratio-1:2.4
Final drive ratio-14:49
Chain and Sprockets-428 Series
Wheelbase-55.44in
Seat height-33.75in
Ground clearance-12.50in
Overall weight with battery and fluids-232lbs
Battery weight-62lb