The riding experience of lightweight dirt bikes like the SurRon Lightbee X and Talaria Sting hinges largely on their suspension. The suspension setup on these bikes can make or break the riding experience, transforming it from dreadful to incredible, or vise versa. So it goes without saying, finding the perfect suspension setup is crucial for riding these bikes off road.
Ever since the inception of lightweight electric dirt bikes like the SurRon Lightbee X, achieving the perfect suspension configuration has posed an ongoing challenge. The biggest problem being, there really haven't been many reputable suspension options developed specifically for these electric dirt bikes. Although adapting high-end mountain bike suspension may improve ride quality, it's not really what these downhill mountain bike forks and shocks were designed for.
Well, for those of you who have been waiting for a legit eMoto fork, we have some good news.
Enter the EXT Ferro Fork, an upside down, 36mm stanchion fork designed specifically for the lightweight electric dirt bike market like the SurRon and Talaria model bikes.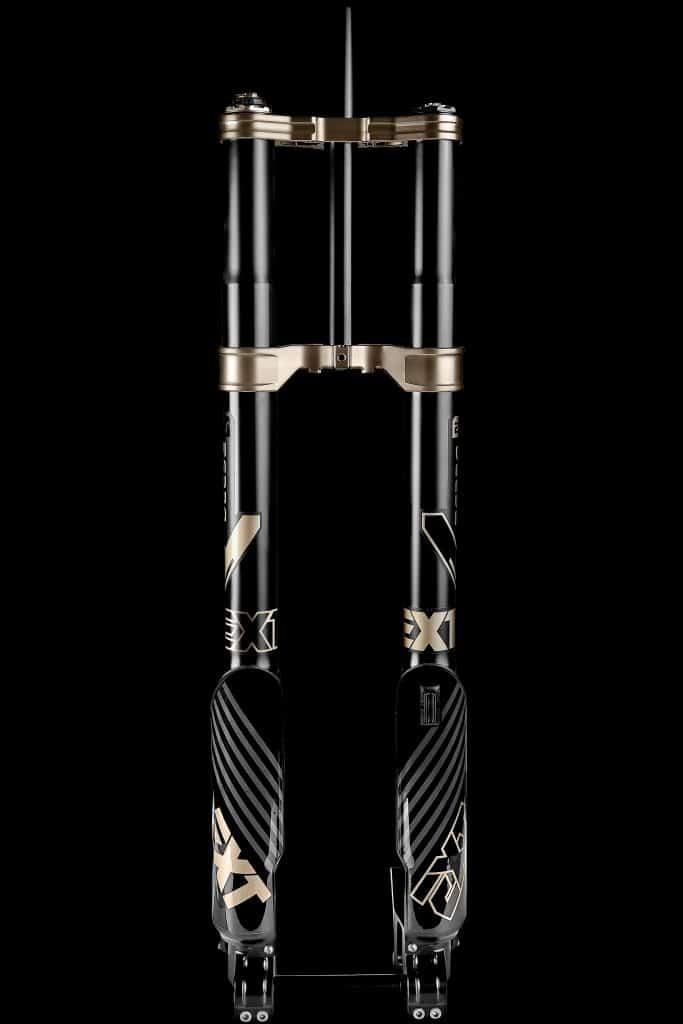 If you haven't come across EXT yet, they are a key player in the realm of boutique mountain bike suspension, recognized for crafting high-quality forks and shocks with exceptional out-of-the-box performance. Embracing the emergence of lightweight electric dirt bikes, EXT has proactively developed their renowned Arma shock to cater specifically to the SurRon Lightbee X and Talaria Sting models.
After testing the Arma E-MX shock, we have been frothing to pair it with the new EXT Ferro fork. We are happy to say we do finally have one in our possession, and it's currently being mounted to our test bike for a full breakdown.
We will have that review up in the coming days, but in the meantime, you can peruse some EXT's claims on the newest member of their E-MX lineup:
EXT Ferro Fork Speifications
36mm hard chromed steel stanchions (heat treated 42CrMo4) with Superfinish surface treatment
Dedicated design triple clamp uppers machined from 7000 series aluminum
HS3 air spring system: featuring twin positive air system ¬+ 1 large negative self-balancing air chamber, providing an optimum level of support through the entire travel range.
Chromed steel air spring shaft with Superfinish surface treatment
High-flow 3-way adjustable cartridge with independent High/Low speed compression and rebound adjustments
External air pressure release valve system on both legs to normalize pressure with ambient environment.
Twin hexagonal floating axle, boost compatible∅20mm for maximum torsional rigidity at the axle assembly
Air spring and cartridge radial guide system with bespoke aeronautical seals (minimizing dynamic friction during side loading events)
Large piston design for best in class damping control and separate IFP/coil energized compression valve
No cavitation and low hysteresis
Self-hydraulic cartridge bleeding
Dedicated Mobile Sliding DU guiding system with super-long static overlap (for maximum guidance and best torsional rigidity). (CGB Continuously Guided Bushing system to increase stiffness)
205 mm of travel and a shorter 44 mm offset for increased stability
200 mm post mount brake
Approximate Weight 4500gr (10lbs)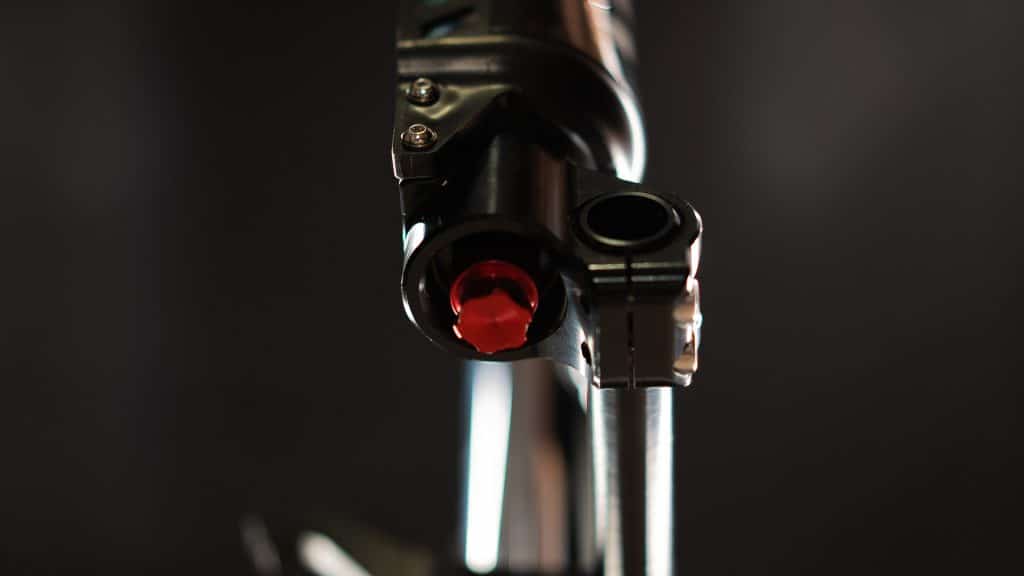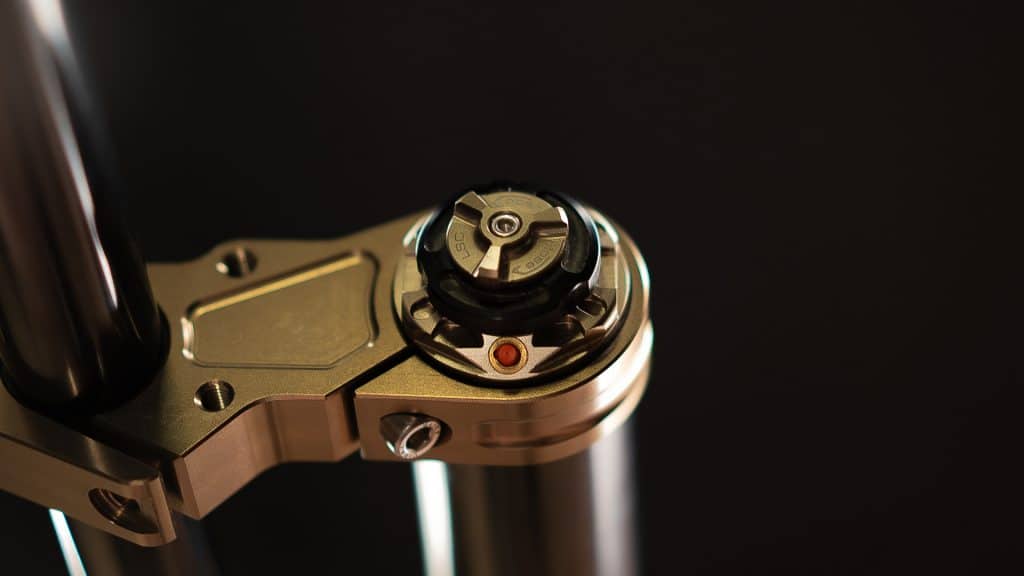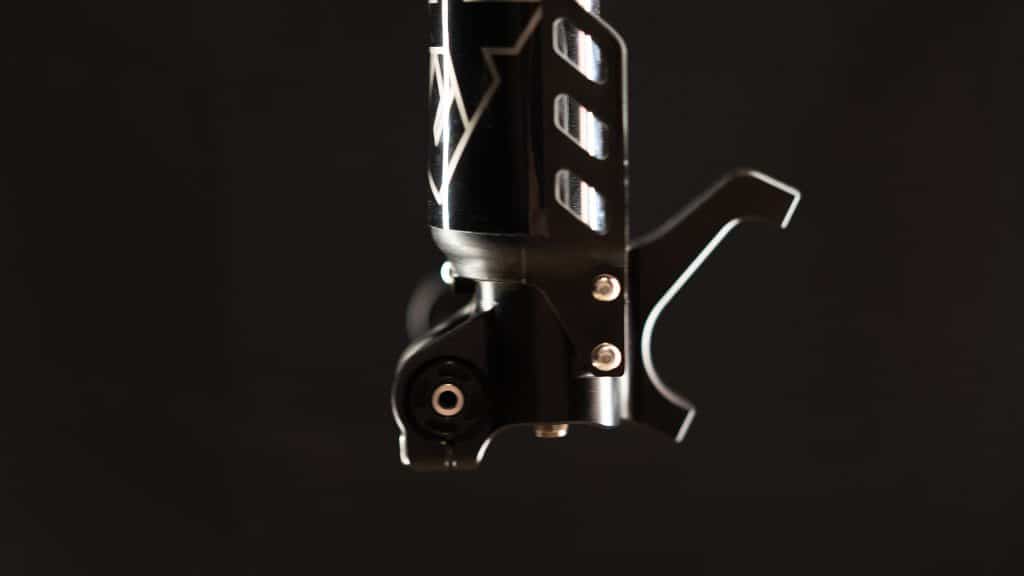 EXT Ferro HS3 Technology
The FERRO USD 36 fork uses the HS3 technology, the unique hybrid air spring system, already been famous with the appreciated ERA V2. Two separate positive air chambers work with one, high volume self-equalizing negative air chamber; HS3 is focused on mid-stroke support around the dynamic sag position while offering amazing sensitivity and bottom-out protection.
EXT Ferro Fork Structure
Dual Crown Structure:
The robust double crown design in 7075 aluminum ensures maximum stiffness. Crown design is compatible with stock fender designs.
Sliding Bushings:
We looked at everything that needed a low friction solution to improve smoothness and sensitivity. This process took us back to our 14 World Rally Championship wins, that make EXT the most succesful suspension manufacturer in WRC. Our new DU bushing material used in the new FERRO USD 36 fork are sized to a defined tolerances for each fork assembly and works in harmony with our dedicated EXT oil. This guarantees zero stiction and super low friction properties even when combined with high side loads.
The dedicated DU guiding system made with a specific superlong bushing overlap ensures the maximum guidance and the best torsional rigidity of the stanchions. (We've called it, CGB, Continuously Guided Bushing system which also helps to increase thedynamic stiffness).
Wheel Axle:
Twin hexagonal head floating wheel axle guarantees perfect wheel alignment, while assuring maximum torsional rigidity.
High Flow Damper Cartridge
The new FERRO USD 36 inherits the best technologies that made famous our well-known ERA V2 and it adopts an innovative radial floating shaft guide in the damper cartridge with a Superfinish surface treatment with new aeronautical seals, which takes the friction to the lowest possible level. EXT high-volume cartridge uses a high flow piston to generate control for your bike, an important performance upgrade for your riding. The large piston design allows the best damping control. The cartridge is also equipped with a bump valve design (HDRV – High Dynamic Response Valve) with 2 different shim stacks for mid and high speed and an Internal Floating Piston (IFP) guided and combined with a bespoke thrust bearing to enhance fast response and guidance. Our goal has always been to find a balance between all the internal cartridge pressures and through a long development process we made possible the optimization of the internal forces reaching low values of hysteresis and no cavitation.
If you want to find the EXT Ferro Fork For Sale, you can find it at ECR Parts. In the meantime, check out for our full review of the newest SurRon and Talaria Fork.