Say hello to the latest addition to the exciting world of lightweight electric dirt bikes. It's called RFN, a subsidiary of the popular internal combustion dirt bike manufacturer Apollo Motor.
We commend RFN for their fresh approach to the lightweight eMoto market. Instead of following the trend of replicating Surron's highly sought-after Lightbee X, which has resulted in a plethora of electric dirt bikes with strikingly similar designs flooding the market, RFN has chosen to stand out by incorporating distinctive design features that are unique to RFN. It's refreshing to see a company break away from the pack and make their mark in a unique way.
The acronym RFN stands for "Racing Fears Nothing" and while we are still doing our best to understand exactly what that means, we were fortunately not afraid to swing a leg over the RFN Ares and see what this new bike is all about.
Apollo RFN Ares Features
The Apollo RFN boasts a removable 2.5kWh battery with a voltage of 74V. Its "rated" power is 5kW, but in rocket mode, it can peak at a whopping 12.5kW. This mode is perfect for riders who want to experience the maximum potential of the bike, but unfortunately it only lasts for a limited number of seconds.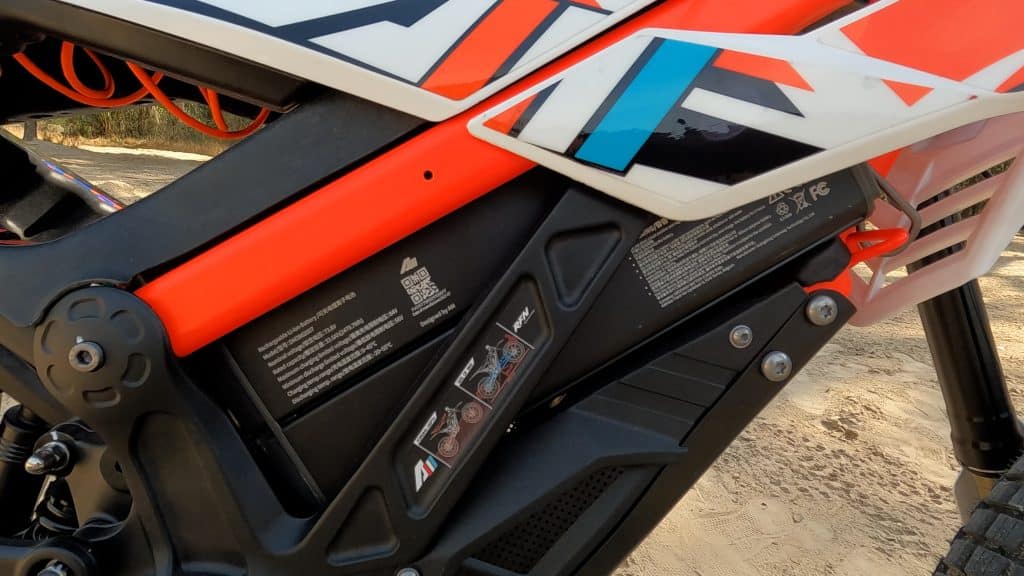 For a more practical ride, the RFN Ares offers rabbit and tortoise modes. Tortoise mode conserves energy and maximizes range, while rabbit mode is designed for enduro or active trail riding, with power output similar to that of the Surron Lightbee X.
In addition to its unique ride modes, the RFN Ares also features a non-traditional wheel setup, with a 19″ front and 18″ rear wheel. The suspension, however, is less remarkable, with a KKE fork and shock that are mostly unbranded and appear to be of lower quality than those on other lightweight eMotos like the Surron X.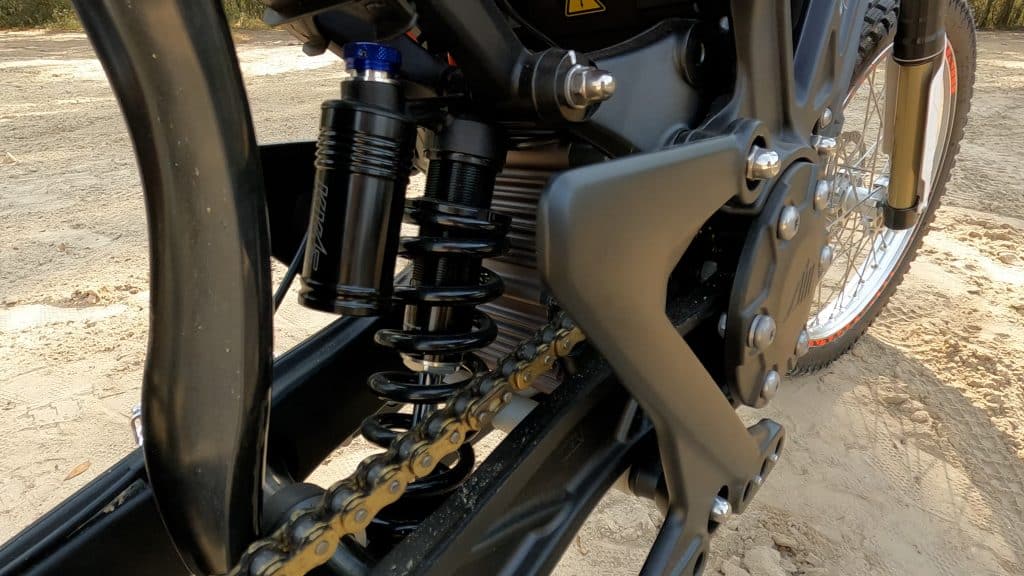 The RFN Ares doesn't just offer the basics – it goes above and beyond. This bad boy comes equipped with a full size seat, shrouds, a number plate, and full size fenders. While the seat is technically removable, it also features a nifty storage area underneath for your gear when in use. But wait, there's more – the RFN also boasts adjustable pegs and a unique round display.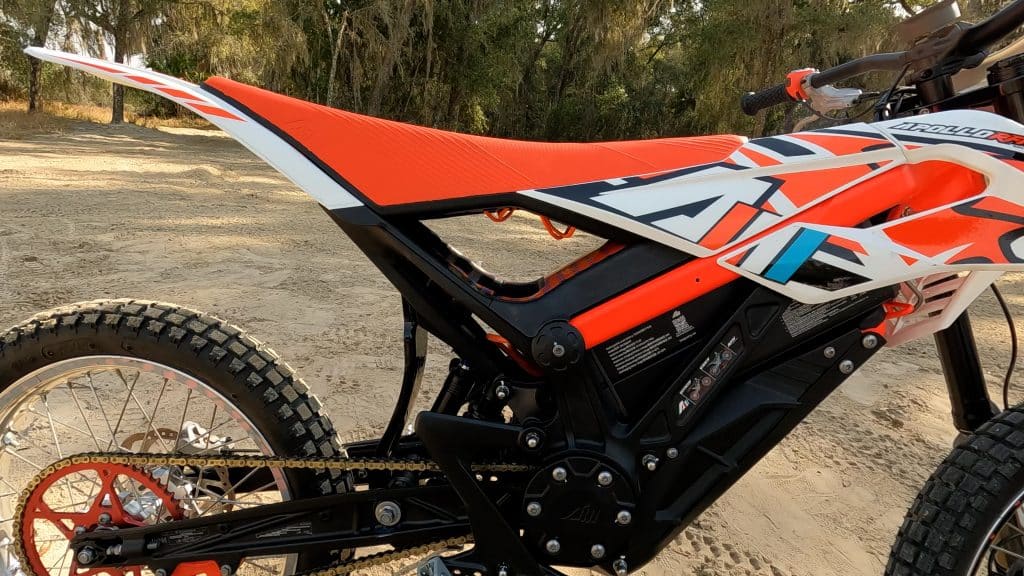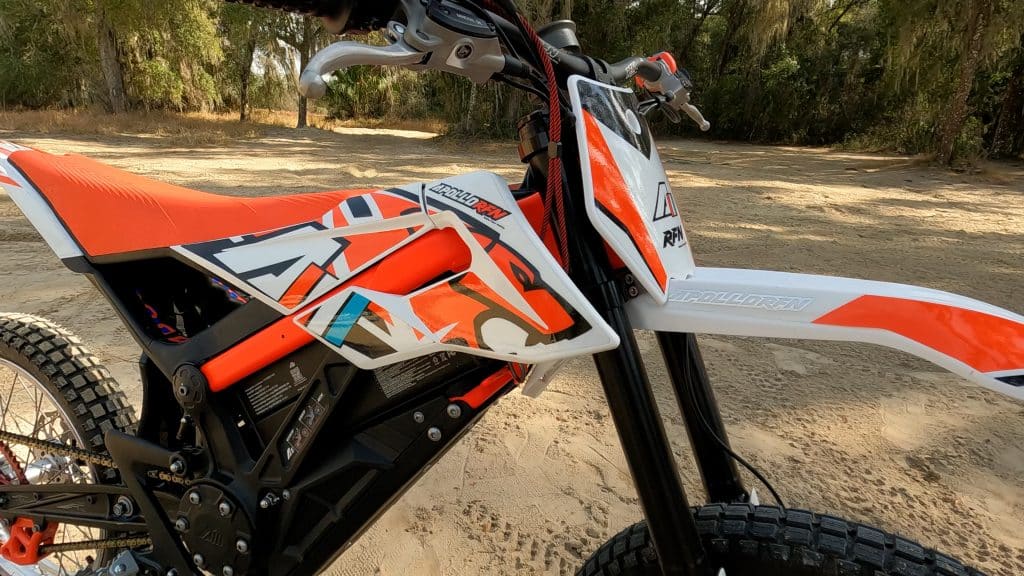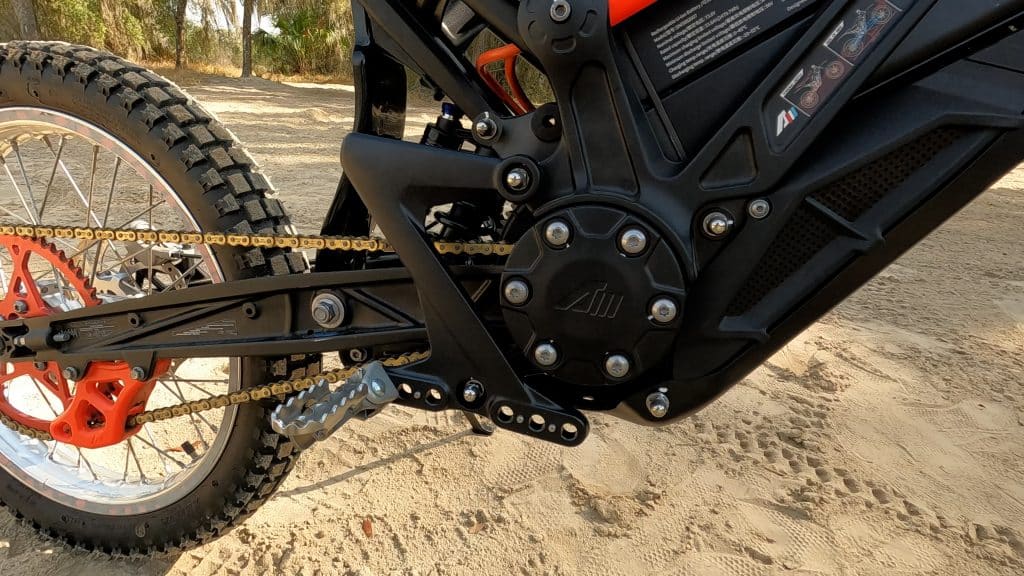 And despite all these added features, the bike still manages to clock in at just 149 pounds.
Riding the Apollo RFN Ares
Despite its impressive array of features, one would assume that the RFN Ares would easily outperform its rivals. However, this assumption may fall somewhat short of the truth. Like the Lightbee X and Talaria Sting, the RFN Ares also falls prey to some of the same criticisms. In particular, its ergonomics leave something to be desired for taller riders. Although the full-size seat and shrouds are commendable for their ability to be squeezed with the knees, the handlebars sit too low, creating an awkward rider triangle and making it difficult to assume an attack stance.
I'll be the first to admit that I have a deep appreciation for the intricacies of a motorcycle's controls. Beyond just affecting the overall sensation of the ride, I firmly believe that the controls on a motorcycle can reveal a wealth of insight about the bike's quality and performance.
Not that I want to get started on a rant about the Apollo RFN's controls, but I joked to myself, did the designers raid their kid's toy chest for those grips and switches? I half expected to see a basket and streamers attached to the handlebars. It's a shame because the rest of the bike is pretty decent, but the low-quality parts picked for the controls are borderline cringe-worthy. Come on, Apollo, you can do better than this!
Whether or not the rest of the bike reflects the parts chosen for the handlebars remains to be seen. While we had no issues during our test ride, we would need to put some more hours on the bike to understand how the bike holds up to some off road abuse.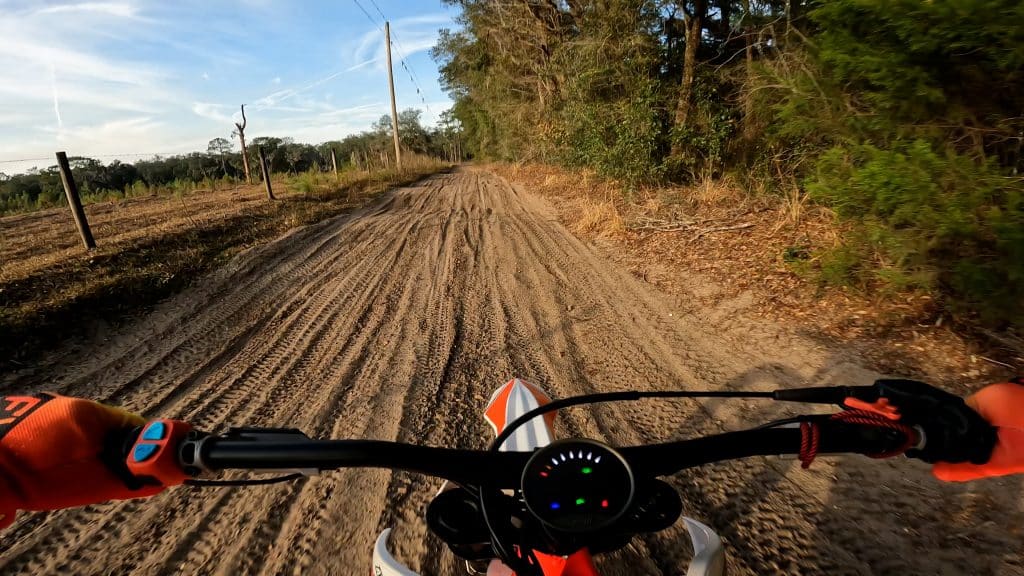 In all honesty, the Apollo RFN is a bike that requires just as much, if not more, upgrading than the Surron Lightbee X. However, it has the potential to serve as an excellent foundation for a high-speed, lightweight electric dirt bike. Our team is intrigued by the idea of experimenting with this bike if given the chance. Like any bike, it has its imperfections, but there are hints that the Apollo RFN will be competitively priced in the US market, making it a viable option for those interested in modifying their ride. With the potential for cost savings, this bike could very well become a serious contender for the modification community.
We had plenty of fun catching a sneak peek into the Apollo RFN through this first test, and we hope to have the opportunity to do some more testing and try some modifications on the bike. The bottom line is that it's exciting to witness the influx of new, lightweight electric dirt bikes in the market, and we commend Apollo for taking a unique approach to designing their own bike instead of copying existing brands.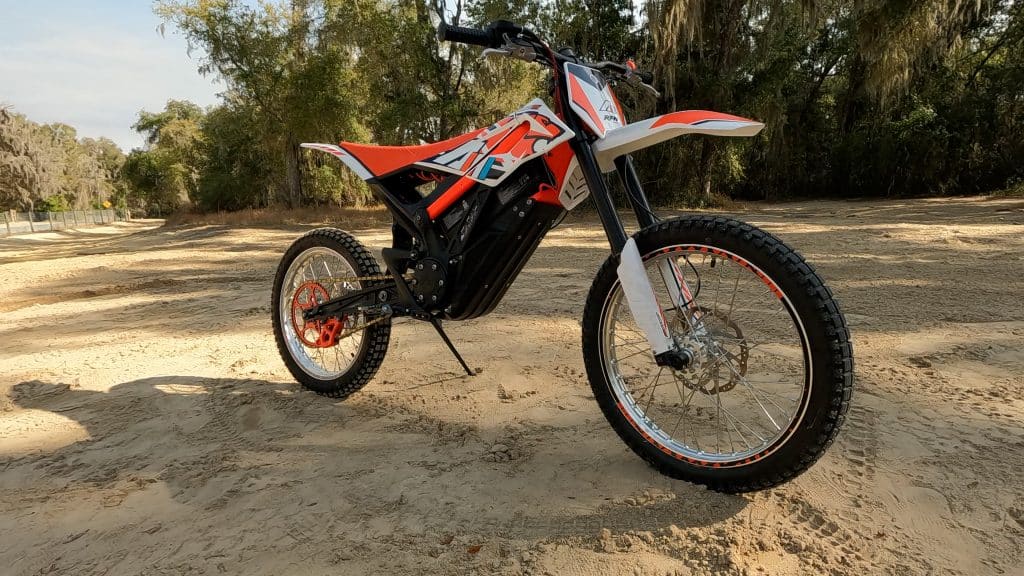 Apollo RFN Ares Specifications
Battery
74V / 2480Wh, LG Premium 21700 lithium cells, removable, can be charged in bike or separately.
Brakes
Front and Rear 4-piston hydraulic disc, 210mm
Charging
2-3h with Quickcharge Function
Controller
Sine wave, Best-in-class power density and state-of-the-art motor control algorithms.
Drivetrain
Electric motor: Air cooled Permanent Magnet Synchronous Motor, energy regeneration function, Direct drive, 420 chain with DX
Sprocket: 11-58T
Rated power: 5 kW
Peak power: 12.5 kW**
Max Torque of motor: 58 N·m
Max Torque of rear wheel: 305 N·m
Dimensions
Fork angle: 340mm – 13.39"
Offset: 15mm in triple clamps, 45mm in forks.
Seat height: 860mm – 33.86"
Trail: 111mm – 4.37"
Wheel base: 1330mm – 52.36"
Fenders & Bodywork
Material: PP/ABS plastic
Frame
Build: 6082 aluminum extruded, forged, CNC machined and steel frame.
Front suspension
Upside Down, 200mm travel, Fully adjustable
Rear suspension
Mono-Shock, 74mm travel, adjustable
Handlebar
6061 aluminium, 760mm length
Regulatory
Cetificate: CE
Ride modes
Mode 1: Tortoise mode: The ultimate mode energy conservation exploration. Limited to 25 km/h with 3.5hrs battery range.
Mode 2: Rabbit mode: Enduro or active trail riding. 1-2 h riding time.
Mode 3: Rocket mode: Track and race mode, maximal torque and speed, riding time up to 1h.
Mode 4: Reverse mode: Limited to 9 km/h.
Speed & Range
Range: 160 Km
(Test data Load: 75 Kg, 20 Km/h uniform speed, ambient temperature: 25 °C, flat pavement, standard tires, standard tire pressure)
Top speed: 65km/h
Weight
N.W of Battery: 15 kg
N.W of whole bike: 68 kg
Max load: 120kg
Wheels & Tires
Hubs: Forged and CNC aluminium RFN hubs with 20mm axle.
Rims: F 19″/ R 18″ (Motorcycle standard) re-inforced, triple chamber, 7050 aluminium.
Tires: F: CST CM721 70/100-19 off-road , R: CST CM722 90/100-18 off-road