We've been very vocal fans UBCO's no-nonsense all-wheel-drive electric utility bikes, and in the last year alone we've used them as everything from pit bikes at the ECR eMoto Hard Enduro to snow camping rigs in the Colorado Rocky Mountains. The original UBCO is an undeniably versatile tool for all manner of outdoor exploits, but the electric motorcycle manufacturer is stepping up their game this month with their new UBCO 2×2 Special Edition model.
The new SE comes in a slick new army green and orange colorway, but it's far more than just a fresh coat of paint. In short, UBCO is looking to equip the new Special Edition with a smattering of utility-focused features for outdoor enthusiasts and urban commuters alike, and if first impressions are anything to go by, there's a lot to love here.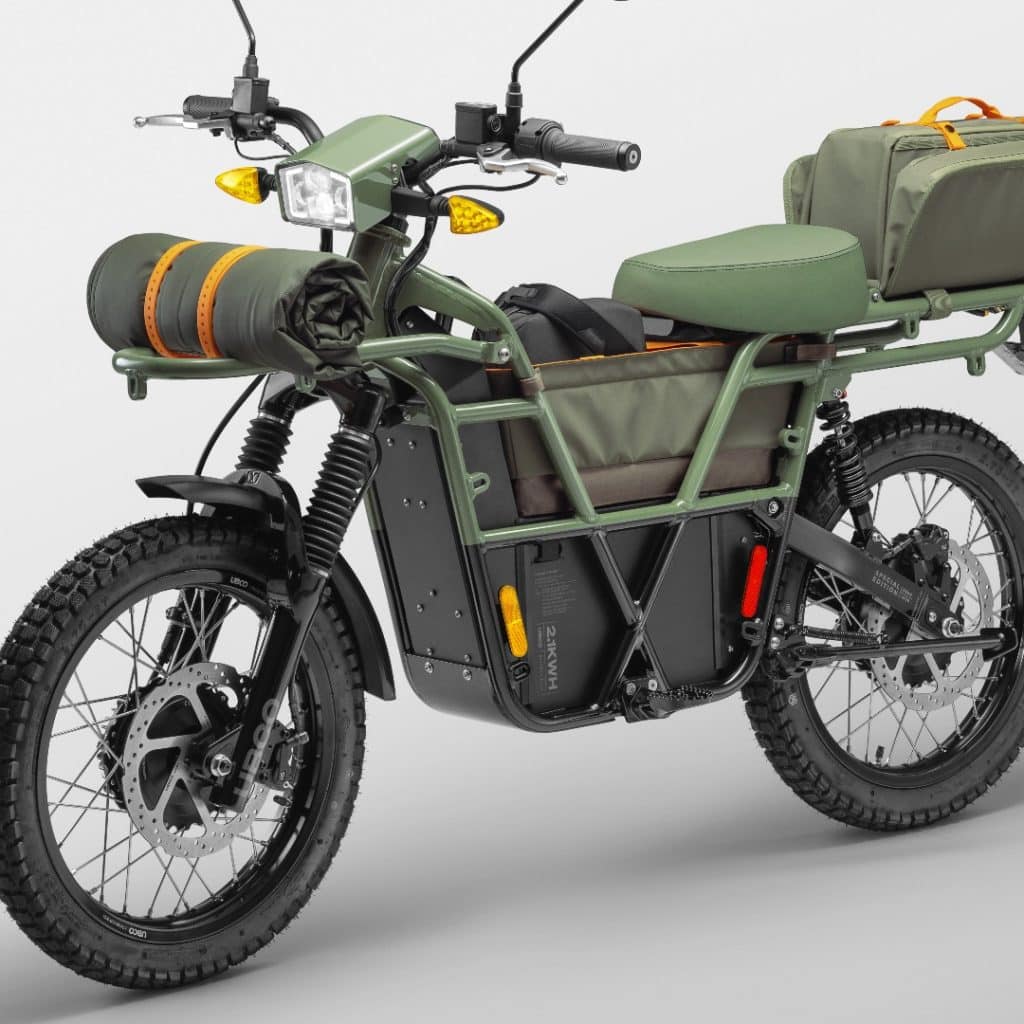 The main advantage the UBCO 2X2 Special Edition has over its existing stablemate is storage, which is a nice touch considering how many current owners already use these bikes to haul everything from camp gear to groceries. This includes a collapsible waterproof duffel attached to the rear rack, as well as an open catch-all tote nestled into the open space between the rider's legs.
UBCO has also sourced a pair of 32″ Pronghorn straps from none other than ADV gear specialists Giant Loop, which will come in handy for lashing additional luggage or bulky items like firewood to the 2X2's front rack. We've used the Pronghorns before and can vouch for both their durability and versatility, as well as their semi-stretch polyurethane construction, which grips and holds admirably regardless of weather conditions.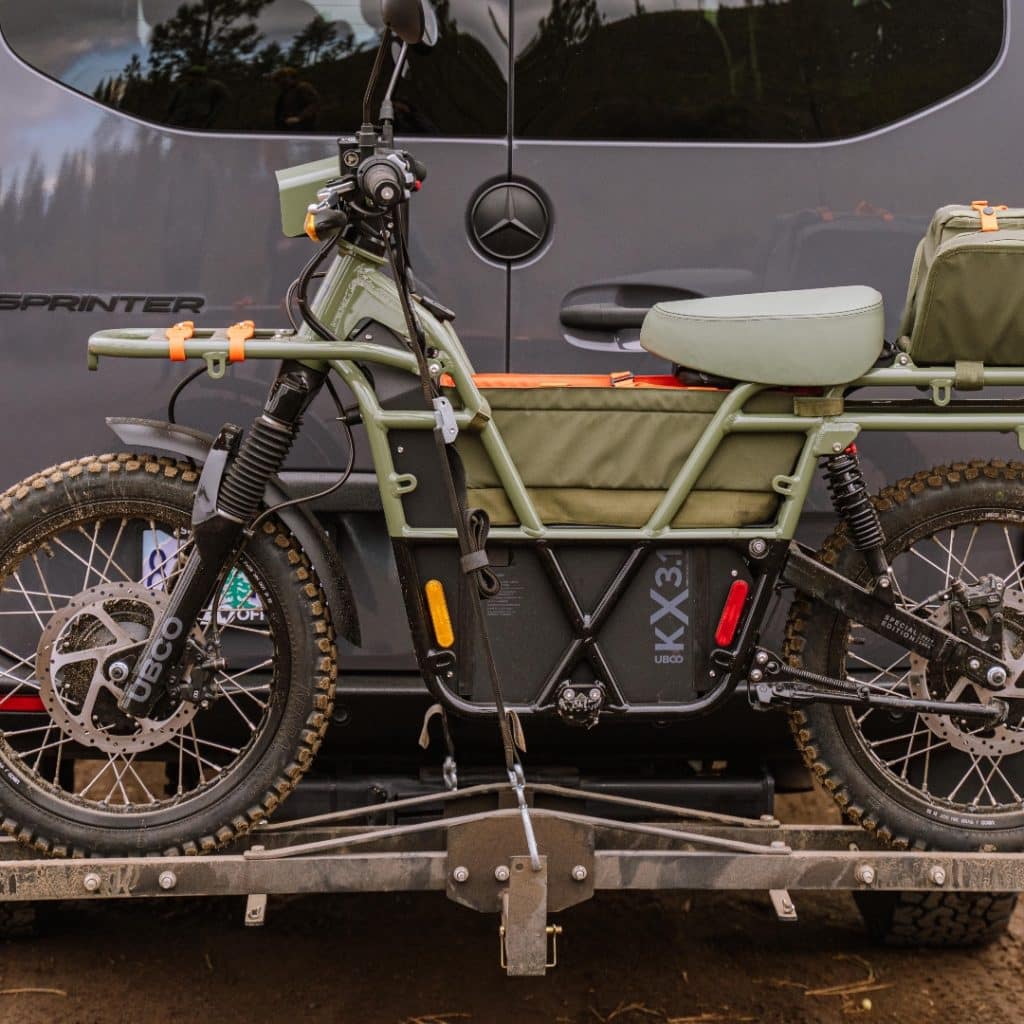 Between these two carryalls and the front rack, this should allow you to take full advantage of the UBCO's 330lbs carry capacity. That means both hauling cement blocks and a full discography of Black Sabbath albums is now well within the UBCO 2X2 Special Edition's reach, which I think we can all agree is a much more common scenario than most of us are willing to admit.
Interestingly enough, UBCO also sourced a factory phone mount for the SE courtesy of Peak Design. You'll have to add either a case or universal adaptor to your existing smartphone to take advantage of it, but Peak's mounts are one of the few in the industry that include a factory vibration dampener, so it's a nice tough regardless.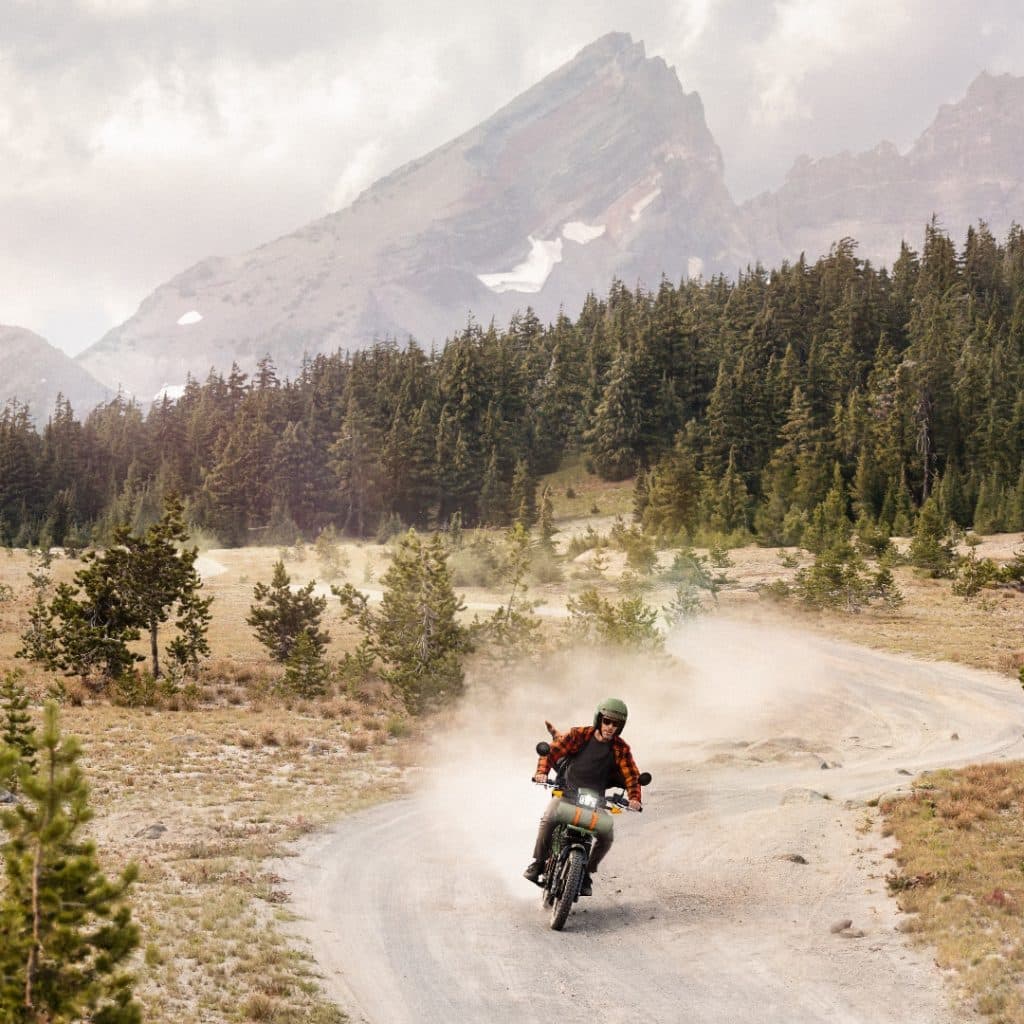 Last but not least, you'll also get a substantial upgrade to the UBCO's braking system. This includes both upgraded pads which UBCO says are "motorcycle-grade," as well as larger and more durable brake levers on both bars.
All new SE models will also come with UBCO's larger 3.1 kWh battery pack, which is rated for around 75 miles of range and can be charged in as little as 4 hours using the included fast charger. Despite all its extra bells and whistles, UBCO has launched the new SE model at $6,999 fully equipped, which is the same price you'd pay for the current UBCO ADV with the same battery and range. What's not to love?