How far can the Sur Ron Storm Bee go on a charge? We tested the battery range from 100% down to 10% on Sur Ron's newest electric dirt bike to find out.
If you've been following along, you saw that we recently did a First Ride with the long awaited Sur Ron Storm Bee, which is the full-size big brother to the Lightbee X, Sur Ron's popular little electric dirt bike. We asked for your questions, and you delivered, with one of the most common questions being battery range.
I decided to do two different 100% to 10% range tests to cover battery life on the new Storm Bee. I'll include battery range as one of the many topics we'll cover in the full review, but I wanted to break this specific video off since everyone wants to know these numbers. Just a reminder that this bike is a pre production model.
Storm Bee Battery Specs
This test bike has a 90V 48Ah battery totaling a capacity of 4.3 kWh. Sur Ron just announced that they are going to do better for the production model, which they now claim will be a 104V 55Ah battery totaling a capacity of 5.7 kWh. The production battery will have 1.4kWh more than the pre-production battery, which on paper is roughly 25% more capacity.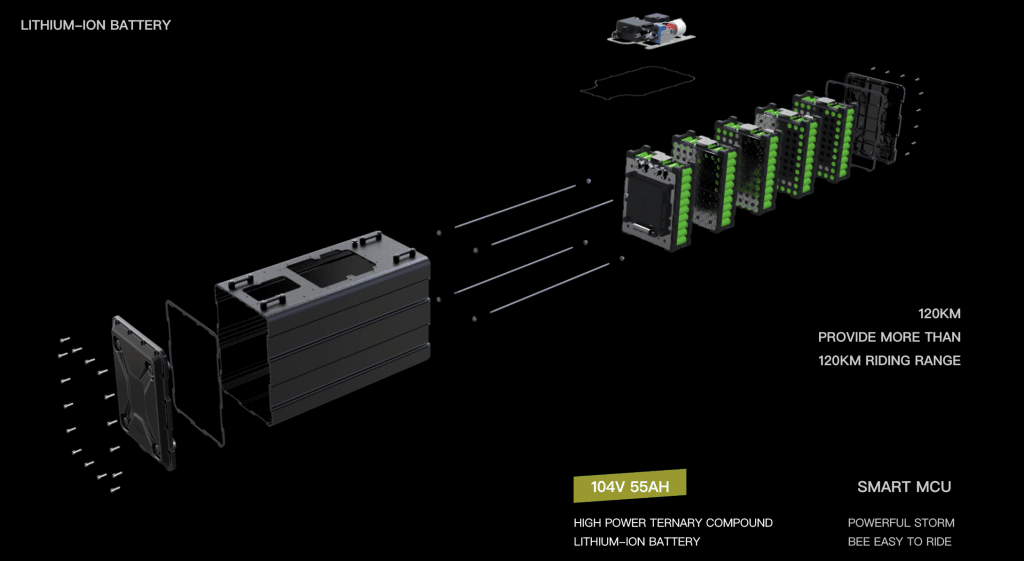 Sur Ron is now claiming a range improvement from 105km to 120km, which is an increase of 12.5%. So I'll still reveal the numbers for the range on this pre-production bike, but I'll also reveal what 12.5% more range would be. This is my rough, non-scientific way estimate without knowing the added weight of the new battery, but just know, these numbers are expected to improve with the production model.
The Range Test
Because this electric dirt bike is a street legal dual sport, I thought it was arguably more important to test the battery life on dirt roads. For this range test, I put the bike in eco mode and tried to maintain a conservative speed of 40mph, although I fluctuated between 35 and 45 throughout the ride. The bike settings were B2 for the Brake Energy Regenerative System, E3 for the Slide Energy Regenerative feature and A2 for ASR or traction control. I had the tires inflated to 20 PSI front and rear and I weigh approximately 165 pounds with this gear on.
Shortly thereafter, I ran into a nasty rain storm but still managed to run the bike from 100% down to 10%. After all was said and done, I had gone a total distance of 45 miles. If you want to factor in the new battery, my rough, non-scientific way to do that would be to add 12.5%, which would bring the total mileage up another 5.6 miles to a total of roughly 50.6 miles, in this scenario.
For the singletrack test, I was riding at a realistic pace, in sport mode, with the factory settings at B2, E3 and A2. I was running a PSI of 12 in the front and 13 in the rear, which are my normal off road tire settings. Mid way through my ride, my battery revealed that at 50% battery life, I had gone roughly 13 miles. I managed to ride the bike in this environment from 100% down to 10% for a total of 23.4 miles. If you add the same 12.5% like we added to the dual sport ride, you're looking at an additional 2.9 miles of range for a total distance of 26.3 miles.
Check back for more content with the new Sur Ron Storm Bee electric dirt bike right here at Electric Cycle Rider.
Where is the Sur Ron Storm Bee For Sale?
If you want to pre-order the Sur Ron Storm Bee or peruse other electric dirt bikes for sale, check out the ECR Marketplace, where we've compiled the best electric motorcycle shops in the United States.
Sur Ron Storm Bee Enduro Model SPECS
Wheel base: 1430mm
Front fork travel: 290mm
Rear shock/wheel travel: 115 / 290mm
Power system: Mid-drive BLDC motor + FOC sine wave controller
Rated power: 10KW
Maximum power: 22.5KW
Maximum torque: 520N.m
Top speed: 110km/h
Range: 120Km (@50km/h)
Battery Type: 104V/55Ah lithium-ion removable battery pack
Charge time: 4h
Frame design: aluminum forged frame
Riding mode: Eco / Rain / Sport mode + "Turbo" mode
Dimension: 2012mmx805mmx1265mm
Ground clearance: 335mm
Seat height: 975mm
Dry/Curb weight: 100kg/132kg
Carrying capacity: 111kg
Front tire: 80 / 100-21 off road tire
Rear tire: 100 / 90-18 off road tire
Assistance functions: ASR + BERS + ABS (optional)