Black Tea made some waves when they pulled the covers off their first motorbike back in 2020. Here was a fully electric motorcycle that oozed vintage-enduro-cool, set to retail for under $5,000. With its polished aluminum tank, old school tube steel chassis, spoke wheels, and single round headlight, you might be forgiven for mistaking the Bonfire Black Tea for a custom Yamaha XT 500.
At second glance, however, the Black Tea Bonfire is a dead giveaway for an all-electric motorcycle, from the rear hub-driven motor to the unapologetically big and square battery box sitting in the front of the frame. The Bonfire has been a budget bike since the start, but it's a damn good-looking one, especially with some knobby tires spooned onto its aluminum spoke wheels.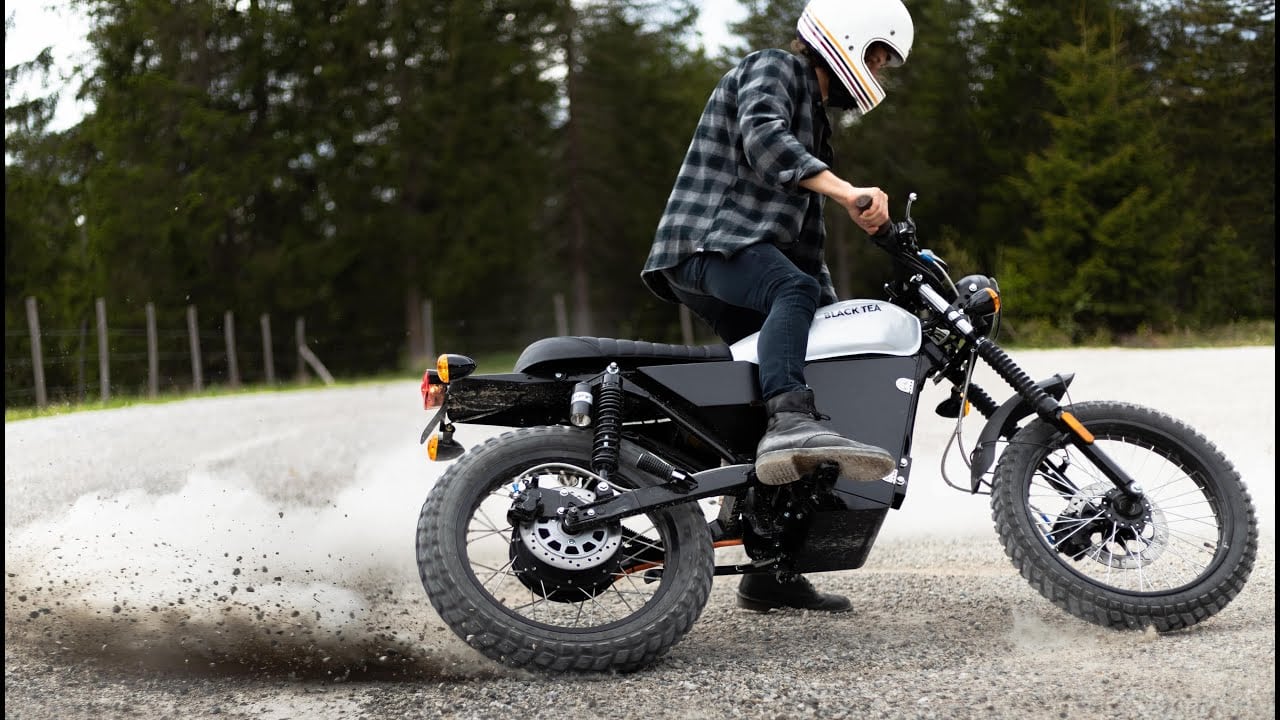 The Black Tea Bonfire is currently offered in three trim/power levels, the Bonfire S, E, and X (because SEX sells, I guess), which are built based on the legal/licensing requirements for different countries. Their lowest power/least expensive option, the Bonfire S, is electronically limited to roughly 28 mph (although it's essentially identical to the Bonfire E in terms of equipment and power output) allowing it to be used in the EU with an AM or B level license, whereas the faster E and X models require A1/A2/A licensing.
Black Tea Bonfire: Overview, Specs, Price, etc.
So which Black Tea Bonfire is right for you? Well, if you live in the USA, the answer should be pretty simple: All Bonfire models require the same M1 motorcycle license, so chances are the Bonfire X is your best bet.
That's because the Bonfire X has the highest top speed of just over 60mph, as well as the highest claimed peak power at 8kW (nominal power is rated at 5kW). It also ships with two 1.8kW batteries (and two separate chargers), yet still retails for an attractive $6,400. Range for the Black Tea Bonfire X is rated at 100km, or about 62 miles.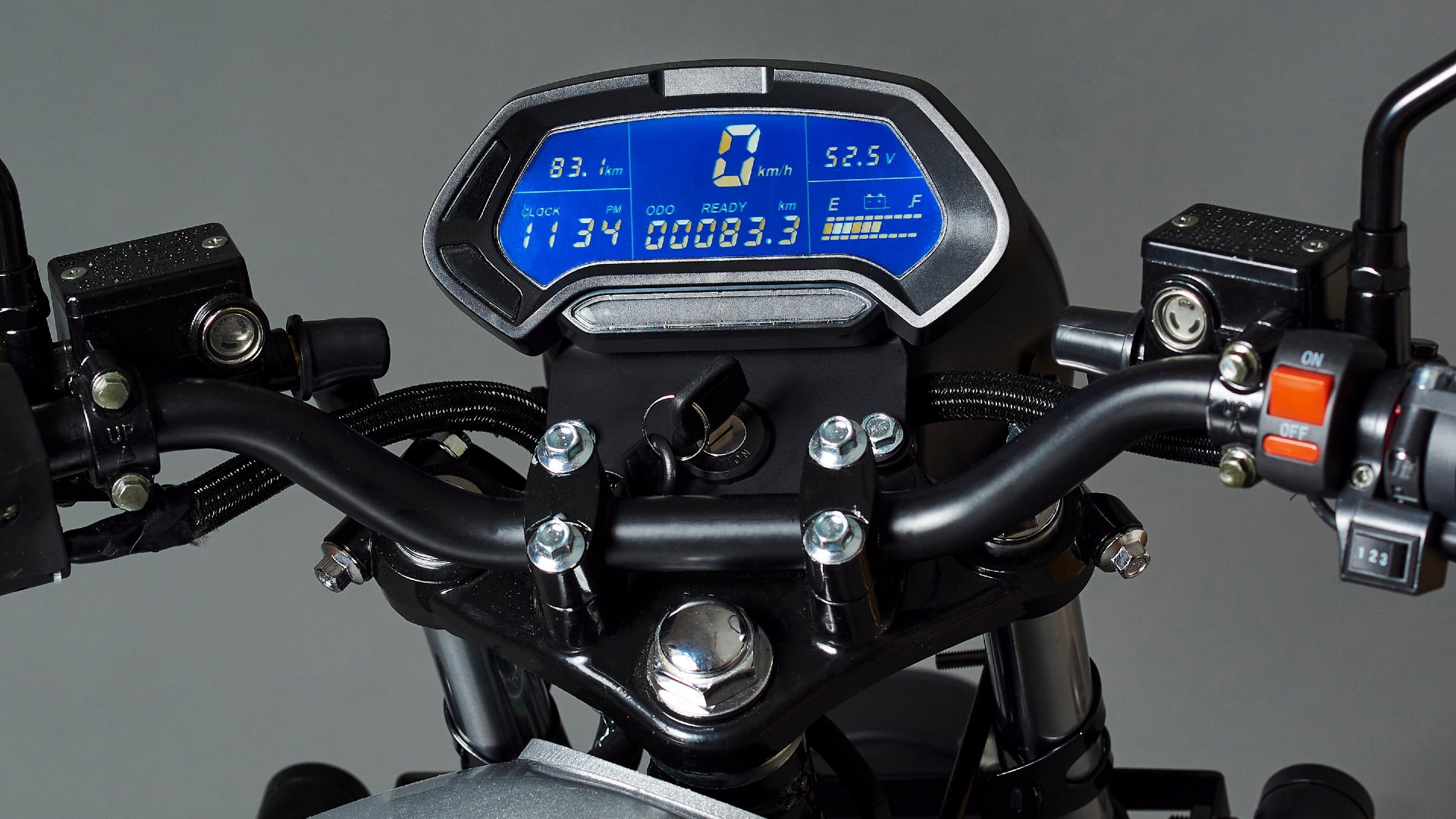 With that being said, if power isn't particularly high on your priority list, both the S and E models bring value to the table. The S model, for example, retails for just $4,516, and due to its electronically limited speed, actually gets the highest claimed range of the bunch at 74 miles. Of course its 28mph limit is painfully slow for anything outside of the city, so if you want to step it up to the E model's 50mph limit, it can be had for just over $4,900 at the cost of a little range (62 miles claimed).
Unfortunately, both of those range figures are quoted using two batteries rather than the single battery setup both the S and E ship with. That means unless you're willing to drop an additional $1,050 for a second 52V battery, you're gonna want to half those numbers and hope they're accurate. That puts the two lower-spec models at $5,566 and $5,950 respectively, and if you add in a second charger, you'll start to see the value in "splurging" for the Bonfire X. There's just one hangup: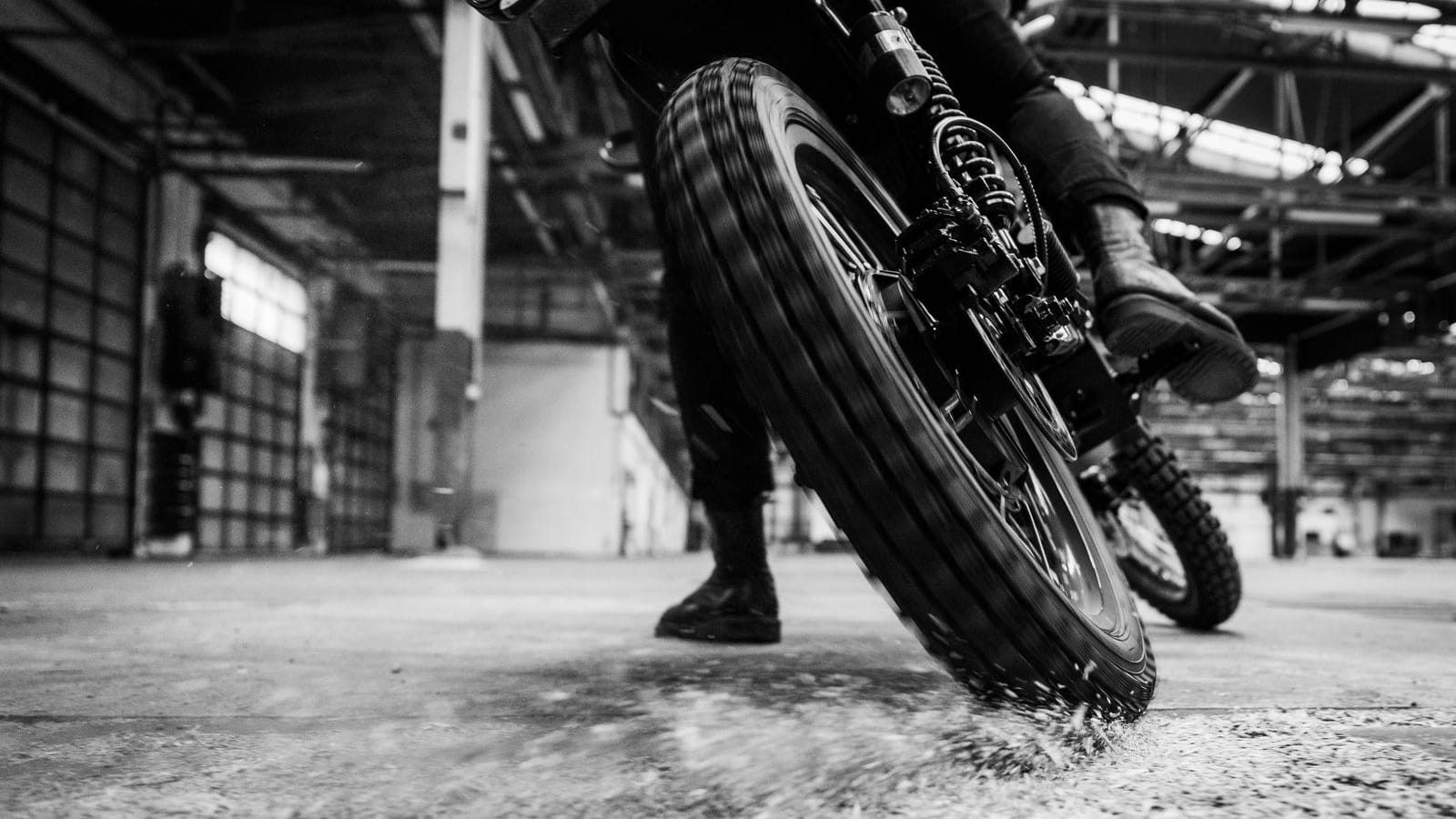 The folks at Black Tea originally planned to have the Bonfire X's street-legal certification sorted by March of 2022, but haven't shared any updates on its pending status since January of this year. According to their website, however, their bikes are street legal anywhere they ship. We've reached out to the folks at Black Tea for confirmation that the Bonfire X is fully street-legal and ready to register in the US, but haven't heard back from them yet. Stay tuned…
Their current wait time for US orders is listed as 4 to 5 months, and as of January 2022, the first 4 Black Tea Bonfires were ready to ship to the states. Black Tea also reported in January that they were having trouble reserving a shipping container through Fedex and/or Kühne&Nagel though, so we'll be looking forward to a status update on that front in the coming weeks.
Black Tea Bonfire X Specs:
Dimensions
Length: 1900 mm
Width: 700 mm
Height: 1250 mm
Wheelbase: 1300 mm
Fork Angle: 24.5 °

Weight & Load
Gross Vehicle Weight Restriction: 260 kg
Total Curb "Wet" Weight: 109 kg
Total "Dry" Weight: 86 kg

Body
Steel frame, Swing Arm, Box, Side Panels & Fenders
Frame: Steel Tube Chassis
Anti-Theft Protection: Steering Lock

Drivetrain
Type: Hub Permanent magnet motor (PSM)
Rated Power: 6 kW (8 HP) at 900 RPM
Peak Power: 8 kW (12 HP) at 960 RPM
Torque: 195 Nm
Environmental Protection: IP54

Ride Modes
Top Speed: 95 km/h (60 mph)
Ride Modes: Eco, Normal & Sport
Features: Ride Modes with different torque, acceleration & top speed

Range
Eco Mode: 105 km
Normal Mode: 85 km
Speed Mode: 65 km

Charging
Type: 2 x External charger for standard outlets
0-80%: 3 hours
Charge Current: 2 x 10 A

Battery
Cells: Premium 18650 Li-Ion cells
Configuration: 2 battery packs in serial
Voltage: 104 V
Capacity: 35 Ah / 3.6 kWh
Peak Current: ~90 A
Battery Voltage Range: 90 – 117 V
Dimensions: 310 mm x 220 mm x 100 mm
Weight: 2 x 11.5 kg
Connector: QS8-S Anti Spark
Life Cycle: Rated for 800 Charge Cycles
Features: Removable, Two batteries fit in the Bonfire, Can be charged while installed

ECU
Controller Type: Electronic Sine Wave (BLDC)
Environmental Protection: IP66
Features: Enhanced Regenerative Braking,
Hardware Over-Current and Over-Voltage
Protection, Low Voltage Battery Protection, Fault
Codes, Aluminium Housing for Maximum Heat
Dissipation

Electronics & Dashboard
Throttle Type: Full Twist DOMINO Hall (IP66)
Display: Battery SoC, voltage, speedometer, odometer, trip meter, ride mode, time and warning lights.

Brakes & Recuperation
Type: CBS Hydraulic Disc Brake
Front: 265 mm Disc with 4 mm thickness
Rear: 220 mm Disc with 3 mm thickness
Brake Fluid Type: DOT 4
Regenerative Braking: Activates when you brake

Suspension
Front: Hydraulic forks featuring 31mm tubes for
extra rigidity and strength.
Travel: 200mm
Rear: Adjustable 335mm dual shocks
Wheels
Hub: Aluminum hubs with 12 mm axle
Front Rim: 1.85 x 18" 36 spoked aluminum rims
Front Tire: 90/90 – 18 Heidenau Dual Sport K60
Rear Rim: 2.15 x 18" 36 spoked aluminum rims
Rear Tire: 110/80 – 18 Heidenau Dual Sport K60

Regulatory
Classification: L3e-A1 (EU) / Motorcycle (USA)
License requirement: A1 or B196 (EU) / M2 (USA)