What happens when the world's most influencer-friendly eBike brand decides to build a street-legal electric motorcycle? We were on-site at the Super73 C1X concept launch to find out.
If you follow the folks at Super73, you probably know them for one of two things: That one time they gave Post Malone a $25,000 gold bike, or their constant marketing and collaboration with designers like Roland Sands, manufacturers like Indian Motorcycles, or just about any and every person on social media with over 10k followers. With this week's launch of the new Super73 C1X concept, a mid-sized electric motorcycle with bold styling and highway-going intentions, it looks like we might know them for something a bit more substantial in the near future.
The Super73 C1X Concept, According To CEO Legrand Crewse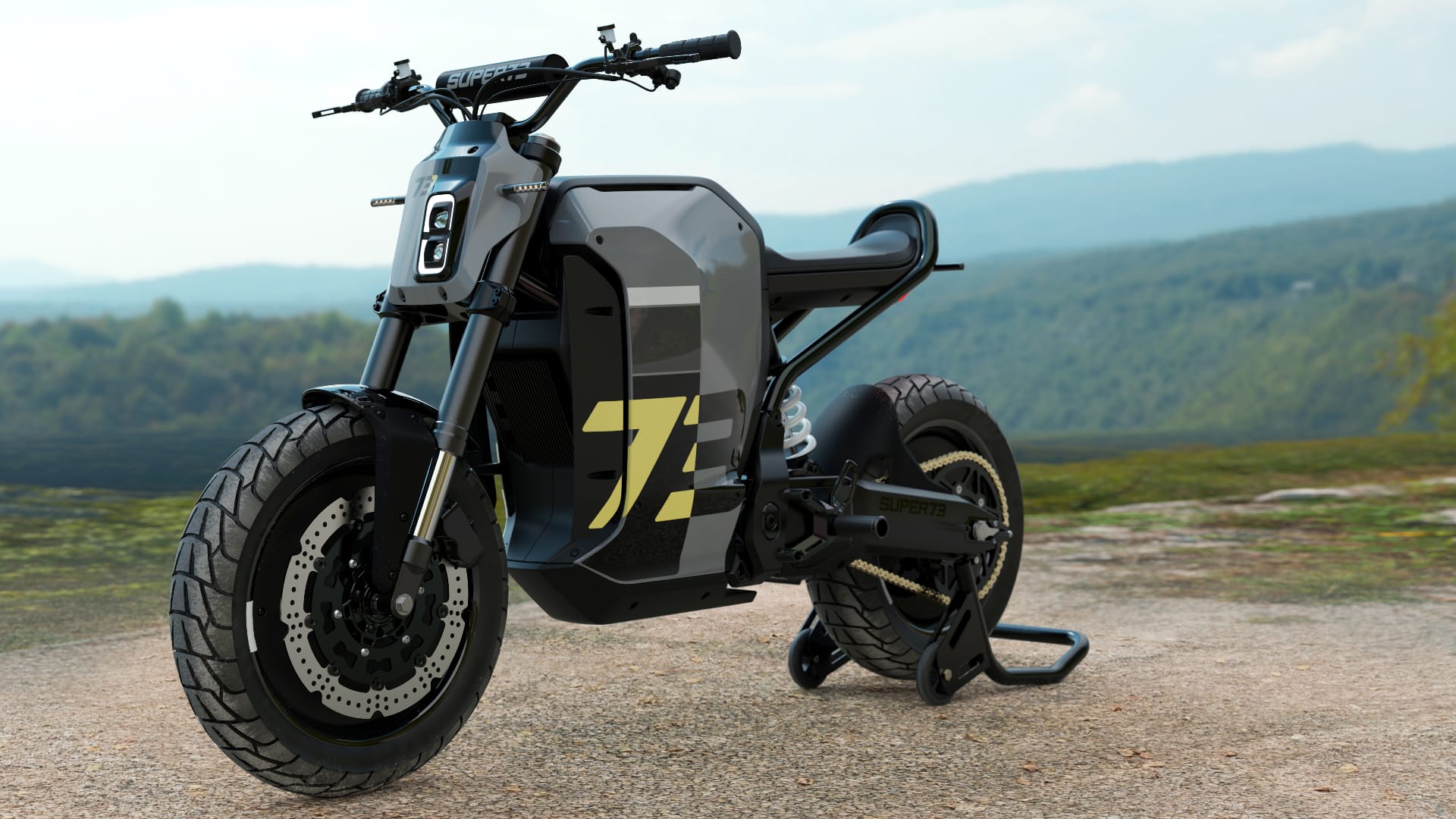 I spoke with Super73 CEO Legrand Crewse after the launch, and he was able to share a few insights as to where he believes the Super73 C1X concept is heading.
"We're not trying to build a motorcycle that pulls gas bike owners over to the electric side. That's not our goal. Don't get me wrong, we'd love to get them on a Super73 as well, but they aren't our audience" said Crewse.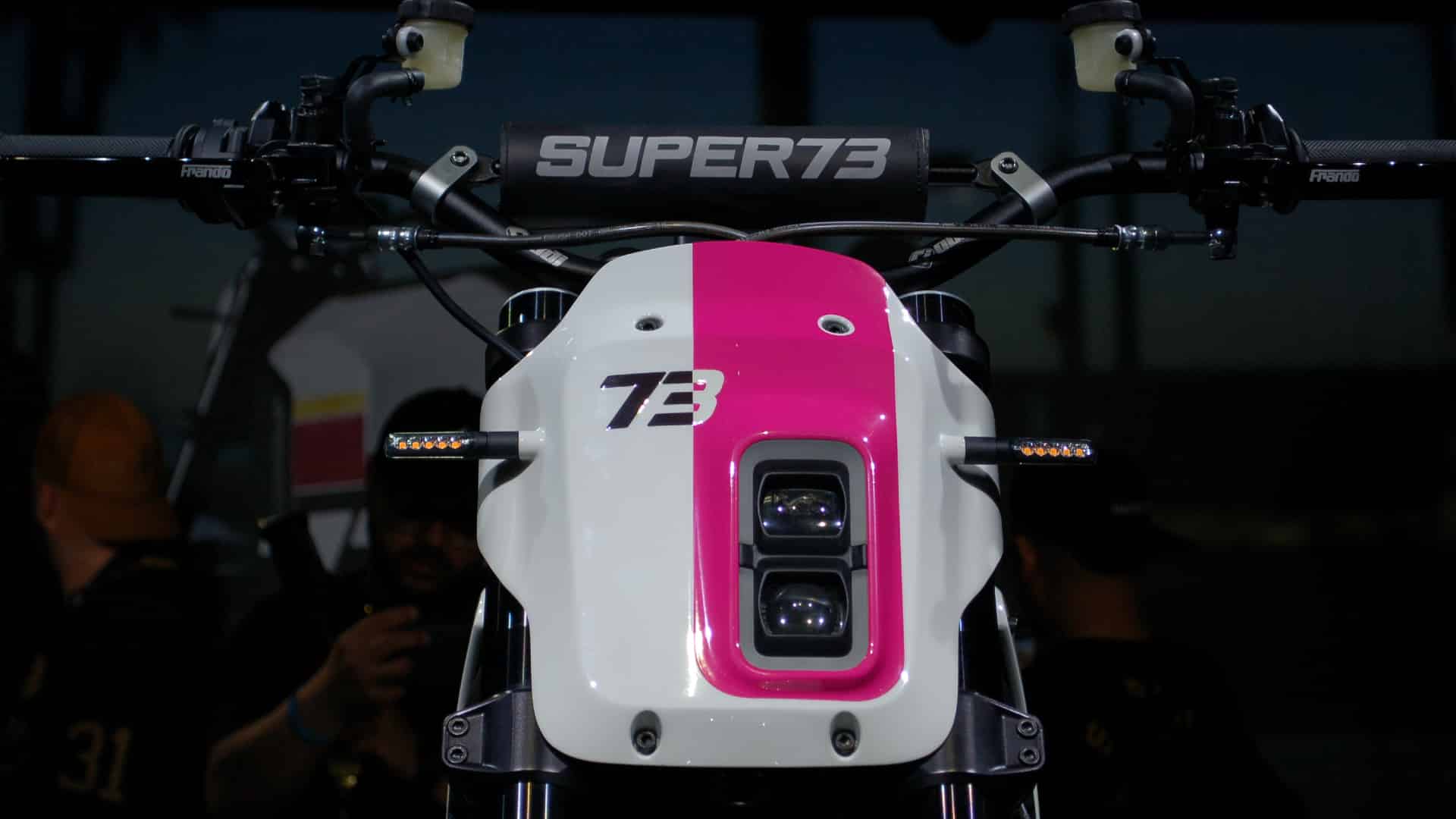 Crewse says he believes the C1X will fill a void he currently sees in the electric motorcycle industry: Approachable, beginner friendly electric motorcycles that look cool and don't cost a fortune. With no clutch or gears to operate, electric motorcycles already do away with the steepest part of the learning curve for new riders. Combine that with a "reasonable but still thrilling" power output, and you've got a bike pretty much anyone would love to hop on and ride.
"You can't help but design and build the bike you'd want yourself. We're based out of Southern California, so we want a bike that's compact and maneuverable for splitting lanes in city traffic, but it also has to be comfortable and comfortably fast on the freeway" said Crewse.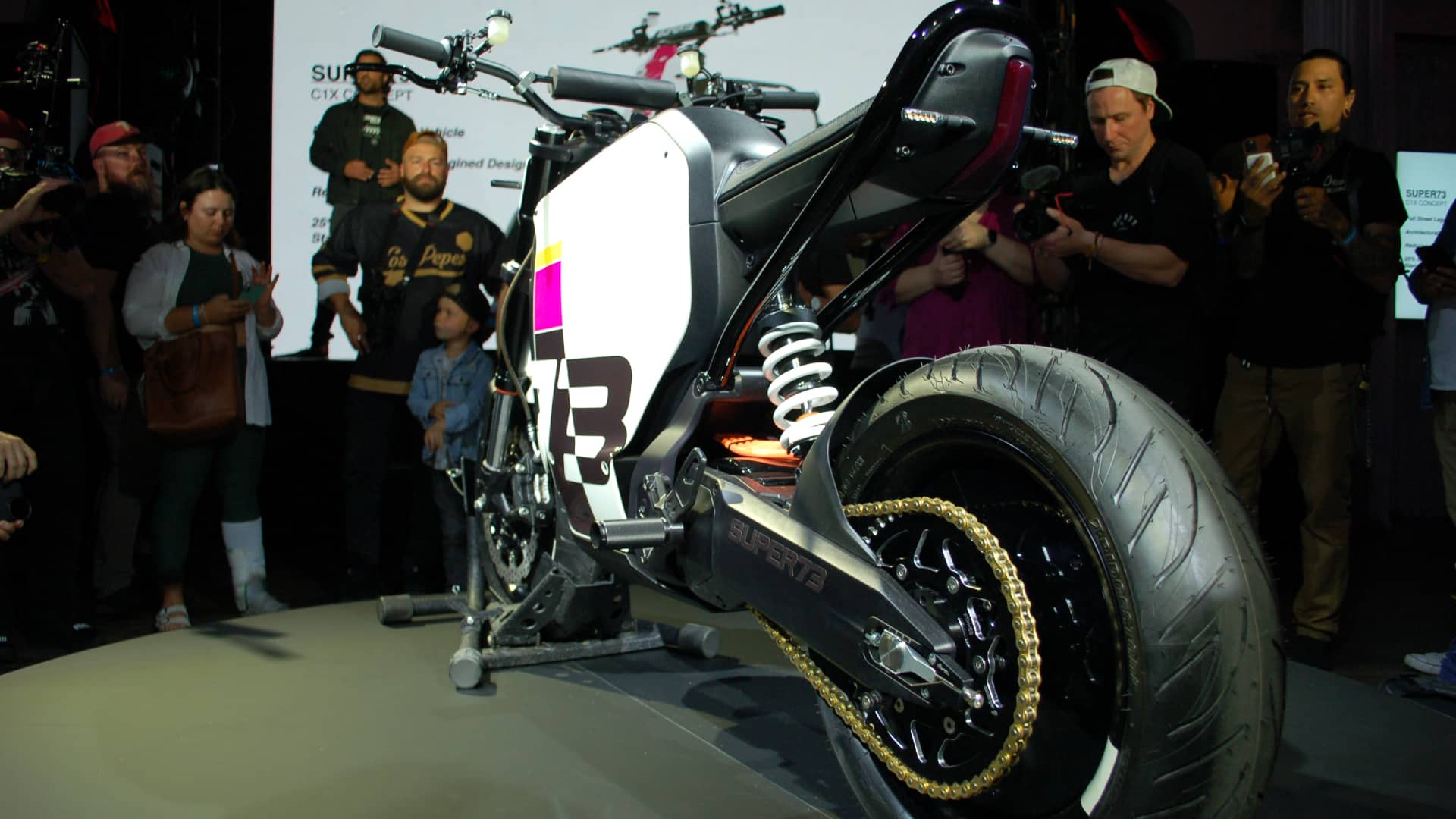 Speaking of comfortably fast, while confirmed power and range numbers are still pending, the Super73 team has concrete goals they're aiming for with the C1X concept. For starters, 100 miles worth of range (in the city) is a benchmark the S73 team is keen to hit, as is a 75mph or higher highway speed.
Crewse says Super73 gets lots of interest from existing customers on their current line of pedal-assist ebikes who are looking for a street legal motorcycle to "step up" to next. The C1X concept exemplifies what Super73 believes to be the perfect tool to help riders take that step.
Smaller diameter 15″ wheels keep the wheelbase of the C1X compact and manageable, hands-only controls keep it familiar to the current Super73 lineup, and an electric motor mounted behind the swingarm pivot point helps keep the entire package as compact as possible.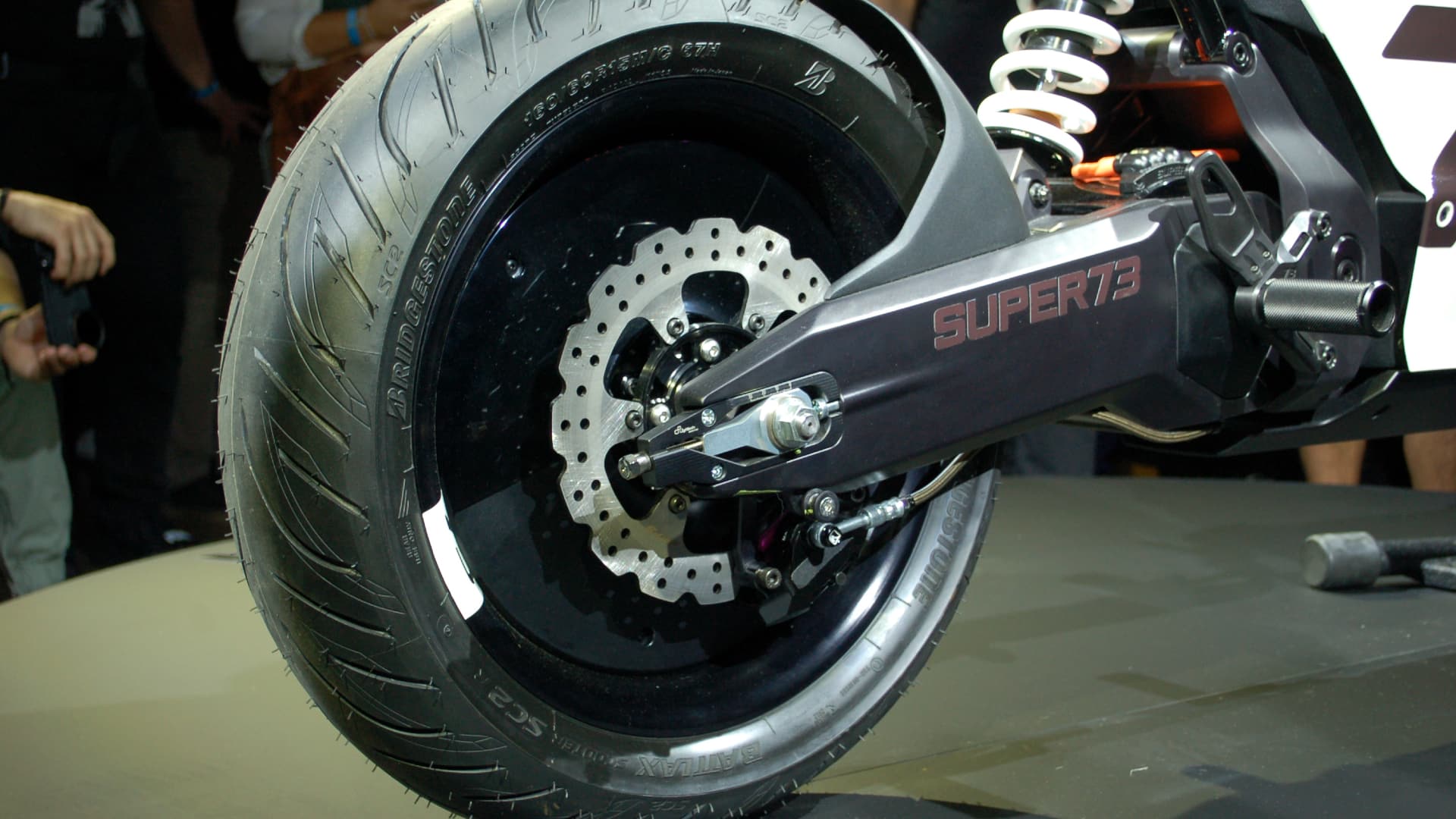 "We look at electric motorcycles as essentially a packaging problem. You need this much battery and that much motor, and you've got to figure out how to make it all fit inside the frame you want" said Crewse.
Crewse says the mounting of the motor helped solve a large part of that problem by leaving more space down low in the frame to store the battery, controller, etc. Specifics on those components are still pending as Super73 works through the laundry list of regulations associated with making a bike street legal both in the US and abroad, but we expect some news soon.
And as for price? Super73's stated goal is to bring the C1X to market for under $10,000. The unpredictable climate of supply chain and logistics will ultimately determine how far below $10k the C1X ends up, but if Super73's current performance goals are any indicator, it stands to make a strong competitor to upcoming models like the Sondors Metacycle. With the way things are currently going, the C1X may hit the market before the Metacycle ever enters assembly (kidding! mostly…), but at this time production is conservatively scheduled for late 2023.
A Closer Look: Components On The Super73 C1X Concept
While it's still far too early to get excited about the details of a production Super73 C1X, the prototype sends all the right signals when seen in the flesh.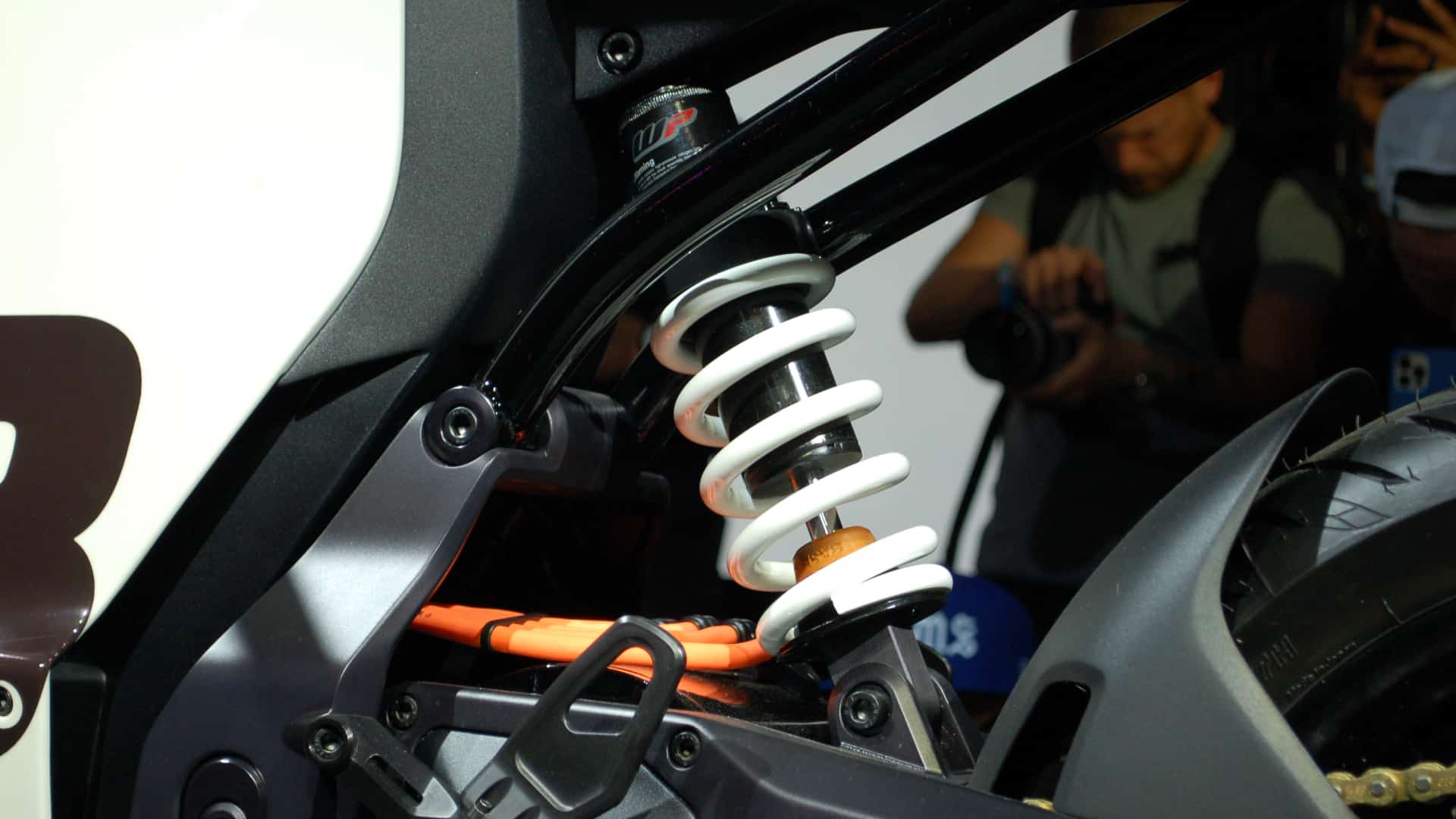 Component wise, the Super73 C1X sports a mixture of high performance parts taken from smaller displacement motorcycles and larger scooters. For instance, the suspension comes courtesy of WP front and rear, with components specced from KTM/WP's collaboration with India-based Endurance Technologies. This is the same fork you'll find on the smaller displacement KTM Dukes, typically packing about 5.6″ of travel up front and 5.9″ out back.
15-inch wheels also necessitate the use of scooter tires (unless you want to run cruiser rubber), but thanks to the growing popularity of the performance scooter movement, you'll have some solid options. The C1X sports Bridgestone Battleaxe SC2's, but both Pirelli and Michelin have performance options in this range now.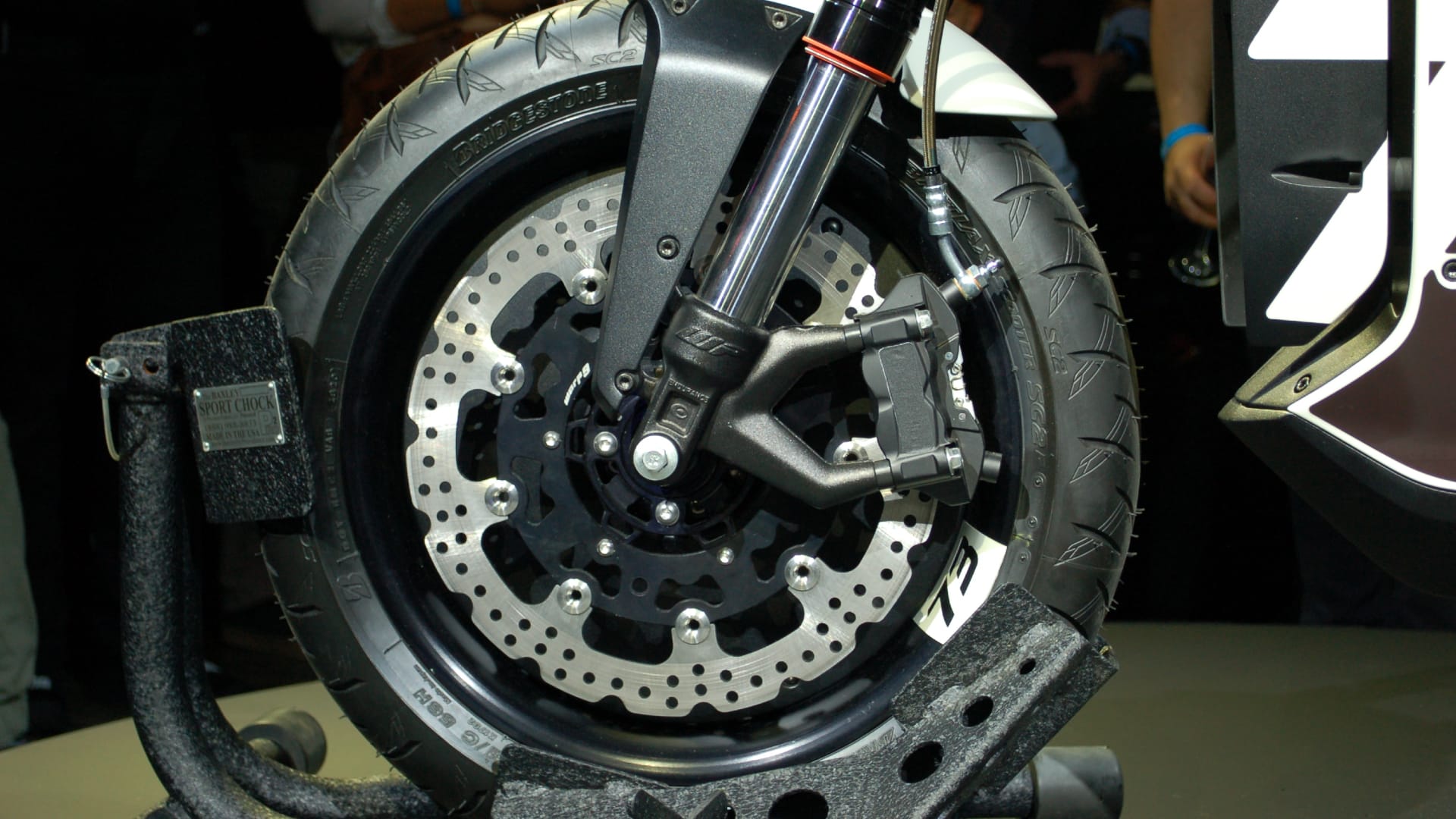 Other highlights include Warp 9 wave rotors front and rear, clean LED lighting throughout, gnarly-looking CNC footpegs, and Frando braking components.