Let's be honest here: The electric dirtbike industry has had an Alta-sized hole in its heart since the groundbreaking manufacturer was forced to shutter its doors back in 2018. Their flagship electric motocrosser, the Alta Redshift MX, was (and still is) considered by many to be the most important electric two-wheeler ever made: It was powerful, smooth, and lightweight with top-notch offroad suspension that rivaled the best gas motocross and enduro bikes on the market. After our first sit down with the folks behind the new Stark VARG electric off-roader, we believe that void is about to be filled.
…And then some.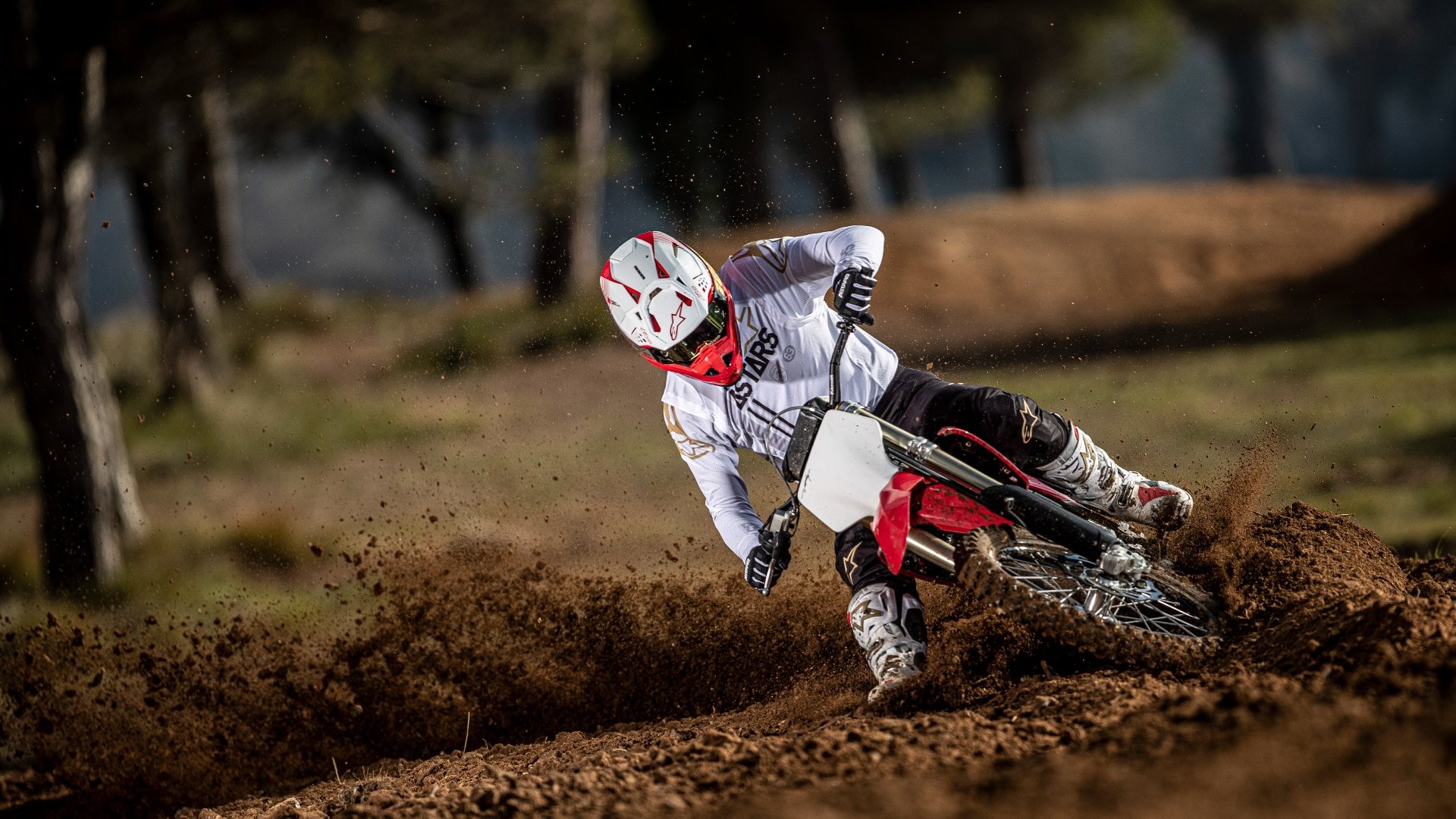 Why The Stark VARG Is Important
Stark Future, the Swedish motorcycle manufacturer (currently operating in Barcelona) behind the Stark VARG (that's Swedish for "strong wolf" by the way), isn't mincing words about their first production model. Their stated goal is to prove "in every single way" that electric technology is superior to gasoline equivalents. That's an important fact to note because Stark didn't build the VARG to be the best electric off-roader on the market: They built it to be the best on the market, period.
So why should we take them seriously? Especially considering every electric bike manufacturer on the planet seems to make the same claim in so many words? Well, for starters, Stark hired an absolutely crack team to develop the VARG.
Consider their choice for their product testing director, Sébastien Tortelli. Yes, that Sébastien Tortelli, the two-time FIM Motocross World Championship winner who famously spanked none other than Jeremy McGrath on his first-ever AMA Supercross outing. Yea. That's the guy putting the Stark VARG through its paces on the test track. What does Tortelli have to say about the VARG?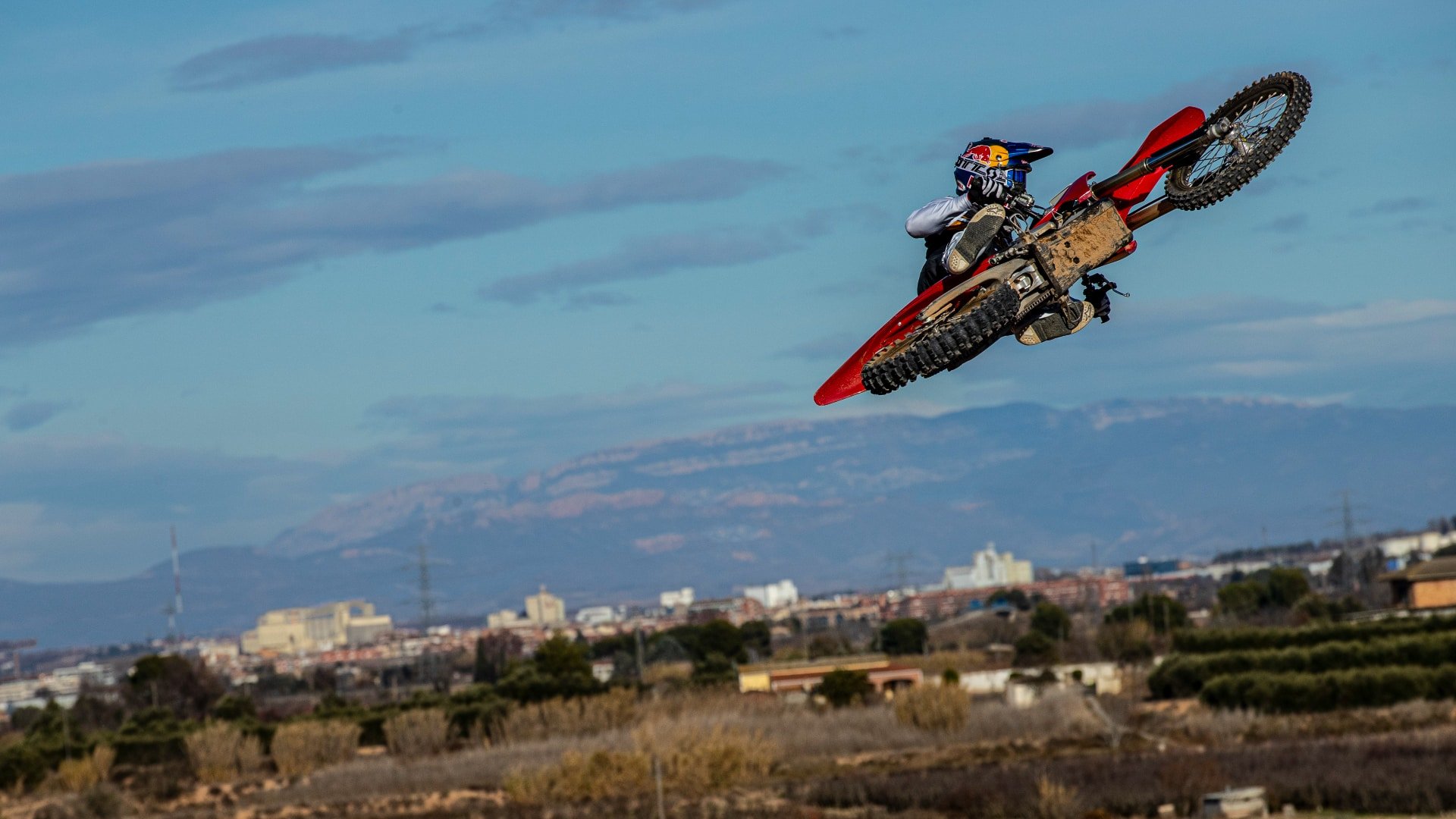 "When I first jumped on the Stark VARG, the very first impression was from the outright performance. It was much more than I expected. Suspension-wise, chassis-wise, I immediately felt at home. This is a real motocross bike. The chassis is balanced as well as nimble. The light weight means you can really move around it with ease and attack those jumps and sections. I feel awesome on track and I can race with this bike, and this is exactly what we are aiming for."
Or how about their chosen brand ambassador, none other than Josh Hill, the former AMA Supercross race winner who famously rode the Alta Redshift MX through a winning heat against Kyle Cunningham at the 2016 Redbull Straight Rhythm race?
"First off, the Stark VARG is one of the most beautiful bikes I've seen! It is probably the most responsive power I've ever felt on a bike. The designers have done an amazing job with the chassis and the ergonomics right out of the gate."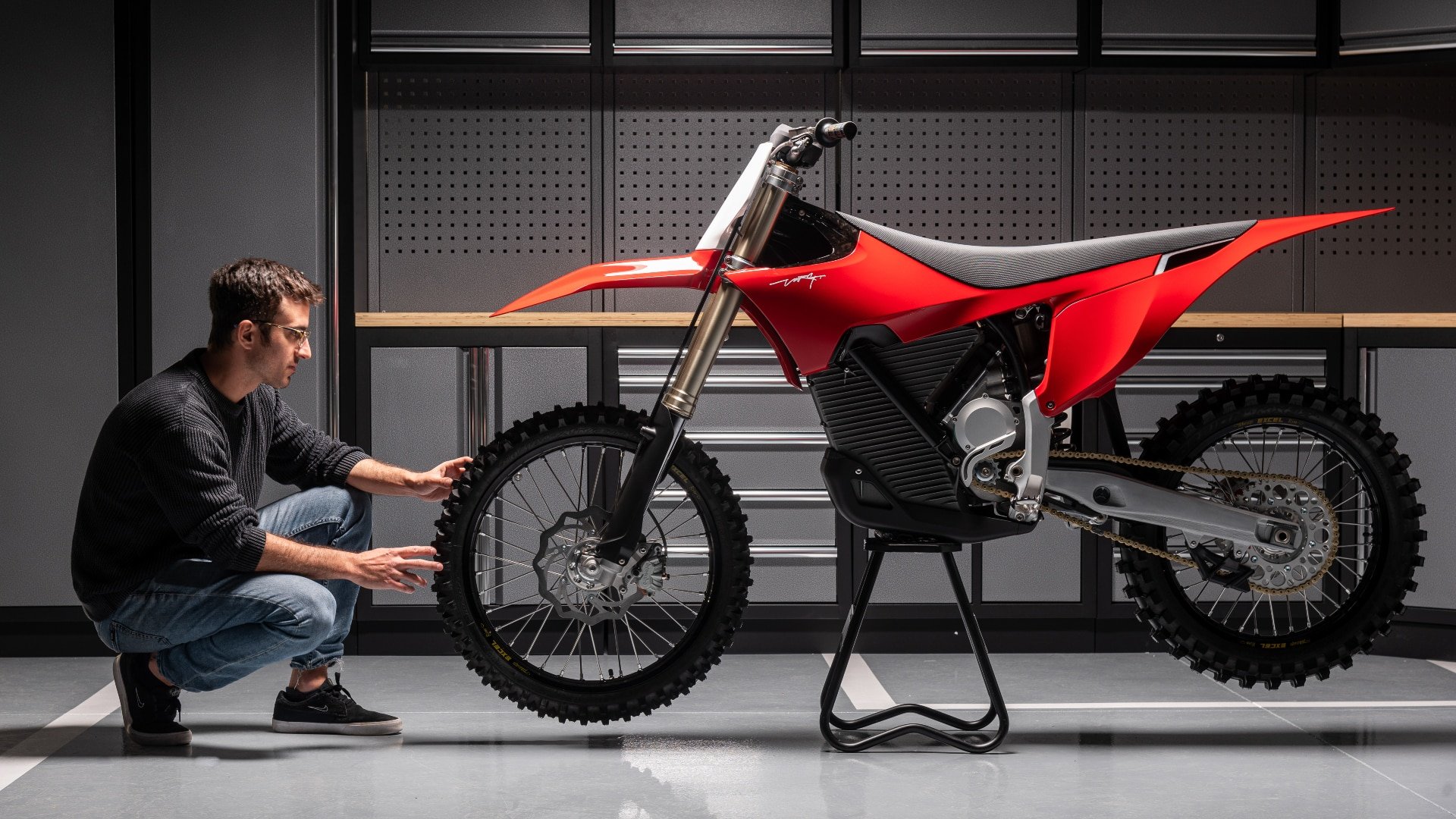 Yes, they're both on the Stark payroll, but after looking at the VARG's impressive build sheet, we're feeling pretty optimistic about this bike's potential to make motorcycling history.
Stark VARG Specs & Details
Let's get the sexy part out of the way first: Impressive power numbers are part of any exciting electric motorcycle's spec sheet, and the Stark VARG doesn't disappoint in that regard. Stark says the VARG packs 80 horsepower into a 110kg machine, which they claim makes it the fastest motocross bike on the market. Considering that the KTM 450 SX-F that just won the 2021 MXGP championship puts down around 65 hp and weighs in at about 100kg wet (spoiler: puns ahead), they don't seem to be blowing any smoke in that regard.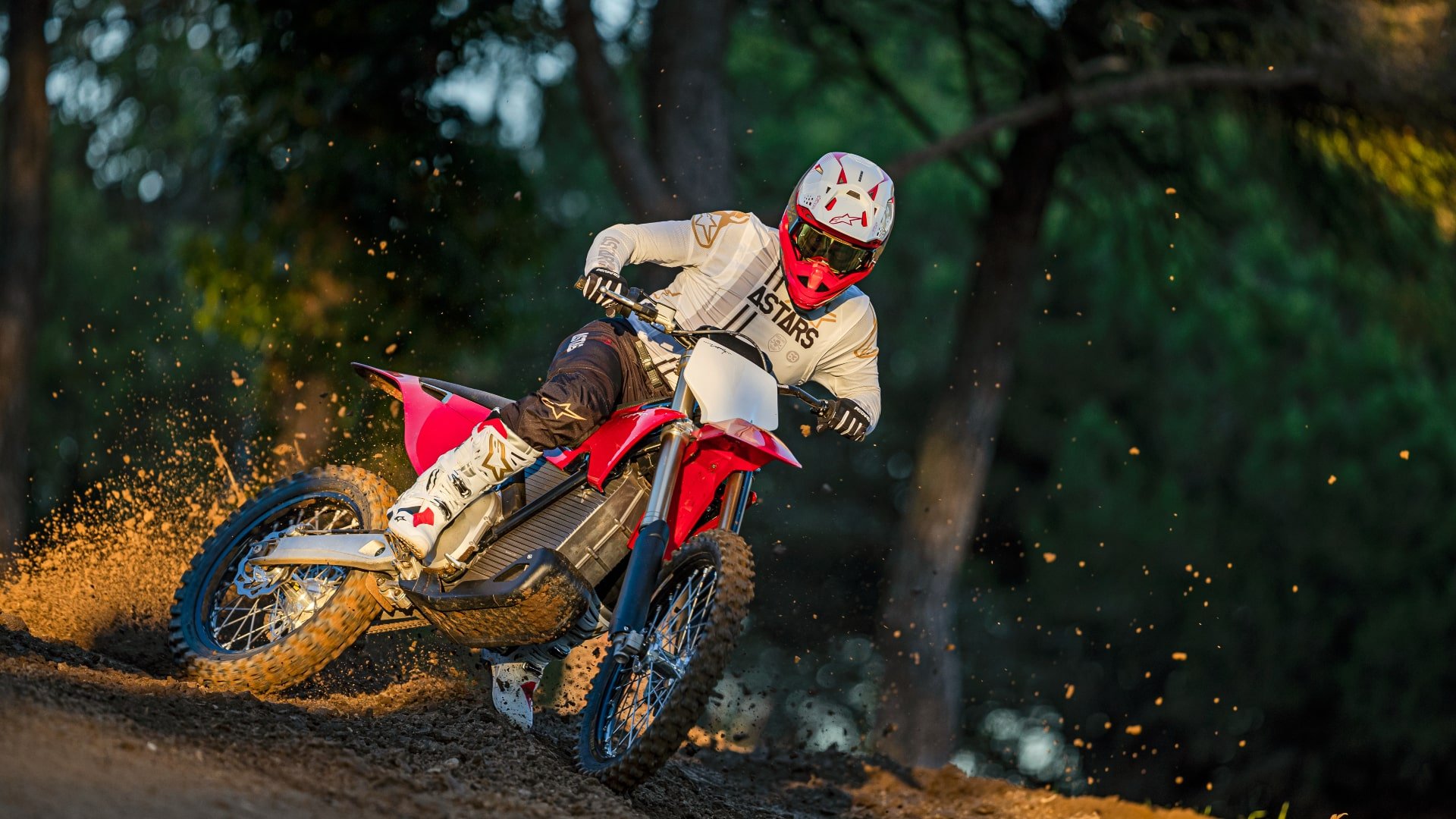 When we spoke to Stark they stayed true to their "electric superiority" focus, quickly pointing out that the VARG's power output is roughly 30% more than any 450cc MX machine on the market, and with double the torque. Of course weight also plays a factor in any fast and fast-handling off-roader, and Stark shared a few details with us on how the VARG's chassis design helps keep the weight to a minimum.
For starters the motor is used as a stressed member of the chassis, which Stark claims allowed them to build the lightest motocross frame in the world. Other weight-savings come in the form of a carbon subframe, lightweight bodywork (that doesn't have to cover a fuel tank, radiator, airbox, etc), and proprietary footpegs cast from a special stainless steel alloy, which Stark claims are the lightest motocross pegs on the market as well 40% stronger than titanium.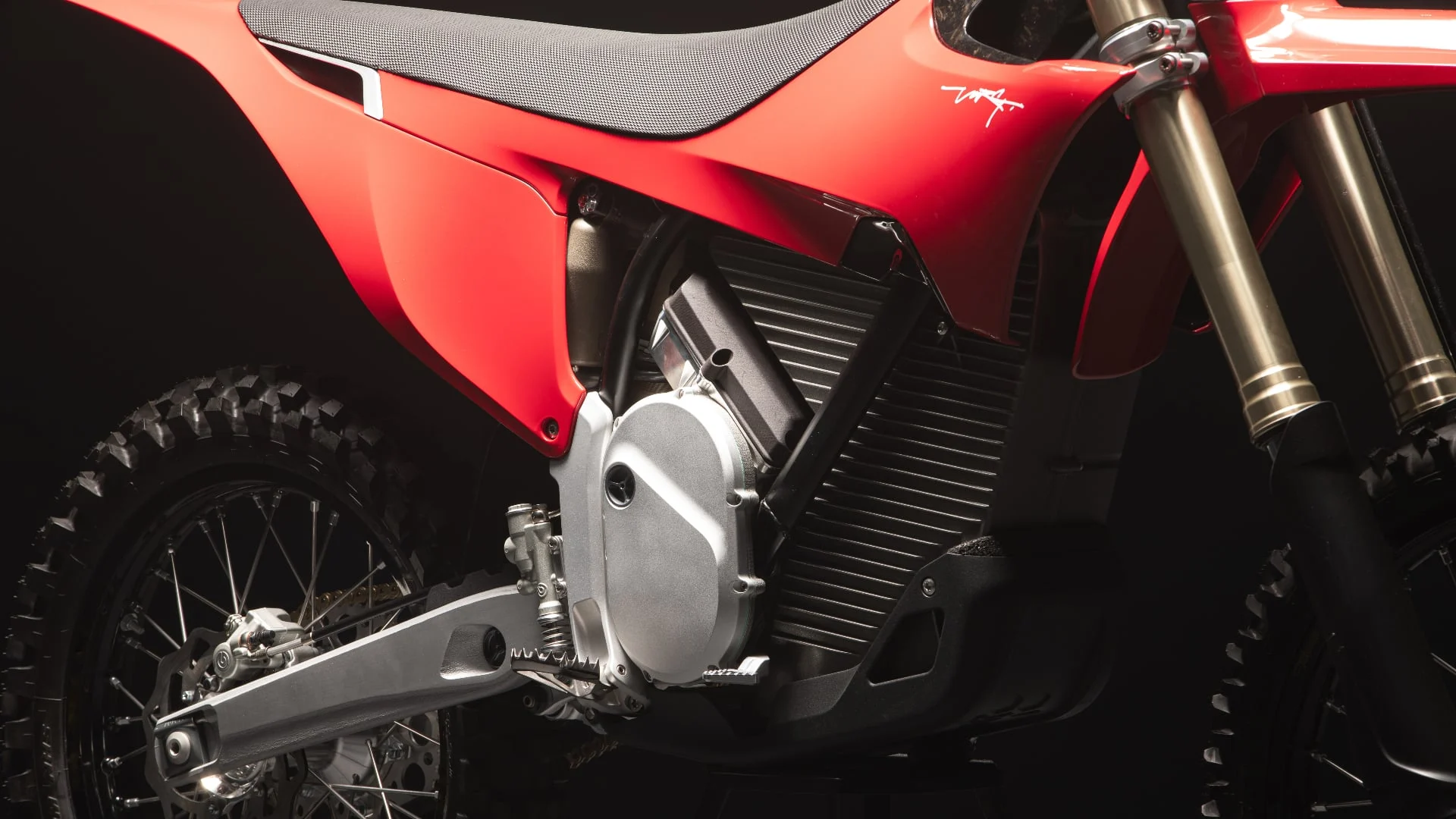 Stark enlisted the folks at KYB to design suspension for the VARG, which packs 310mm of tuned travel front and rear and can be configured for rider weight ranging from 143 lbs up to 220 lbs straight from the factory at no extra charge.
In terms of range, Stark claims the VARG runs for up to 6 hours in typical enduro/trail riding conditions. Their goal for the VARG was to achieve a range/runtime that was on par with a full tank of gas, and Stark says they've achieved that aim in testing. Charging time is between 1-2 hours depending on your charging method of choice.
Speaking of charges, Stark says the VARG will sell with all the bells and whistles for $13,000, or with a lower 60hp max output for $11,900. Regardless of which option you choose, you'll get the full tech suite with your bike, which as you'll read below is just as impressive as the performance itself.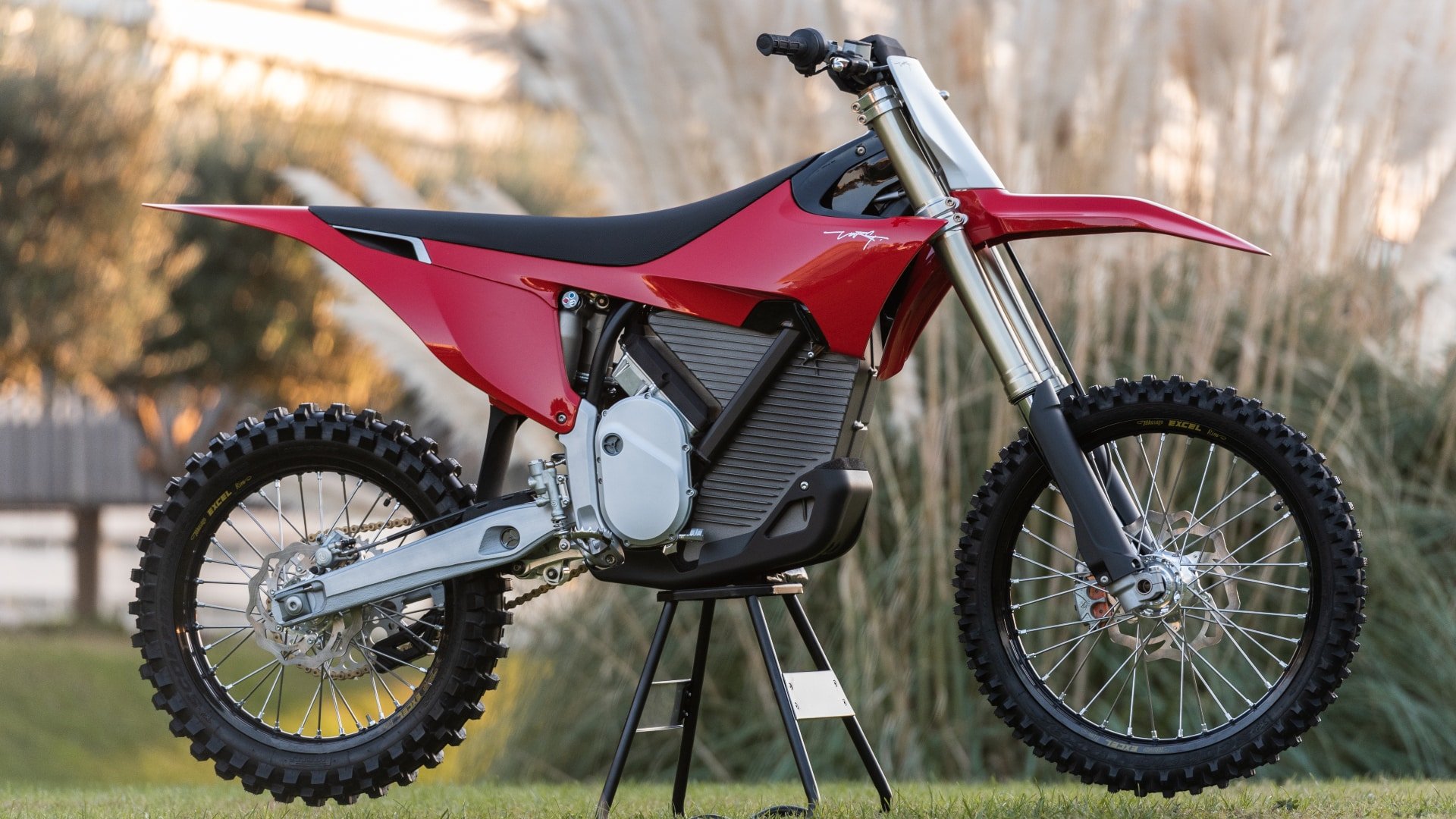 Stark VARG Specs
Power: 80 hp
Weight: 243 lbs/ 110kg
Torque: 691 ft-lbs/ 938 Nm
Range: Up to 6 hours
Charging time: 1-2 hours
Battery capacity: 6kWh
Suspension: KYB 310mm travel front & rear
Brakes: Brembo hydraulic levers & calipers mated to 260mm & 220mm Galfer rotors
Ride modes: 100+
Wheels: 7050 T6 aluminum rims, CNC-machined 6082 T6 aluminum hubs
Tires: Pirelli MX32 (21-inch front, 18-inch enduro & 19-inch motocross rear options)
Tunable functions: Traction control, power curve, engine braking, virtual flywheel
Stark VARG Technology
Just the power figures above are enough to make the Stark VARG an incredibly important production bike, but as a fully-modern electric, the tech is just as exciting. Here are the crib notes from our chat with Stark.
Stark VARG Motor, Battery, & Controller
The Stark VARG uses a carbon fiber sleeve motor and inverter (yes, like a Tesla) to achieve what they say is the "most potent power to weight ratio of any production motocross bike" with a 9kg motor cranking out 80hp for a 9hp-per-kg ratio. The inverter itself is integrated inside of the water-cooled aluminum motor case, which functions as a structural member and further reduces weight and mass.
The battery itself looks to be equally impressive, and is packed full of patent-pending tech to achieve its ambitious aims.
The case itself is an air-cooled magnesium unit, which uses a proprietary honeycomb structure for increased strength and rigidity. This case also allows Stark to connect every individual power cell directly to the case, which improves cooling and contributes further to an optimized center of gravity.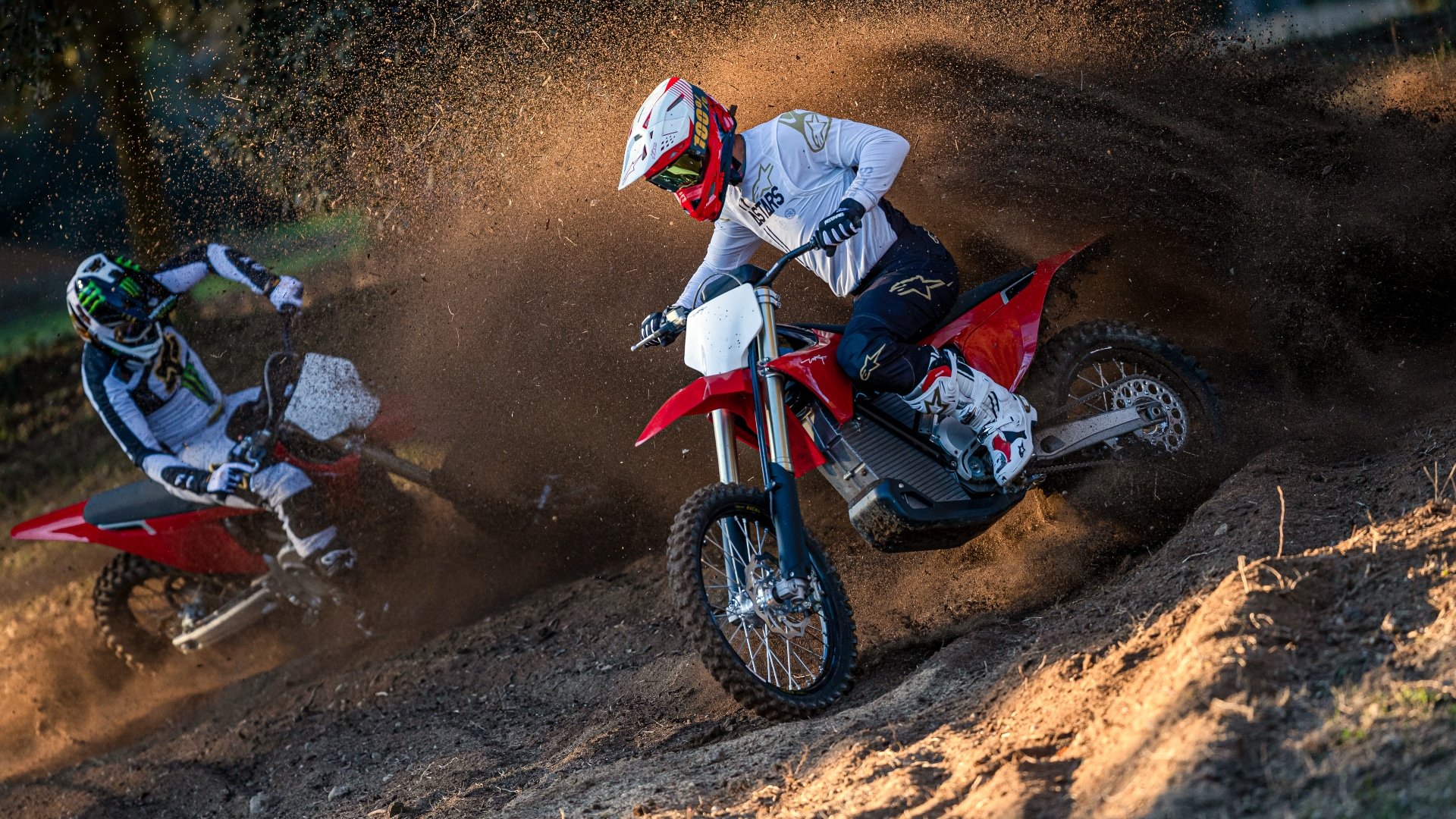 Stark VARG Electronics
80 horsepower is sweet, but we don't all want (or need) it all the time, and that's where the Stark VARG's electronics come into play. Stark equips the VARG with a removable smartphone-style display, which clips into the bar-pad area to serve as your dashboard and onboard control center.
From the app you're able to set over 100 personalized ride rodes, each with its own input for power curve, engine braking, traction control, and even a "virtual flywheel" setting to dial in your preferred feel for power delivery. Stark says the idea behind this adjustability is to allow the rider to set the bike up to ride like anything from a 125cc two-stroke to a big 450cc four-stroke on steroids, nitrous, and a turbo.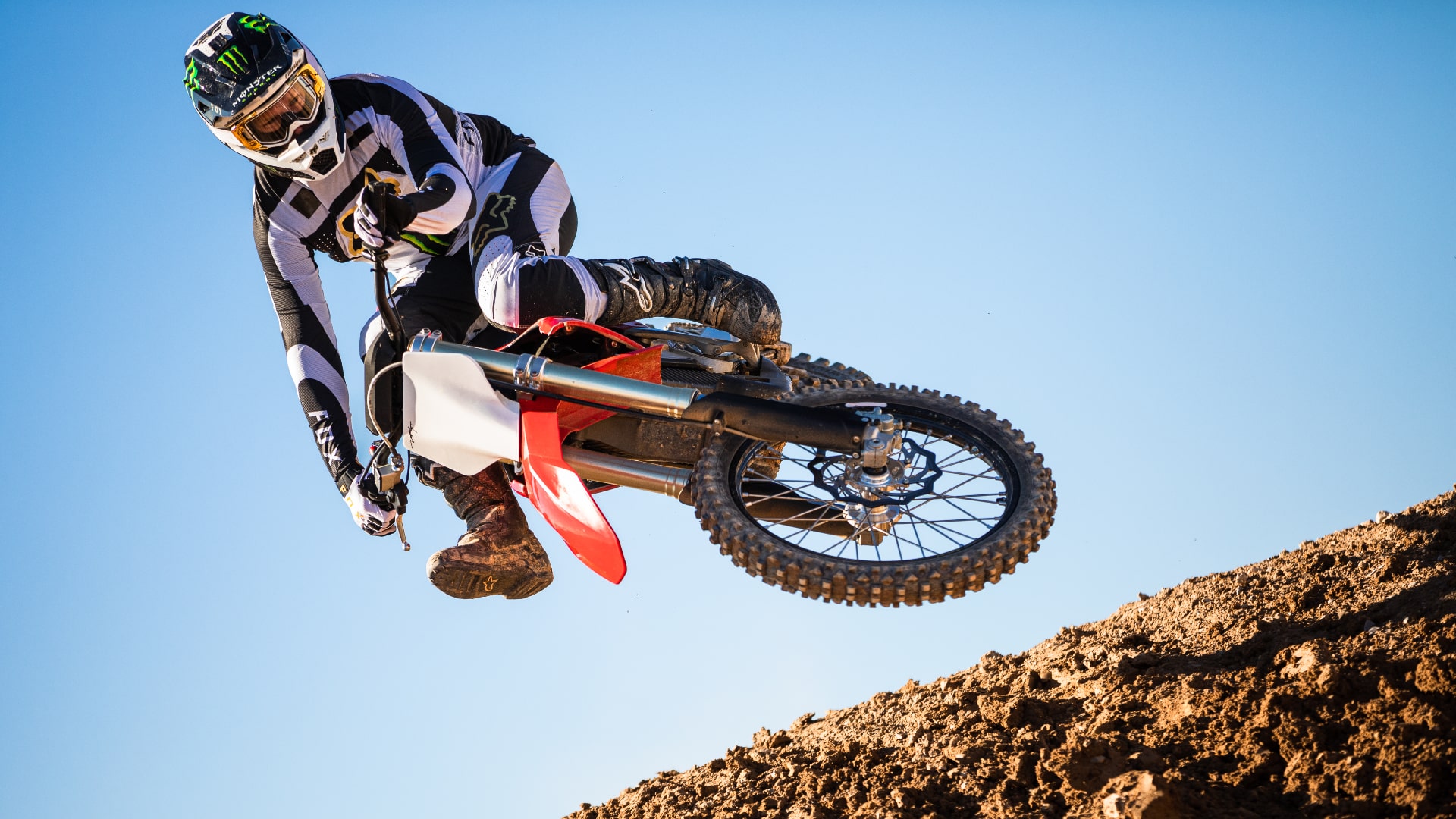 In addition to this, the control unit (which is completely detachable and functions as a literal standalone smartphone, calls and all) also allows you to capture and analyze ride data like lap times, G-forces, power consumption, and even airtime. The unit also provides navigation, and allows you to share trails (and custom ride modes) with friends. These features will require a subscription plan, but details haven't been released on that at this time.
Final Thoughts: Will The Stark VARG Deliver?
While we prefer not to do "first impressions" on bikes we haven't ridden, we couldn't help but get excited after our first sit down with the crew at Stark. We're scheduled to throw a leg over the production bike sometime in Q1 of 2022, and you can absolutely expect a full update and rundown on our Youtube channel when the time comes.
Until then, we'll just say this is easily the most exciting electric bike (or bike in general) we've seen in years. If you never got a chance to ride the brilliant Alta Redshift, take our word here that it was everything an electric dirt sled should be. The probability of seeing a well-developed, well-sorted, and properly tested bike fill that void in the near future is something we should all be pretty 'effin stoked about. The fact that it looks to be significantly superior to the Alta in every conceivable way is the kind of icing on the cake we just can't get too much of here at Electric Cycle Rider. It's also worth noting that Stark has plans to develop the platform into other models as well, so it's only a matter of time before we've got access to a plated version with lights and signals to fill another void in the high-performance electric dual sport segment. Fingers crossed.
Check out more content on the Stark VARG via their YouTube channel, here.
Want more news, reviews, and unsolicited options on all things electric? We've got that right here.
More the video type? Follow ECR on Youtube here, or on Instagram here.