It's not sexy, it's not fast, and it doesn't even have a name, yet the Opibus "electric motorcycle" is kind of…Well… Perfect.
Look, there's no shortage cheap shots you could take at the Opibus: It's got tiny drum brakes front and rear, the "gas tank" looks like a trapezoidal space coffin, and the chassis itself appears to be pulled straight from a small-displacement Indian commuter like the Bajaj CT110x (which it probably is, considering Opibus' passion for retrofitting… more on that below…).
However, if all you see when you look at the Opibus electric motorcycle are flaws, shortcomings, or crude angles, you're missing the point. Look closer, and you'll see it for what it is: A simple, capable, reliable dual-sport, and a damn good time to boot.
See, the problem with electric bikes these days is that all the headlines go to the most modern, powerful, flashy attention-getters out there (we love those too). The Opibus electric motorcycle has its share of flaws, but attention-seeking behavior isn't one of them. In a sea of iPhone Pros, the Opibus is your mom's old Nokia brick phone that'll still be making calls and playing snake long after the rest fall to planned obsolescence. It's that old 1988 Yamaha XT225 that just won't quit and puts a smile on your face everytime you get it in the dirt. The Opibus is built with a purpose: To get people around on the rough roads and backcountry stretches of places like Ghana and Nairobi without fuss. Sounds like an adventure motorcycle trip if we've ever heard one.
This bike is capable, and we mean that in more ways than one. If it's looks give you pause, take a second glance at the spec sheet.
Opibus Electric Motorcycle By The Numbers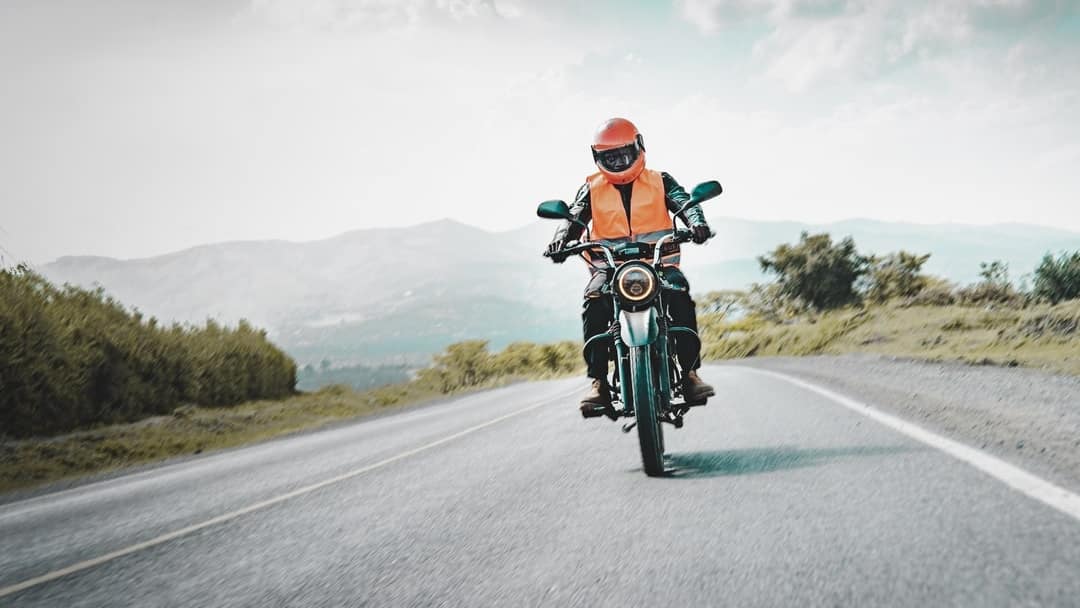 First thing's first: The most important number on the Opibus' spec sheet is its MSRP: This Kenya-made dual sport starts at just $1,300, and even the premium dual-battery option retails for $1,800. Granted, those figures are local to East Africa where Opibus is headquartered, but even with shipping costs factored in, it'll still be a steal by the time it hits American shores (which might not be too far away, considering their recent financial backing from big tech… Again, more on that below).
And before you go assuming this is some sort of Alibaba electric bike special, take a look at few more specs from the little dual-sport-that-can:
Opibus specs its electric motorcycle as cranking out 136 ft-lbs of peak torque and putting down an estimated range of 124 miles for the dual 2.9kWh battery option. Those numbers aren't just early-stage prototype fluff either: This bike is already being manufactured, sold, and ridden in Africa. Top speed is around 55 mph (which is ideal for local conditions), and charge time is just under four hours using the Opibus' included 240/230V standard home outlet charger. That's a full day of offroading and then some, made even sweeter by the fact that these batteries are hot-swappable and small enough to stow on the Opibus' included luggage racks.
Other features include LED lighting front and rear, a large backlit LCD display, and an intelligent battery management system that delivers instant acceleration when you want it and range-boosting efficiency when you don't.
About Opibus:
Opibus traces its roots back to a technical university in Sweden, where the company began as a research project focused on making electric transportation more affordable and widely available to the general public. The company was formally founded in 2017, and has kept cost-efficiency at the forefront of their efforts throughout its development.
Opibus started out with a unique approach to electrification: Rather than suffer the cost-intensive process of designing and manufacturing vehicles from a blank sheet, they focused on retrofitting existing vehicles. By building modular electric drivetrains that could be quickly and easily swapped into existing frames (you'll see quite a few envy-inducing 70-Series Land Rover conversions roaming around their compound), they were able to create low-maintence, cost-effective solutions to replacing or rebuilding aging gasoline engines.
They added motorcycles and electric conversions for public transportation like busses to their portfolio shortly thereafter, which caught the eye of tech big-wigs earlier this year. All their hard work has culminated in a $7.5 million investment from former Google and Uber executives, which was finalized earlier this month and will go toward growing and scaling the business for international distribution in 2022.
How soon we can expect to see an Opibus electric motorcycle in the US is anyone's guess at this point, but we think these utilitarian two-wheelers may be exactly the sort of thing the US is missing. If you're still not sold on the Opibus, go take your favorite little dual sport for a spin this weekend and see if you don't enjoy every minute of it.