The Colorado Backcountry Discovery Route (BDR) is an off-road route that traverses the rugged Continental Divide over 1,000 miles through some of the tallest mountain peaks in the United States. It's a right of passage for any Colorado adventure rider and one that I've done before, albeit using the conventional equipment: A traditional gas motorcycle equipped for high mileage travel in rough conditions.
The weapon of choice for this trip was the Zero DSR Black Forest Edition, a spin on the base DSR model with the addition of hard pannier adventure luggage, hand guards and knobby Continental TKC 80 tires. All of which create drag, something I hadn't considered when calculating our mileage. Zero claims a range of 157 miles in the city and 64 miles on the highway but those numbers can vary depending on the environment. The Black Forest Edition also comes standard with a "Charge Tank", allowing riders to make use of public Electric Vehicle Supply Equipment (EVSE) charge stations, an option that can utilize 240 volts via a J1772 plug, which ensures the bikes will charge approximately 75% faster than using a traditional 120 volt wall outlet.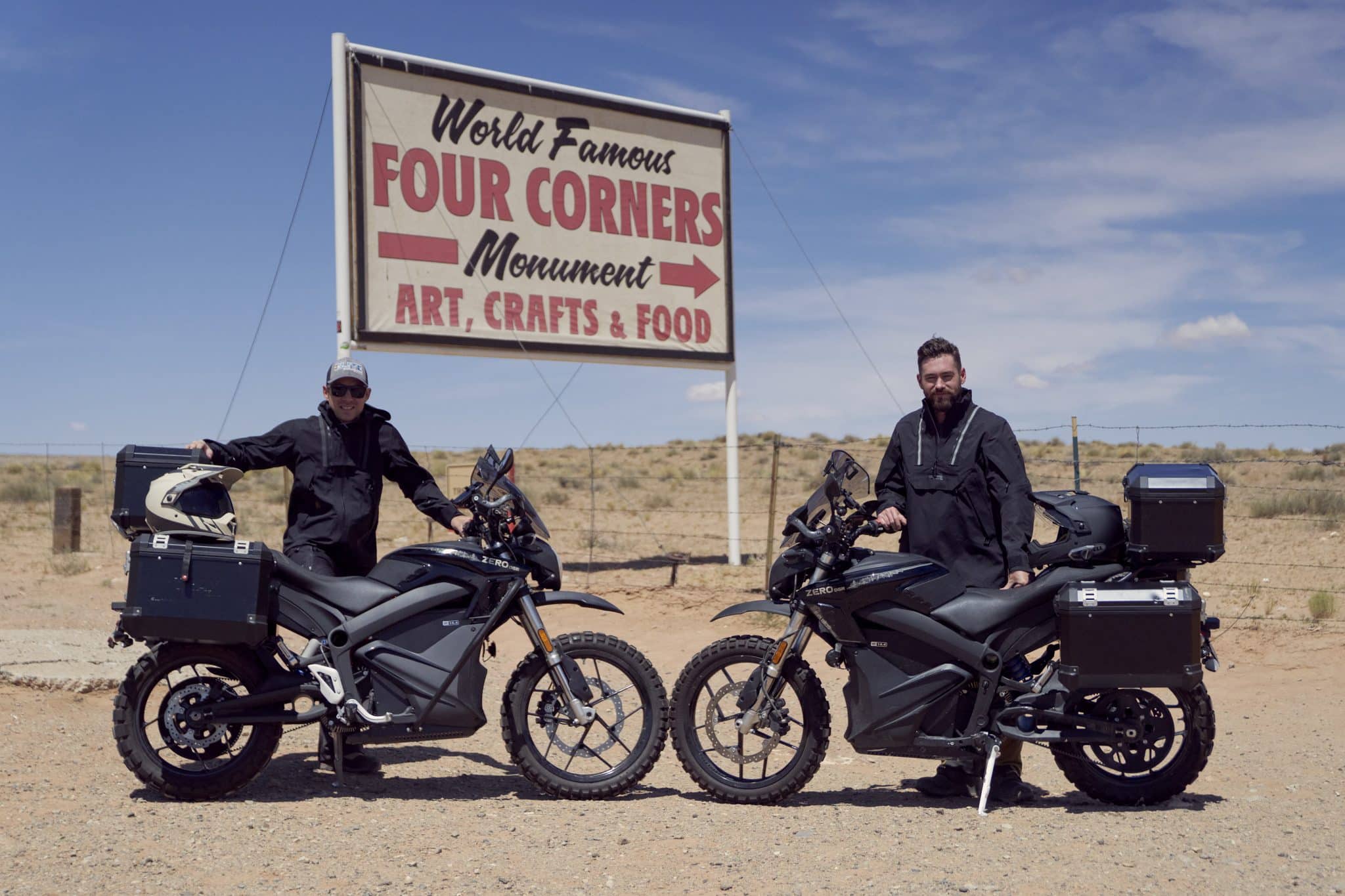 Our entire expedition would live and die by the logistics. The Colorado BDR is not particularly challenging in terms of terrain but what it lacks in obstacles, it makes up for in vast, uninhabited stretches with limited services. The biggest challenge in our preparation was plotting sufficient charge stations along the desolate route. We overlaid the BDR into onX Offroad, an interactive map and the main source of navigation for our ride. From there, we researched every relevant charge station along our route, highlighting the EVSE charge stations with J1772 plugs and adding them into our map as specific waypoints. The distance between chargers was within the claimed range of the DSR, although one wrong turn or a prolonged fast stretch of trail could leave us without charge.
What ultimately leads to a myriad of mining roads, dirt roads, and trails begins on a stretch of fast, wide-open highway. The type of environment that is lethal to the range of an electric motorcycle. We had plotted out a "safety" charge station in Cortez, 40 miles from our origin, as an afterthought. Thinking it wouldn't be necessary so early on our trip. We were 5 miles in and I was already concerned that we wouldn't make it to Cortez.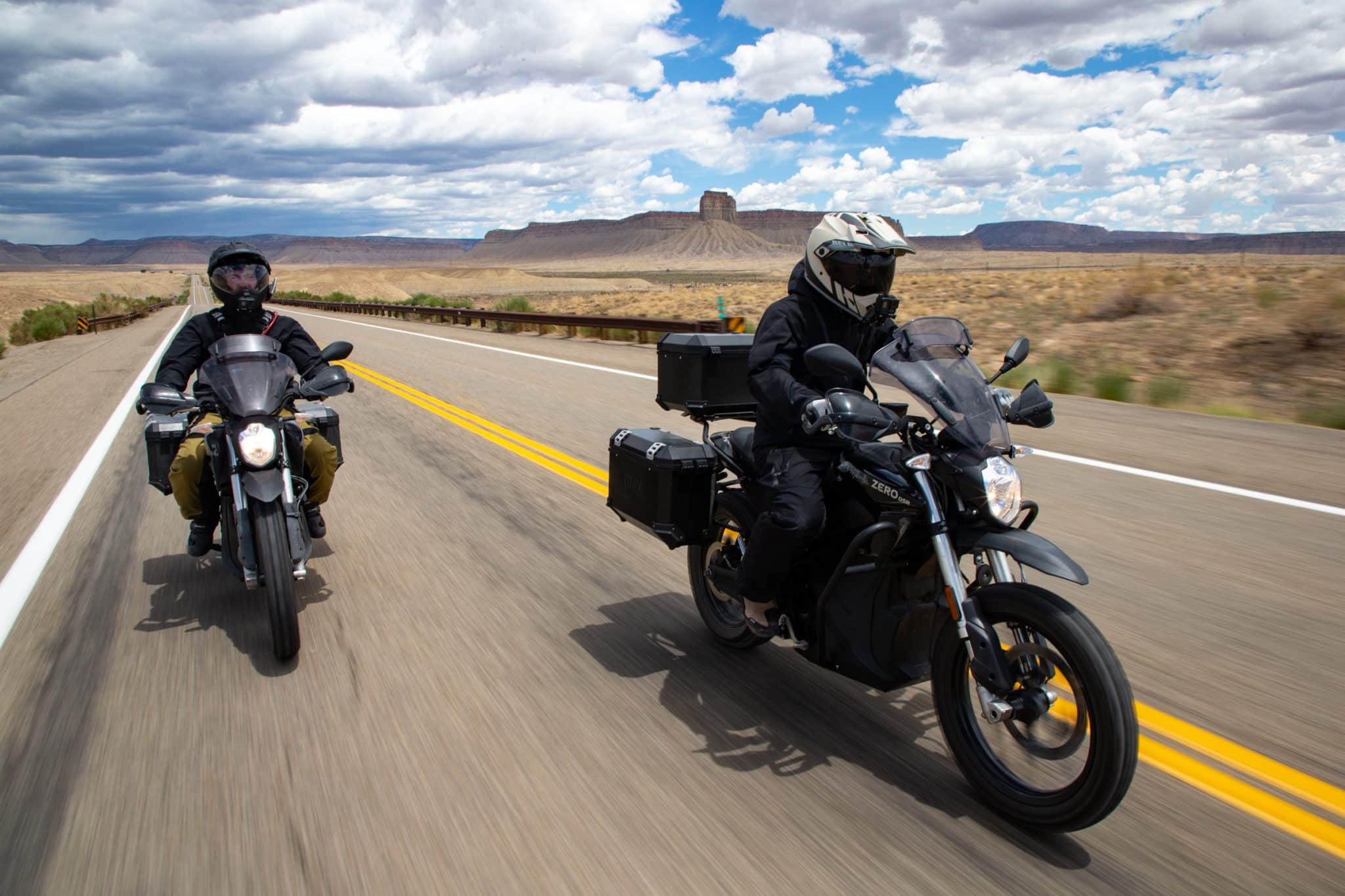 After a tedious hour disciplining our throttle hand to maintain a modest 40mph, we arrived at Cortez, in the breakdown lane, being passed by tractor trailers and other highway travelers. It was here that I admitted to my lifelong friend and riding partner, Mark Jackson, that despite all my planning, I had not actually tried to charge a Zero DSR using a J1772 charger. The bikes arrived less than 24 hours before our departure and I simply didn't have enough time to test them out. We were about to get a crash course on what would become our lifeline for the next 7 days.
Our first attempt was with an EV Box charger at the Montezuma County Community Center. We downloaded the app, followed the prompts on the screen, and could not get either bike to connect.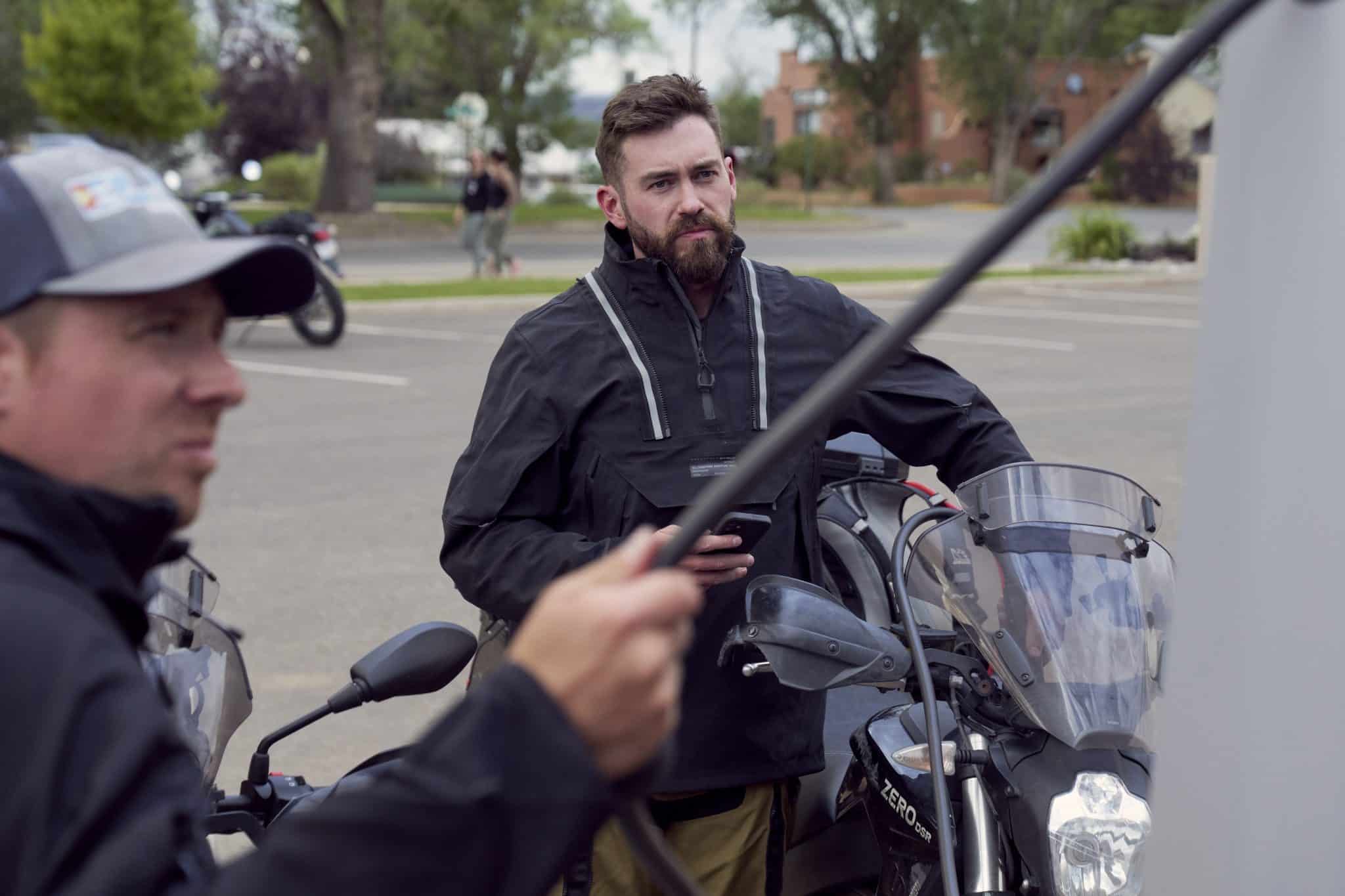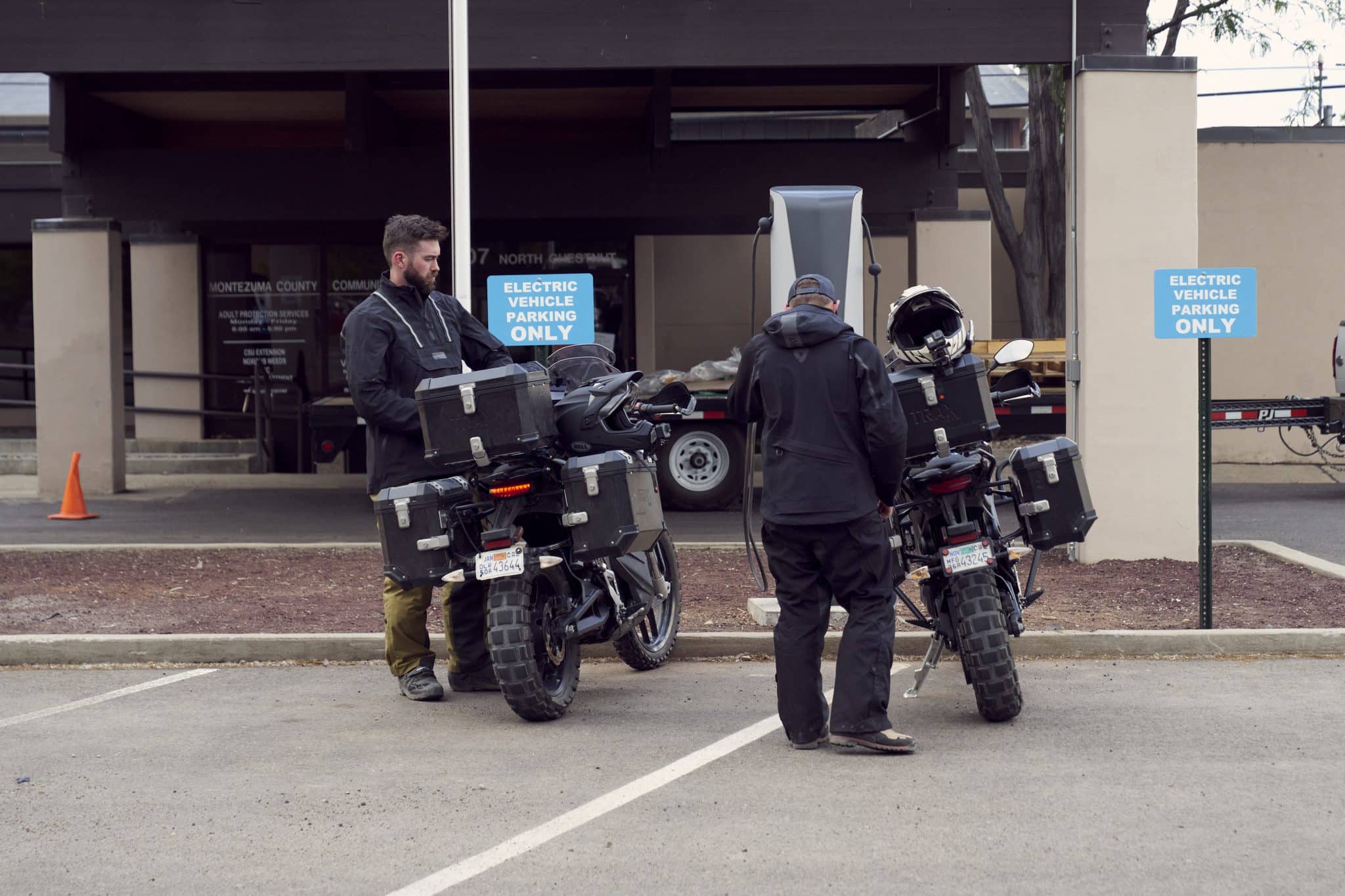 Fortunately, Cortez had two EVSE charge stations to offer, so we abandoned the EV Box, saddled up and rode across town to look for our backup charge option. The conversation was light, joking that we were probably going to end up charging out of the back of the local Mexican restaurant via their wall outlet as we sip margaritas for the next 10 hours.
This time it was a ChargePoint charger. Another app to download. Mark and I silently went through the download procedure and made our selections on the screen, eager for a positive result. The fan kicked on, the bikes connected and the electricity started its transfer. We were doing it.
One hour and 45 minutes later, we were back on route with a full charge. The town of Dolores was only 11 miles ahead, where another "unnecessary emergency charger" had been mapped out. Already unsettled with range anxiety from our last segment and knowing the next stretch would be desolate, we decided to top off our 89% charge at the Dolores Town Hall ChargePoint before ascending into the San Juan Mountains to set up camp for the night. Unknowing at the time, this last top off in Dolores would prove to be a significant decision.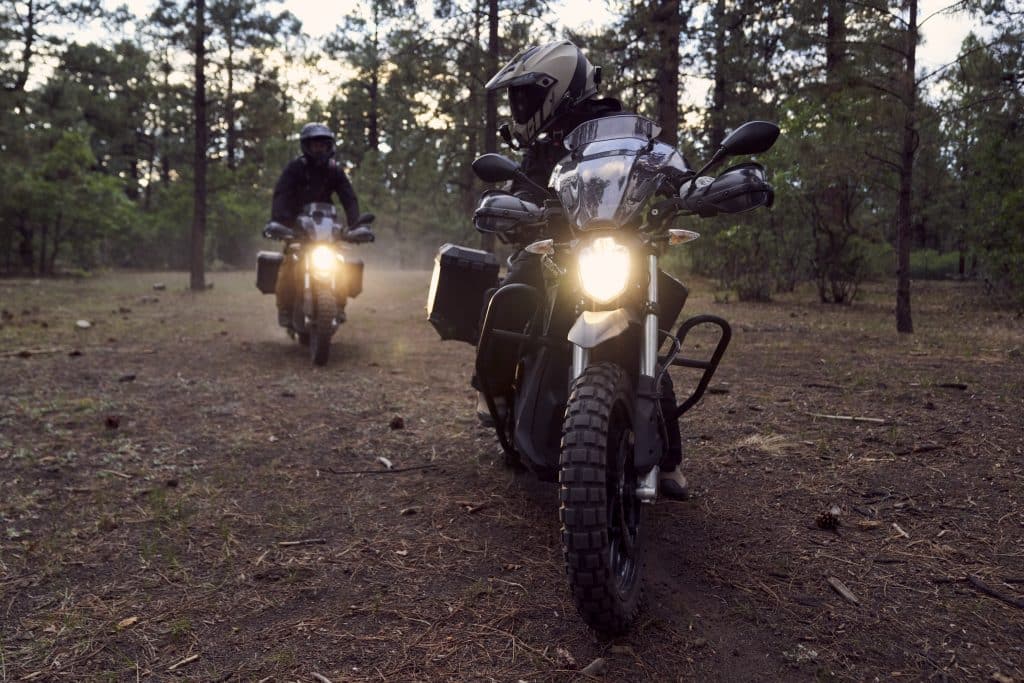 We woke up at 5:30AM on Day 2 to the pitter patter of raindrops bouncing off the nylon fabric of our tents. It was 38 degrees. Not cold enough to freeze the droplets into snow, which I would have preferred to the raw soak of cold rain.
The saying "there is no bad weather, only bad gear" is all good and well when you're proclaiming it under fair weather conditions. We did have good gear, but when riding wet at a constant 30 mph in almost freezing temperatures, that saying begins to feel like absolute bullshit.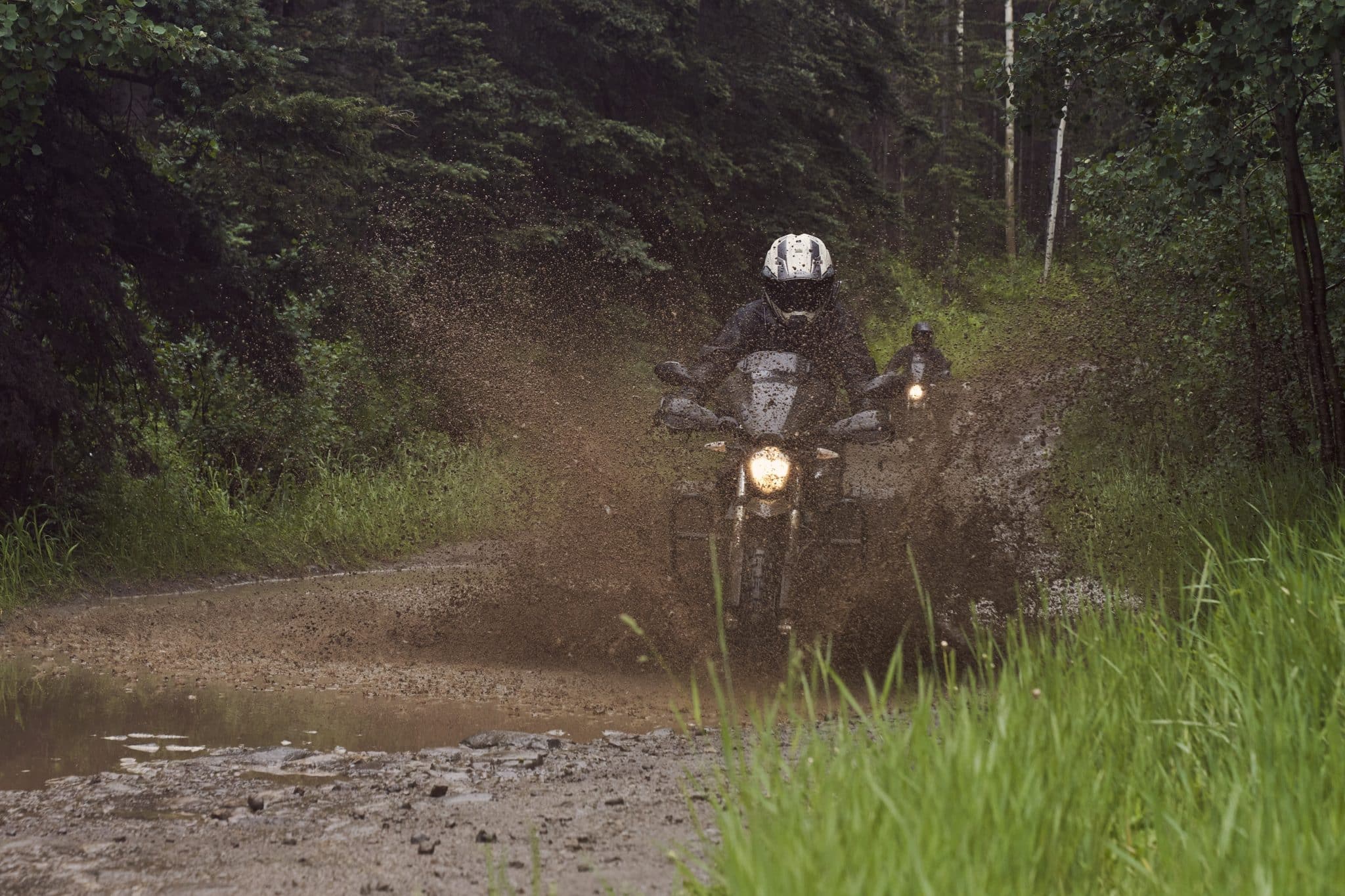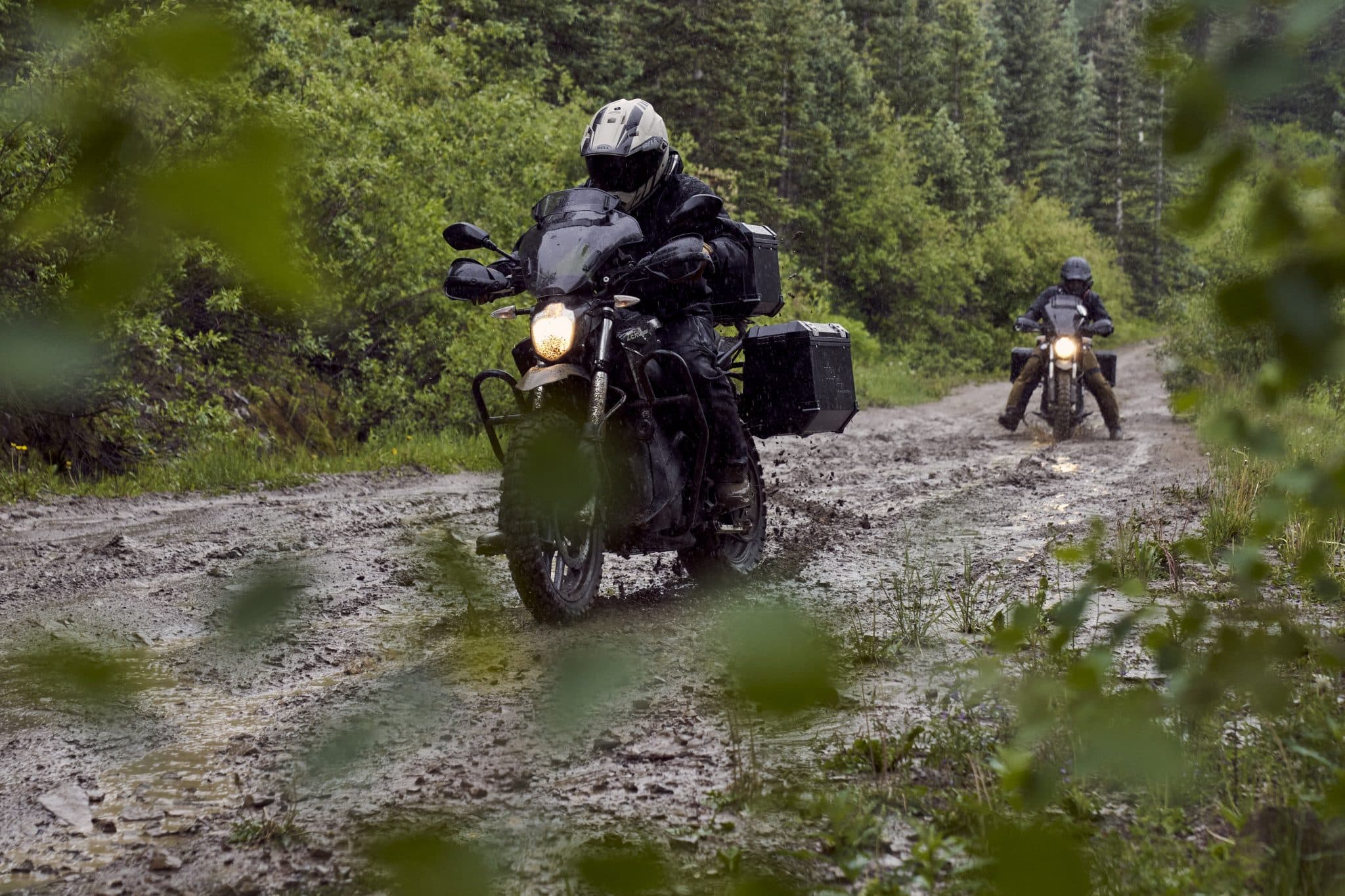 Roadside warning signs declare the bentonite clay roads become "impassable when wet" and the persistent rain and hail storms quickly turned our course to ice slick mud. Conditions such as these are capable of draining the enthusiasm out of any motorcycle trip. And that is exactly what it did, ultimately leading to a heated discussion between Mark and I after arriving a full day late to our destination in Telluride with 7% battery life, soaking wet and cold. We were on a strict timeline and already set back as a result of the inclement weather. The thought of sitting around in Telluride for another full day was something that I did not want to accept.
Mark had been in this situation before though and the outcome was traumatic. His father had broken his ankle high up on a 12,000 foot pass in the middle of the San Juan Mountains and it was an all-out struggle to get down to civilization safely. The conditions they experienced were far better than what we were encountering, and that fear was all-consuming for Mark.
"You'd rather be down here, wishing you were up there, than up there, wishing you were down here." Sage words of wisdom from Mark's father and ones that stuck with me. The next section of our journey began to feel daunting.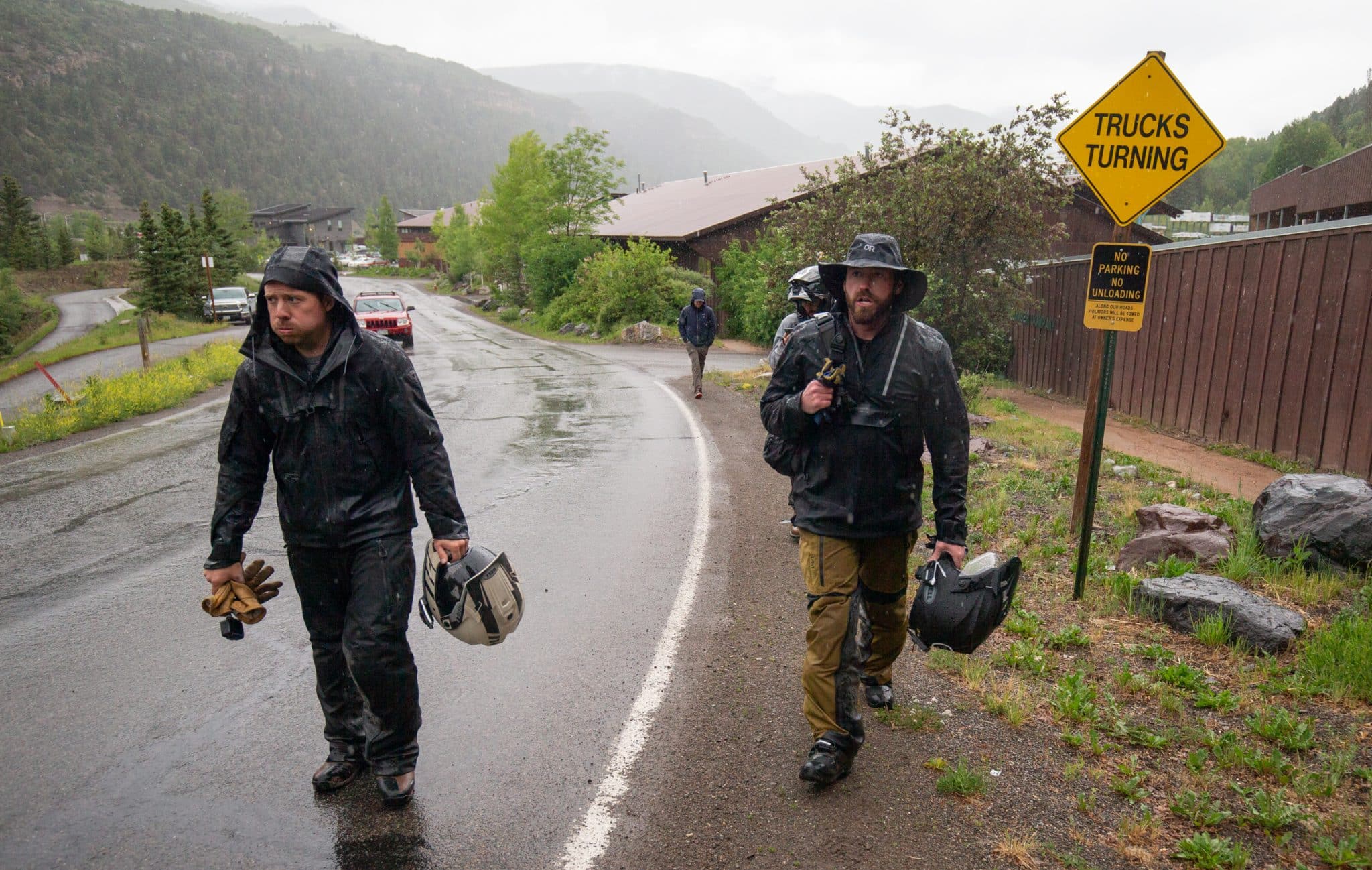 Roughly 55,000 feet in elevation change lay ahead of us for Day 3. We agreed to start with optimism and assess the situation as we got higher in elevation. To our excitement, we woke to sunny skies. That paired with a good night's rest set a high standard for the day.
We tackled the four, 12,000 foot passes under favorable conditions and to our surprise, made seemingly short work of the formidable San Juan section with battery range to spare. As we reveled in our accomplishment atop the 12,640 foot summit of our final mountain pass of the day, Cinnamon Pass, the sky darkened and the breeze picked up, reminding us that the previous day's storm was hot on our tail and building at high elevations.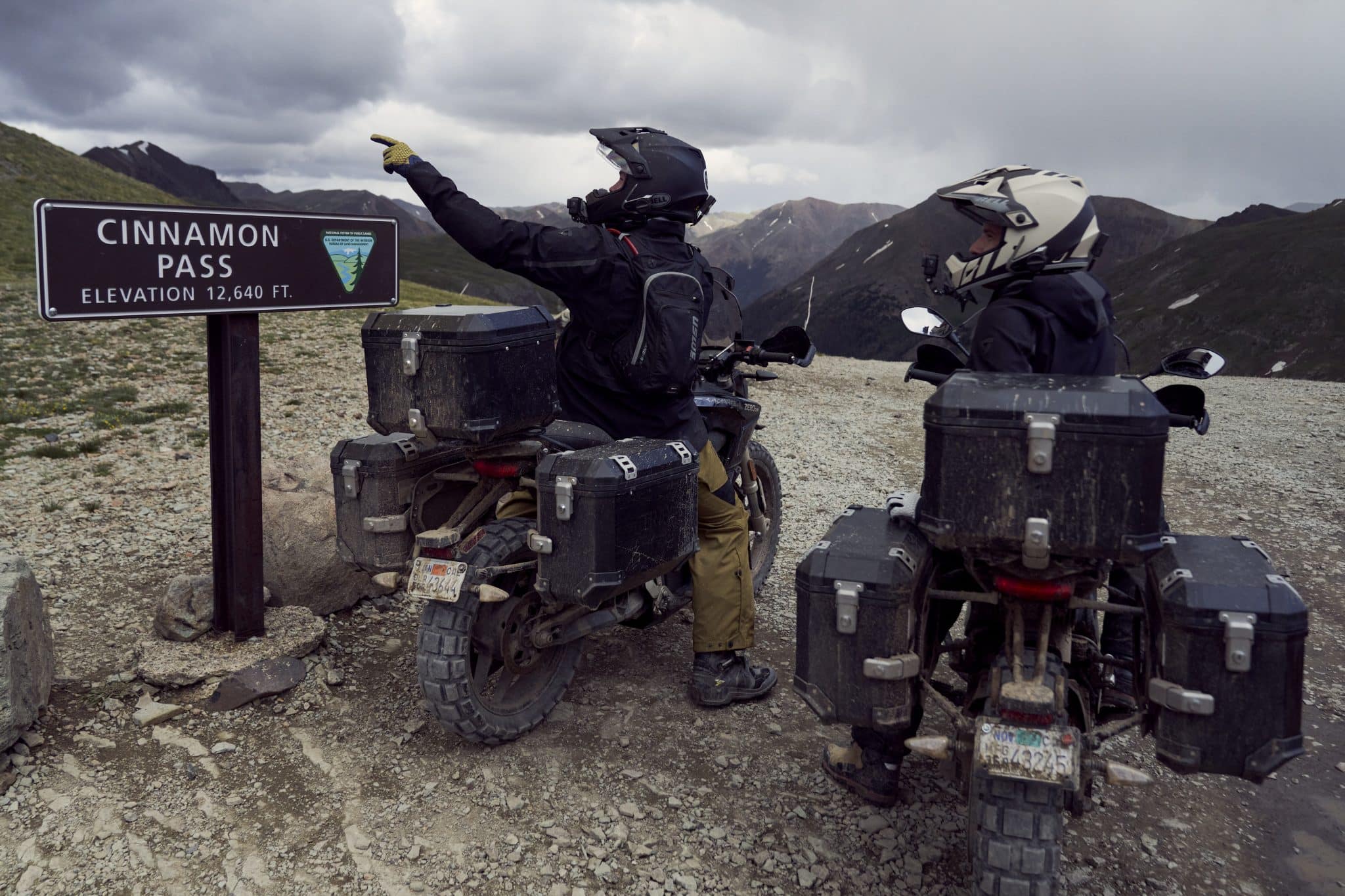 The motorcycles were holding up surprisingly well. Until they weren't. The hundred-or-so pounds of gear loaded on Mark's motorcycle caused the bike to constantly bottom out when the going got rough. The steady abuse had inevitably gotten the best of his DSR when his pannier racks ripped from their support in the tail of the bike. A design flaw? Maybe. But these bikes had seen many miles of media abuse before we took the helm.
We emptied Mark's essentials into the available storage on my bike and hightailed it over the 12,126 foot Cottonwood Pass, which landed us at True Value Hardware in Buena Vista, CO, at closing time. Scrambling to address the rack issue, we determined it would be best to keep my bike loaded down with the essentials and strap a dry bag to the tail of Mark's DSR with some camp gear and extra layers. It was the end of Day 4 and we had only made it 337 miles. We needed to cover some ground if we were going to reach our target of 1,000 miles.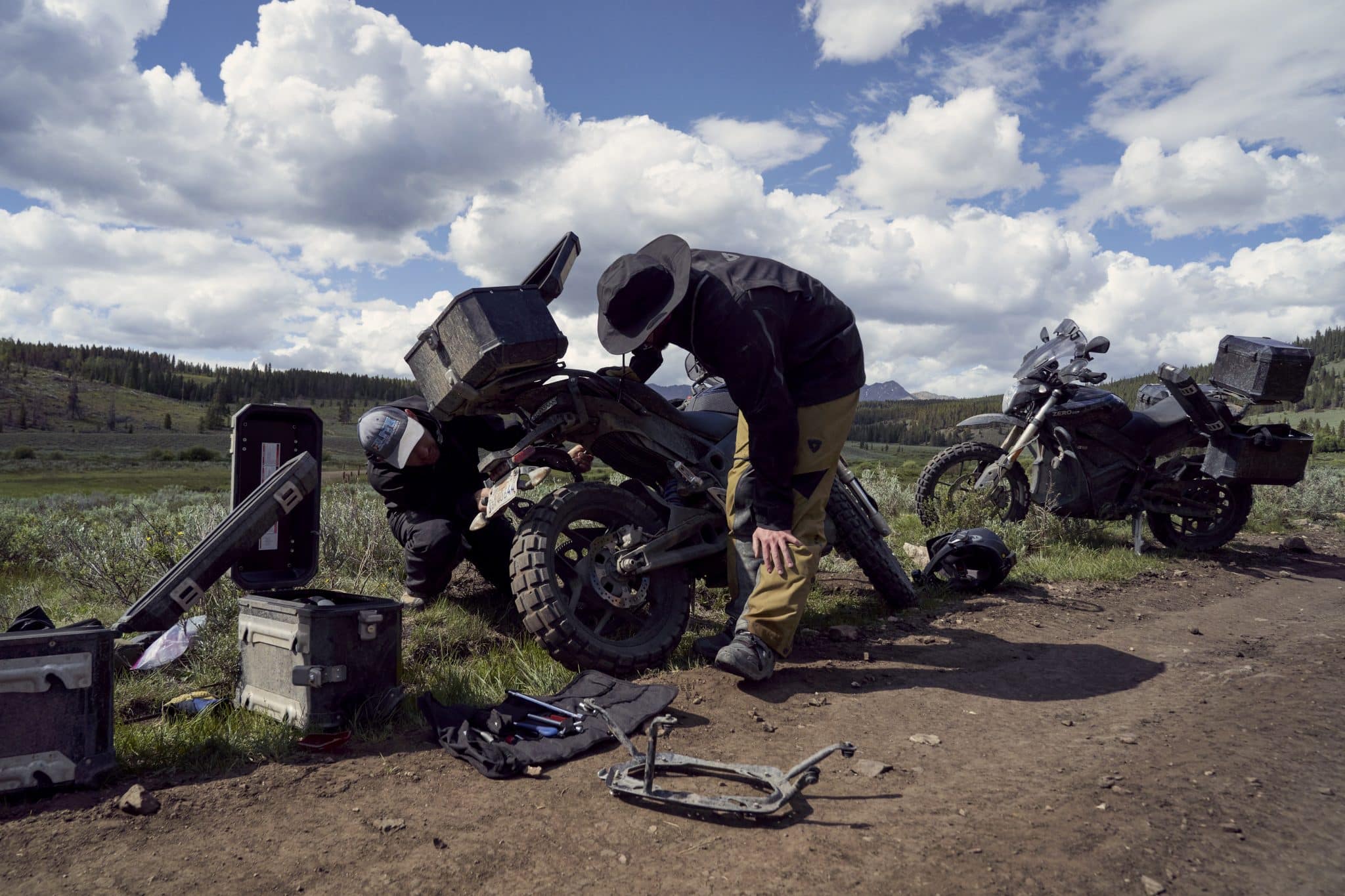 Range day. A term we came up with for Day 5 as a way to escape from the tethers of filming a documentary. We would plan to leave our film crew behind and without having to stop for anyone, cover as much ground as possible. We set a goal of 200+ miles for the day, a standard we agreed must be possible if the bike was to be considered a proper adventure bike. Feeling liberated by our decision to do so, we dropped the hammer out of Buena Vista and watched the miles fly by. About 12 miles, to be exact, before we hit the ice slick mud again. Wide open dirt roads that beg to be ridden at a minimum of 50mph and we were going 10mph, using our feet as outriggers to support the 600 pound machines as they threatened to careen into the ditch at any moment.
A labored 4 hours later, knuckles white and nerves fried, we made it to our charge station in Leadville. On the map it was labeled as an EVSE charge station with dual chargers. It was actually a single charger and an anemic one at that. Not all chargers are created equal, it turns out, and this one delivered electricity at a trickle. One by one, we let the bikes sip their electric infusion 1 slow percent at a time. Then the storm caught back up with us.
Fearing the weather would get far worse before it got better, we pulled the voltaic leash from our battered bikes and set off with less than a full charge on either bike. The decision would prove to be a perilous one, assuming that our next charge station in Gypsum was a straightforward 90 miles away. Water crossings. Snow Drifts. Fire closure. We must have missed that warning sign. The law enforcement officer was as surprised to see us as we were to see him, blocking the road with his truck. "There's a barricade and gate closure up ahead." We're in the middle of the Gore Range. There are no side roads to take. No quick re-route. This was going to be catastrophic. Not just to our range day, which had already developed into a disaster, but potentially to the entire trip.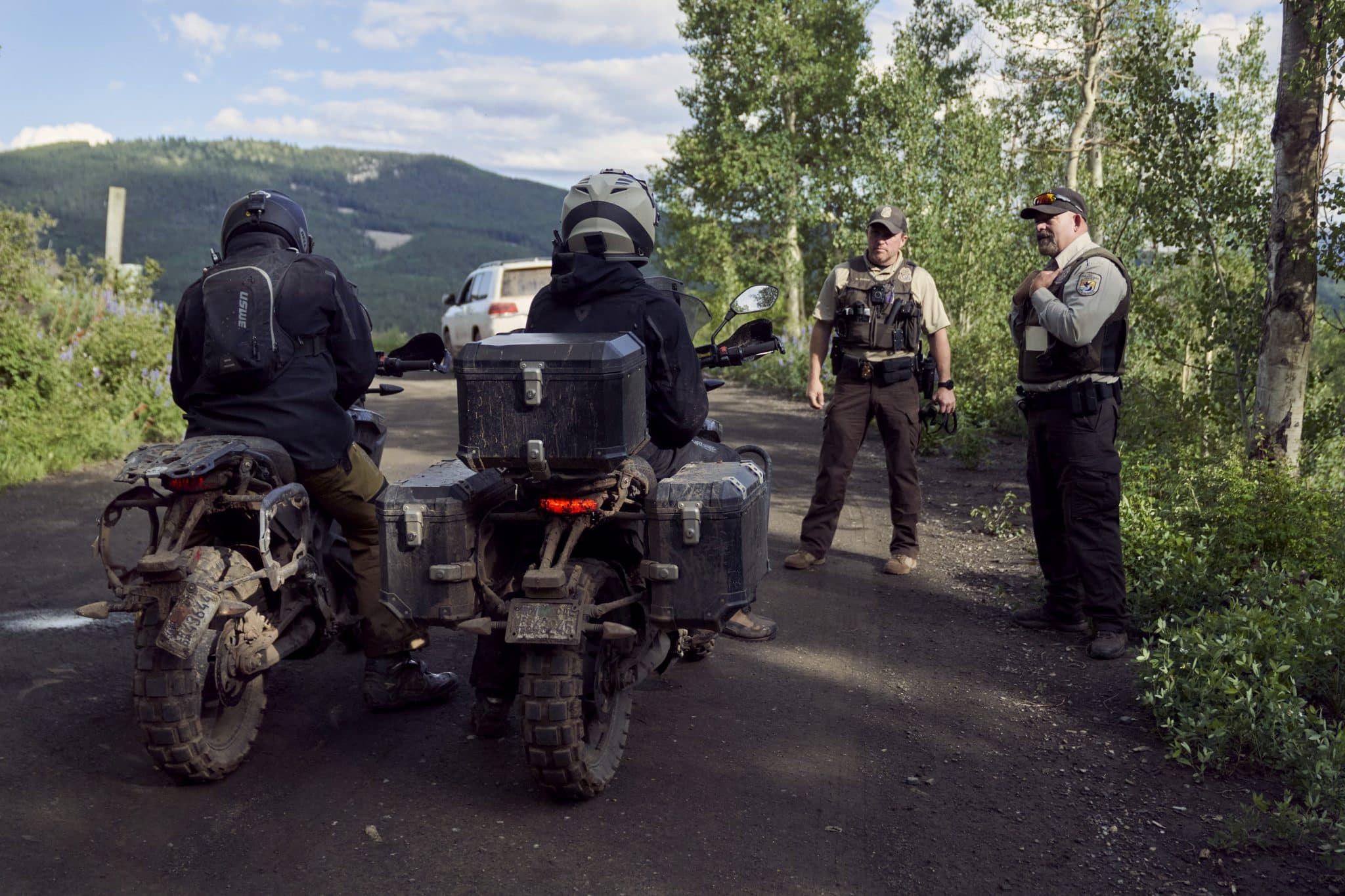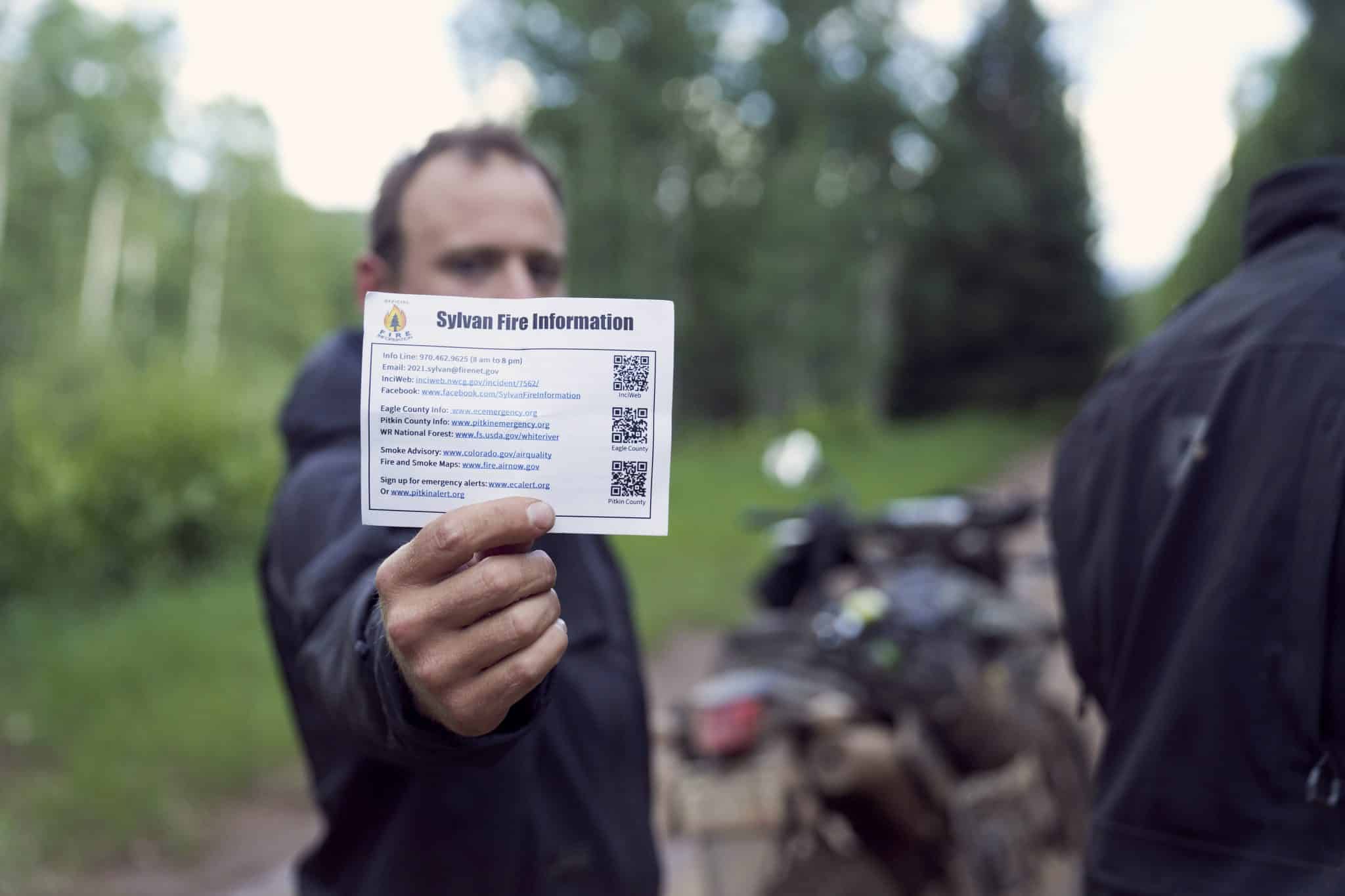 The re-route would force us to enter a canyon that would ultimately dump us into a completely different range of mountains that we weren't expecting to be in. This setback would ultimately add approximately 100 miles to this section of the route. We backtracked along the route, limping the bikes with uncertainty that we'd even have the battery capacity to make it to the next town. Luckily, the prosperous Roaring Fork Valley has no shortage of public charge stations, as we rolled into Basalt on fumes (ahem, ions). We got our opportunity to test the headlights on the DSR, riding late into the night to link back up with our route.
A laborious 14 hours after our start on Day 5, we arrived at our charge station in Gypsum. We had ridden 218 miles. An accomplishment in regards to our mileage goal but the setbacks of the day made it difficult to celebrate.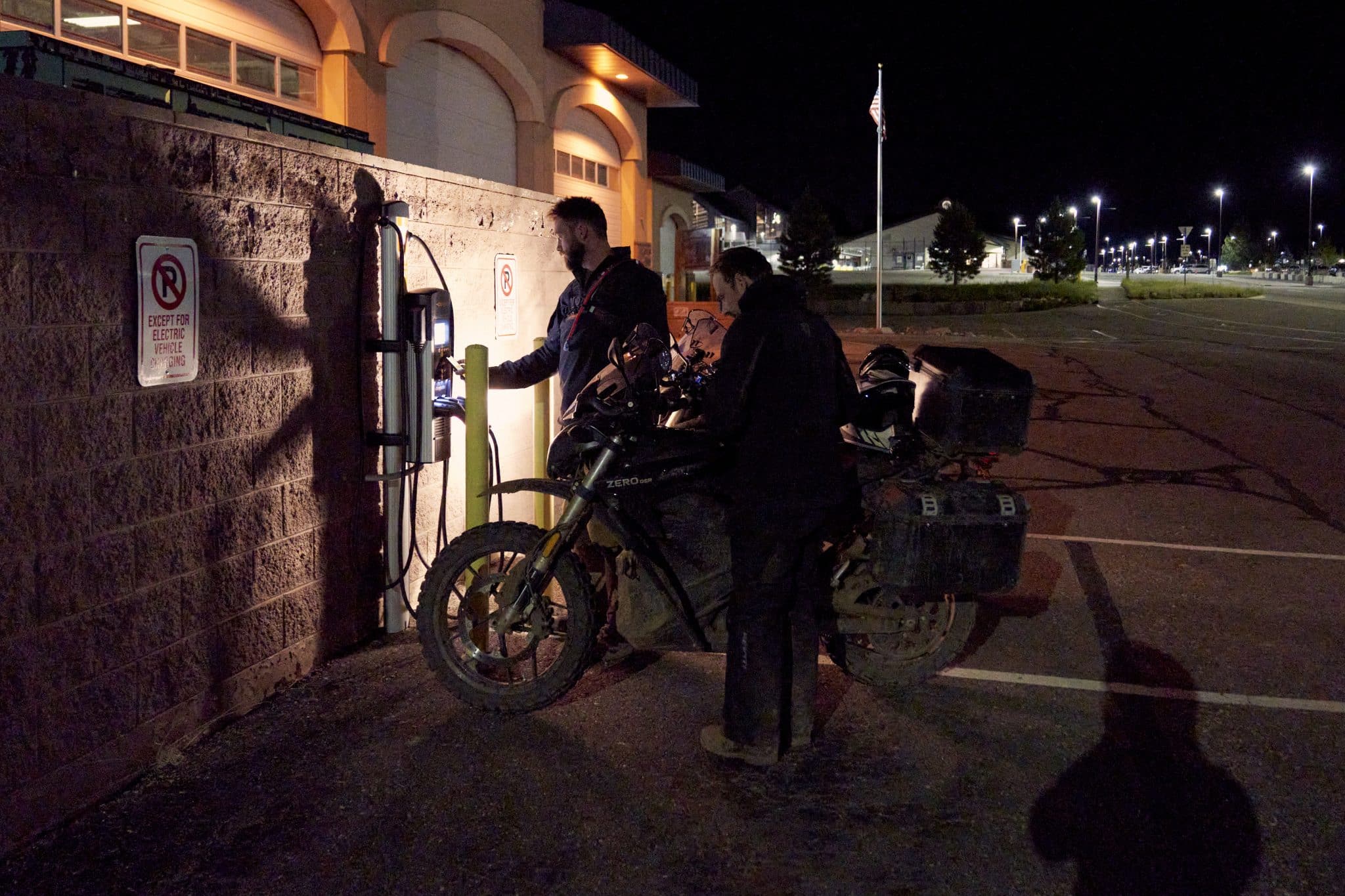 Plotting. Planning. Charging. Over and over again. Gypsum to Yampa. Yampa to Steamboat. Steamboat to Walden. Walden to Red Feather Lakes.
At its core, adventure riding is a representation of freedom. The flexibility to go your own way and face the unknowns head on. It's what a motorcycle trip like this is supposed to embody. Don't get me wrong, this trip did have elements of freedom. Although, what overshadowed that feeling of freedom was a perpetual sense of anxiety. Constantly watching the battery percentage of our bikes, checking distances to charge stations, worried that one wrong move would leave us stranded in the middle of the mountains. This excessive consciousness weighed on us, ultimately removing a certain amount of enjoyment from the adventure, and in some ways, the ride began to feel like a chore.
On the flip side, there were moments when the ride felt like absolute magic. Bounding through the scenic Colorado backroads in near silence is a unique experience that no other motorcycle has provided to this point. It was peaceful. It was relaxing. Adjectives we rarely use, until this point, to describe our motorcycle adventures.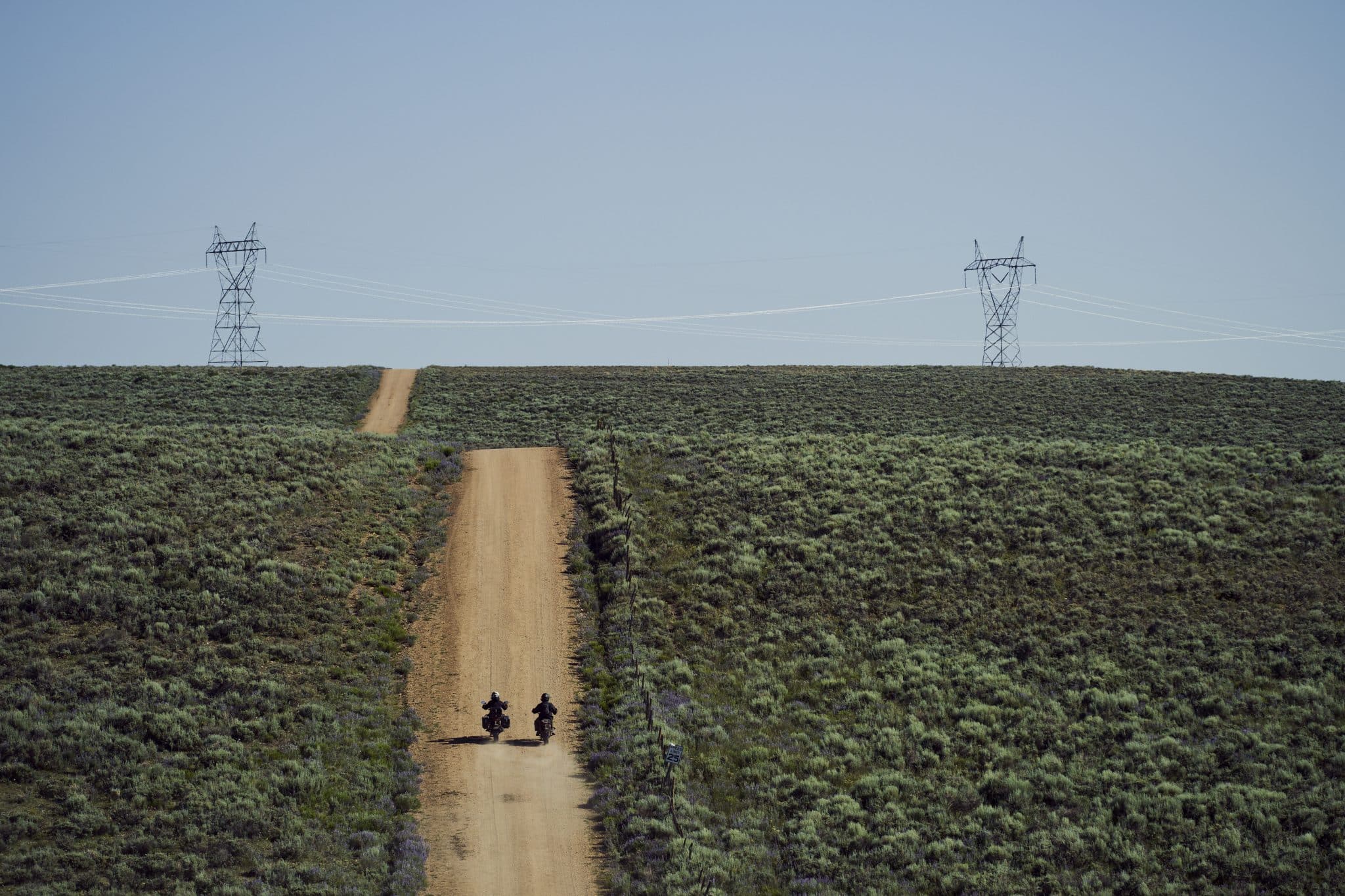 We crossed over the border into Wyoming by way of the Medicine Bow Mountains. 1,026 miles from our origin at the Four Corners. Not even a welcome sign to proclaim our accomplishment. Just a simple cattle guard in the remote wilderness. Threats of failure lingered until the very end of our ride but somehow never got close enough to stifle the goal. Like every good adventure ride, it provided an unavoidable education in both our equipment and ourselves. This reflection on the unusual, exciting, and somewhat hazardous 7 days suggested that maybe we didn't make a mistake after all.