It's small. It's from China. It's got a hub motor. And it's not half bad.
If you've never heard of Dayi or their E-Odin electric motorcycle, you're not alone. Prior to releasing the E-Odin, Dayi was most known for cranking out small 2000W step-through scooters. If you've ever seen one, it was probably delivering your Uber eats order in a busy metropolitan area.
You'll be much more likely to take note of their latest bike, and not just because it looks like someone shrunk BMW's riotous S1000R roadster into a Grom-sized package.
All copyright infringements aside, the Dayi E-Odin packs some notable features:
A 130-mile range, for instance, is worth a second look, especially considering the E-Odin recharges in just 10 hours from your standard household wall socket.
We were also surprised to see the E-Odin is equipped with ABS brakes (standard!), has an available three-piece luggage set, and a (claimed) top speed of 62 mph. Not bad for a mere 72V/100Ah lithium battery supplying a hub-mounted 6000W brushless motor with a whopping eight ponies.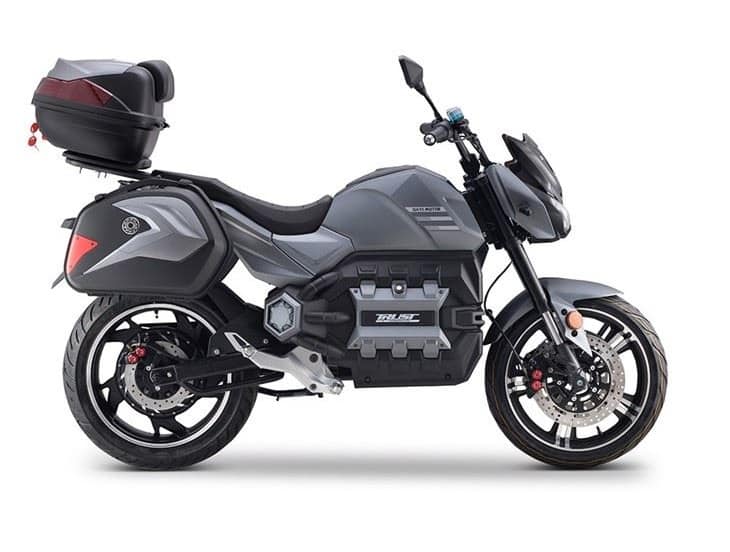 The Dayi E-Odin also includes a few creature comforts like a lockable storage box up front (there's no gas in that tank, bud), LED lights all around, and a large digital LCD screen that reads out battery life, speed, and RPM.
How far (or fast) it will actually go with its luggage loaded or it's rear passenger seat occupied by anything other than wishful thinking is anyone's guess, but we'll keep you in the loop if we're able to get our hands on one in the near future. The powerplant shouldn't be a concern though considering Dayi has the word "TRUST" prominently displayed on both battery covers to quell any fears of what lies inside.
It's unclear how soon we might expect to see the Dayi E-Odin hit American shores, but if you just can't wait to check one out, you can currently buy your own directly from Alibaba.com for $2,279, or if you want to buy, you know, like 60 of them of whatever they can be had for well under $2,000.