Damon Motorcycles unveiled their first HyperSport model in early 2020, and our jaws all collectively dropped. They were beautifully styled, technologically sophisticated, and promised blistering speed.
Damon is adding three new trim levels to the Hypersport line prior to their official launch, which will share many of the core features but sport some differences too.
Before we dig into the new Damon HyperSport models, lets get you up to speed on their core technology package.
Damon HyperSport Technology Overview
All models will share the Hyperdrive powertrain, which is the world's first monocoque-integrated electric power plant. The Hyperdrive cranks out 150kW (201 horsepower) of peak power and 235 Nm (173 foot-pounds) of torque.
Which is to say that although top speeds (and range) differ, all models do 0-60 in the same time which is somewhere below three seconds according to Damon.
They'll also share the CoPilot system, which uses front and rear 1080p cameras combined with integrated radar to alert the rider to potential danger (blind spot warnings, etc). Warnings to the rider come from a combination of haptic feedback through the handlebars and flashing LEDs integrated in the windshield.
And of course they all feature Damon's Shift function, which changes the rider ergonomics on the fly with a push of the button. Touch it once to raise the bars up (along with the windshield) and move the footpegs forward into a commuter-friendly upright seating position. Press it again and the clip-ons drop into a race tuck while the rearsets sweep up and back, sinking you down into the cockpit.
It's Batman-level stuff. You can watch it in action here.
They'll also share some standards like multiple ride modes, ABS, and traction control as well as Damon's vehicle-to-home connectivity system, which inverts up to 6.6kW of power for storage at home base.
Overview Of The Latest Damon HyperSport Lineup For 2021
Aside from the features above, the main difference between the four current models are peak performance and battery life. A "premium" option has also been added to the initial release, which gets some unique tweaks we'll cover below.
Damon HyperSport SE
MSRP: $16,995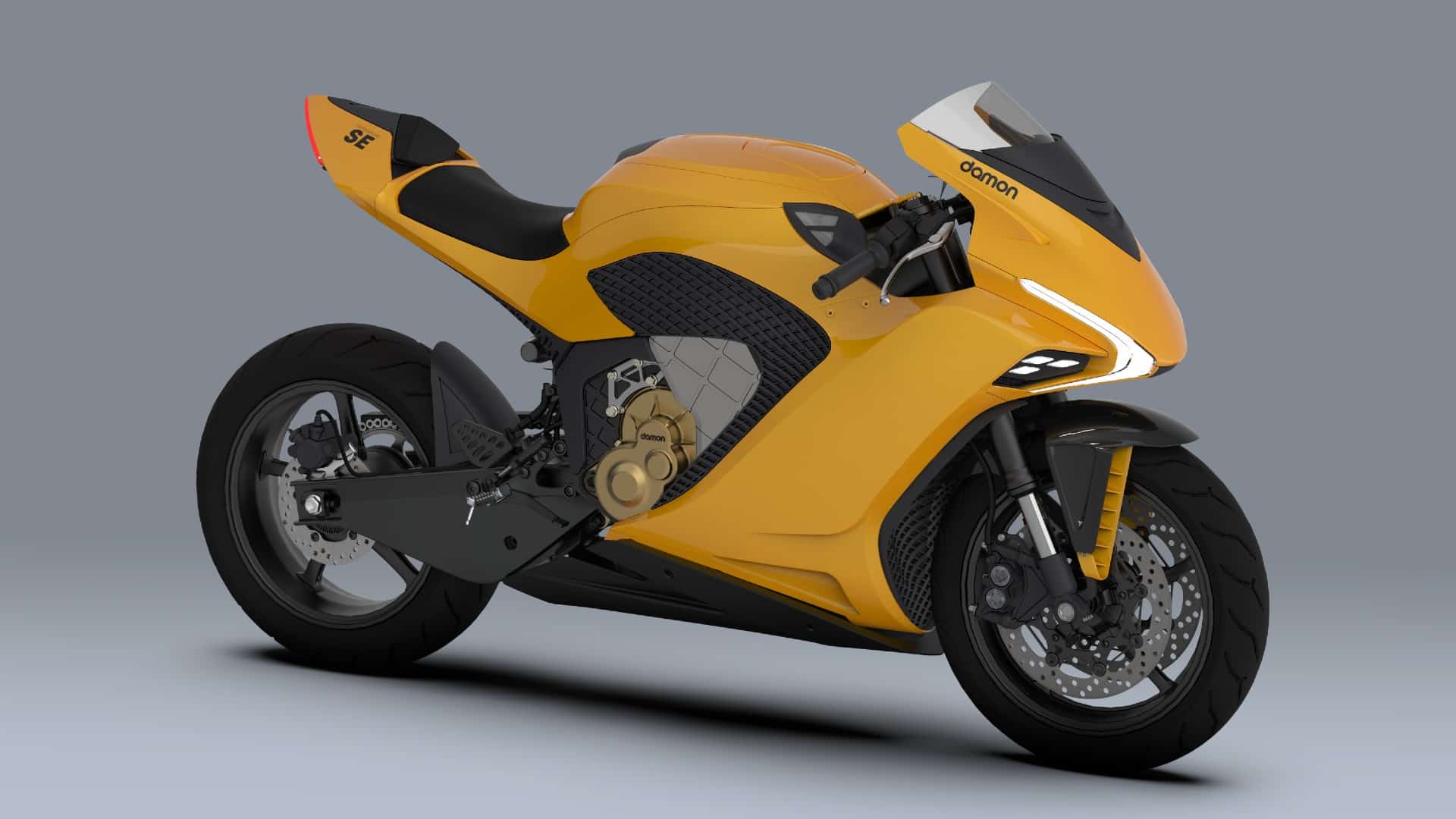 The Damon HyperSport SE is positioned as the entry-level model, and costs about the same as a modern liter-bike in base-model configuration.
For your money, you'll get the full technology suite described above, but your performance and range are the most limited of the lineup.
The HyperSport SE gets an 11kWh capacity battery with peak output limited to about 100 horsepower. That limits your peak performance to about 120 mph top speed, and will give you the lowest total range of 108 miles of combined city and highway riding. You'll still benefit from the full 200 Nm of torque output though, so the ludicrous 2-point-something 0-60 mph acceleration still stands ready to deliver the thrills.
Factory rubber is a bit slimmer than the flagship bikes as well with a 180/60 rear tire rather than the 200/55 setup featured on upmarket models.
The SE gets minimal badging and is currently only offered in yellow or black colorways.
Damon HyperSport SX
MSRP: $19,995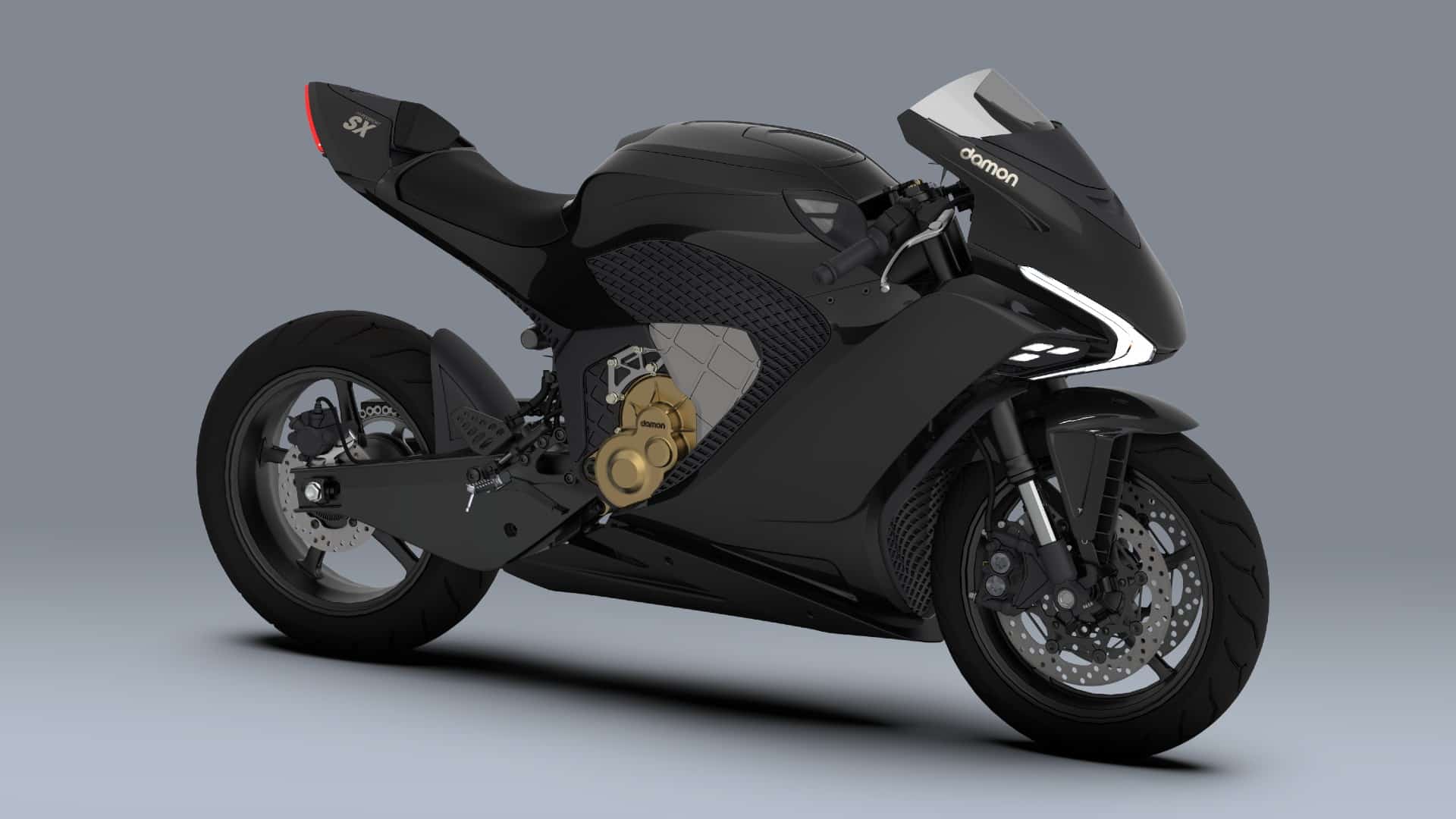 For an extra $3000, potential buyers can step up to the SX trim.
The HyperSport SX gets a bump up to a 15kWh battery engineered for an output of 150 horsepower. Top speed numbers are boosted to 155 mph, and combined city/highway range gets about a 40 mile increase as well to 150 miles total.
Despite its increased performance, the SX also shares its 180/60 rear tire, minimal badging, and black and yellow color options with the base SE model.
Damon HyperSport HS
MSRP: $24,995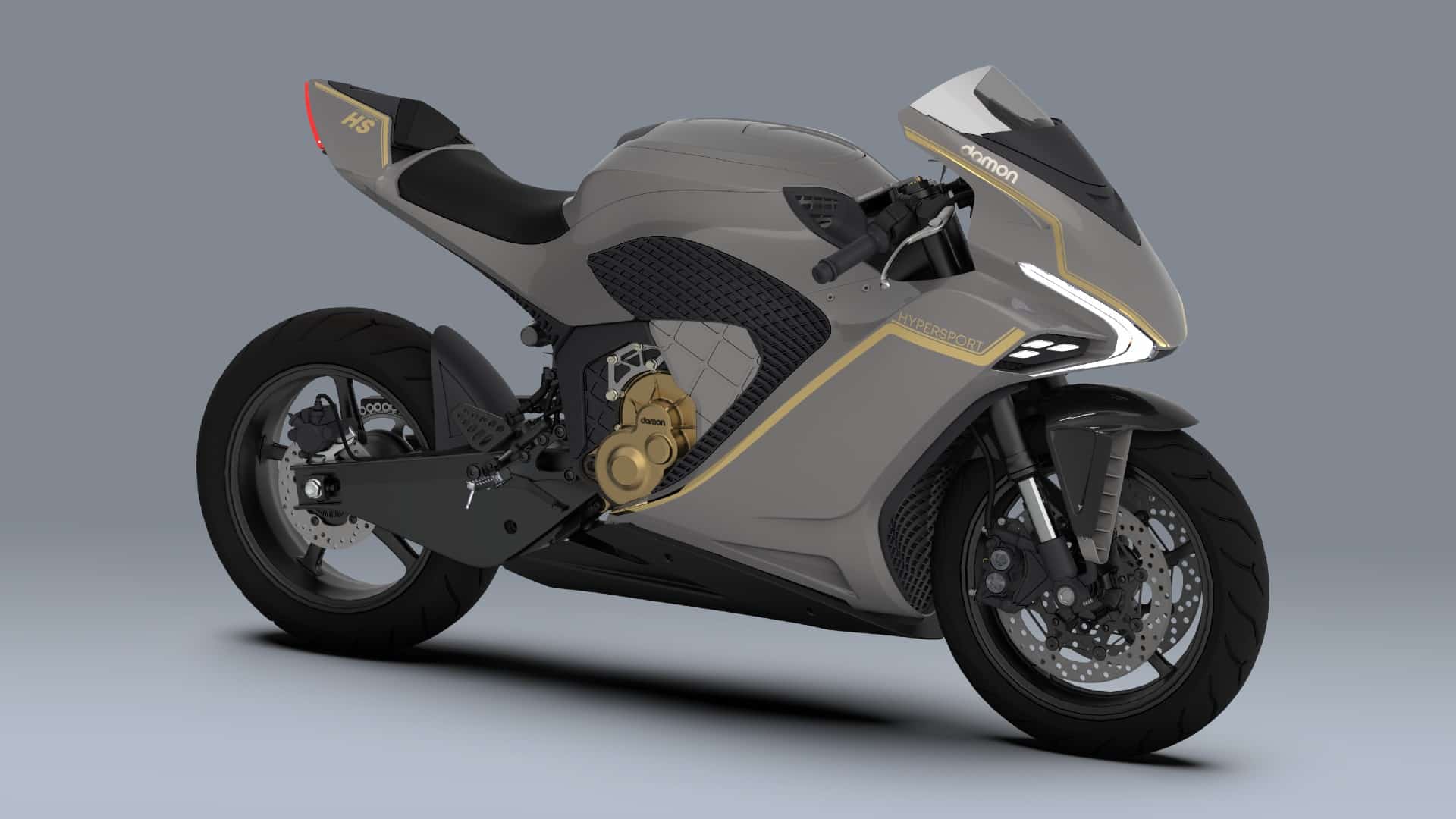 Damon's HyperSport HS is the original flagship model, which delivers on the full 200 horsepower/200 mph promise of the initial HyperSport launch.
Its massive 20kWh battery is also the secret sauce to its claimed 200 mile combined range, which is pretty astonishing for a bike this powerful. We're looking forward to testing those claims out with a long term test bike as soon as humanly possible.
The HyperSport HS is the first model in the lineup to come specced with the full 200/55 rear tire (thank god), and comes with some additional cosmetic flairs as well.
Additional badging is standard for the HS, which comes in a striking gold metallic on the black and gunmetal paint schemes. A deep yellow is also available with gloss black graphics throughout.
Damon HyperSport Premier
MSRP: $39,995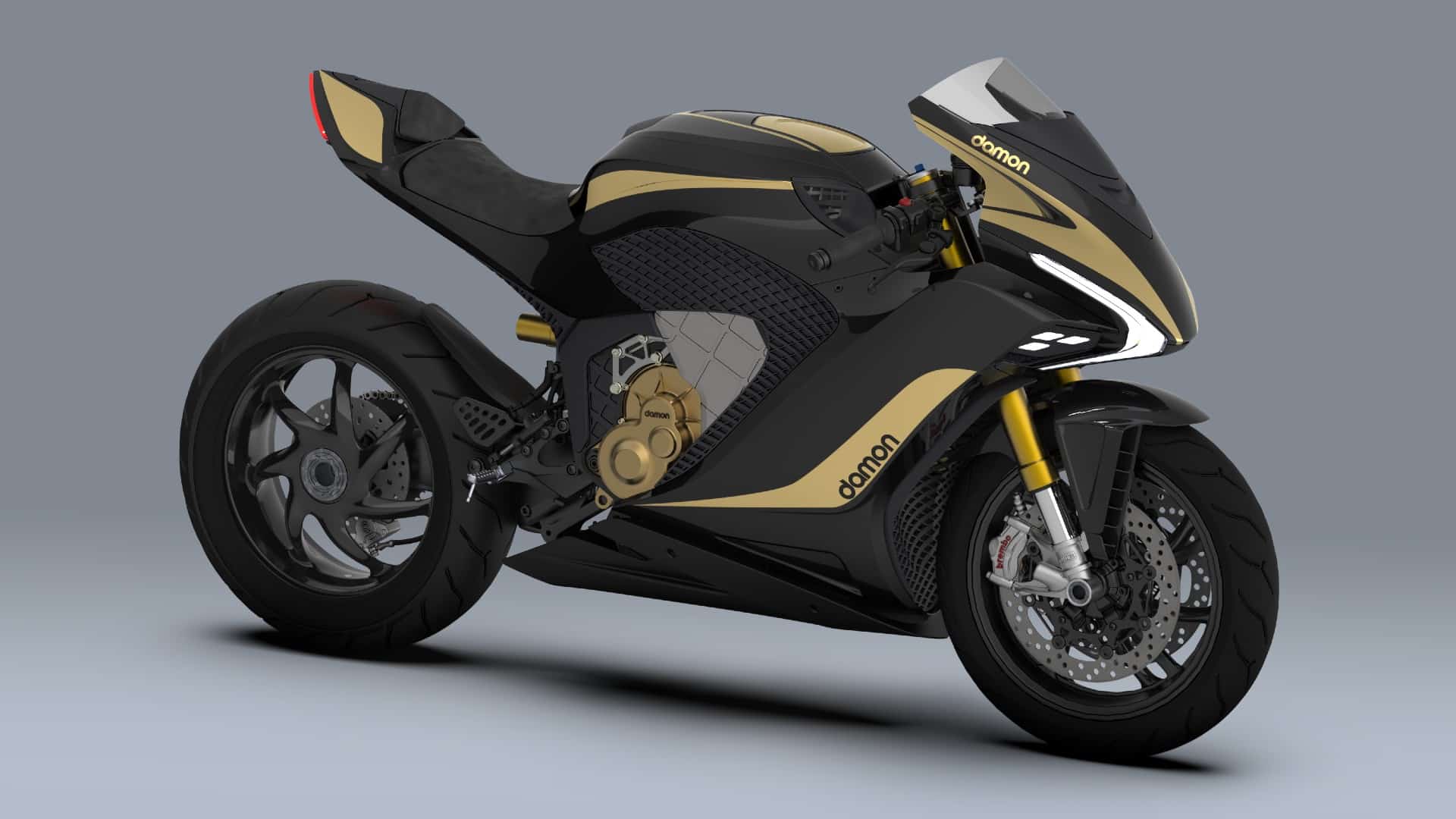 If you've got the money to spend and want premium components right out of the box, Damon is also offering a limited run of their new "Premier" trim level.
The HyperSport Premier shares its performance figures with the HS model, but throws in some serious bling to boot. Brembo monoblock brakes come standard front and rear on the Premier, as does Ohlins suspension. A single-sided swingarm is also added into the mix along with redesigned bodywork and some flashy paint options.
The "Arctic Sun" option comes in two-tone white and black with reflective-metallic gold accents, while the "Midnight Sun" version favors the all black route with the same shiny gold touches.