The word "futuristic" gets thrown around a lot in the electric motorcycle world. Tarform has leaned into futuristic so hard with their first production bike they make every other eBike look…Modern.
They've been teasing the bike for awhile, finally named it in 2020, and now the Tarform Luna is finally going into production this Summer.
The Luna looks like it came off the set of Blade Runner and according to Tarform, it's built to last until we actually start seeing flying cars. Plus, it makes sweet spaceship noises. More on that later.
Tarform says design and sustainability are at the heart of the Luna, which sports body panels made from plant-based fibers, a bio-degradable leather seat, and hard parts made from recycled aluminum.
Don't let that list of materials fool you into thinking the Tarform is built cheaply though. On the contrary, with a starting price of $24,000, the Luna is anything but.
So what do you get for your money?
For starters, you get to choose between a "scrambler edition" and a "racer edition," with the former sporting knobby tires and retro desert-sled styling while the latter prefers a more streamlined approach and street-biased rubber. Both versions boast a long list of high-tech amenities, like a bluetooth-enabled high-def dash (full color, of course), a 180-degree rear view camera, blind spot detection that warns the rider using haptic feedback, and keyless proximity ignition.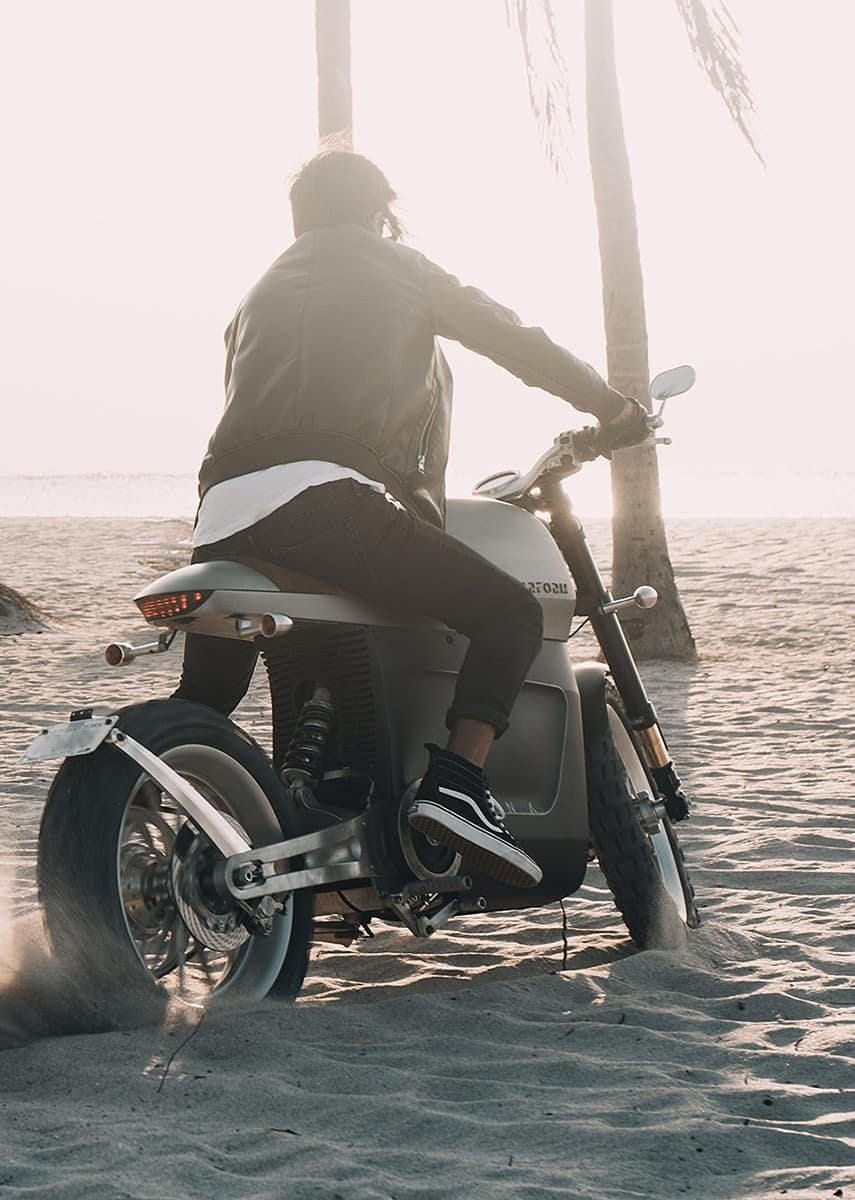 On the performance side Tarform claims a 120 mph top speed from the Luna, delivered via a 41KW (that's about 55 horsepower) motor. 0-60 time is advertised at a respectable 3.8 seconds. Its 10 kWh battery is expected to provide upwards of 120 miles of range in urban settings, which falls a bit short of the power and range of Zero's comparable SR/F or Harley Davidson's Livewire, but those don't make spaceship sounds.
Speaking of which, the folks at Tarform felt that the sound of a motorcycle was a large part of the experience, so designed a soundtrack for the motor based off "the flow of electrons" (whatever that means) and play it through a hidden speaker inside the bodywork. It might be a gimmick, but it's a damn cool one. You can listen to it here.
Recharge time is one of the highlights of the Tarform Luna, which only needs about 50 minutes of plug-in time to reach 80% capacity.