2023 Zero FXE
Snapshot
0 Mile(s)
New
1120 North Carpenter Road, Modesto, CA 95351, USA
| | |
| --- | --- |
| Condition | New |
| Type | eMotorcycle |
| | |
| --- | --- |
| Condition | New |
| Type | eMotorcycle |
| Make | Zero |
| Model | Zero FXE |
| Year | 2023 |
| Mileage | 0 |
2023 ZERO™ Zero FXE – ZF 7.2
When we partnered with award-winning design firm, Huge Design, they intended to craft the motorcycle of the future. The future has officially arrived. The FXE is both breathtaking in its profile as it is record-breaking in its performance. Such a combination of style and technology creates an experience that has never been seen in motorcycling, and only could have come from the worldwide leader in electric motorcycles and powertrains. The future has arrived.
TECHNICAL SPECIFICATIONS
City Range: 100 Miles
Seat Height: 32.90 In.
Top Speed (Max): 85 Mph
Standard Charge Time: 9.2 Hours
Peak Torque: 78 Ft-Lb
Low Maintenance: 100% Electric Powertrain
Operating System: Cypher Ii
Transmission: Clutchless Direct Drive
Curb Weight: 298 Lb
Generation 9 Abs: Bosch
Power Pack Warranty*: 5 Years/Unlimited Miles
RANGE
City: 100 miles (161 km)
Highway, 55 mph (89 km/h): 60 miles (97 km)
Combined: 75 miles (121 km)
Highway, 70 mph (113 km/h): 40 miles (64 km)
Combined: 57 miles (92 km)
MOTOR
Peak torque: 78 ft-lb (106 Nm)
Peak power: 46 hp (34 kW) @ 4,300 rpm
Top speed (max): 85 mph (137 km/h)
Top speed (sustained): 75 mph (121 km/h)
Type: Z-Force® 75-5 passively air-cooled, high efficiency, radial flux, interior permanent magnet, brushless motor
Controller: High efficiency, 550 amp, 3-phase brushless controller with regenerative deceleration
POWER SYSTEM
Power pack: Z-Force® Li-Ion intelligent integrated
Max capacity: 7.2 kWh
Nominal capacity: 6.3 kWh
Charger type: 650 W, integrated
Charge time (standard): 9.7 hours (100% charged) / 9.2 hours (95% charged)
With one accessory charger: 4.1 hours (100% charged) / 3.6 hours (95% charged)
With max accessory chargers: 1.8 hours (100% charged) / 1.3 hours (95% charged)
Input: Standard 110 V or 220 V
DRIVETRAIN
Transmission: Clutchless direct drive
Final drive: 90T / 18T, Poly Chain® HTD® Carbon™ belt
CHASSIS / SUSPENSION / BRAKES
Front suspension: Showa 41 mm inverted cartridge forks, with adjustable spring preload, compression and rebound damping
Rear suspension: Showa 40 mm piston, piggy-back reservoir shock with adjustable spring preload, compression and rebound damping
Front suspension travel: 7.00 in (178 mm)
Rear suspension travel: 8.94 in (227 mm)
Front brakes: Bosch Gen 9 ABS, J-Juan asymmetric dual piston floating caliper, 320 x 5 mm disc
Rear brakes: Bosch Gen 9 ABS, J-Juan single piston floating caliper, 240 x 4.5 mm disc
Front tire: Pirelli Diablo Rosso II 110/70-17
Rear tire: Pirelli Diablo Rosso II 140/70-17
Front wheel: 3.00 x 17
Rear wheel: 3.50 x 17
DIMENSIONS
Wheelbase: 56.0 in (1,422 mm)
Seat height: 32.9 in (836 mm)
Rake: 24.4°
Trail: 2.8 in (71 mm)
WEIGHT
Curb weight: 298 lb (135 kg)
Carrying capacity: 332 lb (151 kg)
ECONOMY
Equivalent fuel economy (city): 533 MPGe (0.44 l/100 km)
Equivalent fuel economy (highway): 213 MPGe (1.10 l/100 km)
Typical cost to recharge: 0.81
WARRANTY
Standard motorcycle warranty*: 2 years
Power pack warranty*: 5 years/unlimited miles
KEY FEATURES
Design: Zero Partnered With Bill Webb In 2018 On A Custom Build Of The Zero Fxs. Ultimately We Wanted To Utilize The Build To Inspire Elements Of Future Zero Motorcycles. Many Concept Builds Push The Envelope So Far It Doesn'T Translate To The Reality Of Riding And Functionality. Bill Webb Took A Different Approach. He Set Out To Create Something That Pushed The Boundary But Relatable And Something That Could Become A Reality. We Were Not Surprised When The Motorcycle Industry Loved The Bike. This Enthusiasm Went Well Beyond Our Industry.
The Bike Of Tomorrow. Available Today.: Advanced design inspired by the concept build by huge design in san francisco. Designed to advance the way we think of transportation. Affordable luxury has never offered such an uncompromising combination of performance and style.
Technology: Built On The Foundation Of The Revolutionary Zero Zf 75-5 Powertrain And Cypher Ii Operating System, The Road Before The Fxe Is Always Bright Thanks To New Led Head And Tail Lights As Well As A Full Color And Bonded Tft Dash To Literally Outshine Motorcycles Well Above Its Station. Brains And Brawn.
Performance Profile: Transform Performance Profiles With The Press Of A Button To Perfectly Conquer City Streets Or Your Local Supermoto Track. The Zero Fxe Is Pre-Programmed With Eco Or Sport Modes. Connect Using Your Mobile Device To Customize Performance Or Get Stats On Your Ride.
Experience: The Fxe Is Lighter Than Any Motorcycle With This Much Power, Has No Gears And Clutch, And An Upright Riding Position Making It The Most User-Friendly Vehicle On The Road. This Bike Truly Becomes A Seamless Extension Of The Rider. Gliding Effortlessly Through Traffic Has Never Been So Fun. The Fxe Is The Motorcycle Rides As Smooth As It Looks.
Accessible: The Most Affordable New Model From Zero Motorcycles, Worldwide Leader In Electric Motorcycles.
Dash: Full-Color And Bonded 5″ Tft Dash. The Zero Fxe Dash Projects The Specs You Need: Speed, State Of Charge, Power Output, Selected Riding Profile, Projected Recharge Time. Sync With Your Smartphone To Turn It Into A Secondary Customizable Dash Or View Detailed Ride Stats.
Motor: The Zero Fxe Powerplant Produces Up To 78 Ft-Lb Of Torque. The Air-Cooled Interior Permanent Magnet (Ipm) Motor Delivers Impressive Performance And Fierce Acceleration, Which Works In Conjunction With Regenerative Braking To Channel Energy Back Into The Battery. No Heavy, Complicated Or Expensive Liquid Cooling. No Routine Maintenance. No Fuss. This Is The Industry'S Most Efficient, Powerful, And Compact Motor.
Suspension: The Zero Fxe'S Showa Suspension Offers Outstanding Articulation And Full Adjustability. With Nearly 9 Inches Of Rear Travel, The Zero Fxe Offers Superior Damping To Smooth Out The Road'S Imperfections.
Wheels And Tires: The Zero Fxe'S Responsive Handling Matches Its Lean, Mean Looks. Pirelli Diablo Rosso Ii Tires Are Mounted On Stylish Cast Alloy Wheels To Form A System That Delivers Maximum Grip. A Hollow Front Axle Shaves Unsprung Weight To Improve Handling.
Brakes: The Bosch Anti-Lock Brake System (Abs) Delivers Confident Braking. Tested For Just About Any Situation You Can Imagine, The System Optimizes Deceleration Under Hard Braking. Braking Is Actuated Via Levers That Can Be Adjusted For Improved Ergonomics. Abs Can Be Switched On Or Off By The Rider.
Direct Drive: Strip Away Clutches, Gears, Shifting, Chains And All Their Weighty Complexities. Seamlessly Accelerate With Pure Efficiency As Energy Quietly Transforms Into Propulsion. The Zero Fxe Is Direct Drive. Its State-Of-The-Art Motor Connects Directly To The Rear Wheel Using A Carbon Fiber Belt.
Onboard Charger: The Zero Fxe'S Discreetly Accessible 650 W Onboard Charger Can Be Plugged Into Any Household Outlet. Charge Times Can Be Slashed By Using Optional Quick Chargers.
Frame: The Zero Fxe'S Precision-Built Aircraft-Grade Aluminum Frame Is An Exercise In Efficiency. When Fully Built The Minimalist Zero Fxe Tips The Scales At 298 Pounds.
ENGINE
| | |
| --- | --- |
| Engine Type | Z-Force® 75-5 passively air-cooled, high efficiency, radial flux, interior permanent magnet, brushless motor |
| Cooling | passively air-cooled |
TRANSMISSION
| | |
| --- | --- |
| Final Drive | 90T / 18T, Poly Chain® HTD® Carbon™ belt |
CHASSIS
| | |
| --- | --- |
| Front Suspension | Showa 41 mm inverted cartridge forks, with adjustable spring preload, compression and rebound damping |
| Rear Suspension | Showa 40 mm piston, piggy-back reservoir shock with adjustable spring preload, compression and rebound damping |
| Front Brakes | Bosch Gen 9 ABS, J-Juan asymmetric dual piston floating caliper, 320 x 5 mm disc |
| Rear Brakes | Bosch Gen 9 ABS, J-Juan single piston floating caliper, 240 x 4.5 mm disc |
| Front Tire | Pirelli Diablo Rosso II 110/70-17 |
| Rear Tire | Pirelli Diablo Rosso II 140/70-17 |
DIMENSIONS
| | |
| --- | --- |
| Wheelbase | 56.0 in. (1,422 mm) |
| Seat Height | 32.90 in. |
| Rake | 24.4 deg. |
| Trail | 2.8 in. (71 mm) |
| MPG | 533 MPGe (0.44 l/100 km) |
| Dry Weight | 298 lb. (135 kg) |
GENERAL
| | |
| --- | --- |
| Tachometer | Clutchless Direct Drive |
| Warranty | Standard: 2 years; Power Pack: 5 years/unlimited miles |
Contact: Honda Kawasaki KTM of Modesto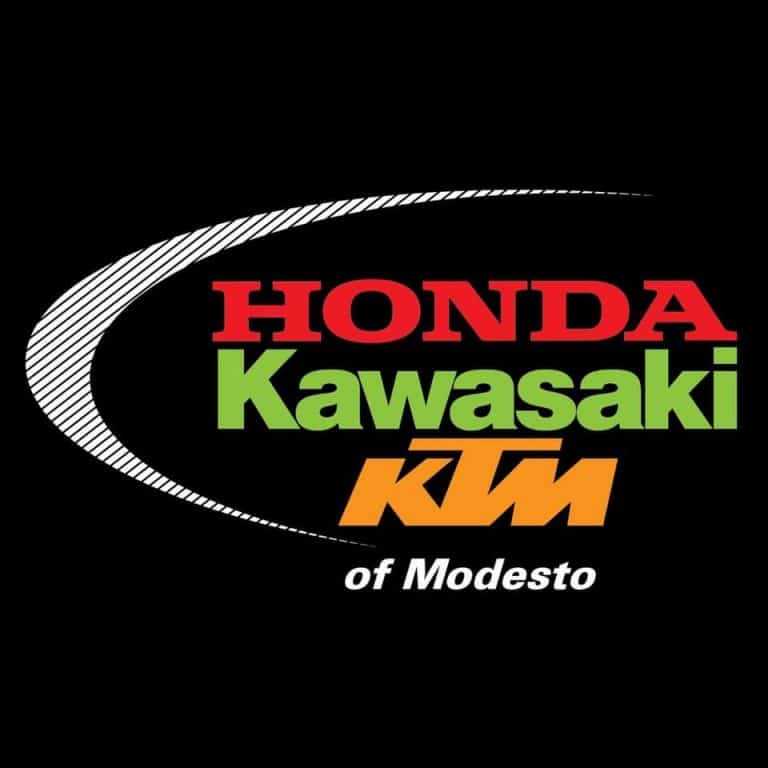 Phone
(209) 529-5424
Email
Visit Website
Address
1120 N Carpenter Rd, Modesto, CA 95351, USA