2023 Zero DS
Snapshot
0 Mile(s)
New
1120 North Carpenter Road, Modesto, CA 95351, USA
| | |
| --- | --- |
| Condition | New |
| Type | eMotorcycle |
| | |
| --- | --- |
| Condition | New |
| Type | eMotorcycle |
| Make | Zero |
| Model | Zero DS |
| Year | 2023 |
| Mileage | 0 |
2023 ZERO™ Zero DS – ZF 7.2 Power Tank
The Zero DS delivers silent stump-pulling power, pumping out an outrageous 78 ft-lb torque. Twist the throttle and explore more trails and leave all the gas bikes behind.
No shifting, vibration or fumes. The industry leading Z-Force® powertrain effortlessly drives your adventure over 82 miles of trails all while the motorcycle seems to silently disappear beneath you.
KEY FEATURES
Always Dialed: Crossing from smooth asphalt to loose gravel fire roads? All good. Change performance profiles at the press of a button to master any terrain. The Zero DS is pre-programmed with Eco or Sport modes and performance can be fully customized using the Zero Motorcycles app where you can also see detailed ride stats.
Charge Up To 6x Faster: Grab lunch. Have a coffee. Recharge. Live your life while adding up to 94 miles of range for every hour you're plugged in. The Charge Tank option is compatible with Level 2 charge stations and delivers roughly 6x faster charging than when compared to a standard wall outlet. Depending on the battery, a typical recharge can now take as little as an hour.
Charging. Meet Household Outlet: No special equipment required: your standard household outlets can be used as fueling stations for a fraction of the cost of gasoline. Plug in at night and start the day with a full tank.
Long Range Battery Tech: The Zero DS carries the highest power and energy density battery in the EV industry. With over fifteen years of rigorous off-road experience, the Z-Force® battery confidently delivers you to your destination.
Pull The Plug On Maintenance: Blast down a fire road. Get dirty. Live in the moment. At the end of your adventure the Zero DS only asks that you plug in. No need to replace clogged filters or dirty oil. The Z-Force® powertrain eliminates the fossil burner mess, trading oil, spark plugs, clutches and filters for a motor with a single moving part. The Zero DS's ripping acceleration is delivered through a carbon fiber belt that directly connects the motor to the rear wheel. Chain maintenance is a thing of the past.
Battery: Zero Motorcycles' Z-Force® battery is the most power and energy dense in the EV industry. The Zero DS comes with the ZF7.2 battery. Add a Power Tank accessory to expand battery capacity by 3.6 kWh.
The battery is designed to last and backed by a five-year, unlimited mileage warranty. The Zero DS also features Long Term Storage Mode to optimize the battery's state of charge and further improve long term battery health.
Motor: The impressive Z-Force® motor produces smooth power and up to 78 ft-lb with a design so efficient it only requires passive air-cooling. Roll on the throttle for massive acceleration. Roll off the throttle to progressively channel energy back into the battery.
No heavy, complicated or expensive liquid cooling. No fuss. No routine maintenance. This is the industry's most efficient, powerful, and compact brushless motor.
Chassis: Featuring a twin-spar aircraft-grade aluminum chassis, the Zero DS's frame offers superior torsional rigidity.
Suspension: Custom-tuned for Zero by Showa, the Zero DS suspension offers 7 inches of plush travel that enables you to tackle virtually any terrain thrown your way. The entire suspension system can be fully and easily adjusted to glide over any city street or rip down your favorite fire road.
Dash: The Zero DS comes equipped with a full color display to project the specs you need: speed, state of charge, power output, selected riding mode and more. Sync with your smartphone to customize the information that is displayed on your dash.
Onboard Charger: No additional charging equipment required. The standard 1.3 kW onboard charger plugs into any household outlet. It can be operated in conjunction with the off-board Quick Charger accessory and/or the Charge Tank option to accelerate charge times.
Tank: The standard Zero DS "tank" is equipped with spacious lockable storage—perfect for stowing personal items like cell phones, wallets, or gloves. Interested in faster charging or greater range? Swap the standard tank for the Charge Tank option for 6x faster charging or the Power Tank accessory that adds an additional 3.6 kWh of battery.
Brakes: The Bosch anti-lock brake system (ABS) delivers confident braking. Tested for just about any situation you can imagine, the system optimizes deceleration when you hit your brakes hard. Braking is actuated via levers that can be adjusted for improved ergonomics. ABS can be switched on or off by the rider.
Direct Drive: Strip away clutches, gears, shifting, chains and all their weighty complexities. Seamlessly rocket to speeds in excess of 95 mph with pure efficiency as energy quietly transforms into propulsion. The Zero DS is direct drive. Its state-of-the-art motor connects directly to the rear wheel using a carbon fiber belt.
Wheels And Tires: Shred confidently on anything from twisting tarmac to loose fire roads, the Zero DS's Pirelli MT-60 tires provide superior traction, excellent durability and road feel. The tires are mounted to durable cast alloy wheels and a hollow front axle shaves unsprung weight to improve handling.
TECHNICAL SPECIFICATIONS
City range: 122 miles
Peak torque: 78 ft. lb.
Curb weight: 362 lb.
Suspension: fully adjustable
Top speed (max): 98 mph
Powertrain: 100% electric, low maintenance
Operating system: cypher II
Transmission: clutchless direct drive
Generation 9 abs: bosch
Seat height: 33.2 in.
Power pack warranty: 5 years/unlimited miles
RANGE
City: 122 miles (196 km)
Highway, 55 mph (89 km/h): 73 miles (117 km)
Combined, 55 mph (89 km/h): 92 miles (148 km)
Highway, 70 mph (113 km/h): 58 miles (93 km)
Combined, 70 mph (113 km/h): 79 miles (127 km)
MOTOR
Peak torque: 78 ft-lb (106 Nm)
Peak power: 46 hp (34 kW) @ 4,300 rpm
Top speed (max): 98 mph (158 km/h)
Top speed (sustained): 80 mph (129 km/h)
Type: Z-Force® 75-5 passively air-cooled, high efficiency, radial flux, interior permanent magnet, brushless motor
Controller: High efficiency, 550 amp, 3-phase brushless controller with regenerative deceleration
POWER SYSTEM
Power pack: Z-Force® Li-Ion intelligent integrated
Max capacity: 10.8 kWh
Nominal capacity: 9.5 kWh
Charger type: 1.3 kW, integrated
Charge time (standard): 7.5 hours (100% charged) / 7.0 hours (95% charged)
With one accessory charger: 4.4 hours (100% charged) / 3.9 hours (95% charged)
With max accessory chargers: 2.2 hours (100% charged) / 1.7 hours (95% charged)
Input: Standard 110 V or 220 V
DRIVETRAIN
Transmission: Clutchless Direct Drive
Final Drive: 90T / 18T, Poly Chain® HTD® Carbon™ belt
CHASSIS / SUSPENSION / BRAKES
Front suspension: Showa 41 mm inverted cartridge forks, with adjustable spring preload, compression and rebound damping
Rear suspension: Showa 40 mm piston, piggy-back reservoir shock with adjustable spring preload, compression and rebound damping
Front suspension travel: 7.00 in (178 mm)
Rear suspension travel: 7.03 in (179 mm)
Front brakes: Bosch Gen 9 ABS, J-Juan asymmetric dual piston floating caliper, 320 x 5 mm disc
Rear brakes: Bosch Gen 9 ABS, J-Juan single piston floating caliper, 240 x 4.5 mm disc
Front tire: Pirelli MT-60 100 / 90-19
Rear tire: Pirelli MT-60 130 / 80-17
Front wheel: 2.50 x 19
Rear wheel: 3.50 x 17
DIMENSIONS
Wheelbase: 56.2 in (1,427 mm)
Seat height: 33.2 in (843 mm)
Rake: 26.5°
Trail: 4.6 in (117 mm)
WEIGHT
Curb weight: 362 lb (164 kg)
Carrying capacity: 372 lb (169 kg)
ECONOMY
Equivalent fuel economy (city): 435 MPGe (0.54 l/100 km)
Equivalent fuel economy (highway): 207 MPGe (1.13 l/100 km)
Typical cost to recharge: $1.21
WARRANTY
Standard Motorcycle Warranty: 2 years
Power Pack Warranty: 5 years / Unlimited Miles
NOTES:
Specifications are subject to change without notice. Imagery may not reflect most current product specifications. Zero Motorcycles reserves the right to make improvements and/or design changes without any obligation to previously sold, assembled or fabricated equipment.
ENGINE
| | |
| --- | --- |
| Engine Type | Z-Force® 75-5, high efficiency, radial flux, interior permanent magnet, brushless motor |
| Cooling | Passively air-cooled |
TRANSMISSION
| | |
| --- | --- |
| Transmission | Clutchless direct drive |
| Final Drive | 90T / 18T, Poly Chain® HTD® Carbon™ belt |
CHASSIS
| | |
| --- | --- |
| Front Suspension | Showa 41 mm inverted cartridge forks, with adjustable spring preload, compression and rebound damping |
| Rear Suspension | Showa 40 mm piston, piggy-back reservoir shock with adjustable spring preload, compression and rebound damping |
| Front Brakes | Bosch Gen 9 ABS, J-Juan asymmetric dual piston floating caliper, 320 x 5 mm disc |
| Rear Brakes | Bosch Gen 9 ABS, J-Juan single piston floating caliper, 240 x 4.5 mm disc |
| Front Tire | Pirelli MT-60 100/90-19 |
| Rear Tire | Pirelli MT-60 130/80-17 |
DIMENSIONS
| | |
| --- | --- |
| Wheelbase | 56.2 in. (1,427 mm) |
| Seat Height | 33.2 in. (843 mm) |
| Rake | 26.5 deg. |
| Trail | 4.6 in. (117 mm) |
| MPG | Equivalent City: 435 MPG (0.54 l/100 km); Equivalent Highway: 207 MPG (1.13 l/100 km) |
| Dry Weight | 317 lb. (144 kg) |
GENERAL
| | |
| --- | --- |
| Warranty | Standard motorcycle: 2 years; Power pack: 5 years unlimited miles |
Contact: Honda Kawasaki KTM of Modesto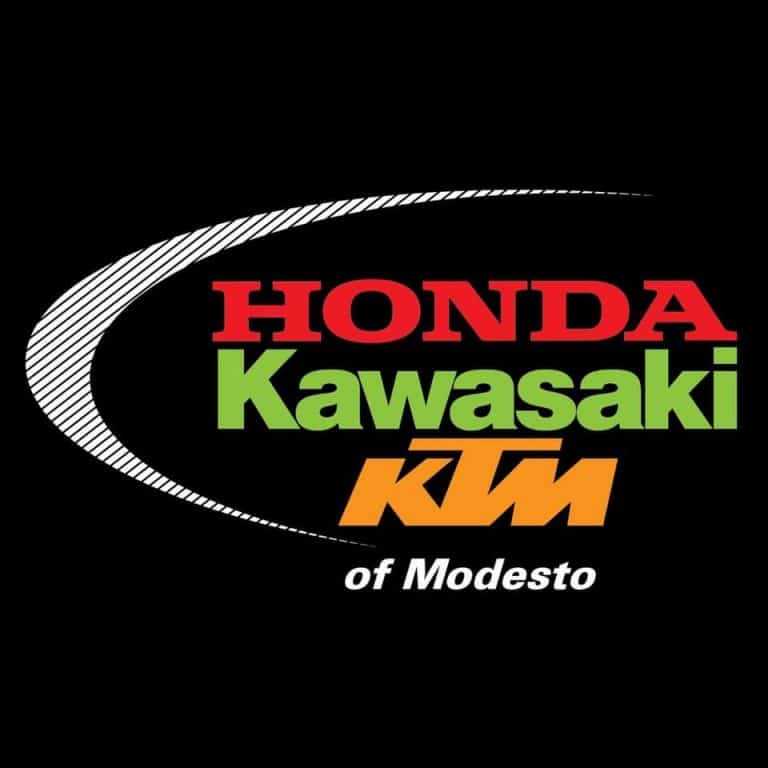 Phone
(209) 529-5424
Email
Visit Website
Address
1120 N Carpenter Rd, Modesto, CA 95351, USA