2022 Zero FXS
Snapshot
1 Mile(s)
New
1400 East Eisenhower Boulevard, Loveland, CO, USA
| | |
| --- | --- |
| Condition | New |
| Type | eMotorcycle |
| | |
| --- | --- |
| Condition | New |
| Type | eMotorcycle |
| Make | Zero |
| Model | Zero FXS |
| Year | 2022 |
| Mileage | 1 |
2022 FXS ZF3.6
STEALTHY SUPERMOTO
STEALTHY SUPERMOTO: Quick. Mean. Compact. With precise handling and blistering acceleration, the Zero FXS stealthily shreds any urban slalom or conquers your local track with tarmac carving fierceness. Combining off road ruggedness with on-road agility, the Zero FXS is the ultimate way to cut through the concrete jungle.
PERFORMANCE PROFILE: Transform performance profiles with the press of a button to perfectly conquer city streets or your local supermoto track. The Zero FXS is pre-programmed with Eco or Sport modes. Connect using your mobile device to customize performance or get stats on your ride.
CHARGE. NO STATION NEEDED.: Standard outlet. Done. No special charging equipment required. Your household outlets just became "fueling" stations that deliver daily rides at a fraction of the cost of gasoline. Ride up to 100 miles a day in the city and plug in overnight to start the next day with a full "tank." Need a faster charging solution? Use accessory Quick Chargers to cut charge times by over 60%.
POWERFUL. MINIMALIST.: The Zero FXS delivers unfiltered thrill by combining our most compact Z-FORCE® powertrain with Pirelli Diablo Rosso II Tires and The Off-Road DNA of The Zero FX. No shifting or lunkiness. Directly connect your desire for speed with instant, Massive, Silent, and Seamless acceleration.
INSTANT "FULL TANK": Ride. Swap batteries. Continue. The Zero FXS's optional hot-swappable tech allows you to go from empty to full in seconds. Depleted additional batteries can be easily charged while you ride using off-board charging accessories.
PASS ON SERVICE.: Imagine savage performance delivered without tedious and greasy servicing regimes. Forget oil changes, spark plugs, clutches, filters, chain adjustments or expensive tune-ups. Instead, a carbon fiber belt cleanly connects the rear wheel to an air-cooled Z-Force® motor that uses a single moving part. Swap threadbare tires. Replace used-up brake pads. Ride. Always advancing. Code for the Z-Force® powertrain is constantly refined to deliver improved performance. The Zero App easily delivers the upgrades using your mobile device.
GO THE DISTANCE.: The Zero FXS travels up to 100 mi when traversing city streets. At its core is Zero's most compact and lightweight Z-Force® battery that, like rest of the lineup, boasts the highest power and energy density in the EV industry. Don't need the range and looking for Zero's most economical model? Drop some weight. The Zero FXS ZF3.6 cuts the battery's weight and size by roughly 50 percent. Add a second battery module at any time to match the range and performance of the ZF7.2.
SWAPPABLE BATTERY CAPABILITY: The Zero FXS is available in two battery configurations. The ZF3.6 features modular battery technology that allows riders to add a second battery to double range and makes it possible to fully "recharge" by quickly swapping batteries on the fly. The ZF7.2 is fully integrated into the motorcycle and is the more economical option for those looking to maximize the range of the Zero FXS. Zero Motorcycles' Z-Force® battery is the most power and energy dense in the EV industry. The ZF7.2 offers a maximum battery capacity of 7.2 kWh that delivers up to 100 miles of city riding. The battery is designed to last and backed by a five-year, unlimited mileage warranty. The Zero FXS also features Long Term Storage Mode to optimize the battery's state of charge and further improve long term battery health.
MOTOR: The Zero FXS powerplant produces up to 78 ft-lb of torque. The air-cooled Interior Permanent Magnet (IPM) motor delivers impressive performance and fierce acceleration, which works in conjunction with regenerative braking to channel energy back into the battery. No heavy, complicated or expensive liquid cooling. No routine maintenance. No fuss. This is the industry's most efficient, powerful, and compact motor.
NOSE: Twin projector beam headlamps flood the road ahead with light, and an integrated fly screen adds an aggressive styling touch.
DASH: Full-color and bonded 5" TFT dash. The Zero FXS dash projects the specs you need: speed, state of charge, power output, selected riding profile, projected recharge time. Sync with your smartphone to turn it into a secondary customizable dash or view detailed ride stats.
SUSPENSION: The Zero FXS's Showa suspension offers outstanding articulation and full adjustability. With nearly 9 inches of rear travel, the Zero FXS offers superior damping to smooth out the road's imperfections.
WHEELS AND TIRES: The Zero FXS's responsive handling matches its lean, mean looks. Pirelli Diablo Rosso II tires are mounted on stylish cast alloy wheels to form a system that delivers maximum grip. A hollow front axle shaves unsprung weight to improve handling.
BRAKES: The Bosch anti-lock brake system (ABS) delivers confident braking. Tested for just about any situation you can imagine, the system optimizes deceleration under hard braking. Braking is actuated via levers that can be adjusted for improved ergonomics. ABS can be switched on or off by the rider.
DIRECT DRIVE: Strip away clutches, gears, shifting, chains and all their weighty complexities. Seamlessly accelerate with pure efficiency as energy quietly transforms into propulsion. The Zero FXS is direct drive. Its state-of-the-art motor connects directly to the rear wheel using a carbon fiber belt.
ONBOARD CHARGER: The Zero FX's discreetly accessible 650 W onboard charger can be plugged into any household outlet. Charge times can be slashed by using optional Quick Chargers.
FRAME: The Zero FXS's precision-built aircraft-grade aluminum frame is an exercise in efficiency. When fully built the minimalist Zero FXS tips the scales at as little as 251 pounds.
Contact: Elite Motorsports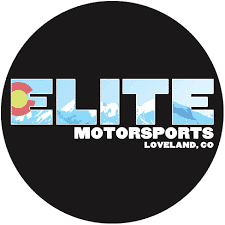 Phone
(970) 461-1022
Email
Visit Website
Address
1400 E. Eisenhower Blvd