2022 UBCO 2X2 ADV
Snapshot
0 Mile(s)
New
1120 North Carpenter Road, Modesto, CA 95351, USA
| | |
| --- | --- |
| Condition | New |
| Type | eMotorcycle |
| | |
| --- | --- |
| Make | UBCO |
| Model | UBCO 2X2 ADV |
| | |
| --- | --- |
| Condition | New |
| Type | eMotorcycle |
| Make | UBCO |
| Model | UBCO 2X2 ADV |
| Year | 2022 |
| Mileage | 0 |
2022 Ubco Bikes 2 x 2 Adventure Bike
Road registrable and ready for adventure, on-road and off-road. Versatile and tough for commuters, delivery riders, or weekend warriors.
LIGHT & EFFORTLESS
Lightweight with no clutch, a low centre of gravity, and step through frame, the 2X2 is easy to ride and maneuver. The electronic throttle is responsive to your riding and because the 2X2 is simpler to operate than other motorbikes, riding is intuitive and easy. Just twist the throttle and go!
Easy to handle: The 2X2 has a step through frame, which allows easy accessibility and a more stable feeling while riding, with a seating position closer to a motorcycle than a Vespa. The welded aluminum frame is robust and lightweight, adding to the maneuverability.
Quick acceleration: Simply twist and go. With a 1kW motor in each wheel, electronic throttle control, and an awesome power-to-weight ratio, the 2X2's quick pick up is great on city streets or off-road trails.
Superb control via regerative braking: Regenerative braking helps you maintain control and traction with charge recovery to the power supply. Our Quadratic² regen braking system provides independent front and rear control with passive (off throttle) and active (brake activated) regenerative braking. You can even control the level of regen through the UBCO App.
ALL-TERRAIN TOUGH
Ready to go the distance on city streets, muddy fields, or gravel trails, the 2WD Adventure Bike will handle all terrain. With a robust alloy 3D frame, stainless steel spokes, durable componentry, and a high-torque motor in each wheel, this bike won't let you down.
Robust motors: With sealed bearings, fully splined gear interfaces, and active heat management, these motors are designed to handle on-road and off-road conditions for the whole ride.
Tried and tested: Since day one, our bikes have been built for hard work. We've tested them hard over the years, pushed them to their limits, and have made improvements driven by real world experience. Our current range of bikes boasts motors that are more efficient than ever with beefy torque and sustained top-speed performance.
VERSATILE UTILITY
Go wherever you want and bring anything you need on your 2X2. The strong alloy frame includes attachment points to secure and carry cargo, tools or equipment. The 2X2 is so lightweight, you can even hitch one or two on the back of your car or truck for easy transport.
Super utility: The strong alloy frame has 19 accessory lugs strategically placed across the frame to provide maximum flexibility and adaptability. These allow you to secure and carry what you need (payload 150kg | 331lb). Fit UBCO accessories, from bags to decks, fairings and bike racks, all available online. Or create your own attachments with the adapter pack.
Easy versatile charging: Breeze past the gas station and off to adventure. Charge at home before you go (either in the bike or out), plug it into your powered campsite or hook up a set of solar panels for off-grid action.
Easy to carry around: So lightweight, you can even hitch one or two on the back of your car or truck for easy transport. Grab one of our Towball Mount Bike Racks or Ramp Carriers and you're ready for any adventure!
INTELLIGENT & CONNECTED
Connect and communicate directly with the bike's onboard vehicle management system via the handy UBCO App. Take control with real time performance for your bike and customise your riding experience.
UBCO App: An essential accessory to your UBCO vehicle experience, the free smartphone app allows customized performance and handling. Adjust the settings to suit your ride, get over-the-air firmware updates, and view a live dash while you're out and about.
UBCloud Platform: UBCO has a full technology stack which includes the vehicle, battery and vehicle management systems, telemetry, and cloud connectivity.
To fob or not to fob: The keyless fob utilises code hopping technology which resists cloning and hot wiring. Or you can turn off Security Mode to give your team easier access to your fleet. Simple operation via switches on the bike makes it easy to share bikes across your team.
SAFE & SECURE
No fuel or exhaust. No chains or heat. The electric drive 2X2 eliminates many of the safety concerns of internal combustion motorcycles by design. Inherently safe and packed with security features, whether in the town or country, your 2X2 is safe and secure.
Secure: Double up your sense of security with a power supply that locks into the bike frame and a steering lock for secure parking. The key fob's code hopping technology resists cloning and hot-wiring for keyless vehicle operation.
QUIET & LOW IMPACT
Near silent motors let you enjoy the sounds around you without adding any noise pollution of your own. On an UBCO 2X2, you'll save money on fuel and maintenance, reduce your emissions, and shrink your environmental footprint overall.
No gas. No emissions. No noise: Compared to a petrol bike the 2X2 has 80% less CO2 emissions during life and removes all particulate emissions during use. You'll also waste less and spend less on fuel.
Circular: Designed for the full life-cycle – from the raw materials and the energy used to create the product, through to the packaging, distribution, use, maintenance, and eventually recycling, reuse, recovery or final disposal. For example, each part of the headlight was designed and sourced for better disassembly and disposal.
DIMENSIONS
Weight excl. power supply: 52.7kg | 116lbs
+ 2.1kWh battery: 65.7kg | 144.6lbs
+ 3.1kWh battery: 70.7kg | 155.6lbs
Height: 1,040mm | 41"
Seat height: 815mm | 32"
Width (handlebars): 820mm | 32.3"
Length: 1,820mm | 72"
Wheelbase: 1215mm | 47.8"
PERFORMANCE
Max speed: 50km/h | 30mph (45km/h EU). High torque geared drivetrain
DRIVE TRAIN
All wheel drive with 2 x 1kw Flux² motors: Brushless DC air cooled. High durability planetary geared system. Fully splined gear interfaces. Sealed bearings. Active heat management. Active venting for residual moisture.
BRAKES
UBCO Quadratic² brake system: Hydraulic & regenerative brakes operate together. Active regenerative braking (brake activated): Independent front and rear brake control. Passive regenerative braking (off throttle). DOT approved hydraulic brakes. 203 x 2.3mm rotors. DOT approved Dash 3 brake lines.
WHEELS
9 gauge stainless steel spokes. Tangential double-crossed lacing pattern. 17×1.85" aluminum rims (DOT compliant). 17×2.75" multi-use tires, balanced between street performance and off-road grip (ECE and DOT compliant).
STRUCTURE
Payload (incl. rider): 150kg | 330lbs
Super X step through frame: 7027 alloy. Front and rear racks standard. 19 drop forged attachment lugs on sub frame & rack. Mechanically switched self-retaining kickstand.
SUSPENSION
UBCO ATFZ 130mm front suspension: Tapered chromoly steerer, chrome steel stanchions, alloy lower (corrosion resistant). Coil spring with hydraulic dampener. Preload & rebound adjustment.
UBCO ATF 120mm rear suspension: Coil over spring with hydraulic dampener. Preload & rebound adjustment.
USER CONTROLS
Fully electronic throttle control. Handlebar mounted momentary switch controls for hi/lo-beam, indicators, and horn. Streamlined dashboard view with LCD display. Keyless fob operation utilizes code hopping technology, hard to clone or hotwire.
POWER SUPPLY
Match the capacity to your needs: 2.1kWh or 3.1kWh. UBCO dual safety system – active and passive safety.
Active Safety: UBCO 'Scotty' battery management system (BMS). Real time performance and safety monitoring.
Passive Safety: IP66 rated sealed alloy enclosure. Vented enclosure with venting pathways. 3400 mAh high safety factor INR (LiNiMnCoO2) 18650 lithium ion cells. Designed for disassembly at end of life.
LIGHTING
DOT/ECE approved UBCO Continuum LED headlight: High quality lensed LED emitters. High beam – 2100lm, Low beam – 1200lm. Peripheral park lights. Compact and lightweight. Environmentally sealed. Designed for disassembly at end of life. LED rear, brake, and number plate lights. DOT/ECE approved indicator lights.
COMMUNICATION
Cerebro² vehicle management system (VMS): Integrates all electronic and electrical functions. Provides control and updates with Bluetooth 5.0. Vented waterproof enclosure with sealed automotive connectors. Isolated CAN bus for easier integration of future CAN devices. CAN communication with power supply. Support for optional UBCO 'Communicator' telematic control unit (TCU).
CHARGING
10amp alloy fast charger. Charger detect disables bike when charging.
SECURITY
Steering Lock. Battery locks to frame. Ability to track & trace with optional TCU for fleets.
VEHICLE CLASS
Globally homologated for dual use (on-/off-road): NZ/AU L1/LA (moped)
US – Motor driven cycle or moped
EU – L1e-B
NOTES:
Check your local licensing laws to determine license requirements.
ENGINE
| | |
| --- | --- |
| Battery | 2.1kWh or 3.1 kWh |
| Charger | 10amp alloy fast charger |
CHASSIS
| | |
| --- | --- |
| Front Tire | 17×2.75 in. multi-use |
| Rear Tire | 17×2.75 in. multi-use |
| Front Brake | 203 x 2.3mm rotor |
| Rear Brake | 203 x 2.3mm rotor |
| Front Suspension | UBCO ATFZ 130mm |
| Rear Suspension | UBCO ATF 120mm |
| Frame | Super X step through frame: 7027 alloy |
GENERAL
| | |
| --- | --- |
| Top Speed | 30 mph (50 km/h) |
DIMENSIONS
| | |
| --- | --- |
| Weight | 116 lb. (52.7 kg) |
| Wheelbase | 47.8 in. (1215 mm) |
| Length | 72 in. (1,820 mm) |
| Height | 41 in. (1,040 mm) |
| Width | 32.3 in. (820 mm) |
Contact: Honda Kawasaki KTM of Modesto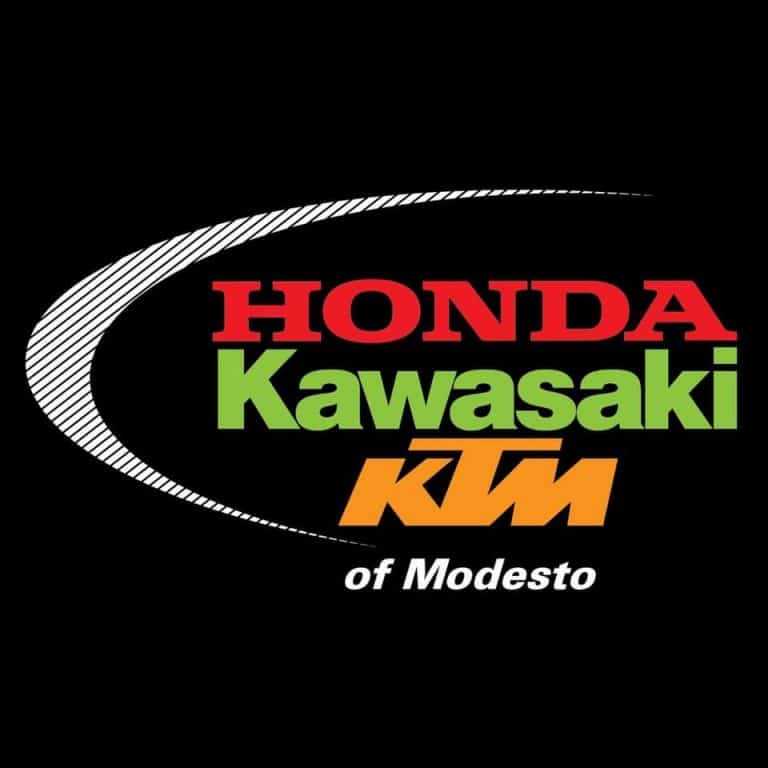 Phone
(209) 529-5424
Email
Visit Website
Address
1120 N Carpenter Rd, Modesto, CA 95351, USA